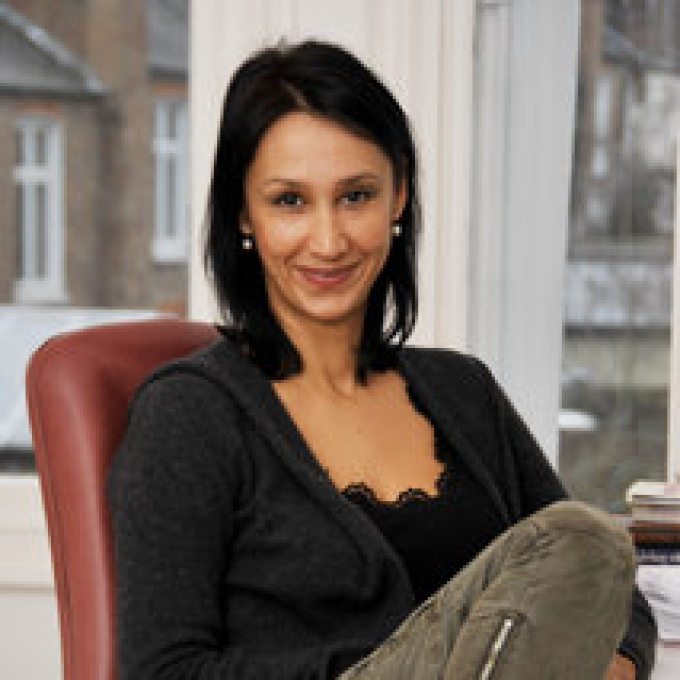 Biography
Monica Ali is the daughter of English and Bangladeshi parents.
She came to England aged three, her first home being Bolton in Greater Manchester, and later studied at Oxford University. Her first novel, Brick Lane (2003), is an epic saga about a Bangladeshi family living in the UK, and explores the British immigrant experience. It was shortlisted for the 2003 Man Booker Prize for Fiction, and made into a film, released in 2007.
Her second novel, Alentejo Blue, set in Portugal, was published in 2006, and her third, In the Kitchen, in 2009. Monica Ali lives in London and was named in 2003 by Granta magazine as one of 20 'Best of Young British Novelists'. Her latest novel is Untold Story (2011).
Critical perspective
From her first appearance, Monica Ali has been hailed by critics as that rare thing, "a writer who seemed to have found, right at the beginning of her career and with absolute confidence, her own voice." (Natasha Walter, The Guardian, 2006)
After a meteoric rise to prominence with Brick Lane (2003), Ali has emerged as a chronicler of contemporary multicultural Britain able to channel a broad sweep of modern life into well-crafted traditional novelistic forms. Her subsequent books have been more varied in their critical success, and the excitement that surrounded her has become more subdued. But her forays into diverse settings beyond her original terrain have continued to reach a wide audience.
The story of her overnight success is well-known. Even before Ali had completed her famous debut she was signed her up, after her publisher had seen only five chapters of her first draft. Granta reiterated this faith in her skill as a novelist, when it based its decision to name her as one of its 'Best of Young British Novelists' in 2003 on just the manuscript. Since this early popular and critical success, Ali has shown an admirable willingness to wrong-foot and surprise her readers, with novels that have often ranged far beyond the limiting canvas of the 'British multicultural novel' template that she helped to establish.
Brick Lane is set in the eponymous area of East London and switches occasionally to Bangladesh. It begins with the troubled birth of the central character, Nazneen, in 1967 in what was then known as East Pakistan. After a short preamble, the majority of the novel is concerned with the events after her arranged marriage. She is sent to England at the age of 18, with little knowledge of English, to live with her new, and to her, unappealing husband, Chanu: "The man she would marry was old. At least forty years old. He had a face like a frog. They would marry and he would take her back to England with him." The story of her sister who remains in Bangladesh is delivered as an additional narrative through her letters. As Geraldine Bedell argues, the inclusion of her news means that the definition of belonging is put into further doubt: "The pull of home, and the push of it, is dramatised by Hasina, Nazneen's sister, who took her fate into her own hands and made a love match, only to see the marriage fall apart and her life spiral out of control" (The Observer, 15 June 2003).
The overarching theme of fate, and the possibility of challenging it, is signalled in the epigraphs that cite Ivan Turgenev and Heraclitus. The quotation from Turgenev, for example, invites a consideration of powerlessness and the loss of self: "Sternly, remorselessly, fate guides each of us; only at the beginning, when we're absorbed in details, in all sorts of nonsense, in ourselves, are we unaware of its harsh hand." In Michael Gorra's review for the New York Times, he proposes that this negotiation with fate imbues the novel with a complexity that stretches beyond simplistic binary oppositions: "Do we, can we, control our own lives? That question propels Ali's book, in a way that keeps us from reducing it to a simple matter of 'East' versus 'West'" (7 September 2003). Brick Lane also avoids such simplifications through its postcolonial critique of imperialism and Englishness. It is within this framework that independence, in terms of human and national identities, is preferred.
Ali could have been forgiven for mining this highly popular world of bustling multicultural London for the rest of her career. Instead, she surprised readers and critics with her second novel Alentejo Blue (20006) by turning to Southern Portugal and slowing the pace of her narrative greatly. As with her debut, a varied cast is drawn upon. It includes British expatriates and local Portuguese inhabitants of the village, and is written predominantly in the third person as each chapter moves from the perspective of one character to another. The break from the third person comes with Chrissie and Eileen's chapters. These are two British women who have separately settled for unhappy domesticity and the act of giving them first person voices may be interpreted as a means to show that they are counteracting their earlier deference to others.
The sadness and desires of the main players (such as Chrissie, Eileen and João) are revealed gradually in this more slowly paced work. The first chapter opens with a death from suicide as the aged João discovers the body of his friend and one time lover, Rui, hanging from a tree. He cuts him down and the readers are told that he is now holding him in his arms for a second time. João's grief over a lost friendship and missed opportunities is concurrent with the dominant theme of poverty. The narrative returns continuously to the poor economic conditions of the area and the implicit sadness of emotionally unfulfilled lives. This is made explicit with the pronouncement that this was the poorest area in the poorest country of the European Union until recently, but male suicide rates are still the highest. By way of a contrast to the earlier parts of the novel, however, the final chapter looks at this group of seemingly disparate individuals as a community and the moroseness is dispelled.
In comparison to Brick Lane, this is more subdued in its tone and subject matter, and this gives Ali the space to demonstrate a perceptive interpretation of those who are just on the edge of happiness. This is enabled with a strong dose of dramatic irony and occasional humour, which allows for a nuanced portrayal of how the characters misread not only themselves, but also each other. Teresa confidently believes herself to be insightful and is preparing to escape from Portugal to live and work in London as an au pair. When she presumes João must have been married and that he is probably a widower now, her shrewdness is made questionable; however, she is allowed to be half-right, as she imagines him praying at night to a photograph of his dead wife's "unsmiling moustached" face. A further example of this lack of understanding comes when the different perspectives of the soon-to-be-married Huw and Sophie are given in the third person, and the readers are made privy to their misinterpretations of each other.
With her next novel, Ali returned to the broad 'condition of England' sweep and energised migrant environment of her debut. As the title suggests, Into the Kitchen (2009) used the hotel restaurant in central London as one microcosm from which Ali could range broadly over her now familiar themes of national identity, family and belonging. Scenes from this setting are set against the very different world of a northern mill town where the father of Gabriel Lighfoot, the London chef, is living out his last days.
To some, this was the long-awaited follow-up to Brick Lane, and it shares with her debut a spirited form of ensemble characterisation and a flair for staging discussions and debates about modern Britain. The kitchen in particular emerges an appropriate vantage point from which to chart the fault lines of the capital and the nation at large. However, though still a work that impressed with its choreography and craft, some thought the novel overlong and, as the New York Times couldn't resist remarking, "overcooked."
To many, Ali's art had become overly reliant on the journalistic at the expense of emotional engagement, and the protagonist's "disintegration never quite engages the reader, who is left feeling better informed but oddly unaffected" (The Observer, May 2009). Nonetheless, as the Independent observed, its reach and scope were still laudable: "an ambitious book from a writer not content to revisit familiar territory. She takes risks that don't always succeed … but it's a serious and intelligent, if ultimately unsuccessful attempt at tackling the state of the nation" (May 2009).
Demonstrating her talent for surprising readers once more, Ali's next outing, The Untold Story, altered course again, taking readers to small-town America, and into the world of Lydia, a mysterious woman from overseas cherishing her quiet life. As is revealed, this fish-out-water character's secret lies in a faked death, staged as a means of escaping a previous life as member of the British royal family. Inevitably, this thinly-veiled speculative fiction on Princess Diana attracted much press attention and comment. Some of this was counterproductive: as the one critic put it, the book's promotion "did itself no favours: all the publicity surrounding its launch (as well as the blurb) have given away the mystery of the first half of the novel" (The Telegraph, August 2011).
The tabloid-friendly premise of the novel allowed for a great deal of insightful and engaging discussion of fame, celebrity and the pitfalls of the global media spotlight. But this slightly far-fetched, high-concept exercise was less well-received than Ali's previous works. Many critics found her grasp on the idioms of American speech, and the nuance of US social mores, inevitably less convincing than the sure grasp on the contradictions and idiosyncrasies of Englishness that her previous works had shown.
For now, Ali is still able to command attention and readers for her unpredictable fictional creations. In all her novels, the choice of contemporary storylines and focus on the connections between geography, identity and human relationships are strong and compelling themes that mark her out from many lesser imitators. Ali has managed to create and populate a number of diverse fictional landscapes and in so doing has managed the difficult task of distinguishing her artistry from the initial hype that marked the start of her writing career. It is likely that Ali will continue to move on and to surprise, and one is tempted to hope that "her best work is yet to come" (The Independent, 2011).
Dr Julie Ellam, 2007 and Dr Tom Wright, 2013