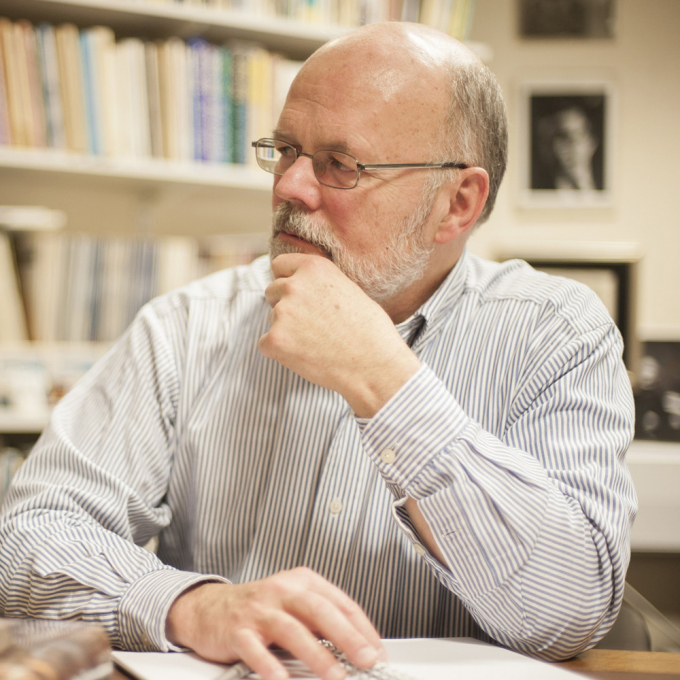 Michael Schmidt
Publishers:
Agents:
Biography
Michael Schmidt was born in Mexico on 2 March 1947 and studied at the universities of Harvard and Oxford before settling in England.
A founder and editorial director of Carcanet Press, he has also been editor of Poetry Nation Review for 30 years. He is Professor of Poetry at the University of Glasgow.
Michael Schmidt is a well-known poet, publisher and critic. His first collection, Black Buildings, was published in 1969 and  more recently he has published a Selected Poems, 1972-1997 (1997).  Lives of the Poets (1998) presents a comprehensive overview of six centuries of British poetry, and The Story of Poetry: From Caedmon to Caxton (2001) combines history, criticism and anthology. The First Poets: Lives of the Ancient Greek Poets, was published in 2004.
He has recently written a three-volume series entitled The Story of Poetry. Volume Three, From Pope to Burns, was published in 2007.
He is also the co-author, with Robert Maslen, of The Shakespeare Handbook (2008), and recently edited The Great Modern Poets: An Anthology of the Best Poets and Poetry Since 1900 (2010).
Michael Schmidt was awarded an OBE in 2006 for services to poetry.
Critical perspective
'I like the way that poems connect with one another and weave a larger pattern.
A living poem can energize another poem at five hundred years' distance, or across the other side of the world', writes Michael Schmidt at the conclusion of Lives of the Poets (1998), his compendious critical-historical survey of poetry in English. Indeed, a strong sense of internationalism and cultural 'connectedness' distinguishes his tastes as a literary critic, publisher, and poet. Schmidt modestly refers to himself in Lives of the Poets as 'an Anglophone Mexican publisher', but since coming to Britain as a student at Oxford and founding Carcanet Press in 1969, his manifold activities have amounted to an indefatigable contribution to British literary life. He is fond of quoting Octavio Paz's dictum that 'a writer's nationality is his language', and Schmidt continues to be a great advocate for poetry in all its forms (except the most populist), as well as being an astringent critical teacher and prolific anthologist, bringing and explaining poetry to what he once called Carcanet's 'commanding officer, the curious, responsive and devoted General Reader'. As a poet, he has produced a considerable body of work over the years, culminating in a fine volume of Selected Poems 1972-1997 (1997).
Schmidt's major roles have been as publisher of Carcanet and editor of the long-running literary magazine PN Review (co-edited with his friends and mentors Donald Davie and C.H. Sisson until 1984). This is undoubtedly the most intellectually rigorous publication of its type in the UK, and has occasionally been controversial; his editorials tend to be sceptical about academic fashions, journalistic hype, current orthodoxies, poetry competitions, and poets that serve the market rather than the Muse.  When writing in Carcanet's 30th anniversary catalogue, Schmidt observes that literary publishing is all about 'building readership, building backlist, making receptive but not uncritical space in which writers whose work challenges and extends the traditions can exist'. Schmidt takes his bearings from the experimental Modernist tradition, but admiration for poets such as Hardy, Frost, Larkin, Les Murray and Wendy Cope 'frees me from dogma'.
Schmidt is a close-reading formalist critic with a strong grasp of prosody and poetic traditions; he wrote in Fifty English Poets 1300-1900 (1979) that his own guides had been Dr. Johnson, Coleridge, Arnold and Eliot, 'men whose criticism has a civic dimension, and who were among the best poets of their age'. This book is 'pervaded by a sense of particular voices … [and] the development of a tradition', starting with John Gower and ending with Gerard Manley Hopkins – but he includes no women poets. His criticism is full of subtle distinctions, and what he does to great effect is to quote moderns on their predecessors, notably McDiarmid on Dunbar, Pound on Walter Savage Landor, and Ford on Dryden. He develops this premise later in the anthology Poets on Poets (1997), which he describes as 'a two-way mirror'; contemporary poets such as U.A. Fanthorpe select and commen upon William Barnes, Simon Armitage on Byron, Ian Duhig on R.L. Stevenson, and Thom Gunn on Ben Jonson. Schmidt himself selects George Herbert, a man very much after his own heart as a religious poet in a secular age.
Lives of the Poets is Schmidt's magnum opus, paying homage to Dr. Johnson's pioneering 18th-century book with its title, but indicating the massive proliferation of poetry in English since then by ranging over the lives and works of over 250 poets from the 14th century to the post-colonial period. Schmidt begins with his own motivations as a young publisher, and in many ways it is his most personal work, reflecting upon a lifetime's devotion to poetry. Alongside the detailed poetic analyses go rueful observations of poets' at times unpredictable personalities, behaviour, and opinions. He enlivens 900 pages with numerous bon-mots ('If Pound broke the pentameter, Stevens repaired it, incomparably in 'The Idea of Order at Key West'), digresses on the names of poets' dogs, and offers some ingenious comparisons: he points out, for instance, how the famous rhythm of Longfellow's 'The Song of Hiawatha' influenced Larkin's poem 'The Explosion'. Schmidt now gives women poets much fuller coverage, reflecting the greatly increased reputations of poets such as Christina Rossetti, Stevie Smith and Elizabeth Bishop, though he remains equivocal about 'the myth' surrounding Sylvia Plath. Schmidt is unafraid to question the achievements of some of the leading names: 'Many argue that Swinburne is a fraud … the sort we suspect in Edith Sitwell, in some of Dylan Thomas, and less certainly in the Louis MacNeice of Autumn Sequel and in Ted Hughes'. He brings the story of English poetry up to date (understandably often promoting Carcanet authors) with a series of chapters tracing patterns in the otherwise bewildering variety of current poets, finding links between Kipling and Tony Harrison, or between Seamus Heaney, Paul Muldoon and Derek Walcott.
Michael Schmidt's own poetry has been overshadowed by his other activities, but it offers a generally attractive and accessible reading experience, albeit a highly literary one, with 'no grand gestures'. He writes variously in rhyming forms and blank verse, about love, landscape, memory, words, and his descriptions can be of places, reveries or extended metaphors. His early volumes are full of Mexican settings, as in 'Indian-Pipes are Flowers' or 'Yucatan': 'You come this far for the ruins / and cold springs – and see / how empire lost its voice / quietly, like the cicada'. He has always been concerned with writer's lives: 'Melville's Journey East', and 'Hart Crane's Journey to Veracruz'. He is adept at recording states of uncertainty, whether awkward encounters with the natural world ('Wasps' Nest') or romance: 'Desire woke with me and all day it clings / - A shadow cast before which even noon / Does not erase. I pace the long garden / To and fro between box-wood and rose' ('Adam'). My Brother Gloucester (1976) is perhaps his best single volume, exploring fables, ghosts, and creatures, and often deploying dream-like imagery, especially of the sea: 'there is a strange / possessiveness in water, as in sunlight, / determining the shadows' ('The Judas Fish'). But perhaps his finest achievement as a poet is the lengthy sequence The Love of Strangers (1989), which overthrows earlier emotional inhibitions to write more directly about the most important people in his life. It begins with memories of his father and ends with the burial of his mother; in between we receive impressions from his own life, and memories of meeting, amongst others, writers Janos Pilinsky, Edgell Rickword, Elizabeth Daryush, and Robert Frost; bullfighter Joselito Huerta; his teacher Robert Fitzgerald; and the film-maker Pier Paolo Pasolini. It is a microcosm of his work's concerns, shows Schmidt's own powers of evocation, and is a fitting tribute to his life-long involvements with poets and poetry.
Dr Jules Smith, 2004
Bibliography
2010
The Great Modern Poets: An Anthology of the Best Poets and Poetry Since 1900
2008
The Shakespeare Handbook
2007
The Story of Poetry III: From Pope to Burns
2007
The Resurrection of the Body
2006
The Great Modern Poets: The Best Poets of our Times
2004
The First Poets: Lives of the Ancient Greek Poets
2002
The Story of Poetry II: From Skelton to Dryden
2001
The Story of Poetry: From Caedmon to Caxton
1999
New Poetries II: An Anthology
1999
The Harvill Book of Twentieth-Century Poetry in English
1997
Enigmas and Arrivals: An Anthology of Commonwealth Writing
1997
Selected Poems 1972-1997
1994
A Calendar of Modern Poetry
1994
New Poetries: An Anthology
1989
Reading Modern Poetry
1989
The Love of Strangers
1987
On Poets and Others/Octavio Paz
1983
Some Contemporary Poets of Britain and Ireland: An Anthology
1983
Choosing a Guest: New and Selected Poems
1983
Flower and Song: Poems of the Aztec Peoples
1980
British Poetry since 1970: A Critical Survey
1980
Eleven British Poets: An Anthology
1979
Five American Poets: Robert Hass, John Matthias, James McMichael, John Peck, Robert Pinksy
1979
An Introduction to Fifty Modern British Poets
1979
Fifty English Poets 1300-1900
1977
Flower and Song: Poems of the Aztec Peoples
1976
My Brother Gloucester
1976
Ten English Poets: An Anthology
1972
British Poetry since 1960
1970
Bedlam and the Oakwood