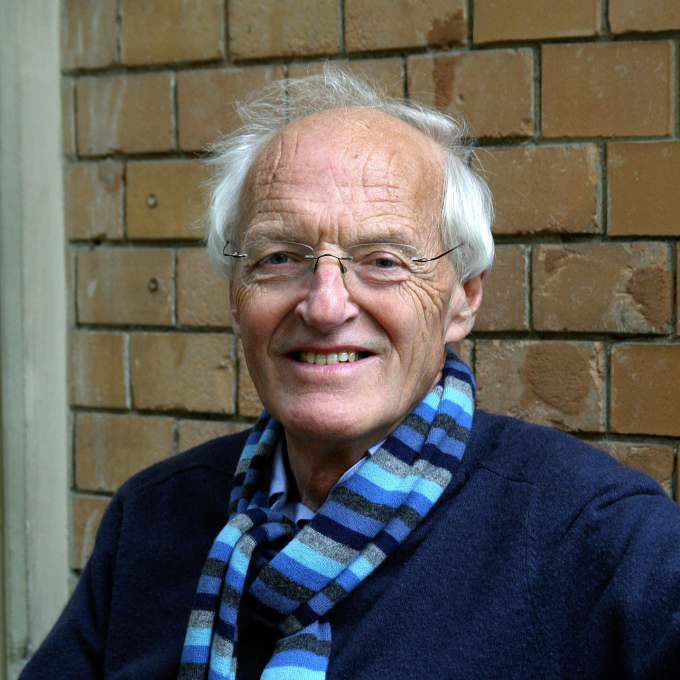 Michael Frayn
Publishers:
Agents:
Biography
Playwright, novelist and translator Michael Frayn was born in London on 8 September 1933.
After two years National Service, during which he learned Russian, he read Philosophy at Emmanuel College, Cambridge. He then worked as a reporter and columnist for The Guardian and The Observer, publishing several novels including The Tin Men (1965), winner of a Somerset Maugham Award, The Russian Interpreter (1966), which won the Hawthornden Prize, and Towards the End of the Morning (1967). More recent novels include A Landing on the Sun (1991), which won the Sunday Express Book of the Year; Headlong (1999), the story of the discovery of a lost painting by Bruegel, shortlisted for the Booker Prize for Fiction; and Spies (2002), a story of childhood set in England during the Second World War. Spies which won the 2002 Whitbread Novel Award and the 2003 Commonwealth Writers Prize (Eurasia region, Best Book), and was shortlisted for the Whitbread Book of the Year. His most recent novel is Skios (2012) a comic novel on a case of mistaken identity. Michael Frayn is also the recipient of the 2002 Heywood Hill Literary Prize.
His plays include Alphabetical Order (1975), Clouds (1976), Donkeys' Years (1977), Make or Break (1980), Noises Off (1982) and Benefactors (1984). Copenhagen (1998), about the 1941 meeting between German physicist Werner Heisenberg and his Danish counterpart Niels Bohr, first staged at the Royal National Theatre in London, won the 1998 Evening Standard Award for Best Play of the Year and the 2000 Tony Award for Best Play (USA). His play Democracy (2003), is set in 1960s Berlin. His latest play for the Royal National Theatre is Afterlife (2008).
Recent books are Stage Directions: Writing on Theatre 1970-2008 (2008), and Travels with a Typewriter (2009). A book of memoir, My Father's Fortune: A Life, was published in 2010, was shortlisted for the 2010 Costa Biography Award, and won the 2011 PEN/Ackerley Prize.
He has also translated a number of works from Russian, including plays by Chekhov and Tolstoy. His films for television include First and Last (1989), for which he won an Emmy, and an adaptation of his 1991 novel A Landing on the Sun. He also wrote the screenplay for the film Clockwise (1986), a comedy starring John Cleese.
Michael Frayn is married to the biographer and critic Claire Tomalin.
Critical perspective
Michael Frayn enjoys equally successful careers as dramatist, novelist and translator, having started out as an award-winning journalist. But what is striking is the thematic consistency that underpins a vast and diverse output.
Helpfully analysing his own early plays, Frayn once wrote that 'what they are all about in one way or another is the way in which we impose our ideas upon the world around us'. And that conflict between the objective universe and our often helpless attempts to give it personal structure and order, underlies almost everything he has written.
Frayn graduated to writing for the theatre after many years as a Guardian columnist and television dramatist. And his achievement was to use comedy and farce as vehicles for exploring philosophical ideas. His first major play, Alphabetical Order (1976), was set in the cuttings-library of a provincial newspaper and the comedy stemmed from the rather desperate attempts of its occupants to classify the endless flow of information. In the more outwardly farcical Donkeys' Years (1977) a group of middle-aged men gather for a noisy college reunion: the central conflict is between their remembered perceptions of each other when young and their restructured later selves. And in Clouds (1977), Frayn uses a journalistic freebie to Cuba to show how the characters' responses to an unfamiliar land are largely determined by what they think and feel: 'the complication in this rationalist scheme,' as Frayn pointed out, 'being that what they think and feel is affected by what they see.'
All these plays had a modest West End success and established Frayn as a writer of highly intelligent comedy. But it was with Noises Off (1982) that he achieved both an instant commercial hit and durable international fame. On one level, the play is a highly ingenious mechanism. In the first act we watch the chaotic final rehearsal of a basic British farce, full of door-banging, trouser-dropping and sexual complication. In the brilliant second act, viewed from behind the scenes, life and art collide as the performers and director become the victims of their own betrayals and misunderstandings. By the third act the original farce has descended into total mayhem. Clearly the play is a very funny comment on the fragility of farce itself where split-second timing and a calculated, rehearsed spontaneity can be blown apart by a missed entrance or a recalcitrant prop. But, like all Frayn's work, the play becomes a metaphor for the larger lunacies of life, and the thin dividing-line between order and chaos.
It is in the breakdown of our attempts to impose a structure on the universe that Frayn finds much of his comedy; and the theme is explored further in his screenplay, Clockwise (1986), in which a punctilious headmaster hilariously and hopelessly races against time to reach his desired destination. Not all Frayn's philosophical comedies have worked so well. Look Look (1990) was a short-lived disaster that sought to examine the theatrical process from the audience's point-of-view. And Here (1993), dealing with a young couple's attempt to impose order on the tiny flat in which they live, showed the difficulty of constructing a play entirely in the present tense with no reference to past events. But Copenhagen (1998) not only restored Frayn's reputation but went on to be a major success in every theatrical capital. Many people commented with surprise on the way a gifted writer of farces and comedies had turned to such a profoundly serious subject. Set in a stark limbo beyond the grave, the play explores what may have transpired when the German nuclear physicist, Werner Heisenberg, made a mysteriously inconclusive visit to his former teacher, Niels Bohr, in Nazi-occupied Germany in 1941. Was Heisenberg seeking knowledge or absolution? Was he trying to recruit the older man to the German atomic bomb programme or warn him of it? But, far from being a radical new departure, the play was a logical extension of all Frayn's previous work. It was not just a cerebral thriller about nuclear physics, or a morality play about scientific responsibility. It was also a profoundly moving meditation on the uncertainty of human motivation and the infinite mystery of a universe we grapple unavailingly to understand.
As a dramatist, Frayn has widened the angle of vision while staying true to his central themes. And you can see the same process at work in his fiction. The best of his early novels, Towards The End of the Morning (1967), is both a wryly funny account of Fleet Street and the story of a gentleman-journalist thrust into a discussion of race-relations on television. A Landing on the Sun (1991) deals with the mystery surrounding the death of a civil servant rumoured to be working on a top-secret defence project for Harold Wilson's government in the early 1970s. And Headlong (1999), justly shortlisted for the Booker Prize, was a dazzling account of a young, would-be art historian's accidental discovery of what he takes to be a missing Bruegel masterpiece. Combining art history with scholarly investigation, the novel was also about the attempt to impose subjective meaning on an infinitely mysterious painting: in true Frayn style, the hero even found himself towards the climax desperately racing around St James's Square in a four-wheel drive looking for a parking space in order to reach a famous London auction house and thereby secure validation for his discovery. Even Frayn's translations relate to his own central preoccupation: our attempts, through perception and language, to impose a structure on a vast universe in which we are merely circumstantial specks. Of all the dramatists, Chekhov was the one most aware of the comic gulf between our local insignificance and cosmic possibility: his characters constantly talk of their vision of the future while finding it almost impossible to live in the present. Having studied Russian during National Service, Frayn turned his skills to great account not only though his translations of the four acknowledged Chekov masterpieces but also though Wild Honey (1984): a free, radical adaptation of the dramatist's sprawling first work, Platonov. What emerges is a genuine spiritual affinity between the two writers: like his mentor, Frayn is a dramatist who sees comedy as the perfect vehicle with which to explore the gap between the vast, mysterious universe and our own sad, hilarious and often futile attempts to impose our private structure upon it.
Michael Billington, 2002 
Bibliography
2014
Matchbox Theatre: Thirty Short Entertainments
2010
My Father's Fortune: A Life
2009
Travels with a Typewriter: A Reporter at Large
2008
Stage Directions: Writing on Theatre 1970 - 2008
2006
The Human Touch: Our Part in the Creation of the Universe
2000
Celia's Secret: An Investigation
2000
The Additional Michael Frayn
1998
Alarms and Excursions: More Plays than One
1995
Speak After the Beep: Studies in the Art of Communicating with Inanimate and Semi-animate Objects
1991
A Landing on the Sun
1990
Jamie on a Flying Visit; and Birthday
1990
Listen to This: Sketches and Monologues
1986
Clockwise: A Screenplay
1983
The Original Michael Frayn
1977
Alphabetical Order and Donkeys' Years
1967
At Bay in Gear Street
1967
Towards the End of the Morning
1966
The Russian Interpreter
Awards
2010
Costa Biography Award
2003
Commonwealth Writers Prize (Eurasia Region, Best Book)
2002
Heywood Hill Literary Prize
2002
Whitbread Novel Award
2000
Tony Award for Best Play (USA)
1999
Booker Prize for Fiction
1999
James Tait Black Memorial Prize (for fiction)
1999
Prix Molière (Best New Play)
1998
Critics' Circle Award for Best New Play
1998
Evening Standard Award for Best Play of the Year
1991
Sunday Express Book of the Year
1990
International Emmy Award
1986
Tony Award for Best Play (USA)
1984
Laurence Olivier/BBC Award for Best New Play
1984
Tony Award for Best Play (USA)
1982
Evening Standard Award for Best Comedy of the Year
1982
Laurence Olivier Award for Best Comedy
1980
Evening Standard Award for Best Comedy of the Year
1976
Laurence Olivier Award for Best Comedy
1975
Evening Standard Award for Best Comedy of the Year
1966
Somerset Maugham Award