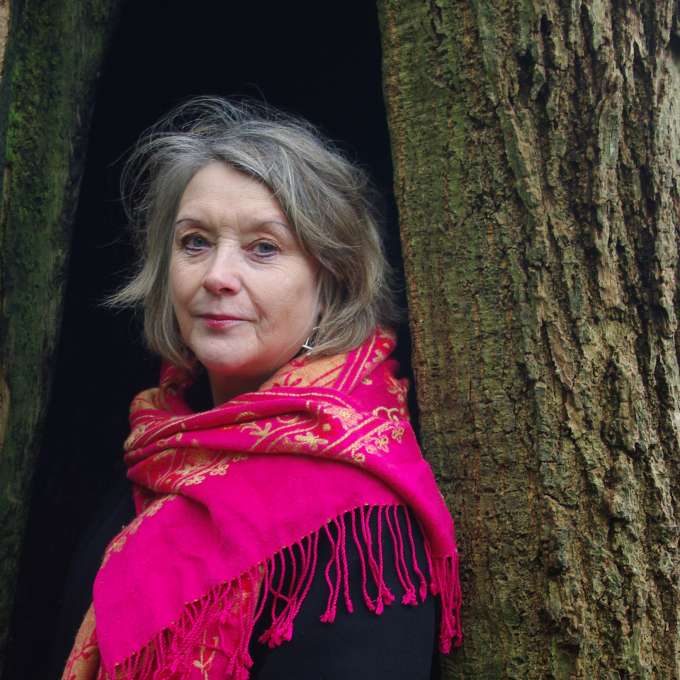 Biography
Menna Elfyn was born in 1951 near Swansea, Wales and is known first and foremost as a poet.
She is a Fellow of the Royal Society of Literature and a member of Academi Gymreig, and has been Writing Director of the MA Creative Writing Programme at Trinity College, Carmarthen, since 1998.
She writes in Welsh and her English Language translators include Tony Conran and Gillian Clarke. Her first bi-lingual book of poetry, Eucalyptus: Detholiad O Gerddi/Selected Poems 1978-1994, was published in 1995 and was followed by Cell Angel (1996) and Cusan Dyn Dall/Blind Man's Kiss (2001).  Perffaith Nam (2005). Perfect Blemish: New and Selected Poems 1995-2007, was published in 2007. 
She has also written two books for children, one of which, Rana Rebel (2002), is about a child soldier. Her two books of children's poetry are Ffwl Yn Y Dwr: Casgliad O Gerddi I Bobl Ifanc (1999) and Caneri Pinc ar Dywod Euraid (2003).
Other writing by Menna Elfyn includes stage plays, adaptations and scripts for television, radio plays, non-fiction text books for under-achievers, a workpack commissioned by Save The Children Fund (1997) and a number of libretti. She co-wrote The Garden of Light for the New York Philharmonic Orchestra and in 1999 was commissioned to write Hymn to a Welshman, a tribute to R S Thomas. She also wrote lyrics to songs to the music of Karl Jenkins, for the Millennium Centre opening Royal Gala concert.
She edited with John Rowlands The Bloodaxe Book of Modern Welsh Poetry: 20th-Century Welsh-language Poetry in Translation (2003). Her latest poetry collection, in both English and Welsh is Murmur (2012). 
In 2002 Menna Elfyn was appointed Poet Laureate for the Children of Wales.
Critical perspective
Menna Elfyn is perhaps the best-known Welsh language poet internationally, and certainly the most-travelled worldwide.
Indeed, her characteristic internationalism has stemmed from concerns for the global environment and for Wales itself. Her poem 'Welsh Ice', from Perffaith Nam/ Perfect Blemish (2005) sees both as inextricably linked. Its concluding stanza warns: 'It starts at the Pole in a kind of unlocking / and soon we're a legend beneath a blue level. / They're becoming the same, Welsh ice and spring frost; / so alike as they leave us, so soon to be lost'. The poem also refers to Wales as 'a country [that] might vanish at the turn of a key', a reminder of her many years of anti-nuclear campaigning with CND. If it strikes a mournful note, this is fairly unusual. Her work is more often celebratory, and wryly humorous about the foibles of humanity, whether through a Hispanic taxi driver, Vietnamese guide or an Englishwoman renting a holiday home ('Year of the Bat'). She is also passionate about preserving the diversity of languages. 'Let the World's Peoples Shout', in Cusan Dyn Dall / Blind Man's Kiss (2001), declares: 'let each of the world's peoples learn / the excommunicated language of its neighbour'.  
Though primarily a poet, constantly doing readings, recordings and festivals throughout Britain and the wider world, poetry actually covers only a fraction of her activities as a writer and activist. She is a novelist, dramatist and opera librettist; a teacher of creative writing, newspaper columnist, and has been a documentary maker for Welsh language television and radio. (Readers seeking up-to-date information on her perennially crowded schedule should consult her website: www.mennaelfyn.co.uk) 'The whole way I see life is through my Welsh language', she has stated, and she continues to be involved with the Welsh Language Society. And, by co-editing (with John Rowlands) The Bloodaxe Book of Modern Welsh Poetry (2003), she has helped to make its rich poetic tradition and current vitality available in English translation. It presents 'an exuberant chorus of voices', from Saunders Lewis and Bobi Jones, to contemporary performance poets. Perhaps of most significance was the inclusion of highly accomplished women poets such as Gwyneth Lewis, Elin ap Hwyel, and Mereid Hopwood. Elfyn herself, as a Christian feminist, has been regarded as expanding the traditional subject matter of Welsh poetry.
Her own poems have been fortunate in their translators, which include distinguished poets such as Gillian Clarke, Robert Minhinnick, and her friend the late R.S. Thomas, who admired 'the subtle way in which she intricately weaves traditional metrical forms into her work'. Amongst her several poems in tribute to him, however, 'Handkerchief Kiss' carries his epigraph warning that 'A poem in translation is like kissing through a handkerchief'. Eucalyptus (1995), selecting poems from 1978 to 1994, was the first bilingual collection of her work. In his preface, Tony Conran characterized her poems then as 'often very topical and relevant to present-day concerns', while others had 'a rooted piety'. He noted her adroit use of metaphors, how 'the poems grow, very often out of a pair of centres … a poem on menstruation is actually about her pacifism': 'It's the month of wounds on the world / and I too am bleeding' ('Bleedings'). Also characteristic is her ability to sympathize across cultures, aligning her situation as a mother feeding her family with others struggling to do so. A 'Power Cut' becomes 'our celebration / of family, across the table'. The title poem that follows, 'Eucalyptus', refers to the cooking oil used by Iraqi families during the air raids of the first Gulf War, 'creating a table of blessedness'. She is a writer who finds no conflict between her vocation and domestic life. Her literary feminism goes along with raising her children: 'For a poet who's a mother / there's no safety-pins for life, / … 'between bottles for baby / and the paradise of language' ('Live, sisters, live').
Cell Angel (1996) expanded her range both politically and geographically. It includes a sequence on her imprisonment in 1993 during a non-violent campaign for a new Language Act. But, she cautions, 'Don't pity me, / I'm no Pasternak / nor Mandelstam, / I could buy my way out of here, / three hours and I'd be home'. Other poems were written after visiting Mexico, Vietnam and, in 'Mosquitos – Masochists', the Far East. This humorously takes the perspective of the despised insects, 'a single nation/ poised to emigrate. And they have a lofty dignity, / …. Outlawed today in the eyes of profit / they are the voiceless martyrs'. 'The Theology of Hair' is a sequence about church attitudes to the sensuality represented by women's hair; from her own youthful 'banditti-like bangs' and God's punishment for men's 'hair-splitting human gripe about beauty'. Her work has numerous celebrations of married love but also sardonic observations about sexual foibles, as in 'The Red Heart'. There is a satirical thread throughout her work. 'February 15th', for instance, points out the reasons why women return wrong-sized lingerie gifts after St Valentine's Day. Yet it draws this moral lesson: 'For we are lower than our underclothes - / always undressing ourselves, / but draw nearer to the angels, sometimes, in our passion'. 
Her poems often employ Biblical terminology, and her Christianity is expressed in a variety of ways. 'Will the Ladies please stay behind' humorously satirizes the subservient position of women in the church. Later poems, as in Blind Man's Kiss, are different. 'The small Communion' is quietly moving, recalling being a child playing with the miniature Communion vessels that her father, a Minister, used when visiting infirm parishioners. 'Today, the cups lie still, all traces of lips and fingers washed away / as if tidied by death'. Its companion piece, 'The big Communion', refers to the ceremony in a women's prison: 'I realized then what a thirst true faith is - / pilgrims locked up, yet wild to quench it'.
Among the concluding poems in Perffaith Nam/ Perfect Blemish, her recently published new and selected poems from 1995-2007, one stands out for its personal significance. 'Teaching Dylan Thomas' Muse to Speak Welsh' returns to her original literary inspiration, and re-writes his poem 'The Hunchback in the Park'. Dylan Thomas's muse was once 'a mockery, / the crone in the empty park', but 'today things are different'. The speaker points out, 'dwr, see how water purrs / in Welsh when it's splashed from a fountain'. The poet herself 'will be the park-keeper, going homewards / knowing that she is not homeless'. The poem seems emblematic of Mena Elfynn's own writing, which over decades has turned Welsh words 'into a living green'. 
Dr Jules Smith, 2007
Bibliography
2007
Perfect Blemish: New and Selected Poems 1995-2007
2003
The Adulterer's Tongue: Six Welsh Poets
2003
The Bloodaxe Book of Modern Welsh Poetry: 20th-Century Welsh-Language Poetry in Translation
2001
Cusan Dyn Dall/Blind Man's Kiss
1999
Ffwl Yn Y Dwr: Casgliad O Gerddi l Bobl lfanc
1995
Eucalyptus: Detholiad O Gerddi/Selected Poems 1978-1994
1991
O'r lawn Ryw: Blodeugerdd O Farddoniaeth
1990
Aderyn Bach Mewn Llaw: Cerddi 1976-1990
1987
Glas-nos: Poems for Peace
1986
Mynd Lawr i'r Nefoedd
Awards
2009
Anima Istranza Foreign Prize for Poetry
2003
Evelyn Encelot European Prize for Women Poets
1990
Arts Council of Wales Book of the Year Award
1977
Wrexham National Eisteddfod Prize
Author statement
Why write? It is so much easier to say when I started to write. I fell in love with words, and wordsmiths such as Dylan Thomas, Blake and Frost, to name only a few. But I also had another rich literary tradition - Welsh - and yet in the 'fifties, when I was growing up, the Welsh language was still seen by many as a second-class language, a language to be shunned, a language taught at school as a foreign language alongside French. I cannot convey the feeling of my mother-tongue being given back to me as a foreign language! But this led me to write subversively, in my secret language, keeping note-books full to the brim of words that were old, hardly uttered aloud except in chapel or at home. I was, after all, an endangered species, speaking a language that was in so many people's minds going to be extinct, thanks to the effectiveness of an English-only education system.
So that's how in my youth, I fell in love with the feel of the Welsh language and wanted to say something meaningful in that language to make me feel alive. It liberated me just as the fight by women needing to find their 'voice'. Welsh, by the way, does have the oldest recorded language in Europe after Latin and Greek.
In the 'sixties I took part in civil disobedience, campaigning for the rights of the Welsh language along with fighting against apartheid and taking part in the peace movement. And all the while, my writing kept me going. Yet my work was never overtly political or didactic; I was always more interested in the personal, the lyrical and metaphysical.
I have now come full circle, in that I'm more interested again in the solitary road of the writer, just as I was in those painful school days when I'd spend my dinner-hour huddled in a cloakroom, writing words. Yes, I'm back there, on the margins, while at the same time challenging what can or cannot be written and crossing borders, stepping across frontiers and finding similar beings in all parts of the world – all wanting to save their mother-tongues while at the same time, embracing the richness of English to renew and expand as it 'sings the world alive'.