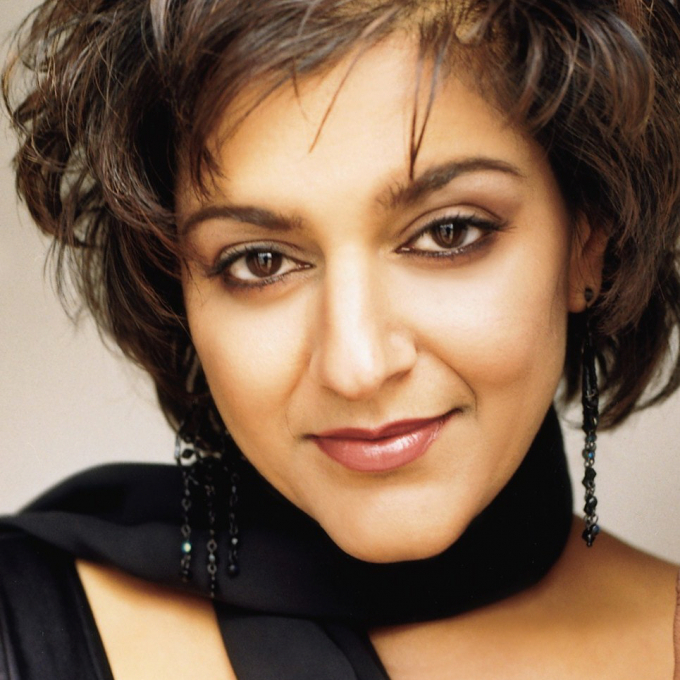 Meera Syal
Publishers:
Agents:
Biography
Writer and actress Meera Syal was born in 1963 near Wolverhampton in the West Midlands and was educated at Manchester University where she read English and Drama. She co-wrote the script for 'My Sister Wife', a three-part BBC Television series, and wrote the film Bhaji on the Beach for Channel 4. She co-writes and is a cast member of the popular BBC Television comedy series 'Goodness Gracious Me' and The Kumars at No. 42'. She also works as a journalist and is a regular contributor to The Guardian.

Meera Syal's childhood experiences growing up in a small mining community provided the background to her first novel, Anita and Me (1996). The novel was shortlisted for the Guardian Fiction Prize and won a Betty Trask Award. It tells the story of Meena Kumar, a young Asian girl struggling to accommodate the opposing influences of her white schoolfriends and her traditional Punjabi background. Syal's second novel, Life Isn't All Ha Ha Hee Hee (1999), narrates the adventures of three young Asian women growing up in Britain.

Meera Syal was awarded an MBE in 1997 and won the 'Media Personality of the Year' award at the Commission for Racial Equality's annual 'Race in the Media' awards (2000), as well as the EMMA (BT Ethnic and Multicultural Media Award) for Media Personality of the Year in 2001.
Critical perspective
Although perhaps best known for her acting work on radio and television, notably Goodness Gracious Me and The Kumars at No 42, Meera Syal is also an accomplished and critically respected novelist.
In fact Syal has combined her acting and writing careers since she was a student in Manchester. In the final year of her drama degree, she co-wrote and performed in the play One of Us, which won the National Student Drama Award. Like her first novel Anita and Me (1996), One of Us is a semi-autobiographical tale that tells the story of Nishi, an Asian teenager who moves away from the Midlands to become an actress.

Syal went on to write the script for Gurinder Chadha's Bhaji on the Beach, a film that also takes the audience on a journey away from home. A wonderfully quirky film, it portrays a Birmingham-based South Asian women's collective and their day-trip to Blackpool. The collective is keen to escape from an oppressive home life on the outskirts of Birmingham, a landscape of confinement, male violence and failing relationships. The trip north (which unfolds to a Punjabi rendition of Cliff Richards' 'Summer Holiday') offers liberation in the form of innocent, and not so innocent, entertainment: the pub, donkey rides, candyfloss and even a strip show. Blackpool is not all fun however, and if categories such as 'Indian' or 'woman' offered an imaginary sense of solidarity and solace at the start of the holiday, then they gradually begin to erode as the film progresses. The collective's journey offers both a comic diversion from and an insightful interrogation of contemporary South Asian identity politics in Britain, setting the trend for a new body of Asian British films, including blockbusters such as East is East and Bend it Like Beckham.

At a time when Britain's bookshops are flooded with the fictions of comic television celebrities, from Ben Elton to Stephen Fry, it is easy to underestimate the significance of Syal's recent work as a novelist. However for all their comic brilliance, Anita and Me and Life isn't all Ha Ha Hee Hee (1999) are more substantial, serious works than such comparisons allow.

Anita and Me, is currently being adapted for the screen and at the time of its publication won the Betty Trask Award and was shortlisted for Guardian fiction prize. The novel tells the story of young Meena as she grows up in Tollington (a fictional ex-mining village outside Birmingham) in the early 1970s. Despite being a child of the Indian Diaspora, Meena's narrative is distinct from the majority of diasporic writing in that it reveals an affection for the local village community, rather than the tropes transatlantic travel preferred by writers such as Salman Rushdie and V. S. Naipaul. The nearest Meena gets to London is on her monopoly board. Syal's protagonist rejects the extended Indian family that gathers in her parent's tithe cottage for her friendship with Anita and the white working-class community that congregate in the yard outside. She prefers fish fingers and chips to her mother's Indian cooking, flirting with the local boys to the wistful memories of her Punjabi ancestors.

As she grows older though, Meena's loyalties become increasingly ambivalent and conflicted. The rise of racism within the village (or is it Meena's increasing consciousness of it?) forces the protagonist to reconsider her friendships. When an elderly Asian gentleman is physically attacked in the vicinity, Meena and her family decide to move away. Anita and Me is an extremely funny, irreverent first novel which manages to evoke the pleasures and frustrations of childhood without becoming sentimental or nostalgic.

Syal's latest book, Life isn't all Ha Ha Hee Hee is a novel 'take' on the 'Bridget Jones' scenario. The book focuses on three childhood friends who are now all in their thirties: the attractive, professional Tania who pursues a successful job in media, Sunita, who has chosen family over a career, and frumpy, unworldly Chila who is the envy of her mates after marrying the devastatingly handsome Deepak.

Like Anita and Me, Syal's latest offering treads a fine line between sympathy and satire in its portrayal of Asian British culture. While she pokes fun at the conservative ambitions of her characters, Syal also encourages her readers to consider the wider cultural climate in which they are caught. At one point a restaurant receptionist whispers to Chila, '"Loove your outfit [a Punjabi suit], by the way. This stuff is really in at the mo. Is it DKNY?" Chila looked down for a moment. "No, Bimla's Bargains, Forest Gate, I think …"'.

On one level Life isn't all Ha Ha Hee Hee is a wry look at the way 'ethnic' culture is currently marketed as a fashion accessory in the West and the way in which Chila and her friends either exploit or are caught up in that scene. Like all of her work to date, Syal laughs at her protagonists without resorting to the usual cliches and stereotypes. In this sense it represents a break with the 'goodness gracious me' brand of humour that the title of her radio/television show ironically evokes. Her work in fiction and on screen is exemplary for the way in which it uses humour to both challenge the limits of political correctness and to contribute to a politicised understanding of British Asian culture.

Dr James Procter, 2002
Bibliography
1999
Life Isn't All Ha Ha Hee Hee
1995
Six Plays by Black and Asian Women Writers