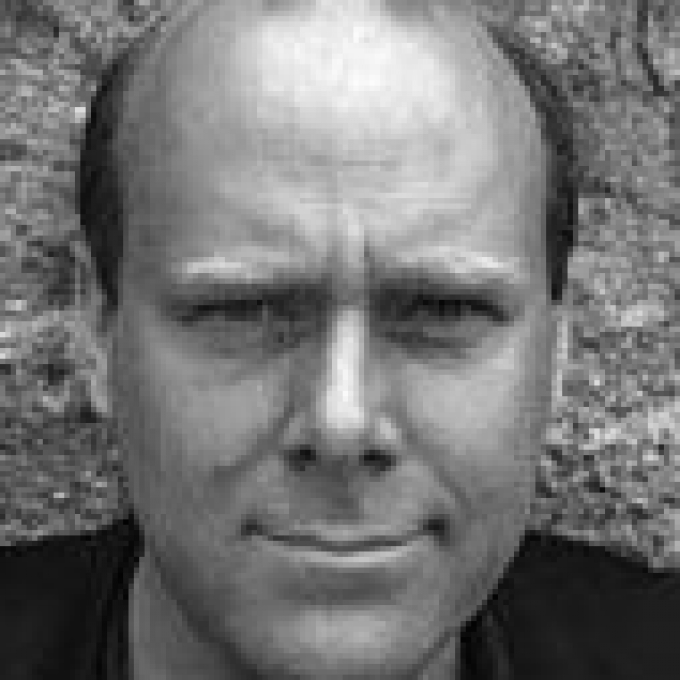 Biography
Matthew Kneale was born in London in 1960, read Modern History at Oxford University and on graduating in 1982, spent a year teaching English in Japan, where he began writing short stories.
He is the author of four novels: Whore Banquets (1987), set in Japan and later re-issued as Mr Foreigner (2002), winner of a Somerset Maugham Award; Inside Rose's Kingdom (1989); Sweet Thames (1992), set in London in the 1840s and winner of a Mail on Sunday/John Llewellyn Rhys Prize; and English Passengers (2000).
English Passengers is the story of the 19th century voyage to Tasmania of a disparate group of Englishmen in search of the Garden of Eden. It is told in 20 different voices, won the 2000 Whitbread Book of the Year Award and was shortlisted for the Booker Prize for Fiction.
Matthew Kneale's latest books are Small Crimes in an Age of Abundance (2005), a collection of short stories; Powder (2006), a novella; and When We Were Romans (2007). In 2013 his non-fiction book An Atheist's History of Belief was published.
He has a particular interest in other languages and has travelled widely. He lives in Rome.
Critical perspective
Matthew Kneale's best-known novel is English Passengers (2000), which won the Whitbread Book of the Year, was shortlisted for the Booker Prize for Fiction, and brought its author widespread acclaim.
In a writing career spanning more than two decades, Kneale has produced several other books and won a clutch of prizes, though most critics would agree that to date English Passengers remains his finest work.
His first novel was Whore Banquets (1987), later reissued as Mr Foreigner (2002). It tells the story of a young Englishman, Daniel Thayne, who becomes involved with an enigmatic divorcee while teaching in Japan. When she declares she is pregnant, her powerful family decide that Daniel will marry her. Kneale, whose twin passions for history and travel are evident throughout his fiction, described it as 'a blackly comic piece based on a hair-raising year ... in Tokyo'. The book received a Somerset Maugham Award, repeating the achievement of Kneale's father Nigel, who won the award in 1950.
Inside Rose's Kingdom (1989) is another contemporary tale, this time set in London. Its protagonist is 19-year-old William Cade, who wants to leave behind the backwater of his family farm for the bright lights of the city, but on moving into a community house whose members share meals and play 'games', slowly becomes embroiled in its cultish atmosphere and finds himself vulnerable to the intentions of Rose, its landlord. Kneale later dismissed it as 'a typical second novel … a novel I'd rather forget', but it shows his interest in and development of themes of alienation and unease, which reappear in his later work.
Sweet Thames (1992) displays a new confidence in characterisation and pacing. Set in Victorian London, the novel is narrated by the young and idealistic engineer Joshua Jeavons, who hopes to reform the city's failing sewerage system in the face of a cholera epidemic; instead his energies become bound up in the task of tracing his missing wife. As in Whore Banquets, its male narrator lacks self-awareness, necessitating a painful journey of discovery, but whereas Thayne and Cade are unsympathetic as characters, the priggish Jeavons is engaging from the outset and, with the benefit of hindsight, gradually wins the reader's sympathies. Sweet Thames is 'a thriller and a love story… full of Dickensian vitality' (Marion McLeod, New Zealand Listener, 16-22 April 2005).
Having hit his stride, Kneale then came to a halt. (Later, he described a period of being stuck as 'like trying to push all the water into the wrong end of the bath'.) He planned to explore in fiction the treatment of Aborigines by the British in 19th-century Tasmania and undertook detailed research, but the novel itself – which became English Passengers – refused to take shape. 'I was completely lost,' he revealed in an interview. 'I did not want to write a heavy, moralistic tale [and] dreaded readers thinking I was lecturing them. Then I hit on the idea of a mad English vicar who thought the Garden of Eden was located in Tasmania.'
This gave the story its 'much-needed comic dimension' and when published, English Passengers attracted attention for its complex structure and 'mixture of low farce and high seriousness' (Max Davidson, The Daily Telegraph, February 2001). It also won plaudits for Kneale's success in using multiple voices: the novel features 21 narrators. One of the most memorable is the Aborigine Peevay, who employs 'a beautiful mongrel prose [that] plunders the earth and the rain for its metaphors, mixes lapidary Biblical rhythms with creative swearing, and [implies] a community of feeling and experience which is exactly what is being destroyed before our eyes' (Steven Poole, The Guardian, 4 March 2000).
Kneale is known for his ability to 'do voices' but he is also skilled in using them to uncover emotional realities and advance his plot. Peevay's archaic and circumlocutory use of English, for example, amplifies the gap between his desire for his mother's 'tender cherishings' and the actuality of her 'hating', evoking poignancy. Conversely, Dr Potter's cryptic notebook jottings ostensibly illustrate his quest to determine racial types, but in fact reveal the growing seriousness of his quarrel with Reverend Wilson. In his best writing, Kneale's own passion for knowledge fuels the development of his characters, as when Potter explains the working of expanding bullets, demonstrating his practical, even brutal approach: 'They change shape. They're made from lead, being soft, but have a steel plug at the base. At first they're narrow enough to drop easily down the barrel, but when the charge goes off the plug blows them flattish. That way they exactly fit the bore of the gun barrel, and spin nicely.'
In When We Were Romans (2007), Kneale takes further his experiments in literary ventriloquism, narrating the entire novel through the idiom of nine-year-old Lawrence, complete with spelling mistakes. The plot involves an increasingly chaotic road-trip to Italy, where Lawrence, his younger sister and their mother lodge with friends, but soon outstay their welcome. Gradually it becomes obvious that their flight from the children's father has been fuelled by their mother's escalating paranoia.
The book attracted a mixed reception. Some critics believed its 'unrelenting narrative momentum' to be 'a convincing impersonation of a child's written style' (Kasia Boddy, The Daily Telegraph, 3 July 2007); others suggested that the novel was, though convincing and faultlessly sustained, 'perhaps too reliant on that created voice' (Joanna Briscoe, The Guardian, 2 June 2007). Most recognised it as a bold achievement in exploring mental illness from a child's perspective, pricking the reader's unease 'with tiny alarms buried in the incongruous, incidental details' (James Urquhart, The Independent, 3 June 2007) and the repetition of phrases ('mum is really clever') to ward off anxiety. As in English Passengers, Kneale demonstrates a rare control of his material, using wry humour to leaven pathos and allowing emotions to peak without losing narrative momentum.
Between his latter novels, Kneale struggled to write about an invented Marxist state, but abandoned the attempt and instead wrote a collection of 12 short stories, Small Crimes in an Age of Abundance (2005). Set in locations as varied as the Middle East and South America, and narrated in the third person, these stories deal, he has said, with 'the general subject of Westerners doing ghastly things with good intentions'.
Among the best are 'Weight', which chronicles the anguish and obsession of a fat American geologist who buys himself a wife, and 'Powder', featuring an unsuccessful 50-something solicitor who chances upon a stash of cocaine that he chooses to sell on. While the voicing of the stories mostly lacks the vivid immediacy of Kneale's later novels, his 'fine, subtle talent' (David Robson, The Daily Telegraph, 23 March 2005) is frequently evident in the details (the elderly dog who 'struggled to defecate') and in moments which display his beguiling lightness of touch.
Rachel Thackray Jones, 2009
Bibliography
2013
An Atheist's History of Belief
2005
Small Crimes in an Age of Abundance
1989
Inside Rose's Kingdom