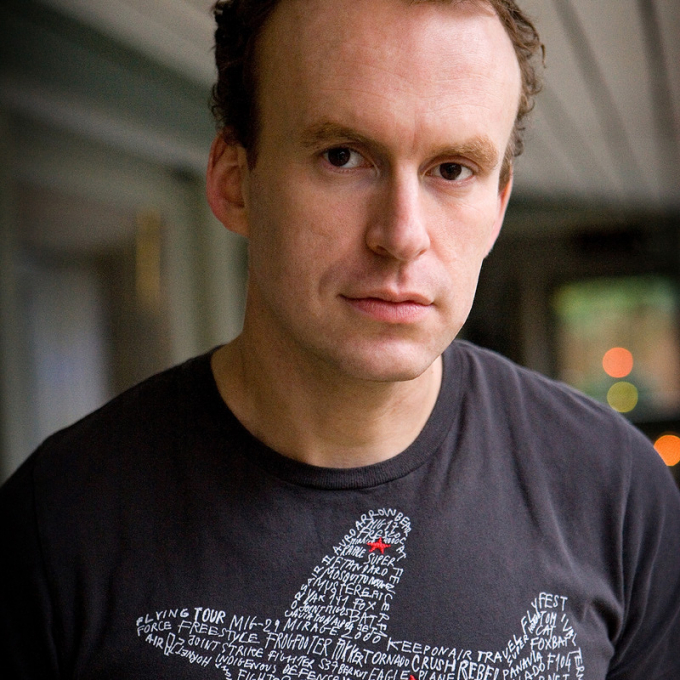 Biography
Matt Haig was born in 1975 in Sheffield, and grew up in Newark, Nottinghamshire.
He studied at Hull University and Leeds University and currently lives in York. After running his own internet marketing company and working for a nightclub in Spain, he became a full-time writer. He writes for various national newspapers, including The Guardian and The Independent.
His novels for adults are the bestseller, The Last Family in England, narrated by a Labrador and optioned by Brad Pitt's film company, Plan B; The Dead Fathers Club (2006), an update of Hamlet featuring an 11-year-old boy; The Possession of Mr Cave (2008), about a man obsessed with his daughter's safety, and currently being adapted for the screen; The Radleys (2010); and The Humans (2013). 
His multi-award winning popular first novel for children, Shadow Forest, was published in 2007 and its sequel, The Runaway Troll, in 2009. Since then he has written To Be A Cat (2013); Echo Boy (2014) and A Boy Called Christmas (2015) with illustrations by Chris Mould.
His autobiographical book How to Stay Alive, about coping with depression, was published in 2015.  
Critical perspective
From the publication of his first novel in 2004, Matt Haig has enjoyed popular success with his fiction for adults and children, including crossover hits.
His style is highly readable, switching seamlessly between humour and poignancy, but this conceals his pursuit of deeper literary concerns. In his adult fiction, in particular, Haig employs a succession of unusual narrators to dissect family life and dysfunction, exploring notions of anxiety, suppression and control in the context of familial relationships.
In early novels Haig uses Shakespearean plots as underlay. The Last Family in England (2004) is a canine dystopia that draws on Henry IV Part One and is narrated by Prince, a Labrador dog who makes it his duty to uphold the Labrador Pact and keep intact the Hunter household. Against an uprising of springer spaniels and other worldly pressures, Prince struggles to maintain the old order. 'The initial idea was to tell a story of a family,' says Haig. 'The dog stuff, and the Shakespeare stuff, came later'. Here as in later novels, Haig unpicks the particular secrets that bind a family and, exposed, can destroy it. Fiona Hook calls it 'a comic tour de force … Haig has pulled off the difficult feat of sustaining a joke' (The Times, 22 May 2004). 'On another [level], it's a desperately sad view from underneath as a family falls apart.'
Haig's second novel The Dead Fathers Club (2006) is a father-son story that, according to the author, 'migrated slowly towards Hamlet'. The narrator is 11-year-old Philip Noble, whose dead publican father reappears as a ghost to demand that Philip avenge his murder by Uncle Alan, the new landlord of The Castle and would-be seducer of Philip's mother. The novel 'pushes and pulls at Shakespeare's play in such a way that only half the fun is … in spotting the parallels' (Gerard Woodward, The Guardian, 1 July 2006). 'The story is so surprising and strange that it vaults into a realm all of its own' while the child's perspective 'brings out the absurd comedy of Shakespeare's tragedy' and allows the author to indulge his 'innocently acute eye for detail and … delightfully weird imagination'.
With his grammar-free idiom, and in the vein of Christopher Boone (who relates The Curious Incident of the Dog in the Night Time), Philip is a beguiling narrator. 'I said No but I felt Yes inside,' he reveals, and later remarks: 'Nan always loves me. I don't know why. I don't do anything. I just sit and eat biscuits. But she always smiles at me like sitting down and eating biscuits is a special trick'. Haig makes us laugh, too: 'I don't like Dr Crawford. He is the doctor who made me get my willy half chopped off in the Summer Holidays before Dad died because the skin was too tight when it was thinking about girls.'
Philip's artlessness enables him tell the truth more poignantly: 'Dads are just men who have babies but I know he loved me because I felt it go out of me … It was like air or blood or bones or something that made me me and it wasn't there any more and I had only half of it now and I didn't know if that was enough.' Philip also manages the rare trick of expressing profound thought in simple metaphor. 'Mrs Fell … doesn't know that time is not like pocket money that you can spend, because time is the person spending the pocket money and the pocket money is you.'
Haig's powers as a novelist reach a peak in The Possession of Mr Cave (2008), hailed as 'an enthralling addition to the literature of demented protagonists' (JamesUrquhart, The Independent, 20 May 2008) with its 'creeping crescendo of menace', the writing 'picked and clean, with flashes of bleak insight' (Philip Womack, Literary Review, July 2008). This book's narratoris antiques dealer Terence Cave, 'whose inner monologue is all Keats quotes and references to Beethoven's Moonlight Sonata' (John Burnside, The Guardian, 7 June 2008). His teenage son Reuben has just died in a tragic case of bullying, and having already lost his own mother and wife to suicide and murder, Cave decides to guard Bryony, his remaining child and Reuben's twin, with his life.
The question of 'what constitutes a 15-year-old's well-being and what a father's protection entails, or should entail, is at the heart of this complex novel' (Victoria Redel, New York Times, April 24 2009). Haig jettisons a Shakespearean undergirding, but 'much of Cave's hubris and language is rooted in the tragedies' (Urquhart). Thematically, Haig uses the novel to question the idea of control as an antidote to anxiety. Referring to a previous novel he has cited psychiatrist R. D. Laing's notion that 'when people seem to be mad, they are articulating underlying worries and anxieties that they are prevented, by circumstance or convention, from articulating normally', and he points to anxiety as a major influence on his own writing. What Cave cannot acknowledge in his emotions, he must suppress, and in a double conceit, the ghost of his dead son overtakes him even as he tries to possess the life of his increasingly errant daughter, the 'wonderfully ambivalent' Bryony.
Haig's skill is subtly demonstrated in the way he withholds the connection between the son's mewling life and the wife's violent death until the moment of most impact, and darkens the mood through deft one-liners (Bryony's suitor Denny has 'a thick, muscular neck but one that could still be cut like butter'). Vivid scenes emerge from few words: Cave's mother-in-law has a 'daily meadow of supplements' and a 'mini metropolis of pill jars and bottles'; a potential assailant, coming closer, is 'whistling an ominous G flat'.
Cave is a protagonist who can track '[the] enemy within'; who, even as he smothers a schoolboy with a cushion, notes with regret the 'pathetic crumble of his glasses'. His 'dissolving sanity' is foreshadowed in the description of his predatory thrill as a car boot bargain-hunter, and as his inner voice 'draws the reader into his mental processes of grieving' (Anna Pollard, The Portico, January 2009) this yields 'the chilling inexorability of a madness that, at every step, seems perfectly reasonable' (Anna Perleberg, Watermark, 19 March 2009). Cave remains 'both genuinely repellent' and 'oddly sympathetic', making this 'a page-turner in the best sense … most of the suspense comes from character' (Burnside).
In his newest book The Radleys (2010), an intelligently conceived tale of a family of vampires attempting to live incognito in suburbia, Haig further explores the consequences of suppression in the context of the nuclear family. Teenagers Rowan and Clara are unaware of their heritage until a bloody killing forces the family to take action. While the rotating viewpoint tends to diminish reader engagement, plotting remains tight and Haig's ideas – such as 'An Abstainer's Glossary' which explains vampire terms – fresh.
Haig is also a successful children's writer, and took the Nestle Children's Book Prize for his Shadow Forest (2007), a 'deliciously creepy adventure' that introduces siblings Samuel and Martha Blink. Set in a small Norwegian community, this Dahl-like adventure – followed in 2009 by the equally good sequel The Runaway Troll – has Haig's signature fast-moving storyline and 'enough twists to keep children gripped' (Lucy Davies, Daily Telegraph, 17 November 2007). Haig values his teenage readers, crediting them with 'the intelligence to understand big ideas' and embracing the adolescent mentality. 'Most fiction deals with character transformation … It helps to put yourself inside a younger mind, because the world instantly looks a bit newer.'
Rachel Thackray Jones 2010
Bibliography
2015
A Boy Called Christmas
2015
Reasons to Stay Alive
2008
The Possession of Mr Cave
2006
The Dead Fathers Club
2004
The Last Family in England
Awards
2009
Calderdale Children's Book of the Year Award
2009
East Sussex Children's Book Award
2009
Lancashire Schools Library Fantastic Book Award
2009
Salford Children's Book Award
2008
Bay Book Award Swansea
2008
Blue Peter Book Award: The Book I Couldn't Put Down
2008
Lincolnshire Young People's Book Award
2008
Warrington Winner of Winners Book Award
2008
Waterstone's Children's Book Prize
2007
Nestle Children's Book Prize