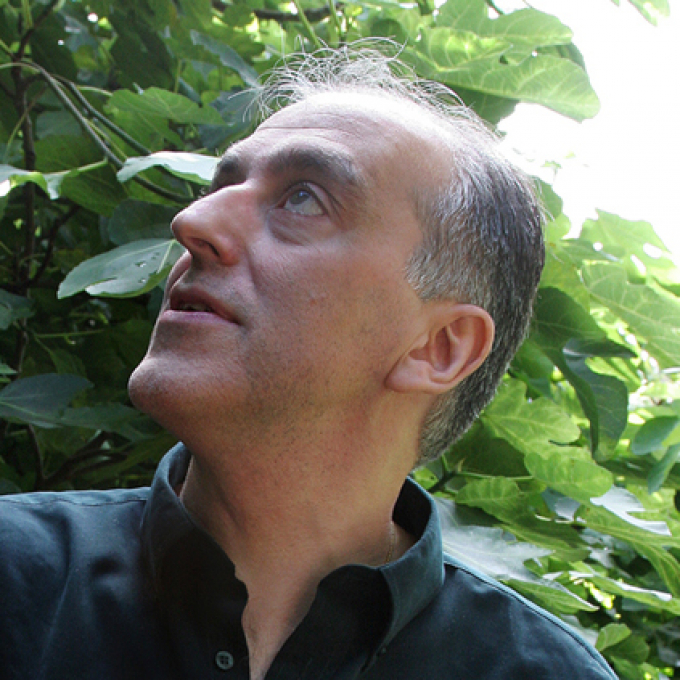 Mario Petrucci
Publishers:
Biography
Originally a Natural Sciences graduate with a PhD in optoelectronics, Mario Petrucci works as a freelance creative writing tutor, broadcaster and educator.
He co-founded the award-winning collaborative performance poetry group ShadoWork, and is the author of six books of poetry.
His first collection, Shrapnel and Sheets (1996), dealing with war themes, family relationships, bereavement and scientific issues, won a Poetry Book Society recommendation. This was followed by two further collections: Lepidoptera (1999) and Bosco (1999).
He has undertaken various residencies, including the first residency for a poet at the Imperial War Museum in 1999, as part of the Poetry Society's 'Poetry Places' scheme. Here, he devised the poetry hunt, 'Search and Create'. Some of his poems are on display within this museum and in the new Imperial War Museum North.  In 2000 he was poet-in-residence in the London Borough of Havering, a 'Year of the Artist' placement, and his book, The Stamina of Sheep: The Havering Poems (2002),was published as a result of the residency, winning the Essex Book Awards Best Fiction Prize. He has recently been commissioned as BBC Radio 3's first poet-in-residence, and is currently a Royal Literary Fund Fellow at Oxford Brookes University. He also undertook a residency at Southwell Workhouse in Nottinghamshire, leading to the publication of the book, Fearnought, published in 2006.
In 2002, he won the Daily Telegraph Arvon International Poetry Competition, with a book-length poem on Chernobyl. This led to the publication of Heavy Water: a poem for Chernobyl (2004), launched on the 18th anniversary of the Chernobyl disaster, along with its sister volume, Half Life: Poems for Chernobyl (2004).
Regularly broadcasting on the BBC World Service and on BBC Radio 3, he also contributed the libretto for Stephen Warbeck's 'Classic Challenge' on BBC 2.
Mario Petrucci lives in London and is Chair of the Advisory Fellows of the Royal Literary Fund. His latest poetry collection is i Tulips (2010).
Critical perspective
In Mario Petrucci's striking poem 'Foetal Dream', we observe, as if through a microscope, an embryo: 'Wrinkled ginger-bread boy / sixteen millimetres long // with a half-life of half-an-hour / without the womb's dank oxygen'.
We also see it being delivered to a woman, and already starting to develop 'the headlet / of knobbled sard, bloodless // pearl-pricks of knuckles'. As this might suggest, Petrucci is one of the very few current British poets to have had a scientific training, and it is an essential component in his works. Petrucci describes himself as 'an ecologist, physicist, educator and war poet', and his activities show a remarkable diversity. With an awareness of history and politics, he can be seen as akin to European scientist-writers such as Miroslav Holub and Primo Levi. He has a documentary manner, and his imaginative witness to the Chernobyl disaster in Heavy Water: a poem for Chernobyl (2004) has recently been acclaimed. He produces accessible work, often linked to educational materials, and has commented that 'a lot of my work is off the page'. Among his several engagements as a poet-in-residence, one was at BBC Radio 3, and he has made site-specific poetic exhibits at the Imperial War Museums in London and Manchester, as well as at the Cabinet War Rooms, all of which can still be seen by the general public.
Maura Dooley has observed of Petrucci's poems that they 'make sense of personal and political histories', and this is certainly true of his first full-length collection, Shrapnel and Sheets (1996). His poems vary in form: they use rhyme or free verse, are shaped 'concretely', or have a question-and-answer format. They can be tersely ironic, full of feeling, and at times sentiment - as when describing child victims such as 'Olya', or re-imagining his Italian family history. Indeed, the book concludes with evocations of his father and other relatives in Italy during the Second World War. It opens, however, with more recent traumatic European events in 'The Confession of Borislav Herak', the self-justifying monologue of a real-life Sarajevo war criminal charged in 1992 with atrocities against Moslems. What's most chilling is its matter-of-factness, especially the account of disposing of bodies in an incinerator: "Even within the flames / some of them moved. One even turned // his head, looked at me'. As well as 'Foetal Dream', a number of the poems have scientific subjects, such as 'Ploucquet's Grail' about an 18th- century physician who carried out experiments on pregnant women. Technicians speak to us, or are observed, in 'Eye Surgery', 'Autopsy', 'Meat Inspector', and 'Face-Maker', whose genuinely creepy narrator reconstructs a murder victim that he calls Vicky: 'Her, I built from almost nothing – / skull crushed to shards, one jaw missing'. 'Otzi' describes a 4000-year-old corpse found in the Austrian Alps and put on display, while a macabre exhibit at the Victoria and Albert Museum speaks, in 'Narcissus visits the Museum of Death'.
As Poet-in-Residence at the Imperial War Museum during 1999, Petrucci made what he termed 'Search and Create', a Poetry Hunt with activity sheets and other educational materials available to visitors, inviting them to find and reflect upon his poems (alongside two by the First World War poet Isaac Rosenberg). The poems are hidden on all three levels of the museum among the permanent exhibits such as tanks, guns, boats, planes, and rockets. They were intended initially to stimulate discussion and creativity among visiting groups of school children, with the poems being colour-coded for age ranges 8-12 years old and 13+, but they can of course be found by visitors of all ages. What the (usually) short rhyming poems do is to give a voice and character to their exhibit, often sardonically commenting upon their own destructive purposes. 'Sniper', for example, is read through a telescopic sight, imitating the act of sniping. Another poem, located on an obscure wall, seeks to deny its own guilt: 'When it comes // to War I / might offer shelter // … but / if you're looking // for blame / Don't // pin it on me'.  Petrucci delights in punning titles: 'Riddled' is on a 5.5 inch naval gun, and offers a riddle: 'My first is in RanGe / and clearly in SiGht'. Its target is 'riddled' with bullets: '(My aim can be true / and still be at fault)'. 'Spot On' brings to life an anti-aircraft searchlight: "My aim? To scuttle the night. / their flight'. Its target is a Flying Fortress. The most pointed piece is perhaps 'Stick to Your Guns', located on a German anti-aircraft gun, which asks 'What if we stuck to words?': a more general question about war and its terminology. It concludes: 'Buried voices can't be heard - / all those who stuck to guns'.
Enabling 'buried voices' to be heard was the aim of Heavy Water: a poem for Chernobyl, published to coincide with the 18th anniversary of the disaster. Petrucci acknowledges that his sequence of poems was inspired by the testimonies of victims preserved in a Russian book, Voices from Chernobyl. In the collection, the poems do more than sympathetically observe the suffering of victims: they bring them back to life, to tell their stories – and to warn us. The cover depicts the tracks of alpha particle radiation in a Cloud Chamber, and these human stories are prefaced by a 'Chain of Decay' listing the atomic elements released by the explosion, with half-lives that range from Polonium 215 (1.78 milliseconds) to Uranium 235 (703.8 million years). The first victim can be seen only with X-rays: 'map his contours in roentgens, / reconstruct him in glowing 3D. He might almost be // recognisable to his wife' ('The Man Buried with Chernobyl'). We meet the soldiers and the miners who dealt with the immediate emergency ('still they shovel / the graphite that is erasing marrow, spine, balls'). The clean-up workers become sleepwalkers and 'Grey Men'; local peasant farmers undergo radiation checks, questioning orders to destroy contaminated food ('Two Neighbours'). At a 'Chernobyl Wedding', 'The guests arrive – they hose down the bus', and the bride's bouquet is / caught mid-flight. And hosed'.
The effects of radiation sickness result in some appalling images, and most poignant of all are the child victims. One tells us, 'A man chased Kitty with a Geiger' ('My Parents Kissed - and I was Born'), while 'Olya' is a dying ballet-loving child whose 'wasted toes stirred. Practised steps'. These emotive scenes are balanced by Petrucci's trademark scientific detachment, with some poems describing the strange abstract beauty of radiation particles. This book ends, in 'Envoy', with a punning plea to the reader to 'Take our words. Enrich them. / They are already active – but enrich them'. What has been called Petrucci's 'compassionate but dissecting eye' is brought to bear on all his projects. He is able to step beyond the printed page in the perennially vital role of educating the young and the public.
Dr. Jules Smith, 2004
Bibliography
2007
somewhere is january
2006
Fearnought: Poems for Southwell Workhouse
2004
Heavy Water: a poem for Chernobyl
2004
Half Life: poems for Chernobyl
2002
The Havering Poetry Study Pack
2002
High Zest and the Doggerel March
2002
The Stamina of Sheep: The Havering Poems
Awards
2005
London Writers Competition
2004
London Writers Competition
2003
Essex Book Awards Best Fiction Prize
2002
Arts Council Writers' Award
2002
Daily Telegraph/Arvon International Poetry Competition
1999
Bridport Poetry Prize
1998
London Arts Board New Writer Award
1998
London Writers Competition
1997
Irish Times Perpetual Trophy
1997
Sheffield Thursday Poetry Competition
1996
Frogmore Poetry prize
1993
London Writers Competition
Author statement
Why does anyone put pen to paper - particularly in an age turned so fiercely towards the visual? Some time ago now, precisely at the point at which life seemed about to topple me, I picked up a humble pencil, a sheet of paper, and as though they were some diminutive oar and raft I rowed to a harbour of poetry. I'm still not sure why I did that. Now I choose poetry as a key way to exist in the world - like meditation. But it's also mostly hard work. I've just spent the best part of three years gestating a brace of books about Chernobyl.  eavy Water and Half Life were delivered by their respective publishers on the same morning, 26 April 2004, to mark the 18th anniversary of the Chernobyl disaster. I've never felt so exhausted, or so privileged. The nearest a man can get, perhaps, to birthing twins.   Sometimes I feel the process of creation is almost meteorological - a spontaneous condensation in the dark spaces outside the consciousness, a thick vapour that creeps under the door of our brightly-lit lives and demands that we investigate. The rest of it is trying to get the blasted door to open. That's why I keep journals, notebooks, albums. I compile my own mini-dictionaries of unusual words, slang and an Italian equivalent to bearlachas. I practise telling lies. I read Dante on the Tube and the Decameron in the shower. I even jaywalk along Betterton Street. I'm a Benjamin Franklin forever launching my kite into the cloudless blue. But the best writers, for me, are a bit like those people who make toast at 7 am. Because of them, our noses wake us up - perhaps at first begrudgingly - but soon we're all jostling down the stairs to queue at the toaster. Finally, do I have any advice? Yes. Always mistrust writers who offer advice.