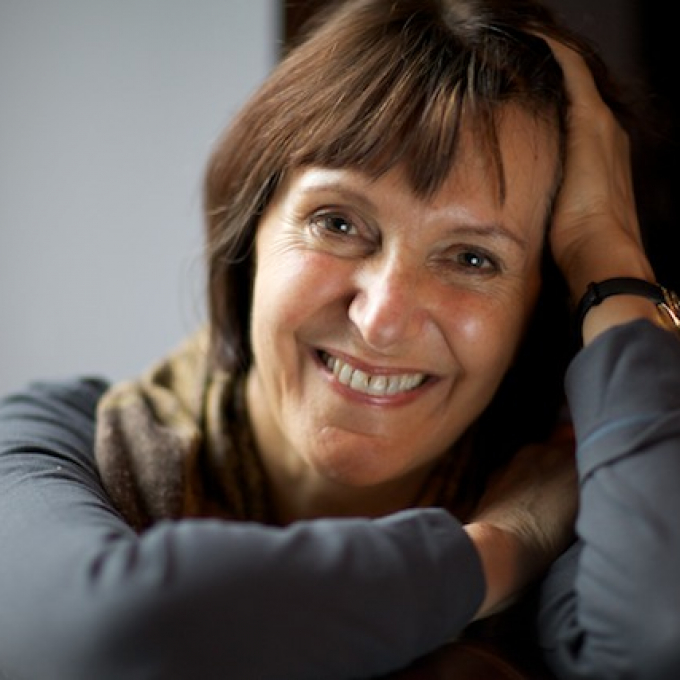 Marina Lewycka
Publishers:
Agents:
Biography
Marina Lewycka is of Ukrainian origin and was born in a refugee camp in Kiel, Germany, during World War II.
She studied at Keele University, and has written a number of books of practical advice for carers of the elderly, published by Age Concern. She lectures in media studies at Sheffield Hallam University.
Her first novel, The Short History of Tractors in Ukrainian (2005), tells of the exploits of two feuding sisters trying to save their elderly father from a Ukrainian divorcee, Valentina. This book won the 2005 Saga Award for Wit, the 2005 Bollinger Everyman Wodehouse Prize, and was shortlisted for the 2005 Orange Prize for Fiction.
Her second and third novels are Two Caravans (2007) and We Are All Made of Glue (2009).
Various Pets Alive and Dead (2012) is her latest novel, set in Doncaster and London.
Critical perspective
Marina Lewycka's own background has given her a special position as a writer of imaginative fiction.
Born to Ukrainian parents in a refugee camp in Kiel, but raised by them in the UK, she is able to observe Britain both as an insider and an outsider. In her first two novels she has demonstrated an impressive ability to negotiate this dual perspective, and in the process, to capture something relevant and necessary about contemporary Britain and its mix of cultures.
When A Brief History of Tractors in Ukrainian (2005) was first published, it was allegedly mis-shelved by many booksellers in their agriculture or engineering sections. Far from the dry tome it may sound, however, the book is an engaging and very accessible family story. Lewycka has admitted that much of her tale 'about an old man's obsession' is drawn from life, and the experiences of her and her sister, and their Ukrainian father. However, she has been quick to point out that although the book's origins might have been autobiographical, 'as the characters took on a life of their own, and became distinct from the people in my life, so they created their own stories.'
Were the novel simply the story of Nikolai Majevskyj's loneliness, aging, and isolation from his homeland, it would have been a poignant, but much simpler book. However, with the introduction of Valentina, the young Ukrainian woman who wants to live in the UK (via marriage with Mr Mayevskyj) and who bursts into his family's world 'like a fluffy pink grenade', an opportunity for a much richer piece of work emerges. Lewycka's portrayal of Valentina – her tacky dress sense, her brash manner, her often outrageous language – is highly successful. While the quirks and confusions of both Valentina's and Nikolai's English are as humorous as anything in Jonathan Safran Foer's Everything is Illuminated, Lewycka is adamant that the linguistic comedy is far from patronising. She has said in an interview: 'what I have done, very often, is to translate literally what someone would have said in Ukrainian into English. There is always a 'clunkiness' about translated language which can be quite funny [...] But I also found that once you abandon the rules of "good English", it gives you a tremendous freedom to play with the language, and to be more vivid and expressive than "good English" will allow.'
It is not all laughs, however. Although the main story centres around the farcical situation of the old man falling for a clearly unbesotted woman over 40 years his junior, while his two daughters battle to protect their father and his finances, as the story unfolds it is clear that there are other, more disturbing, issues at play. Mr Mayevskyj's daughters, Nadezhda and Vera, are grappling with a troubling family history of which they have very different memories; the often ignored issue of caring for the elderly comes under scrutiny as Mr Mayevskyj's living conditions start to deteriorate; and Valentina herself, it emerges, is dealing with a desperate situation back home in Ukraine. Lewycka's professed method in the novel – 'I set out to delight and entertain; there are some serious ideas, but I tried to sneak them in almost so you wouldn't notice' – proves effective.
Two Caravans (2007), her second novel, is less directly autobiographical and sees Lewycka developing her interest in a foreigner's perspective on the UK. But while the trademark humour remains, we see her using the book to tackle much darker territory – including economic migration, abject working conditions, food production practices, exploitation and prostitution.
The story centres around a disparate group of immigrant strawberry pickers living on a farm in Kent in two dilapidated caravans. Drawn to the UK from eastern Europe, the Far East and Africa, they each have reasons for being in the country, and expectations of what they will find here. Initially the farm's cramped conditions, and the back-breaking labour, seem less than ideal. But once the workers have left the farm and gone their separate ways to explore various work 'opportunities' – including a particularly unpleasant section set in a chicken processing factory – the strawberry-picking days come to seem a halcyon time.
Lewycka is keen not to paint any of the characters too simply, and through a multi-perspective narrative, the reader is able to see events through many different eyes. The Ukrainian characters Irina and Andriy, who take a central role in the latter stages of the novel, are quickly shown to be, respectively, rather snobbish and rather idealistic. The otherwise good-hearted Emanuel develops a curious obsession with 'canal knowledge'. Even Vitaly, the strawberry picker turned 'recruiter' who shows no compunction in delivering his fellow workers into all sorts of underhand industries, is revealed to have his own difficult background and subsequent pressures. Perhaps the only characters who end up as they started are the sinister Vulk, who brings Irina to the strawberry farm but then decides he can find better employment for her in a less wholesome industry; and the Dog who narrates his own sections, and who is big-hearted and loyal throughout.
As with her first novel, there is a humorous disjunction between what the characters are searching for and what they actually find, as well as a familiar culture-clash comedy. But in Two Caravans it is social rather than family tension that is at the heart, as the book's characters are shown to be just a fraction of a huge industry in exploitable immigrant labour. The comic treatment allows readers to look at aspects of UK life that we might otherwise avoid or ignore, and in that sense the method is successful. It is often tricky to mix social issues with entertaining fiction, but Lewycka's flair for humour, pathos and real life helps her to pull it off.
Susan Tranter, 2008
Bibliography
2012
Various Pets Alive and Dead
2009
We Are All Made Of Glue
2005
A Short History of Tractors in Ukrainian
2002
Caring for Someone with a Sight Problem
2001
Caring for Someone with a Hearing Loss
1999
Caring for Someone with Diabetes
1995
Choices for the Carer of an Elderly Relative
1994
Finding and Paying for Residential and Nursing Home Care
1993
Caring in a Crisis: What To Do and Who To Turn To
1993
Survival Skills for Carers
1980
Zorina Begum Thinks She is Pregnant: A Reader