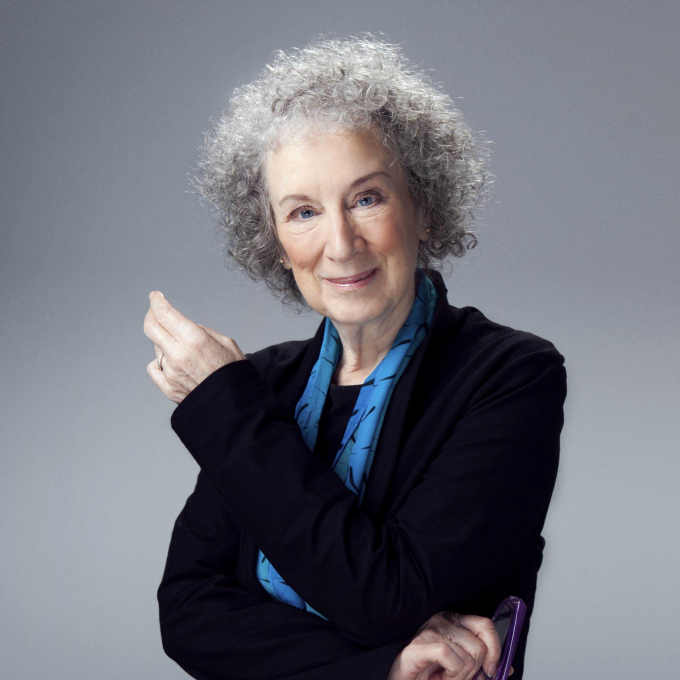 Margaret Atwood
Publishers:
Agents:
Biography
Margaret Atwood was born in Ottawa, Ontario, in 1939.
She is the daughter of a forest entomologist, and spent part of her early years in the bush of North Quebec. She moved, at the age of seven, to Toronto. She studied at the University of Toronto, then took her Masters degree at Radcliffe College, Massachusetts, in 1962. She is Canada's most eminent novelist and poet, and also writes short stories, critical studies, screenplays, radio scripts and books for children; her works have been translated into over 30 languages. Her reviews and critical articles have appeared in various eminent magazines and she has also edited many books, including The New Oxford Book of Canadian Verse in English (1983) and, with Robert Weaver, The Oxford Book of Canadian Short Stories in English (1986). She has been a full-time writer since 1972, first teaching English, then holding a variety of academic posts and writer residencies. She was President of the Writers Union of Canada from 1981-1982 and President of PEN, Canada from 1984-1986. Her first publication was a book of poetry, The Circle Game (1964), which received the Governor General's Literary Award for Poetry (Canada). Several more poetry collections have followed, including Interlunar (1988), Morning in the Burned House (1995) and Eating Fire: Selected Poetry, 1965-1995 (1998). Her books of short fiction include Dancing Girls and Other Stories (1982), Wilderness Tips (1991) and Good Bones (1992).
She is perhaps best known, however, for her novels, in which she creates strong, often enigmatic, women characters and excels in telling open-ended stories, while dissecting contemporary urban life and sexual politics. Her first novel was The Edible Woman (1969), about a woman who cannot eat and feels that she is being eaten. This was followed by: Surfacing (1973), which deals with a woman's investigation into her father's disappearance; Lady Oracle (1977); Life Before Man (1980); Bodily Harm (1982), the story of Rennie Wilford, a young journalist recuperating on a Caribbean island; and The Handmaid's Tale (1986), a futuristic novel describing a woman's struggle to break free from her role. She subsequently published Cat's Eye (1989), dealing with the subject of bullying among young girls; The Robber Bride (1993); Alias Grace (1996), the tale of a woman who is convicted for her involvement in two murders about which she claims to have no memory; The Blind Assassin (2000), a multi-layered family memoir; and Oryx and Crake (2003), a vision of a scientific dystopia, which was shortlisted for the 2003 Man Booker Prize for Fiction and for the 2004 Orange Prize for Fiction. Alias Grace, The Handmaid's Tale and Cat's Eye were all shortlisted for the Booker Prize for Fiction; The Blind Assassin won this prize in 2000.
Some of Margaret Atwood's books have been adapted for stage and screen. A television series based on Alias Grace was broadcast in 2017, and a television film for The Robber Bride appeared in 2007. The Edible Woman has been staged, while The Handmaid's Tale has been adapted for screen by Harold Pinter in a film directed by Volker Schloendorf, released in 1990, staged as an opera by Poul Ruders - the British Premiere was performed by English National Opera at the Coliseum, London, in April 2003 - and became a television series in 2017.
Margaret Atwood is a Fellow of the Royal Society of Canada, has been presented with the Order of Ontario and the Norwegian Order of Literary Merit, and has been awarded 16 honorary degrees. She has lived in many places including Canada, England, Scotland and France, and currently lives in Toronto.
Recent books are: Stone Mattress (2014), a collection of short stories; MaddAddam (2013), concluding the dystopian trilogy started with Oryx and Crake (2003) and The Year of the Flood (2009); The Heart Goes Last (2015) and Hag-Seed (2016). The Testaments (2019) returns to the fictional world of The Handmaid's Tale and was shortlisted for the Booker Prize. In 2011, she published a book of essays about science-fiction, entitled In Other Worlds: Science Fiction and The Human Imagination.
Critical perspective
Coming to Margaret Atwood's work for the first time, a reader is likely to be daunted: she is seen as one of the world's leading novelists, for some the best of all; she has written poetry, novels, criticism and short stories; she campaigns for human rights and for the environment; she has simply written so much.
Nonetheless, across the years, certain themes, concerns and ways of writing recur. Amongst other things, Atwood writes about art and its creation, the dangers of ideology and sexual politics; she deconstructs myths, fairytales and the classics for a new audience. Her work is often gothic, which is one reason for its wide popularity.
The Handmaid's Tale (1986) is Atwood's most famous novel. The story of a woman called Offred, living in the republic of Gilead, a nightmarishly imagined America of the future, it contains many characteristic features of the novelist's work. It is starkly political in its depiction of the constrained rights of the individual in a new society, and of male-female power relations; it shows a woman who has suffered much, attaining some subjectivity through the act of narration – this is Offred's own book. Importantly, though, it is readable: the novel is science fiction as well as literary fiction, and accessible to a wide audience; for Atwood, an ideal reader "is somebody who reads the book on the first read-through to see what happens". The author actually prefers the term 'speculative fiction' to science fiction, and in the essay 'Aliens have taken the place of angels' has written that it can "explore the nature and limits of what it means to be human" and "explore proposed changes in social organisation" (The Guardian, 17 June 2005). But what lingers most about this novel is its ending: did Offred escape? We shall never know, and find that her 'tale' has been transcribed by scholars in a subsequent future. It may even be fictional, in Atwood's fictional world itself. The postmodern conclusion leaves us with a moving sense of uncertainty, as the author breaks generic boundaries.
We can make links to other key Atwood works from The Handmaid's Tale. Her feminism is apparent from her first published novel, The Edible Woman (1969), which Atwood calls "proto-feminist": it predates the key years of the women's movement, and is also, beyond its political interest, comic. Surfacing (1973), one of Atwood's most written-about books, explores a woman's journey into madness, the setting on the borders of Canada and the US mirroring the borderline of rationality and fantasy of the narrator. Again, it is an accessible exploration of female subjectivity, with a great deal of writing in the first-person; as in The Handmaid's Tale, we are thus brought very close to the protagonist. For many Canadians, Surfacing was, combined with the critical work Survival: A Thematic Guide to Canadian Literature (1972), a book that gave their literature a life of its own.
Works that follow The Handmaid's Tale often echo it in terms of form. Atwood has become increasingly interested in genre fiction, in writing within popular narrative forms, while questioning what they convey. This is the case with Alias Grace (1996), where Peter Kemp felt that the author "confirms her status as the outstanding novelist of our age" (The Sunday Times, 8 September 1996). Atwood's first historical novel, it imagines the story behind the nineteenth century figure Grace Marks, imprisoned for murder, and at one point placed in an asylum. Combined with the familiar territory of imprisonment and subjugation, and the mysterious feminine, though, is a crime novel – did she do it, or not? Atwood subverts reader's expectations by refusing to provide an answer; the novel is similarly postmodern in its depiction of the silent, lost voices of the past. The generic mixing becomes even stronger in the Booker Prize-winning The Blind Assassin (2000), which Alex Clark found to have "all the drama and intensity of a gothic horror story", commenting that "Atwood has always sought to collapse and subvert different genres, so it isn't surprising that her family saga should encompass pulp sci-fi, clue-strewn detective novel, newspaper reportage and tragic confessional romance" (The Guardian, 30 September 2000). The novel that followed, Oryx and Crake (2003) is, like The Handmaid's Tale, dystopic science fiction; she shows herself interested in scientific development and possibility – and danger – to a degree rare in literary figures.
Atwood's best novel, however, must surely be Cat's Eye (1989). It is a slow-burning piece, the story of a famous artist returning to Toronto for a major exhibition, and mentally reliving her childhood and teenage years. It becomes clearer as we progress that Elaine Risley is a highly damaged individual, cold and emotionally withdrawn, and we find a partial explanation in the bullying she suffered when young. She is condemned to a life apart, as we see right at the end of the book:
"This is what I miss, Cordelia: not something that's gone, but something that will never happen. Two old women giggling over their tea."
The spare, detached style is precisely the point, and as fitting for Elaine as it is for Offred. The simplicity is the key to Atwood's writing: it has ensured her wide readership, and is found likewise in much of her poetry. If Atwood is known for novels rather than her poems, this is because of the dominance of the novel in the market; many of her poems convey her characteristic themes concisely and originally. Such is the case with an early poem, 'This is a Photograph of Me', which is composed as the voice of a dead woman; subtle links might be made to Alias Grace, as Atwood opens up the lost and unknown:
"The photograph was taken / The day after I drowned /I am in the lake, in the center / Of the picture, just under the surface."
Although Atwood's recent novels have received prizes and much critical attention, there are those that claim that The Blind Assassin and Oryx and Crake are not her strongest work. Compared with her recent shorter fiction and stories, this might well be true. Moral Disorder (2006) is an intriguing book, for the stories, written separately, are united to form a fictional biography of someone who may or may not be Atwood. We begin with an elderly couple, then move back to the woman's childhood, until we are back again with a woman visiting her elderly parents. Who is the 'I'? The blurring of subjects suggests a common humanity in age and decay; the end, where the narrator uses her imagination to breathe life into an old photograph, is Atwood at her very best. The Penelopiad: The Myth of Penelope and Odysseus (2005) is a wonderfully funny retelling of part of Homer's Odyssey from the viewpoint of Penelope. While making strong points about the treatment of women, both in fiction and society, the delight is the deadpan, modern voice of the new Penelope: "I repressed a desire to say that Helen should have been kept in a locked trunk in a dark cellar because she was poison on legs"; "she'd turned his men into pigs – not a hard job in my view". The comic use of the Greek chorus, who are now a chorus line, is equally good. Alongside this comic energy, though, comes an increasing bleakness in Atwood; in The Tent (2006), and its title story, words are a dubious refuge against a cold world. For her admirers worldwide, however, Atwood's words are far more than just a refuge.
Dr Nick Turner, 2009
Bibliography
2012
I Dream of Zenia with the Bright Red Teeth
2011
In Other Worlds: Science Fiction and the Human Imagination
2009
The Year of the Flood
2008
Payback: Debt as Metaphor and the Shadow Side of Wealth
2006
Waltzing Again: New and Selected Conversations with Margaret Atwood
2006
Bashful Bob & Doleful Dorinda
2005
Writing with Intent: Essays, Reviews, Personal Prose 1983-2005
2005
The Penelopiad; the myth of Penelope and Odysseus
2004
Rude Ramsay and the Roaring Radishes
2002
Negotiating With the Dead: A Writer on Writing
1998
Various Voices: Prose, Poetry, Politics 1948-1998
1998
Eating Fire: Selected Poetry, 1965-1995
1997
The Journals of Susanna Moodie
1997
A Quiet Game: And Other Early Works
1996
The Labrador Fiasco""
1996
The Selected Poetry of Gwendolyn MacEwen
1995
The New Oxford Book of Canadian Short Stories in English
1995
Strange Things: The Malevolent North in Candadian Literature
1995
Morning in the Burned House
1995
Princess Prunella and the Purple Peanut
1994
Beyond the Map: Poems by Diane Ackerman, Margaret Atwood, et al
1994
The Poetry of Gwendolyn MacEwen: Volume Two, The Later Years
1993
The Poetry of Gwendolyn MacEwen: Volume One, The Early Years
1990
Selected Poems: 1966-1984
1990
Barbed Lyres: Canadian Venomous Verse
1989
The Best American Short Stories, 1989: Selected from U. S. and Canadian Magazines
1987
Bluebeard's Egg and Other Stories
1987
The Canlit Foodbook: From Pen to Palate - A Collection of Tasty Literary Fare
1987
Hurricane Hazel and Other Stories
1986
The Oxford Book of Canadian Short Stories in English
1983
The New Oxford Book of Canadian Verse in English
Awards
2019
Booker Prize for Fiction (shortlist)
2017
Ivan Sandrof Award for Lifetime Achievement
2017
St. Louis Literary Award
2017
Carl Sandburg Literary Award
2017
Franz Kafka International Literary Prize
2017
PEN Center USA Lifetime Achievement Award
2017
Daughters for Life Foundation Luminary Award
2017
Raymond Chandler Award
2015
Gold medal of the Royal Canadian Geographical Society
2015
Barnes & Noble Writers for Writers Award
2015
Arthur Ellis Award for Best Short Story
2015
Arthur C. Clarke Award for Imagination in Service to Society
2015
The Royal Canadian Geographical Society Gold Medal Award for Outstanding Service to Literature and Geography
2013
L.A. Times Innovator's Award
2012
Los Angeles Times Book Prize Innovator's Award
2012
Queen Elizabeth II Diamond Jubilee Medal
2008
Prince of Asturias Prize for Literature (Spain)
2007
Man Booker International Prize (nominee)
2006
Mythopoeic Fantasy Award for Adult Literature
2005
Man Booker International Prize (nominee)
2004
Orange Prize for Fiction (shortlist)
2003
Man Booker Prize for Fiction (shortlist)
2002
International IMPAC Dublin Literary Award (shortlist)
2001
Crime Writers' Association Dashiell Hammett Award
2001
Orange Prize for Fiction (shortlist)
2000
Booker Prize for Fiction
1998
International IMPAC Dublin Literary Award (shortlist)
1997
Canadian Booksellers Association Author of the Year
1997
National Arts Club Medal of Honor for Literature (USA)
1997
Premio Mondello (Italy)
1996
Booker Prize for Fiction (shortlist)
1996
Giller Prize (Canada)
1994
Commonwealth Writers Prize (Caribbean and Canada Region, Best Book)
1994
Sunday Times Award for Literary Excellence
1993
Canadian Authors' Association Novel of the Year
1989
Booker Prize for Fiction (shortlist)
1989
Canadian Booksellers Association Award
1987
Arthur C Clarke Award for Best Science Fiction
1987
Booker Prize for Fiction (shortlist)
1987
Commonwealth Writers Prize (Caribbean and Canada Region, Best Book)
1987
Los Angeles Times Book Prize (Fiction)
1987
Ritz Hemingway Prize (France)
1986
Governor General's Literary Award for Fiction (Canada)
1982
Arts Council of Wales International Writers Prize
1978
St Lawrence Award for Fiction (Canada)
1977
Canadian Booksellers Association Award
1966
Governor General's Literary Award for Poetry (Canada)