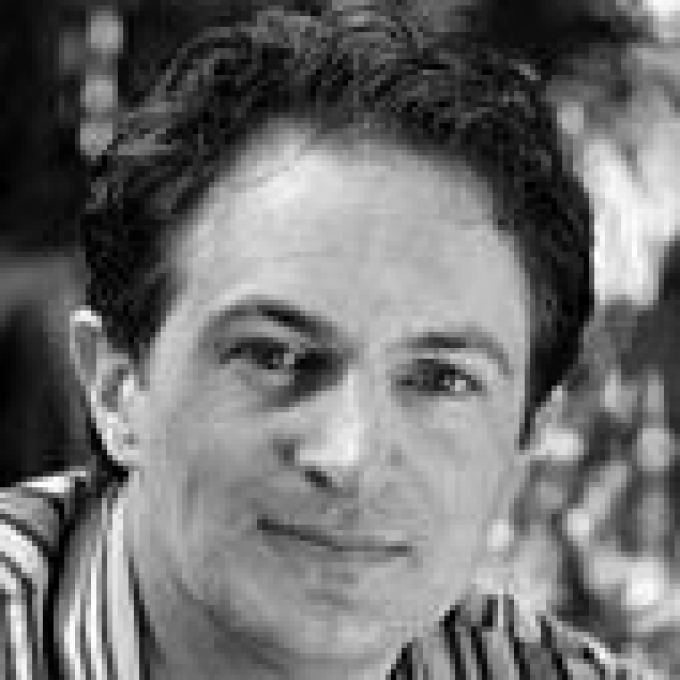 Marcus Sedgwick
Publishers:
Biography
Marcus Sedgwick was born in 1968 in Kent, and has worked as a bookseller and inside children's publishing, becoming a writer for children in 1994, and well-known for the dark themes in his young adult fantasy books.
He has illustrated some of his own books, and also produces woodcuts and stone carvings.
His first novel, Floodland (2000), winner of the 2000 Branford Boase Book Award, tells the tale of Zoe, who lives on her own on an island once part of England, and his second book, Witch Hill (2001), is about Jamie, a boy whose house is destroyed by fire. The Dark Horse (2002), borrows its tone from Norse myth, and Cowards (2003) is about two men who refuse to fight in the first World War. The Book of Dead Days (2003) and its sequel, Dark Flight Down (2004), tell of the search of Boy, Willow and Valerian, and their capture by Emperor Frederick.
My Swordhand is Singing (2006), was shortlisted for several book awards and was winner of the 2007 Booktrust Teenage Prize. Blood Red, Snow White (2007), was shortlisted for the 2007 Costa Children's Book Award.
His 2010 book White Crow  was shortlisted for the Guardian Children's Fiction Prize. Subsequent books include Dark Satanic Mills (2013); The Ghosts of Heaven (2015), shortlisted for the Carnegie Medal and winner of the Michael L. Printz Honor Award; and Saint Death (2016).
Marcus Sedgwick is also drummer in the Brighton-based band, Garrett. He lives in West Sussex.
Critical perspective
Floodland (2000), Marcus Sedgwick's award winning debut novel, imagines environmental disaster from a child's perspective.
It is a book reminiscent of William Golding's Lord of the Flies (1954) with just a hint of Graham Swift's Waterland (1983). The future Britain that Sedgwick fictionalises in Floodland is virtually submerged, a former island flooded to form a series of isolated islands inhabited by gangs that have gone, or are going, native. It will come as no surprise to hear that the novel is working with current world events: global warming, the melting of the polar ice caps, rising sea levels. However, the potentially predictable topicality of the theme is rescued by the vitality and originality of the novel's plot, which centres on the predicament of a young girl, Zoe, after she has become separated from her family during the floods:
'Zoe ran. Harder than she had ever run in her life. Her feet pounded through the deserted streets of derelict buildings. Somewhere, not far behind, she could hear the gang coming after her. It felt as if her heart would burst, but she didn't slow down. She'd been planning to leave the island for a long time, but had been putting it off. It was a big decision to go out to sea in a tiny rowing boat. Now she had no choice.'
The telegraphic half sentences with which the book begins sets the breathless pace for the rest of the text, which is particularly well pitched to grip the teenage reader.
The narrative of Sedgwick's next novel, Witch Hill (2001), carries some striking parallels with the first book, and like Floodland is also propelled by a disaster (this time a fire, and a family tragedy). Witch Hill thrusts the young protagonist, Jamie, into an unfamiliar world without parents and for the young protagonists of both these books, events beyond their control lead to the removal of conventional authority figures, a fact the children find both threatening and liberating. In Sedgwick's 2009 novel, Revolver, the death of a father in a remote and inhospitable landscape leaves the son having to work out whether or not to use his dad's gun when a stranger shows up at their cabin. This plot device, in which a child is thrust into a world where conventional power structures are temporarily suspended, reveals Sedgwick as a self-conscious craftsman, drawing upon some of the classic elements of the traditional children's tale. If the icy, isolated landscape of Revolver has something of the otherworldly about it, Mary Hoffman has noted that some its central concerns are much closer to home:
'Sedgwick was brought up as a pacifist, yet he admits to being fascinated by the power and beauty of a Colt revolver. He tried one out while researching this book, which also took him to some very cold places and included taking Swedish lessons. Apart from an excursion into Venice with Kiss of Death, most of his books have been set in northern climes, and he writes with the economy and spareness of a Norse saga.'
While almost all Sedgwick's work to date reveals a concern with 20th-century history (from the preoccupation with the First World War in Cowards (2003) and The Foreshadowing (2005), to the creative re-imagining of the Russian Revolution in Blood Red, Snow White (2007), or gestures to the future (Floodlands), the magical and mythical elements that suffuse his writing are in certain respects closer to the 'timeless' fable. Folk narratives and fairy tales are rarely far away in Sedgwick's story telling, which draws, for instance, upon Greek myths and Norse legends, in order to re-tell the eternal struggle between good and evil - see, for example, Dark Horse (2002) and The Book of Dead Days (2003).
Like the story-telling traditions upon which he draws, there is a dark side to much of Sedgwick's fiction which deals unflinchingly with sensitive subjects such as death and violence. The gothic themes that can be traced through many of the novels are given lighter treatment in his series of books for younger children (seven year olds and above): the Raven Mysteries. This series of six books, which playfully nods to the American master of gothic fiction, Edgar Allen Poe, are set in Castle Otherland. Inhabited by characters like Lord Valevine (inventor of the square wheel) and Solstice (an award-winning teen goth with black hair and bulbous eyes), the beautifully illustrated world Sedgwick has created carries more than a hint of the 1960s television sitcom, The Munsters.
Gothic mystery presents a more eerie shroud in Sedgwick's thriller White Crow (2010). Set in the fictitious village of Winterfold, the narrative inhabits an imagined space reminiscent of Floodland, a coastal setting where cliffs are crumbling into the stormy sea, and land is reclaimed by water. The modern day deluge that forms the backdrop to this tale is told from the perspective of three narrators: Ferelith, Rebecca and Dr Barrieux, forging an unholy tale that as Philip Ardagh notes compensates for any loss of narrative coherence through the vitality of its ideas:
'As with Sedgwick's previous novels, his interest in ideas and subject matter, coupled with his skills as a wordsmith, have produced something above the ordinary, but White Crow is not without its flaws. The three competing narrative voices do sometimes fragment the action, but this is intelligent writing dealing with everything from corrupting obsession to friendship, in a modern gothic mystery where ideas and images linger long after the final word has been read, and take flight.'
Within the space of a decade, Sedgwick's novels have contributed much to the texture of recent children's literature, and are in and of themselves testament to what Ardagh suggests is a soaring imagination.
Dr James Procter, 2010
Bibliography
2015
The Ghosts of Heaven
2013
She Is Not Invisible
2010
The Raven Mysteries: Lunatics and Luck
2010
The Raven Mysteries: Ghosts and Gadgets
2010
The Raven Mysteries: Vampires and Volts
2009
The Raven Mysteries: Flood and Fang
2007
Blood Red, Snow White
2006
The Dead Days Omnibus
2006
My Swordhand is Singing
2004
The Dark Flight Down
2004
The Emperor's New Clothes/Hans Christian Andersen
2003
The Book of Dead Days
Awards
2018
Carnegie Medal (shortlist)
2016
Michael L. Printz Award Honor
2016
Carnegie Medal (shortlist)
2014
Costa Prize for Best Children's Book (shortlist)
2014
Michael L. Printz Award
2013
Carnegie Medal (shortlist)
2011
Carnegie Medal (shortlist)
2010
Carnegie Medal (shortlist)
2010
Guardian Children's Fiction Prize
2008
South Lanarkshire Book Award
2007
Booktrust Teenage Prize (shortlist)
2007
Calderdale Children's Book of the Year Award
2007
Carnegie Medal (shortlist)
2007
Costa Children's Book Award (shortlist)
2007
Portsmouth Book Award
2007
Salford Children's Book Award
2007
Southern Schools Book Award
2006
Booktrust Teenage Prize
2006
North East Book Award
2003
Blue Peter Book Award: The Book I Couldn't Put Down
2003
Edgar Allen Poe Award (USA)
2003
Guardian Children's Fiction Prize (shortlist)
2003
Sheffield Children's Book Award
2002
Carnegie Medal (shortlist)
2002
Guardian Children's Fiction Prize (shortlist)
2001
Edgar Allen Poe Award (USA)
2001
Independent Reading Association Award
2001
Portsmouth Book Award
2000
Branford Boase Book Award