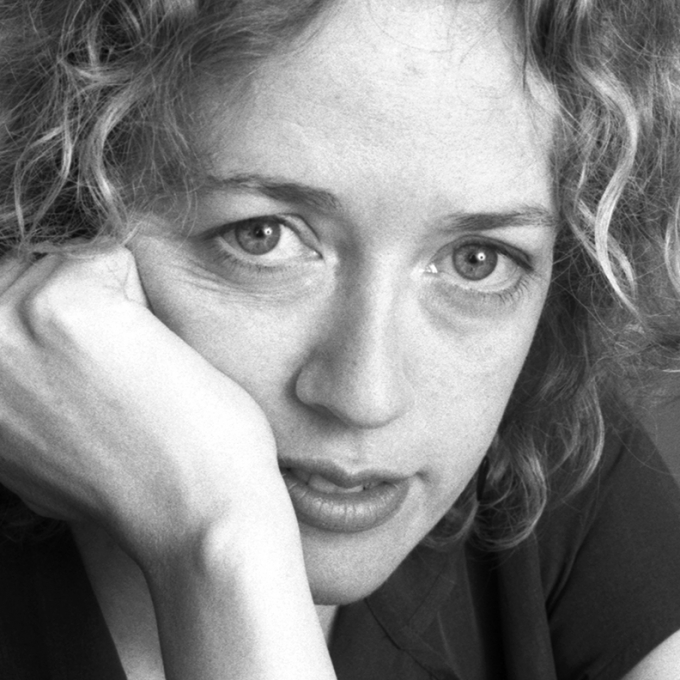 Lucy Ellmann
Publishers:
Agents:
Biography
Novelist Lucy Ellmann was born on 18 October 1956 in Evanston, Illinois, the daughter of biographer Richard Ellmann and writer Mary Ellmann (née Donahue). She moved to England at the age of 13 and was educated at Falmouth School of Art (Foundation degree, 1975), Essex University (BA, 1980), and the Courtauld Institute of Art (MA, 1981).
Her highly-praised autobiographical first novel, Sweet Desserts (1988), was awarded the Guardian Fiction Prize. Both her second book, Varying Degrees of Hopelessness (1991), and her third, Man or Mango? (1998), were shortlisted for the James Tait Black Memorial Prize (for fiction).
Lucy Ellmann is a regular contributor of articles on art and fiction to Artforum, Modern Painters, the Guardian, the Listener, the New Statesman, and the Times Literary Supplement. She is also a screenwriter and was a Hawthornden Fellow in 1992. Her novel, Dot in the Universe, a comic, poignant tale, was published in 2003, Doctors and Nurses in 2006, and Mimi in 2013. Her eighth novel, Ducks, Newburyport (2019) - which is 1,000 pages long and almost entirely told in a single sentence - has been widely praised, and shortlisted for the Man Booker Prize.
Critical perspective
Satirical, sarcastic and utterly without sentiment, Lucy Ellmann's voice is commanding without tipping into arrogance, and angry without the concomitant loss of self-control.
Her novels are a riot of rages, with quotable jibes at academics, scientists, and, in Man or Mango? (1998), an incredible four page demolition of men: 'Nuclear bombs, fluorescent lights, burning witches at the stake, deciding animals have no emotions – only men could have come up with such ideas.'  Ellmann luxuriates in her wit, brandishing it as a deadly weapon. Her novels break rules and invent their own. Ellmann is a risk taker. How refreshing it is to find a writer prepared to upset convention. Ellmann's loyalty is to nothing more than to the spirit of her enterprise: the marriage of a mischievous belief in the subversive with a take-no-prisoners comedy. 
Ellmann is still a relatively obscure writer. Despite winning the Guardian Fiction Prize for her debut novel Sweet Desserts (1988), she remains one of modern literature's most well-kept secrets. Ellmann is someone to turn to if you want a tragi-comic guide to the essential inconsequential meaninglessness of life. Like Woody Allen, she has a fist raised to the sky, a sly smile on her face and the suggestion of a bitter tear in her eye. She writes with a brutal, disarming honesty about the hopelessness of romantic yearning and the total dominion of death over our lives. With an admirable courage she attempts to make death comic, and, to a great extent, succeeds. Her characters are self-centred, inward looking, full of melancholy and self-hatred. They are not sure of their place in the world and rail against the fact that the purpose of the world itself is denied to us all. Ellmann's books are about solipsism, and that is something we can all identify with.
Throughout Ellmann's work, the semi-autobiographical fades into pure invention, lyrical fantasy and outrageous bursts of often bawdy humour. Ellmann adds to this mixture a love of innovation. Her use of italics, exclamation marks and words in upper case offend and intrigue in equal measure. Some readers are put off by the capital letters in particular, a technique Ellmann says she borrowed from her husband, fellow novelist Todd McEwen. In Dot in the Universe (2003), Ellmann uses them more than ever before: 'Dot realised she could die from her own mistakes or someone else's: eat something poisonous or become the latest victim of a crazed anaesthesiologist. She could die EMBARRASSINGLY, by drowning in a CUP OF COFFEE, or having something hilarious fall on her head — a gargoyle, poodle or porkchop — leading to a death nobody's able to mention without GIGGLING.' The capitalised words leap out from the page, screaming and demanding to be noticed, firm in their emphasis, their purpose often obscure. Our instinct is to shout 'why?' at the book. However they build in force and intensity and although we cannot always be sure of their intention, they become intrinsic to the novel; they are its bubbling anger. They are if you like, the rhythm section.
Sweet Desserts, Ellmann's first novel, a simple tale of painful family communication and parental loss, is raised beyond what at first appears to be nothing more than superficial whimsy, by its raw frankness and unexpectedly affecting moments. The image of the two sisters watching an opera during their first Christmas without their father and crying together; the scene when Suzy's daughter climbs into bed with her and hugs her because 'she seemed to know what was required.' Ellmann excels at these moments of out-of-the-blue poignancy.
Sweet Desserts is peppered with endless lists and excerpts of everything from cookbooks to suicide notes. Ellmann also does this in Man or Mango? and it seemingly serves to highlight the arbitrariness of life. I am not always convinced that this technique works, the lists sometimes feel like unnecessary addenda, but maybe that's the point. In any case these lists are as quirky, witty and provocative as everything else this writer does, so maybe this is nothing but a pedantic quibble.
Ellmann's second and third novels, Varying Degress of Hopelessness (1991) and Man or Mango? (1999), continue the themes of thwarted passion and an excess of sexual desire so apparent in Sweet Desserts. They are irresistible in their furiously unique blend of the tender with the savage, yet they are not as fully realised as Dot in the Universe, where Ellmann has truly demonstrated that she is, as Craig Raine once put it, the 'real thing.' Narrated in the third person, it is as if Ellmann has settled into her natural voice. And the results are thrilling.
The heroine is Dot Butser, a 'tight-lipped, pointy-nosed, blonde-haired' 40-year-old, married to John with whom she has great sex. Then she discovers her husband is a serial adulterer and jumps from Scotland's Forth Road Bridge. From there, Dot in the Universe takes some of the most surprising twists and turns in modern fiction. To reveal any more about what happens would be to commit a crime against future readers. The pleasure is in the unexpected. Much less fractured then her earlier narratives, Dot in the Universe is a manic, wonderfully misanthropic, eccentric and bile-ridden ride, through the worlds of fashion, porn and small town parochialism, with a Will Self-like incursion into a bureaucratic underworld. With its broadsides against science: 'Where's science when there's a strange man FARTING IN YOUR BED?' and memorable descriptions of everything from the combination of defecatory and reproductive organs: 'surely the weirdest anatomical ECONOMY DRIVE in the universe' to the need to maintain one's appearance: 'she clasped her arms tightly over her breasts, so that they wouldn't be TORN OFF on impact. There are aesthetic considerations even in death',  Dot in the Universe is a revelation.
In Ellmann's world, nothing matters and everything matters. It is the play of the trivial and the serious that makes for much of her work's poignancy and humour. From Dot in the Universe for example: 'Dot was HUNGRY. When they did sit down to eat, they were SURROUNDED by the smell of newly mown grass. This is actually a MASSACRE-ALERT smell. It is the smell given off by injured blades of grass in an attempt to WARN OTHERS. It is the smell of grass in a PANIC — there's nothing NICE about it.' A seemingly innocuously silly image suddenly becomes arresting. It is both funny and intensely disturbing. Grass will never be the same again.
Lucy Ellmann reminds me of the late and very, very great American stand-up, Bill Hicks. They share a relentlessly acidic rage at the iniquities, absurdities and horrors of life and a magnificent ability to transform that fury into memorable comedy. Ellmann's is a very special talent, and one to be celebrated.
Garan Holcombe, 2005
Bibliography
1991
Varying Degrees of Hopelessness