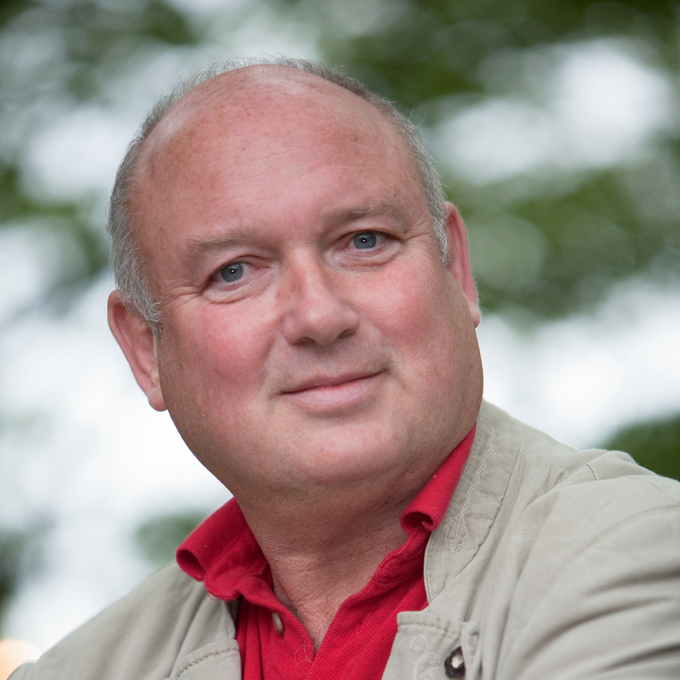 Louis de Bernières
Publishers:
Agents:
Biography
Novelist Louis de Bernières was born in London in 1954.
He joined the army at 18 but left after spending four months at Sandhurst. After graduating from the Victoria University of Manchester, he took a postgraduate certificate in Education at Leicester Polytechnic and obtained his MA at the University of London. Before writing full-time, he held many varied jobs including landscape gardener, motorcycle messenger and car mechanic. He also taught English in Colombia, an experience which determined the style and setting of his first three novels, The War of Don Emmanuel's Nether Parts (1990), Señor Vivo and the Coca Lord (1991) and The Troublesome Offspring of Cardinal Guzman (1992), each of which was heavily influenced by South American literature, particularly 'magic realism'.
In 1993, he was selected as one of the 20 'Best of Young British Novelists 2' promotion in Granta magazine. His fourth novel, Captain Corelli's Mandolin, was published in the following year, winning the Commonwealth Writers Prize (Best Book). It was also shortlisted for the Sunday Express Book of the Year. Set on the Greek island of Cephalonia during the Second World War, the novel tells the story of a love affair between the daughter of a local doctor and an Italian soldier. It has become a worldwide bestseller and has now been translated into over 30 languages. A film adaptation of the novel was released in 2001, and the novel has also been adapted for the stage. In 2001, Red Dog was published - a collection of stories inspired by a statue of a dog encountered on a trip to a writers' festival in Australia in 1998.
He wrote the introduction to The Book of Job, one in a series of books reprinted from the Bible and published individually by Canongate Press in 1998 and his play, Sunday Morning at the Centre of the World, set in South-West London, was broadcast on BBC Radio 4 in 1999, and published in 2001. He is also a regular contributor of short stories to various newspapers and magazines. His novel Birds Without Wings (2004) was shortlisted for the 2004 Whitbread Novel Award and the 2005 Commonwealth Writers Prize (Eurasia Region, Best Book). His novel A Partisan's Daughter (2008) was shortlisted for the 2008 Costa Novel Award. In 2009, he published a collection of short stories, Notwithstanding: Stories from an English Village.
Louis de Bernieres has also written two collections of poetry A Walberswick Goodnight Story (2006) and Imagining Alexandria (2013), a homage to the Greek poet Constantinos Cavafis. 
His latest novel is The Dust that Falls From Dreams, published by Harvill Secker in 2015. 
Critical perspective
Louis de Bernieres is a novelist best known for Captain Corelli's Mandolin (1994), whose international popularity has ensured his continuing high profile.
But the novels written both before and since that exceptional success are equally worth attention, from his early works of 'magic realism' set in South America to his magnum opus Birds Without Wings (2004), which takes an exacting yet compassionate view of the tragic effects of war upon the inhabitants of a small town in Turkey. He is equally adept at capturing the eccentricity and underlying melancholy of lives in English villages, as in the short story collection Notwithstanding (2009). Writing in all these modes, de Bernieres's ability to charm the reader is due to the humour he finds in absurdity, as well as the humanity he reveals in his characters.
In 1993 de Bernieres was selected as one of Granta magazine's 'Best of Young British Novelists'. By then he had already published a trilogy of highly entertaining novels set in a fictional South American country in the violent grip of corrupt politicians, the cocaine trade and Marxist revolutionaries. Nevertheless, animated by native supernatural spirits, machismo and Catholicism, the inhabitants are resilient - and libidinously free-spirited. The first novel is The War of Don Emmanuel's Nether Parts (1990), continuing with Senor Vivo and the Coca Lord (1991) and The Troublesome Offspring of Cardinal Guzman (1992). Their plotlines are convoluted, and certain characters disappear only to reappear later, sometimes in alarming new guises. There's an ongoing power struggle between good and evil, idealism and corruption, during which victims call upon the help of magicians and angels, priests and native gods.
In all his novels, de Bernieres's nice sense of farce is well to the fore. This is true in Captain Corelli's Mandolin, though the novel forsakes 'magic realism' and has more emotional connection between characters. Its tale is set on the Greek island of Kefalonia during the Second World War and occupation by Italian and German forces. Writing his history of the island, doctor Iannis visualises its invaders over the centuries: 'the shades of British redcoats played at dice with those of Turks, Catalans and Venetians amongst the dank and unmappable labyrinth of subterranean cisterns, tunnels and mines'. His beautiful young daughter Pelagia is engaged to a local fisherman and gradually falls for the charm of music-loving Italian soldier Corelli (catchphrase 'Heil Puccini'), but events prevent their happiness being fulfilled. Despite the privations and atrocities of war there are amusing incidents, as when a British agent parachutes in and talks to the locals in Ancient Greek – rendered in their confused dialogue as Chaucerian English.
Love and death in the shadow of war is also the essence of Birds Without Wings though its scale and historical sweep is far larger, its treatment more serious, when 'Destiny caresses the few, but molests the many'. As it opens in the early 20th century, the inhabitants of the prosperous Turkish town of Fethiye are a mix of Turks and Greeks, Muslims and Christians. A succession of differing narrators give a panoramic view of events during the break-up of the Ottoman Empire amid the upheavals of the First World War, as this community and the lives of its people are shattered. At the heart of the epic story are tragic young Greek girl Philothei and good-natured shepherd Ibrahim, but alongside them other families are equally torn apart by jealousy, intolerance and even simply by fate. The scenes at Gallipoli confronting 'Frankish' forces are horrific as are the subsequent deportations and massacres 'too gruesome to report'. Yet there are also acts of courage and humanity – and survival, as many years later Philothei's friend Drosoula tells us what happened to her.
The human costs of war can also be seen as the essential theme of A Partisan's Daughter (2008), set in the London of the 1970s and featuring another ill-starred beautiful young woman. This is Roza, the alluring Eastern European whom Chris meets when he is driving around and mistakes her for a prostitute. Or is he mistaken? As the book is narrated alternately by Chris and Roza, her stories about her Yugoslav family and experiences never quite ring true, even as their mutual sympathy deepens. He is infatuated by her while she is traumatised by the past, and – she says - by new horrors suffered as a hostess in a Soho club. It becomes as much a story about the unreliability of tale tellers and the gullibility of listeners, as of their own bittersweet romantic incompatibility.
De Bernieres is also a marvellous short story writer. Red Dog (2001) is a collection themed about a charismatic sheepdog - or 'notorious canine dustbin' - wandering around an Australian mining town and outbush. These adventures of the dog who 'belonged to everyone' are essentially light-hearted, though as always there are tragic incidents along with the humorous and sentimental episodes. A similar mixture of qualities can be seen in the stories of Notwithstanding. These are loosely based upon de Bernieres's own childhood in a Surrey village. He was prompted to collect them together, he says, by a conversation with a Frenchman who admired Britain because it was 'so exotic'. His trademark foreign settings and eccentric characters are each given their place within the community in stories both comic and poignant. And so we encounter squirrel-shooting spinsters, a dotty retired general without trousers, 'Obadiah Jack' the last local peasant, and a spiritualist widow still living with her deceased husband.
Love comes to mean different things for the old and the young. In 'Talking to George', two youngsters shelter from the rain in a garden shed, 'finding their intimacy, as Britons do, not in words but in the common labour of their hands'. By contrast, the aged Angela Feakes dies surrounded only by her pets and then meets again the dashing airman sweetheart killed during the war. There are ghost stories, and two farces ('Silly Bugger') in which wily tradesmen frustrate the intentions of a businessman in exterminating the local mole population to make his own putting green. The humour and farcical touches are nicely done. But the stories' overarching theme can be ultimately read as elegiac, for a generation passing away who had been 'cauterized by history'. Such characters are to be found throughout de Bernieres's fiction; his mastery of their tragic-comic situations continues to appeal to his many readers.
Dr Jules Smith, 2013
Bibliography
2013
Imagining Alexandria: Poems in Memory of Constantinos Cavafis
2008
A Partisan's Daughter
2006
A Walberswick Goodnight Story
2001
Gunter Weber's Confession
2001
Sunday Morning at the Centre of the World
1999
A Day out for Mehmet Erbil
1994
Captain Corelli's Mandolin
1992
The Troublesome Offspring of Cardinal Guzman
1991
Señor Vivo and the Coca Lord
1990
The War of Don Emmanuel's Nether Parts
Awards
2005
Commonwealth Writers Prize (Eurasia Region, Best Book)
2004
Whitbread Novel Award
1997
British Book Awards Author of the Year
1995
Commonwealth Writers Prize (Overall Winner, Best Book)
1995
Lannan Literary Award (Fiction)
1994
Sunday Express Book of the Year
1994
Commonwealth Writers' Prize
1992
Commonwealth Writers Prize (Eurasia Region, Best Book)
1991
Commonwealth Writers Prize (Eurasia Region, Best First Book)