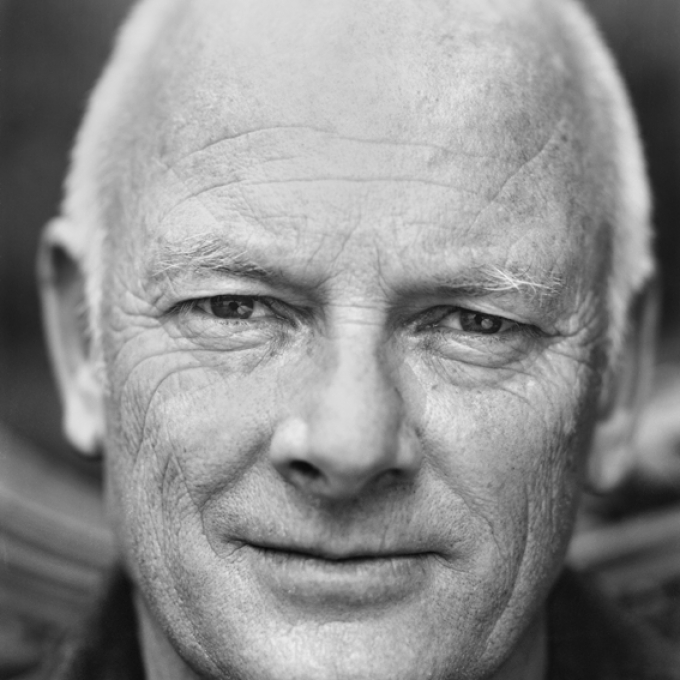 Biography
Lloyd Jones was born in 1955 in Lower Hutt, New Zealand, a place which has become a frequent setting and subject for his subsequent works of fiction.
He studied at Victoria University, and has worked as a journalist and consultant as well as a writer. His recent novels are: Biografi (1993); Choo Woo (1998); Here At The End of the World We Learn to Dance (2002); Paint Your Wife (2004);and Mister Pip (2007). He is also the author of a collection of short stoires, Swimming to Australia (1991).
In 2003, he published a children's picture book, Napoleon and the Chicken Farmer, and this was followed by Everything You Need to Know About the World by Simon Eliot (2004), a book for 9-14 year olds. He compiled Into the Field of Play: New Zealand Writers on the Theme of Sport (1992), and also wrote Last Saturday (1994), the book of an exhibition about New Zealand Saturdays, with photographs by Bruce Foster.  The Book of Fame (2000), is his semi-fictional account of the 1905 All-Black tour, and was adapted for the stage by Carol Nixon in 2003.
Lloyd Jones won the Commonwealth Writers Prize (Overall Winner, Best Book) and the Kiriyama Prize for his novel, Mister Pip (2007), set in Bougainville in the South Pacific, during the 1990s. He was also shortlisted for the 2007 Man Booker Prize for Fiction. In the same year he undertook a Creative New Zealand Berlin Writers' Residency.
His latest novels are Hand Me Down World (2010), the tale of a mother in search of her stolen child, and The Man in the Shed (2011). In 2013 his memoir, A History of Silence: A Memoir, was published. 
Critical perspective
Lloyd Jones' entry in the Oxford Companion to New Zealand Literature (eds Robinson and Wattie, 1998) summarises his unique style:
'Lloyd Jones is a fiction writer drawn to a sympathetic portrayal of ordinary middle-class life, a suburban realist who simultaneously challenges realism, subverts fictional norms, defies categories and writes narratives which are challenging, original and in some cases controversial.'
Since the mid-1980s Jones has produced a regular output of novels, along with short stories, children's books and non-fiction work. However, his rise to international success and critical acclaim has been gradual and steady, described by one reviewer as a 'slow-burn success' (Geraldine Bedell, The Observer, 14 October 2007), and it was not until his Booker-nominated novel, Mister Pip (2007), that Jones was fully recognised as one of New Zealand's most significant contemporary writers: 'Mister Pip ... is the most significant novel ever to come out of New Zealand, far outpacing the "other" New Zealand novel, Keri Hulme's 1984 Booker winner, The Bone People' (Geraldine Bedell, The Observer).
Before Mister Pip, most of Jones' novels had not been published in the UK, though he had been acclaimed in his native New Zealand. Much of his early fiction explores the New Zealand community in which he grew up, often combining a realistic portrait of that society - both historical and contemporary - with elements of the bizarre, the absurd and the fantastic.
Gilmore's Dairy (published in New Zealand 1985) follows the story of a young man growing up in a small town in New Zealand, much like the area in which Jones himself grew up, while Splinter (published in New Zealand 1988) is set directly in Lower Hutt, the author's home town. Splinter combines two narratives, one historical (an early immigrant woman raising her children single-handedly after her husband leaves) and one contemporary (a man dealing with a failing marriage). Jones is thus able to intertwine the past and the present, particularly in terms of New Zealand's social history and attitudes to marriage, while subverting the realist narrative with a postmodern playfulness and absurd happenings.
Biografi (1993), which is set in Albania just after the fall of Enver Hoxha, takes the blending of the realistic and the fantastic to a new level - so much so that the book has been extremely controversial, as critics struggled to determine whether its portrait of Albanian society is factual or fictional. The publishers describe Biografi as 'Equal parts travelogue, political reportage and bizarre mystery novel', in which 'Lloyd Jones crosses Albania as it reinvents itself - a volatile, surreal wonderland where nothing is quite as it seems'. The difficulty for readers and critics, however, is in identifying exactly where factual reportage ends and Jones' imagination begins. Nonetheless, despite the controversy, Biografi has also been highly acclaimed, and its surreal fusion of fiction and non-fiction demonstrates Jones' postmodern fascination with the slippery nature of reality.
The semi-fictional nature of The Book of Fame (2000) is more straightforward: it is based on the true story of the New Zealand All-Blacks' 1905 rugby tour, but its details are fictional, particularly the players' personalities, emotional lives and relationships. The 1905 tour saw the birth of the All-Blacks: at that time they were completely unknown, but rocketed to legendary international status after an outstanding tour in which they suffered only one defeat. Jones' prose is clear and understated, and the technical detail of the game is kept to a minimum, ensuring that the book can be enjoyed by readers who are not knowledgeable about rugby. The main emphasis, as the title implies, is on the exploration of fame and its effects on one's sense of self. The team consisted of ordinary men - mostly farmers and labourers - who were novices in professional sport and knew little of life outside their own communities. Jones combines his reportage skills with a novelist's ability to explore and understand his characters' minds, depicting the emotional highs and lows experienced by the players as they travel overseas for the first time and find themselves catapulted into sudden fame and hero culture. Yet this is not just a study of individuals: The Book of Fame explores the creation of myth and the effect of the tour on New Zealand's sense of national identity, as the country attained international recognition and acclaim for the first time.  
Here At the End of the World We Learn to Dance (2002) is a fictional story incorporating two loosely-linked narratives - both storylines revolve around dance and music, and the novel is peppered with detailed and evocative descriptions of characters dancing the tango. Jones skilfully intertwines the descriptive episodes with the narrative, allowing the sensual and bewitching nature of the tango to emphasise the themes of love, seduction and betrayal.
Paint Your Wife (2004) is also a poignant and evocative story with an emphasis on the creative arts: in the depressed and failing town of New Egypt, an artist encourages the local men to paint portraits of their wives - as a result, the women attain a new and heightened awareness of themselves and their own unique qualities, and the men begin to look at their wives with renewed admiration and wonder.
While there is much of value in Jones' earlier works, Mister Pip (2007), the award-winning novel that finally brought international recognition, has been acclaimed for having a much stronger 'emotional power and political resonance' than previous works (Christina Koning, The Times, 11 April 2008). Its setting is the South Pacific island of Bougainville, Papua New Guineau, during the civil war of the 1990s, and the novel centres on the attempts of a self-appointed schoolteacher - the only white man on the island - to enrich the children's lives during this time of fear and unrest by reading them Dickens' Great Expectations. As in previous novels, Jones is fascinated by the shifting sense of reality and self-identity:the narrator of Mister Pip is 15-year-old Matilda, who is grappling with her sense of self in changing circumstances. Matilda is deeply inspired by her new teacher, and through him she discovers the uplifting and transformative power of the imagination:
'You cannot pretend to read a book. Your eyes will give you away. So will your breathing. A person entranced by a book simply forgets to breathe. The house can catch alight and a reader deep in a book will not look up until the wallpaper is in flames.'
Mister Pip poignantly incorporates Matilda's coming-of-age tale with the political story of Bougainville's recent history, along with a celebration of literature and the imagination. Geraldine Bedell comments:
'As Great Expectations opens out its meanings to Matilda, so Mister Pip broadens into a consideration of post-colonial culture, a meditation on what is kept and what rejected, what remembered and forgotten, and the extent to which individuals can choose ... how to be in the world.'  (The Observer, 14 October 2007) 
Elizabeth O'Reilly, 2010
Bibliography
2013
A History of Silence: A Memoir
2004
Everything You Need to Know About the World by Simon Eliot
2003
Napoleon and the Chicken Farmer
2002
Here At The End of the World We Learn to Dance
1997
This House Has Three Walls
1992
Into the Field of Play: New Zealand Writers on the Theme of Sport
1991
Swimming to Australia
Awards
2008
Booksellers Association Independent Booksellers' Book Prize
2008
British Book Awards Richard & Judy Best Read of the Year
2007
Commonwealth Writers Prize
2007
Man Booker Prize for Fiction
2007
Montana Book Award (New Zealand)
2007
Montana Book Award (New Zealand)
2005
Commonwealth Writers Prize
2005
New Zealand Post Book Award
2004
LIANZA Children's Book Awards Russell Clark Award
2004
New Zealand Post Book Award
2004
Spectrum Print Book Design Award
2003
Tasmania Pacific Fiction Prize
2002
Montana Book Award (New Zealand)
2001
Montana Book Awards Deutz Medal
1991
New Zealand Book Award