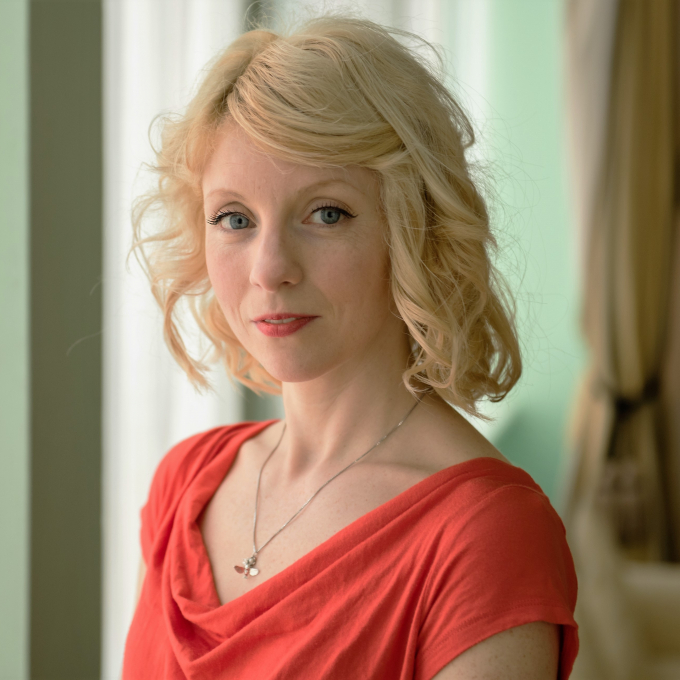 Biography
Liz Berry was born in the English West Midlands in 1980, and now lives in Birmingham.
Her pamphlet The Patron Saint of Schoolgirls was published by Tall Lighthouse in 2010. Berry's debut collection, Black Country (Chatto & Windus, 2014), a volume that often employs Black Country dialect to evoke the poet's home, history and heritage, was a Poetry Book Society Recommendation. It received a Somerset Maugham Award, won the Geoffrey Faber Memorial Award and won the Forward Prize for Best First Collection 2014. Black Country was also chosen as a book of the year by The Guardian, The Telegraph, The Mail, The Big Issue and The Morning Star.
Berry's poems have been broadcast on radio and television, and recorded for the Poetry Archive. She has been a judge for major prizes including The Forward Prizes for Poetry and Foyle Young Poets. She works as a tutor for The Arvon Foundation, Writers' Centre Norwich and Writing West Midlands.
Critical perspective
Like the tumbling pigeon of her poem 'Birmingham Roller', an ordinary-looking bird that turns out to be an "acrobat of the terraces", Liz Berry's poetry is full of unlikely surprises. Energetic yet deeply historic, wide-eyed but knowing, flighty and rooted, the poems seek to charm as much as challenge the reader, and are rarely predictable. This is especially impressive given the thematic focus and recurrent poetic diction that marks out the writing. Berry's primary subject is the Black Country of her English West Midlands home, a heartland of iron foundries, coal mines and steel mills, and her language frequently draws upon the rich but lesser-known storehouse of dialect words from that region. As a review in The Guardian noted: "Here are Thomas Telford's 'fabled waterways' and the swaggering Lady Godiva, the right hook of the 'Tipton Slasher' and the legend of 'The Black Delph Bride'. And, of course, 'bostin fittle' – Black Country dialect for 'great food'." Just as the Birmingham Roller is a symbol of hope and light amid the coal dust and blackness, then, granny's homemade "faggots minced with kidney and suet" are a powerful, albeit nostalgic, source of commemoration and revivification: "I touched / my lips to the hide of the past: / salty, dark, unexpected". This a poetry continually fascinated with the evocative potential of the art form; it sings the Black Country so as to remember and preserve, but also, occasionally, to reinvent.
Liz Berry was born in the West Midlands in 1980, and continues to live in the region. She first came to prominence as a poet when publishing a pamphlet with Les Robinson's enterprising Tall Lighthouse Press, a venture which had already first discovered striking new voices such as Sarah Howe, Helen Mort and Emily Berry. In 2010 The Patron Saint of Schoolgirls, saw elements of Liz Berry's fascination with 'Brummie' dialect and personal histories become evident, but it was the combination of knowing innocence, transgressive sensuality and a gift for the suggestive image that made the pamphlet's poems stand out. 'Trucker's Mate', for example, finds long-haul lorry driving as the stage for an illicit love affair, "the M6 toll, lined with two million / pulped Mills and Boons; how love is buried / in unlooked for places, kept secret as us". In the title poem, Berry's interest in conjuring the transcendent from the everyday also emerges, as a school pupil becomes a heavenly spirit of sorts, unexpected leader of a cult: "The Head Girl / kissed my cheek in the dark-room, / first years wrote my name / on the flyleaf of their hymn books". As Andrew Motion commented on The Patron Saint of Schoolgirls: "This short selection of poems is a completely satisfying achievement. It marks the emergence of a compelling new voice – one that will continue to grow in range and authority." So it has proved.
Berry's debut full collection, Black Country, was published by Chatto in 2014. Prior to its publication, Berry won first prize in the Poetry London competition, and had also begun to establish herself as a winning performer of her work, combining an infectious enthusiasm with lyrical delivery of her lines. On its publication, critics were quick to heap praise on a volume that, as poet Alison Brackenbury describes, was unusual for showcasing the "wit, warmth and energy of the West Midlands"; "Liz Berry is the Black Country's shining daughter", she concluded. In Black Country's poems, Berry succeeds in giving herself license to fully embrace the distinctive rhythms of her home, a skill no doubt nurtured by her poetic mentor, Daljit Nagra, himself adept at colourfully evoking the so-called 'Punglish' of Punjabi-English communities. Berry's 'Sow', for instance, employs singing dialect in recasting its resolute female speaker as a "trollopy an' canting" pig who's "stopped denying meself". "Riling on me back in the muck, / out of me mind wi' grunting pleasure", this is a creature who knows her own mind: "sticking V to the cockerel / prissy an' crowing on 'is high church spire". The poem demonstrates Berry's work at its best, insofar as dialect is not merely put to gimmicky or winning effect, but utilised as a means of giving voice to alternative perspectives, in this case proudly declaring a purposeful, personal feminism.
In its witty and playful resistance, the influence of Carol Ann Duffy and Angela Carter is apparent here; indeed, as The Guardian notes, "in a host of voices and styles, feminine liberation and gender subversion bubble throughout Black Country". Moreover, the subject of silent or silenced women past and present combines naturally with Berry's interest in regional English accents, as both have often been snidely ignored or dismissed by a male-dominated RP-accented official culture. Lost and forgotten histories, industries and identities all mingle in her poetry: in 'Homing', years of "lost words"are seen to spill out – "bibble, fittle, tay, wum, / vowels ferrous as nails, consonants / you could lick the coal from" – while in 'Nailmaking', the historic "wenches' werk" of forging iron into spikes to fit horseshoes is brought fiercely to life, a young girl crafting "two hundred an hour, / tongue skimming the soot on er lips, / onds moulding heat". But the real test for this kind of poetry is its ability to challenge its sceptics. In his judge's citation in awarding Black Country the Forward Prize for Best First Collection, the ostensibly curmudgeonly presenter and journalist Jeremy Paxman was clearly won over. "Liz Berry makes you look at the world differently", he announced: "Her book is a real appreciation of a place that's not often appreciated. She is a fresh, exciting and distinctive new voice. Her work is that rare thing, a collection that leaves you feeling full of real optimism and hope."
After making such a profound impression with her first book – it is not surprising to hear Berry's poems on BBC radio, or on cultural TV programmes – it is hard to imagine what will follow. The handful of poems that bring Black Country to a close, however, suggest that the maternal may prove a source of renewed inspiration. The mother of two young boys, Berry's tender yet viscerally imaginative writing seems particularly suited to evoking motherhood's journey. In 'Grasshopper Warbler', the poet's unborn son is transformed, Kafkaesque, into the insect, "trembling through me like the wind through the reeds"; while in 'The Night You Were Born', the speaker imagines her partner  "pushed / howling, from that red tent of legs, / the first word on the page of our story". Whichever direction her writing is headed, the journey will likely make for an interesting one; as The Observer claims, "Liz Berry knows her own flight-path, that is for sure."
Ben Wilkinson, 2017
Bibliography
2018
The Republic of Motherhood
2010
The Patron Saint of Schoolgirls