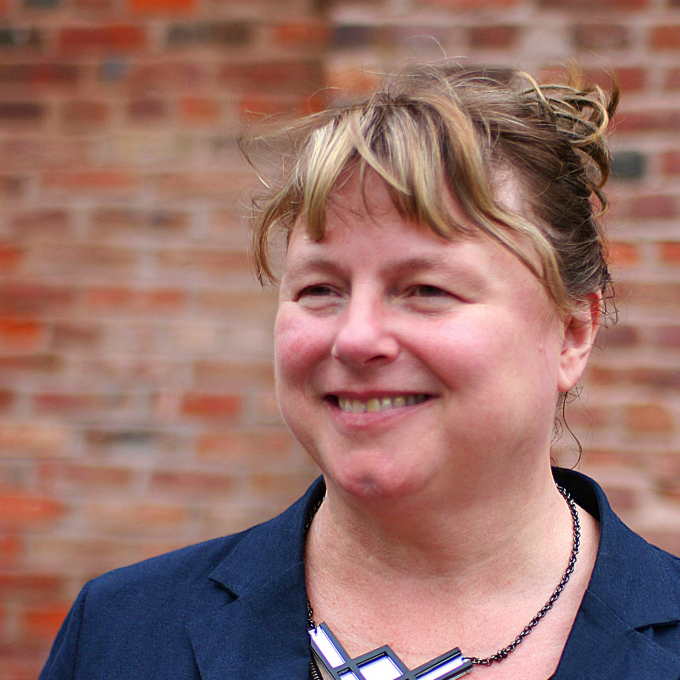 Biography
Livi Michael was born in Manchester, England in 1960 and grew up on a council estate in Ashton-under-Lyne.
She is the author of four novels for adults: Under a Thin Moon, which was published in 1992 and won the Arthur Welton Award; Their Angel Reach (1994), which was awarded the Geoffrey Faber Memorial Prize; All the Dark Air (1997),  shortlisted for the 1997 MIND Book of the Year/Allen Lane Award; Inheritance (2000), which centres on a dark family secret uncovered by a woman returning to her home town on the outskirts of Manchester after her mother's death; and Succession (2015). 
In 2002 her first children's novel, Frank and the Black Hamster of Narkiz, was published, and this has led to a series of Frank books, the latest of which is Frank and the New Narkiz (2005). She has also written the stand alone books Seventeen Times as High as the Moon (2006), City of Dogs (2007) and 43 Bin Street (2009) and five books for older children, including The Whispering Road (2005), based on the factual history of the deaths of workhouse children in Manchester, and Malkin Child (2012). 
Livi Michael has two sons and lives in Oldham, Lancashire. She teaches English and Creative Writing at Sheffield Hallam University and runs reading groups on 'Women's Fiction in the Twentieth Century' in Manchester. 
Critical perspective
Livi Michael began as a novelist of working class life, working in the realist tradition, with Under a Thin Moon (1992).
With the publication of her second novel for children, The Angel Stone (2006), she has changed not only her audience but, it might seem, the imaginative basis of her work, for The Angel Stone is a supernatural time-slip story, of a kind which faintly echoes another writer from the English north west, Alan Garner, author of Elidor and Red Shift. In the intervening years, Michael has also written a very popular series of adventures involving a hamster, Frank. In fact, although the transformation of Michael's approach is spectacular and impressive, The Angel Stone shares the central concern of her earlier work – the baffled, often defeated attempts of the powerless to survive a world which denies them a place and threatens to extinguish their identities. Michael remains, in a sense quite unusual in English fiction, a political novelist.
Under a Thin Moon is a novel of Thatcherism as experienced from below, set among the underclass, and written before that word gained casual journalistic currency. At the book's centre is a young single mother on a sink estate who falls into the clutches of an exploitative neighbour. The climate is both airless and chilling. The estate is a world which lies beyond the scope of conventional politics and appears inaccessible to education, and the book's pessimism has a sustained intensity whose English setting provokes a double take. At moments it recalls the work of the Glaswegian novelist James Kelman: its severity can issue in a kind of poetry, a transcendental recognition of constraint.
In the more ambitious Their Angel Reach (1994) Michael writes of the lives of five women in the Lancashire village of Marley – a schoolgirl, a young married woman, a young mother with a disabled child, a library assistant, an unemployed artist – all living in the shadow of a serial killer called The Sandman, as well as in the larger shadow of economic forces which shape and confine them. This is, again, a severe and compelling work, about as far from Chick Lit as may be imagined, although in due course some of the book's characters might well form the audience for such escapism. The book is extremely disturbing in its treatment of sexual politics, unrewarding work, domestic boredom and the threat of spiritual extinction against which all the characters struggle. Female solidarity is fleeting; the minds of the characters are always elsewhere, in fantasies of competence and desire. Throughout her adult work Michael's writing is also very funny, in a bone-dry way.
The world of Marley is one where the phrase 'sexual politics' would sound like a foreign language. Even the better-educated characters lack a vocabulary with which to name their discontents. The men they encounter are rapacious, selfish, violent, unimaginative or simply dim, not to mention often deeply miserable themselves. As elsewhere in Michael's work there is an underlying sense that a detailed political analysis has given way to an impotent but extremely precise rage in the face of the female characters' seeming inability to stop conspiring in their own imprisonment by fear, loneliness, desire and poverty. In most cases their urge to belong is exactly matched by self-loathing - and this bind is reflected in Michael's prescient handling of the way in which popular consumer culture simultaneously comforts and demeans its exhausted female audience. Only women are interested in women, one character notes; men prefer cars and pornography. To some readers Michael might seem short of sympathy, but this would be to confuse sympathy with sentimentality, to give in to the false promise of local solutions to what are in fact structural problems.
Michael's third novel, All the Dark Air (1997), completes the first phase of her work. Even by her standards it is grim in its depiction of a society where the bonds of kinship and work have been severed. Julie, the central character, lives with her mother and her mother's useless and abusive boyfriend, Brian. Fixated on Mick, an intermittently homeless young man who combines hard left rhetoric with heavy drug use, she moves in with him and becomes pregnant. Her innocent - and spectacularly uneducated - fantasies of love and motherhood are violently adjusted by circumstances, and she seeks comfort and explanations in a group of New Age enthusiasts. The book closes as Julie gives birth, following a visit to her mother's grave during which she has a vision of what might be termed redemptive realism, where the daily influence of the anonymous working class dead is revealed to her – a passage perhaps intended to recall Ursula Brangwen's vision at the close of D.H. Lawrence's The Rainbow. Like all the moments of pleasure or illumination in All the Dark Air, it is fleeting, but it seems consoling by its very lack of illusion. It also opens the way for Inheritance (2000), where Michael gives her protagonist, Louise, access to history - of a family, a class, a locality, matters of which most of Michael's earlier characters are not even dimly aware.
Rather than further develop the novel of working class history along the lines pursued by, for example, Carol Birch in her Manchester novel Turn Again Home (2003), Michael then moves on to combine history with fantasy in her writing for young people. History for Michael is rather more than a colourful pretext: The Whispering Road (2005), for example, refers to the 1819 Peterloo Massacre in Manchester, when campaigners for the vote were violently dispersed by the local militia, with the loss of eleven lives. Encountering The Angel Stone, the latest manifestation of the second movement of Michael's fiction, the reader may smile with admiration at Michael's inclusion of the conflict between Puritans and pleasure-loving townsfolk in 16th- and 17th-century Manchester when the great magician John Dee was Warden of the Grammar School. Her exposition of the subject reads as a wholly natural consequence of the narrative, rather than as bolted-on 'issue', but its contemporary resonances are strong. Her central character, the Romani boy Simeon, has, like Michael's young readers, to learn from scratch about a new society at once alarmingly alien and weirdly familiar.  Fear, intolerance, poverty, the struggle to form and preserve identity – these themes abide, made freshly urgent by the menace of the fundamentalism enforced by the local Puritans. Michael offers the audience something to think about as they ride the exhilarating energy of her narrative. As a writer for the young, she promises to bear comparison with major predecessors such as Joan Aiken and Leon Garfield. One wonders what another adult novel might offer, given the richness of her current work, and her invigorating  conviction that fantasy can be a form of enquiry as well as of escape.
Sean O'Brien, 2007
Bibliography
2006
Seventeen Times as High as the Moon
2005
Frank and the New Narkiz
2004
Frank and the Flames of Truth
2003
Frank and the Chamber of Fear
2002
Frank and the Black Hamster of Narkiz