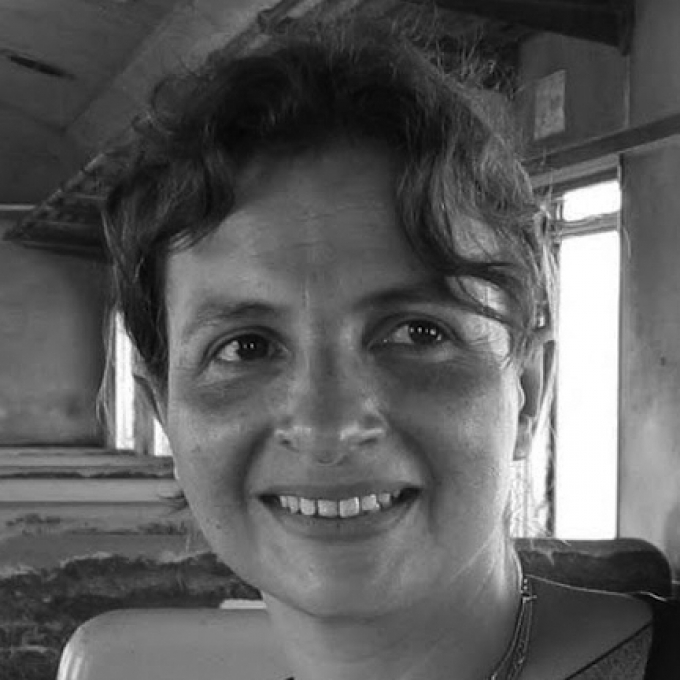 Biography
Lisa St Aubin de Terán was born in London in 1953. She left England at the age of sixteen and, with her exiled Venezuelan husband, travelled extensively through Europe for two years before returning to his family home in the Andes. For seven years, she ran her husband's sugar and avocado estate, drawing on these experiences in her first novel, Keepers of the House (1982) which won the Somerset Maugham Award.
In 1983 she was named one of twenty Best of Young British Novelists by Granta and won the John Llewelyn Rhys Prize for her second novel Slow Train to Milan.
She later moved to Italy with her third husband, the painter Robbie Duff Scott, describing her experiences in Venice: The Four Seasons (1992) and A Valley in Italy (1994).
A prolific writer, over the past thirty years St Aubin de Terán has published further novels, including Joanna (1990), The Palace (1997) and Otto (2005); the short story collections The Marble Mountain and other stories (1989) and Southpaw (1999); and a volume of poetry, The High Place (1985). She has also edited two collections of women's travel writing, Indiscreet Journeys (1989) and The Virago Book of Wanderlust and Dreams (1998) and an collection of imaginative writing on Italy, Elements of Italy (2001).
She currently divides her time between the Netherlands and Mozambique, where she runs the Terán Foundation, a not-for-profit organisation working in the underdeveloped villages in the north of the country. Her experiences are described in the memoir Mozambique Mysteries (2007).
Critical perspective
Lisa St Aubin De Terán's writings embody a restless pioneer spirit, often describing romantic and sometimes perilous experiences in exotic locations. Drawing on her own extraordinary life, her writing career has encompassed fiction, memoir, and travel writing, and her works have often tested the boundaries between these distinctions. In her most recent work, Mozambique Mysteries (2007), she wrote that 'Although I did not set out to be an "autobiographical writer", explaining how I got into some of the places where I have been often seemed like the only way of introducing a reader into that world.'
St Aubin De Terán left England at the age of sixteen with her exiled Venezuelan husband, the aristocrat and bank robber Don Jaime Terán, drifting between Paris, Bologna and Milan before travelling to the Andean estate which, before she had seen it, had already captured her imagination. She learnt that the man she married in London was the last of a dynasty who could be traced back to the first settlers from Spain, 'who arrived in Venezuela via Santa Domingo on the second voyage of Christopher Columbus. Everything else I was told thereafter was woven in a tapestry of myth and history.' As her husband became increasingly distant, unpredictable and sometimes violent, she spent seven years running the sugar plantation and avocado farm virtually single-handed, developing intense personal bonds with la gente, the tithed peasants on the estate. These experiences formed the basis of her first two novels, Keepers of the House (1982) and Slow Train to Milan (1983). She also drew on these experiences in further novels and short fiction, and described them in her 1997 memoir The Hacienda. Her long poem The High Place (1985) addresses in turn thirteen of the workers on the hacienda and as such is 'a memorial to those who have died, and a tribute to those who are still living', in which she hails their 'pride and strength' in retaining 'their high place / on the grasping hill' as 'they live by the strange needs of their will.' The ability to endure physically and mentally challenging circumstances provides the basis of many of her narratives.
In the early autobiographical novels St Aubin De Terán adopts fictional personae: in Keepers of the House the newly married seventeen-year-old Lydia Sinclair is brought by her husband, Don Diego Beltrán, to his ancestral Andean hacienda in the mid-1950s; in Slow Train to Milan, written in the first person, sixteen-year-old Lisaveta marries a Venezuelan criminal, and embarks on a series of extra-legal travels around Europe with him and his associates. Despite a number of surreal incidents, the former is a serious and slow-moving novel, as with the help of the geriatric retainer Benito, Lydia investigates the tragic history of her husband's family, and begins to restore the hacienda. As such, Keepers of the House establishes the territory for much of her subsequent writing, which is often historical in setting and has frequently been concerned with the restoration of ancient buildings and landscapes. Glamorous, bohemian, and sometimes breathless (it was described by Nicholas Shakespeare as 'more a series of brilliant vignettes than a comprehensive novel' (Times Literary Supplement, 11 March 1983)) the episodic Slow Train to Milan displayed some of the discordant elements that would later animate her short stories: on a visit to Paris to deliver a gun, the impetuous César proposes visiting the Arc de Triomphe to extinguish the eternal flame, 'a mark of protest against the treachery of the nation'.
An extended map of her travels may be traced through the locations of the stories in The Marble Mountain (1989): Tuscany, Norfolk, South America, Venice and London. Some stories are little more than sketches, and the collection is intermittently macabre. In 'The Lady Gardener' a woman travels the world, ostensibly to accompany her businessman husband, in reality to carry out the bidding of a shadowy pair of elderly women, who have tasked her with assassinating a series of women who are morally flawed. The Hitchcockian 'Miss Lizzie and the Musical Rats' describes a woman and her daughter plagued by rats in a remote cottage. Most horribly, in 'I Never Eat Crabmeat Now', a man follows his schizophrenic wife to northern France, where he finds the corpse of their baby abandoned on a beach, rotting in its pram (the 1986 novel The Bay of Silence is a longer version of this story). St Aubin De Terán specialises in smells, stains, decay and physical decrepitude, and her idiosyncratic metaphors and similes often draw on natural imagery: in a house in Italy, rooms along a rambling corridor stretch out 'like bones on a fish-spine'; a brain-damaged child lies 'for seven years like a dead heron around her mother's throat'; in a field in Norfolk:
'The flat unbroken expanse of stalks catches the last rays of the wintry sun, making the land seem like an outsize scalp close-shorn with a blond crew cut. There are no other houses or signs of life, nothing else to see but the harvest's dregs, and a barbed-wire fence, far away, enclosing a coppice of trees. On the fence, hanging out to dry, is the gamekeeper's laundry: a row of dead moles and mice and weasels.'
Her use of descriptive detail is often oddly inconsistent – sometimes she deploys an excess of florid and pungent imagery, but on other occasions her prose is sparsely furnished. The haunting strangeness of her early writing may perhaps be attributed, as St Aubin De Terán has recently indicated on her blog, to the fact that in the Andes she was writing in English but surrounded by non-English speakers (www.staubindeteran.com, 26 October 2012).
Formally, however, she has generally eschewed experimentation, and in this regard The Bay of Silence is a notable exception. The theme of schizophrenia is reflected in the structure of the novel, divided into the first person narratives of a husband and wife in a marriage under enormous strain: significantly the husband, William, addresses his schizophrenic wife Rosalind in the second person throughout, whereas she refers to him only by name.
St Aubin De Terán's work has become increasingly self-referential – the memoir The Hacienda described experiences she had already explored in fiction, and later, longer novels, have delved further into her life and the histories of the countries in which she has lived: inspired by her mother's Channel Islands background, Joanna (1990) is a bleak and disturbing tale of three generations of women from St Aubin in Jersey. Nocturne (1992) is a magic realist story of a peasant and the son of a judge in Umbria before, during and after the Second World War, while Otto (2005) fictionalised the life of the Venezuelan revolutionary Oswaldo Bareto Milani, an associate of her first husband, an adviser to Fidel Castro and a friend of Salvador Allende in Chile.
St Aubin De Terán has edited two anthologies that reflect her own love of travel: Indiscreet Journeys: Stories of Women on the Road (1989), and the Virago Book of Wanderlust and Dreams (1999). Her works seem often nostalgic for more adventurous and romantic times – exemplified by her memoir of train travel Off the Rails (1989) – and she has a gothic predisposition for lonely mansions, isolated cottages and the sound of the wind. Buildings are a constant concern: the memoir The Valley in Italy is subtitled Confessions of a House Addict and describes her restoration of a crumbling palazzo in the Umbrian hills. It was published in 1994, five years after Peter Mayle's enormously successful A Year in Provence, and shares many of the attributes that made Mayle's work so popular: picturesque scenery, fine foods, eccentric locals, and Byzantine bureaucracy. Mozambique Mysteries describes her life in Mozambique, where she runs the Terán Foundation, a not-for-profit organisation working in the underdeveloped villages in the north of the country. Here, it seems, she feels settled at last:
'This is the second chance that so rarely comes around and which I am determined not to blow. Long ago, I had a place, the hacienda, and it made sense to me. Now, once again, I have the chance to make a mark in the hearts of some fine people. And once again, I have the chance to be their catalyst for change.'
Such strength and confidence as she expresses in her volumes of memoir are not shared by her fictional protagonists, who are often diffident and isolated figures.
Dr Guy Woodward, 2013
Bibliography
2007
Mozambique Mysteries
1998
The Virago Book of Wanderlust and Dreams
1997
The Hacienda: My Venezuelan Years
1994
A Valley in Italy: Confessions of a House Addict
1992
Venice: The Four Seasons
1989
Off the Rails: Memoirs of a Train Addict
1989
The Marble Mountain and other stories
1989
Indiscreet Journeys: Stories of Women on the Road
1982
Keepers of the House