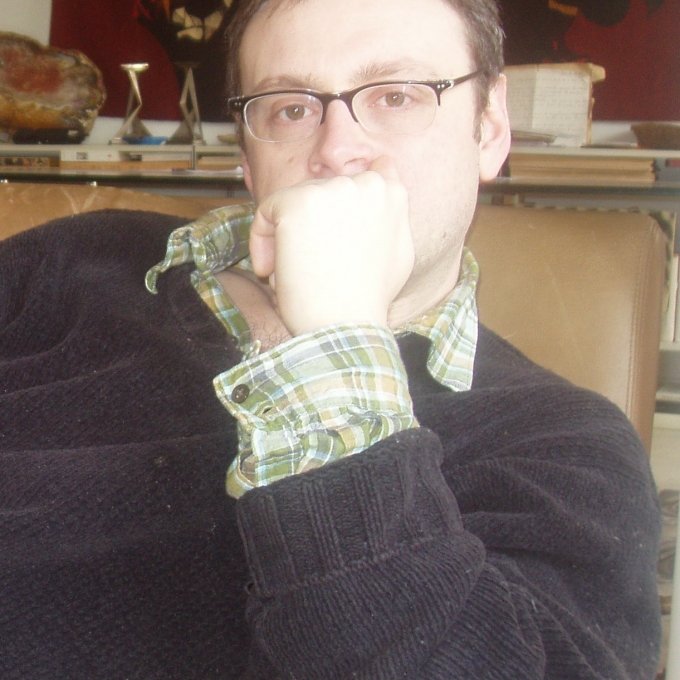 Lee Hall
Publishers:
Agents:
Judy Daish Associates Ltd
Biography
Playwright Lee Hall was born in Newcastle in 1966.
His acclaimed play Spoonface Steinberg (1997), a monologue for a nine-year-old autistic girl dying of cancer, was first broadcast by BBC Radio 4 in 1997. He subsequently adapted the play for television in 1998 and for the stage in 2000. He was appointed Writer in Residence at the Royal Shakespeare Company in 1999/2000 under the Pearson Playwrights Scheme Award.
Cooking with Elvis (2000), adapted from the play he wrote for the BBC Radio 'God's Country' series that included Spoonface Steinberg, premiered at the Edinburgh Festival in 2000 and transferred to London's West End in a production starring the comedian Frank Skinner. His adaptation of Goldoni's The Servant with Two Masters was first staged at the Royal Shakespeare Company in Stratford in 1999. He has translated two plays by Bertolt Brecht: Mr Puntilla and His Man Matti, written for The Right Size/Almeida Theatre, which premiered at the Edinburgh Fringe Festival in 1998; and Mother Courage, staged by Shared Experience theatre company in 2000. His adaptation of the Dutch play The Good Hope (2001) by Herman Heijermans opened at the Royal National Theatre in 2001.
He also wrote the screenplay to the film Billy Elliot (1999), directed by Stephen Daldry for Tiger/BBC Films/WT2, and received an Oscar nomination for Best Original Screenplay. He adapted his own play, I Luv You Jimmy Spud (1997), as a feature film starring Billy Connolly in 2000.
Lee Hall co-wrote the screenplay for the film, Pride and Prejudice, in 2005, and adapted The Wind in the Willows for television, in 2006.
The Pitmen Painters (2008) is a new play premiered at the Live Theatre, Newcastle-upon-Tyne in 2007. In 2014 Hall wrote the script for Shakespeare in Love, adapted from the film of the same title, which was performed at the Noel Coward Theatre in London. His 2015 adaptation of Alan Warner's novel The Sopranos is entitled Our Ladies of Perpetual Succour. 
Critical perspective
Lee Hall is a writer whose work is firmly rooted in the expression of the political through the personal.
He is perhaps most associated with the film Billy Elliot (2000), for which he wrote the screenplay, and with Spoonface Steinberg (1997), written for radio and later adapted for the stage.  Both works combine a popular appeal with a  textual urge to express the extraordinariness of 'ordinary' lives. Taken together, the international movie and the monologue for radio can be seen to exemplify a number of Hall's thematic and narrative concerns. 
An impulse to defamiliarise the familiar characterises much of Hall's work.  In I Love You Jimmy Spud (1997) the decaying world of once-thriving shipyards and factories is 'made strange' by the transformation of the boy Jimmy into an angel. Cooking With Elvis (2000) finds the paralysed, mute Dad bursting into song in his one-time persona of Elvis impersonator.  As a formal device the popular quiz show format is rendered 'uncanny' in Children of the Rain (published in Plays One, 2002).  Normally associated with sparkly entertainment shows in which points mean prizes and often high financial rewards are at stake, in this version of the quiz the Quizmaster suggests 'there are no right or wrong answers' as he aggressively interrogates young children about the world and their own hopes and dreams.  
In its broadest sense, the Uncanny is located within the psychoanalytical paradigm that emphasises the binaries of recognition and misrecognition, familiar and unfamiliar, particularly in terms of the 'once-known', now appearing disturbingly 'different'.  Thus the appearance of a once-familiar figure of any sort (Jimmy; quiz show host; wheelchair-bound dad) in an unexpected or unanticipated context (Jimmy-angel; Quizmaster in the classroom; dad-as-Elvis) might be termed uncanny.
Hall both engages with, and problematises, this notion in his use of the transformation of 'familiar' or recognised characters. As referred to above, the wheelchair-bound Dad 'becomes' Elvis; Jimmy Spud 'becomes' an angel.  However, it is not only characters that are used to defamiliarise the narrative in some way: the form and context of the dramas hint at the uncanny nature of Hall's world.  The scene directions for Jimmy Spud contain numerous examples of the transformatory possibilities of both character and situation.  Here Jimmy is at a funfair, being pursued by the strangely disturbing Gabriel – who may or may not be some kind of angel:
INT HALL OF MIRRORS.
JIMMY walks into the hall of mirrors.  He looks at himself.  He appears to be a midget, then appears to be as thin as a pencil. Then suddenly, his face is as wide as a melon.  A voice disturbs him.
GABRIEL (OOV): Excuse me.
JIMMY swings round but all he can see is an infinity of  JIMMYS.
Our perception of Jimmy, and Jimmy's of himself is made uncanny firstly by the  physical – and visually 'grotesque' -  'transformation' in the mirrors; and subsequently by the 'infinity of  Jimmys' from which it is of course difficult to pick out the real, or familiar, version of the boy.  In terms of both style and content, Hall challenges his audience's perceptions of reality and fiction, highlighting the  unreliability of what we assume is familiar.
However, Hall is also engaged with familiarising the 'unfamiliar':  the eponymous character of the monologic Spoonface Steinberg is a 9-year old autistic girl who cannot communicate verbally.  Whilst many critics have noted the 'emotionally powerful' – or indeed 'emotionally sensationalist' – nature of this piece – the impulse to articulate the unknown or unknowable that this piece exemplifies (the interior voice of the autistic child) has gone largely unremarked.  This impulse threads through much of Hall's writing – from Peter's expression of his interior pain following the total loss of his genitals in Bollocks (2000) to a meditation on the pleasures and pains of bigamy in Two's Company (published in Plays One, 2002).  In this sense, Hall's work can be seen to give voice to the marginalized, the misunderstood, the vilified.
Much of Hall's humour – which has been variously described as 'razor-sharp' and 'gut-wrenchingly funny' – arises out of his exploration of the grotesque or monstrous. By grotesque we mean neither deformed nor absurd, but containing the potentiality to deform or make absurd; by monstrous we mean not physically hideous nor visually freakish, but either psychically or corporeally excessive.  In both cases we mean a figure who poses a threat to borders and boundaries, whose own internal disharmonies and conflicts threaten to destabilise the social order. 
Mam, in Cooking With Elvis, exemplifies this notion.  Her desire cannot be contained by her physical boundaries – her body. Metaphorically, her lust protrudes, shoots out, resists containment – here in the form of linguistic expression. 'I still want to laugh till it hurts and drink till I'm stupid and fuck till I'm numb.' This mother is locked in a battle with her daughter Jill, who disapproves of the fact that 'Mam' - she is 'named' only Mam lest we should forget her 'role' – is having a very indiscreet sexual liaison with Stuart, a young baker, in the marital home.  Through Jill's monologues, which both introduce and comment upon the action, we learn of Dad's accident and Mam's insatiable appetite for sex which can no longer be satisfied by her husband.  Mam's sexual need is echoed in Jill's appetite for food – Jill is seriously overweight and getting larger, as if her mother's unspeakable desire has been acted out through the body of her daughter.
These connections between parents and their children -  both literal and metaphorical – are often used to drive Hall's narratives forward.  In Billy Elliot, Dad's slow acceptance of his son's dancing ability is interweaved with Dad's own acknowledgement of his flawed masculinity.  In Two's Company – in which the man, Karaoke Master, has two wives and two sets of children – the connection between the man and his children from his original marriage becomes so powerful that his 'parallel' wife only has to look closely at him to 'know' the truth.  The truth of parenthood is somehow written on his body.  Indeed, in many of Hall's plays that feature children and/or young teenagers it is the ways in which their inner worlds intersect with and impact upon the exterior worlds of reason and authority that provide the narrative dynamic.
In many ways, because of the largely 'domestic' nature of his original writing (as opposed to the range of adaptations that he has undertaken) it might be tempting to cast Hall as a northern realist writer.  However, his impulse to disrupt conventional theatrical forms, his forays into the fantastical and the remarkably imaginative conjuring of inner, often unheard, lives ensures that Hall's work eludes easy generic 'labelling'.
Frances Piper, 2004
Bibliography
2015
Our Ladies of Perpetual Succour.
2000
Cooking With Elvis & Bollocks!
2000
The Adventures of Pinocchio
1999
A Servant to Two Masters/Carlo Goldoni
1997
I Luv You Jimmy Spud
1997
Spoonface Steinberg and Other Plays