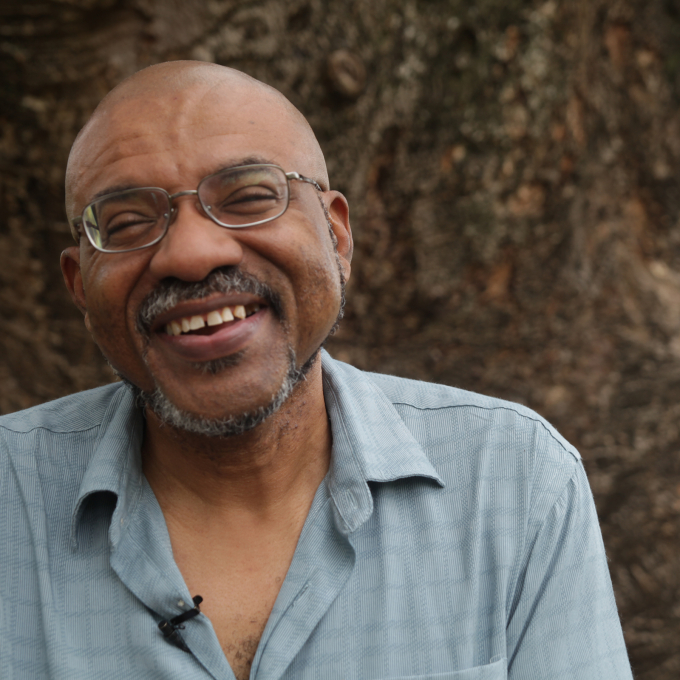 Kwame Dawes
Publishers:
Agents:
Biography
Born in Ghana in 1962, Kwame Dawes moved to Jamaica in 1971 and spent most of his childhood and early adult life in Jamaica. He is a writer of poetry, fiction, nonfiction, and plays. As a poet, he is profoundly influenced by the rhythms and textures of that lush place, citing in an interview his "spiritual, intellectual, and emotional engagement with reggae music." Indeed, his book Bob Marley: Lyrical Genius remains the most authoritative study of the lyrics of Bob Marley. Of his seventeen collections of poetry, his most recent titles include Duppy Conqueror (Copper Canyon, 2013); Wheels (2011); Back of Mount Peace (2009); Hope's Hospice (2009); Wisteria, finalist for the Patterson Memorial Prize; Impossible Flying (2007); and Gomer's Song (2007). Progeny of Air(Peepal Tree, 1994) was the winner of the Forward Poetry Prize for Best First Collection in the UK. Other poetry collections include Resisting the Anomie (Goose Lane, 1995); Prophets (Peepal Tree, 1995); Jacko Jacobus, (Peepal Tree, 1996); and Requiem, (Peepal Tree, 1996), a suite of poems inspired by the illustrations of African American artist, Tom Feelings in his landmark book, Middle Passage: White Ships/Black Cargo; and Shook Foil (Peepal Tree, 1998), a collection of reggae-inspired poems. His book, Midland, was awarded the Hollis Summers Poetry Prize by the Ohio University Press (2001). Dawes was a winner of a Pushcart Prize for the best American poetry of 2001 for his long poem, "Inheritance."  The poem was later selected as part of the anthology celebrating thirty years of Pushcart Prize winners.
He has published two novels: Bivouac (2009) and She's Gone (2007), winner of the 2008 Hurston/Wright Legacy Award for Best First Novel. In 2007 he released A Far Cry From Plymouth Rock: A Personal Narrative. His essays have appeared in numerous journals and periodicals including Bomb Magazine, The London Review of Books, Granta, Essence, World Literature Today, The Washington Post, USA Today, and Double Take Magazine.  For several years Dawes was a regular columnist on poetry for the State Newspaper in Columbia, South Carolina.
Dawes is also the editor of many anthologies including: Seeking: Poetry and Prose Inspired by the Art of Jonathan Green(University of South Carolina Press, forthcoming, 2013) Twenty: South Carolina Poetry Fellows (Hub City, 2006); So Much Things to Say: 100 Calabash Poets (Akashic Books, 2010; Jubilation: 50 Poets Celebrating Jamaican Independence (Peepal Tree, 2012),Wheel and Come Again: An Anthology of Reggae Poems (Peepal Tree/ Gooselane Editions 2005); The Chemistry of Color (Stepping Stone Press, 2008) A Bloom of Stones: A Tri-Lingual Anthology of Haitian Poems After the Earthquake (Peepal Tree Press, 2012) Hold Me to an Island: Caribbean Place (Peepal Tree 2012): An Anthology of Writing, Home is Where: An Anthology of African American Poetry from the Carolinas (Hub City, 2011), and Red: Contemporary Black Poetry (Peepal Tree Press, 2010).
In 2009, Dawes won an Emmy for LiveHopeLove.com, an interactive site based on Kwame Dawes's Pulitzer Center project, HOPE: Living and loving with AIDS in Jamaica. It has won other accolades including a People's Voice Webby Award, and was the inspiration for the music/spoken word performance Wisteria & HOPE which premiered at the National Black Theatre Festival in North Carolina. In 2011, Dawes reported on HIV AIDS after the earthquake in Haiti and his poems, blogs, articles, and documentary work were a key part of the post-earthquake Haiti reporting by the Pulitzer Center on Crisis Reporting that won the National Press Club Joan Friedenberg Award for Online Journalism. Voices of Haiti was released in July 2012 as a dynamic i-book published by the Pulitzer Center on Crisis Reporting.
Dawes's other awards include The Forward Prize for Poetry for his first book, Progeny of Air (1994), The Hollis Summers Prize for Poetry (Midland, 2002), a Pushcart Prize (2001), Hurston/ Wright Legacy Award for his debut collection She's Gone (2008), the Poets and Writers Barnes and Noble Writers for Writers Award (2011), a Guggenheim Fellowship for Poetry (2012).  He received the Musgrave Silver Medal for contribution to the Arts in Jamaica (2004); the Elizabeth O'Neill Verner Governor's Award for service to the arts in South Carolina (2008), and in 2009 he was inducted into the South Carolina Academy of Authors.
Dawes is an actor, playwright, and producer, an accomplished storyteller, broadcaster, and was the lead singer in Ujamaa, a reggae band. Fifteen of his plays have been produced, and he has acted in, directed or produced several of these productions himself, most recently One Love at the Lyric Hammersmith in London. Commissioned by Talawa, Britain's leading black theatre company, and inspired by Rogert Mais' classic novel Brotherman, One Love takes us to the heart of the Jamaican soul, as actors, dancers, singers, life musicians, and a DJ draw on influences such as Bob Marley and Lee "Scratch" Perry to tell this powerful parable of desire and denial.
Through the years, Dawes has collaborated with musicians and artists to create a dynamic series of performances based on his poetry that have proven to be some of the most compelling and challenging presentations of poetry being performed today.  His most consistent collaborator in these projects has been the poet and musician Kevin Simmonds.  Their collaborations include, "Wisteria: The Performance" (Debut, Columbia, SC 2006), "I Saw Your Face: The Performance" (debut Columbia Museum of Art, 2007), "Hope: Living and Loving with HIV/ AIDS" (debut, National Black Theater Festival, Winston Salem, NC 2009) and "Voices of Haiti: The Performance" (debut National Black Theatre Festival, Winston Salem, NC 2011). These performances have been staged through out the US and abroad including a UK tour of "Wisteria" and a performance of "Voices of Haiti" in Haiti.  Other similar collaborations include "Requiem: A Performance" with composer, John Carpenter based on the work of Tom Feelings, and "Brimming: The Performance" staged and designed by Kwame Dawes, himself.
Until July 2011, Dawes was Distinguished Poet in Residence, Louis Frye Scudder Professor of Liberal Arts and founder, and executive director of the South Carolina Poetry Initiative. He was the director of the University of South Carolina Arts Institute. Dawes is currently the Glenna Luschei Editor of Prairie Schooner at the University of Nebraska, where he is a Chancellor's Professor of English, a faculty member of Cave Canem, and a teacher in the Pacific MFA Program in Oregon. He is co-founder andprogramming director of the Calabash International Literary Festival, which takes place in Jamaica in May of each year.
He is a regular blogger for the Poetry Foundation; his blogs can be read at www.poetryfoundation.org
(taken from http://www.kwamedawes.com/wp/about-kwame/biography/)
Critical perspective
Kwame Dawes was born in Ghana, but grew up in Jamaica, and this move is strongly evident in both his poetry and non-fictional work, which is profoundly influenced by Bob Marley and the lyrics and rhythms of reggae music.
Moreover, it is the insistent connection between movement and music that characterises the author's art more broadly, drawing together his recurrent focus on the themes of longing and unbelonging, memory and migration.
His first collection, Progeny of Air (1994), won the Forward Poetry Prize (Best First Collection) and is faintly reminiscent of Seamus Heaney's Lough Neagh sequence where eels perform a similar poetry to the salmon of Dawes'. Progeny of Air counterpoints the life journey of the farmed Canadian fish with the poet's own journey from Jamaica to Canada. His next collection, Jacko Jacobus (1995) involves the book's protagonist in a similar journey, this time from Jamaica to South Carolina, but here the poetry moves more assertively to the rhythms of reggae that also characterises Dawes' Prophets (1995). As its title suggests, Jacko Jacobus draws on the biblical story of Jacob and Esau, and like much of his later work, including his recent poetry collection Gomer's Song (2008) which focuses on the unfaithful wife of a minor Old Testament prophet and reworks a range religious narratives, symbols and motifs. Resisting the Anomie, also published in 1995, is similarly preoccupied with themes of migration, unbelonging and alienation as it moves impressionistically between Haiti, Jamaica and Canada, often allowing physical journeys and artistic processes to coincide:
'leave behind the voices 
the music in the uneasy vans 
playing roulette with the traffic lights 
and the chaos of pedestrians 


I repeat the ritual of departure 
as one would rehearse lines'
The poetics of migration and diaspora that emerge in these 'lines' are pushed into the past in Requiem (1996) as Dawes offers an extended meditation on the slave trade that carries with it a tragic contemporary resonance. The poetry has a strong visual dimension to it, and the sequence as a whole was inspired by the artwork of the African American artist, Tom Feelings. In his more recent collection, Brimming (2006), Dawes again turns to visual art in order to expose histories of violence and oppression. Focusing on lynchings and slave rebellions the poems are inspired by the South Carolina painter, Brian Rutenburg.
After a relatively long break (for him, that is) from poetry, Dawes returned to form publishing two prize-winning collections, Midland (2000) and Map-Maker (2000). Both collections deal with the by now familiar themes of dislocation and migration, but here they are counterpointed with a heightened sense of space, place and territory as we journey between Europe and the Americas. As such, these are collections concerning roots as much as uprootedness, inheritance as much as loss. The spatial metaphor, midland, is telling in this context, at once nowhere - a space between places; and a meeting point that connects here and there, past and future. Similarly, Impossible Flying (2007), situates issues of itinerancy and loss in terms of personal and familial roots, with poems engaging with father, mother, and most moving of all, younger brother.
In addition to his numerous poetry collections, Dawes is a prolific critic, short story writer, novelist and editor. Collections such as Twenty: South Carolina Poetry Fellows (2005) and Wheel and Come Again: An Anthology of Reggae Poetry (1998) are testament to Dawes's wider commitment to contemporary African Caribbean writing both locally and internationally. Meanwhile, Dawes's non-fictional work reveals a sustained interest in the intersections between reggae and poetry. Most notably, perhaps, Bob Marley: Lyrical Genius (2002) is a passionate and detailed study of the lyrics of the great musician, lifting his words to the level of poetry, while always maintaining a focus on the musical quality of Marley's language.
Dawes's latest work is a critically acclaimed novel that represents something of a departure from his prior preoccupation with short, condensed, and economical literary forms. She's Gone (2008) is the story of Kofi, a Jamaican reggae singer, who meets Keisha during an American tour. Kofi persuades her to return with him to Jamaica where the relationship quickly disintegrates, and Keisha finds herself in a land entirely incommensurate with the world she has left behind. Written in a deceptively simple, and stripped-back prose, Dawes' poetic novel was praised by poet cum novelist, Bernadine Evaristo in glowing terms:
'This striking debut novel is from the heart and about the heart. The characters are true, the landscapes exquisite, and the relationships dynamic, insightful and complex. Read it and be transported.'
Dawes describes himself on his web site as the 'busiest man in literature today', and with more than a dozen volumes of poetry to his name since 1994, not to mention his growing number of essays, anthologies and fictions, few would argue.
Dr James Procter, 2009 
Bibliography
2007
A Far Cry from Plymouth Rock
2006
Wisteria: Twilight Songs from the Swamp Country
2005
Twenty: South Carolina Poetry Fellows
2002
A Place to Hide and Other Stories
2002
New and Selected Poems, 1994-2002
2002
Bob Marley: Lyrical Genius
1998
Wheel and Come Again: An Anthology of Reggae Poetry
1998
Talk Yuh Talk: Interviews with Caribbean Poets
1998
Natural Mysticism: Towards a New Reggae Aesthetic
1997
Shook Foil: A Collection of Reggae Poetry
1995
Resisting the Anomie
Awards
2009
Emmy Award - New Approaches to News & Documentary Programming: Arts, Lifestyle & Culture
2003
Commonwealth Writers Prize (Caribbean and Canada Region, Best First Book)
2001
Pushcart Prize for Poetry (USA)
2000
Hollis Summers Poetry Prize
2000
Poetry Business Prize
1996
Individual Artist Fellowship
1994
Forward Poetry Prize (Best First Collection)