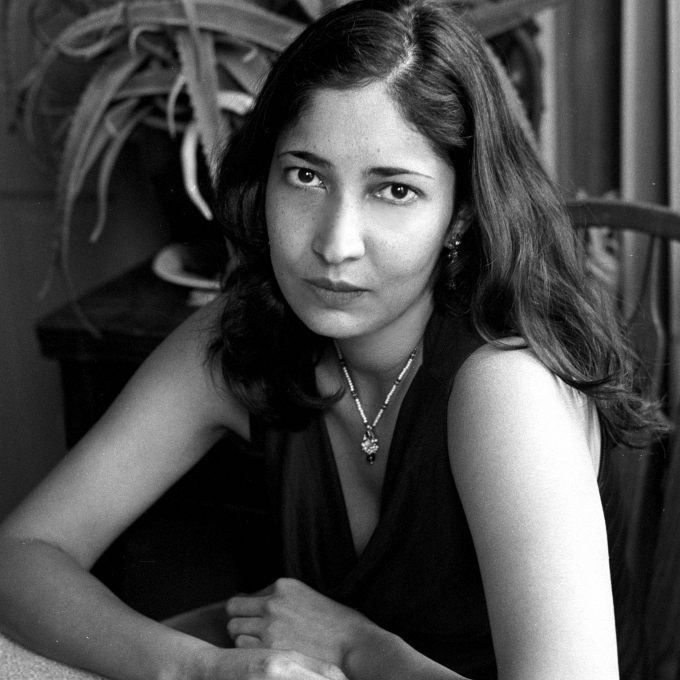 Biography
Kiran Desai was born in India in 1971 and grew up there before moving to England, aged fourteen years.
She was educated in India, England and the US. Her first novel, Hullabaloo in the Guava Orchard (1998) won a 1998 Betty Trask Award, and her second novel, The Inheritance of Loss (2006), set in the mid 1980s in a Himalayan village, won the 2006 Man Booker Prize for Fiction.
Critical perspective
As might be expected from the rich input of her cultural background, Kiran Desai, daughter of the author Anita Desai, is a born story-teller.
Her first novel, Hullabaloo in the Guava Orchard (1998), is a pacy, fresh look at life in the sleepy provincial town of Shahkot in India. The central character of the novel, Sampath Chawla, failed postal clerk and pathological dreamer, escapes from his work and his oppressive family to live in a guava tree. Here he spends his life snoozing, musing and eating the ever-more exotic meals cooked for him by his sociopathic mother. He begins to amaze his fellow townspeople by revealing intimate details about them gleaned from a bit of lazy letter-opening whilst still working at the post office and by spouting a series of truisms worthy of a Shakespearian fool, or Forrest Gump. Before long he becomes known as a local guru and attracts such a strong flow of visitors that opening hours have to be established in the orchard to allow him to rest.
Soon, commercialism, a recurrent theme in Desai's work, takes over: Sampath's fast-thinking, entrepreneurial father Mr Chawla, who at first despaired at his son's inanity, now sees his chance to make the family's fortune. He sets up his picturesque family in a compound around the guava tree that is soon lined with colourful advertisements for tailors, fizzy drinks, talcum powder and insect repellent. Visitors bring gifts that Mr Chawla can sell, the family bank account begins to grow and he looks at investment plans. All goes well until the arrival in the orchard of a group of langur monkeys who have developed a taste for alcohol and begin to terrorise the town. The tale continues, with a growing sense of impending doom, as the family and the various officials of the town try to resolve the monkey problem.
Like many important works of literature, the book can be read on several levels – as an inventive, fast-moving, delicious tale full of rich descriptions and marvellous comic cartoon-like personalities, but also as a deeper study of the pathos of familial misunderstanding, the ridiculousness of hero-worship, the unpredictability of commercialism and the ineptness of officialdom.
Many of these themes are explored further in Desai's next novel, The Inheritance of Loss (2006). The story revolves around the inhabitants of a town in the north-eastern Himalayas, an embittered old judge, his granddaughter Sai, his cook and their rich array of relatives, friends and acquaintances and the effects on the lives of these people brought about by a Nepalese uprising. Running parallel with the story set in India we also follow the vicissitudes of the cook's son Biju as he struggles to realise the American Dream as an immigrant in New York. 
Like its predecessor, this book abounds in rich, sensual descriptions. These can be sublimely beautiful, such as in the images of the flourishing of nature at the local convent in spring: 'Huge, spread-open Easter lilies were sticky with spilling antlers; insects chased each other madly through the sky, zip zip; and amorous butterflies, cucumber green, tumbled past the jeep windows into the deep marine valleys.' They can also be horrific, such as in descriptions of the protest march: 'One jawan was knifed to death, the arms of another were chopped off, a third was stabbed, and the heads of policemen came up on stakes before the station across from the bench under the plum tree, where the towns people had rested themselves in more peaceful times and the cook sometimes read his letters. A beheaded body ran briefly down the street, blood fountaining from the neck...' 
The Inheritance of Loss is much more ambitious than Hullabaloo in its spatial and emotional depth. It takes on huge subjects such as morality and justice, globalisation, racial, social and economic inequality, fundamentalism and alienation. It takes its reader on a see-saw of negative emotions. There is pathos - which often goes hand in hand with revulsion – for example in the description of the judge's adoration of his dog Mutt, the disappearance of which rocks his whole existence, set against his cruelty to his young wife. There is frequent outrage at the deprivation and poverty in which many of the characters live, including the cook's son in America; and there is humiliation, for example in the treatment of Sai by her lover-turned-rebel, or Lola, who tries to stand up to the Nepalese bullies.
Against these strong emotions however, Desai expertly injects doses of comedy and buffoon-like figures. One of these is Biju's winsome friend Saeed, an African (Biju 'hated all black people but liked Saeed'), with a slyer and much more happy-go-lucky attitude to life. Whereas Biju finds it difficult to have a conversation even with the Indian girls to whom he delivers a takeaway meal, Saeed 'had many girls':
'"Oh myee God!! he said. Oh myee Gaaaawd! She keep calling me and calling me," he clutched at head, "aaaiii...I don't know what to do!!"... "It's those dreadlocks, cut them off and the girls will go."'
'"But I don't want them to go!"'
Much of the comedy also arises from the Indian misuse or over-use of the English language. '"Result unequivocal," the young Judge wrote home to India on completing his university examinations in Britain. "What", asked everyone, "does that mean?" It sounded as if there was a problem, because "un" words were negative words, those basically competent in the English agreed. But then (his father) consulted the assistant magistrate and they exploded with joy...'
Bose, the Judge's friend from his university days, is a wonderfully optimistic but pompous individual, made all the more ridiculous by his over-use of British idioms – 'Cheeri-o, right-o, tickety boo, simply smashing, chin-chin, no siree, how's that, bottoms up, I say!'
An original and modern aspect of Desai's style is the almost poet-like use she makes of different print forms on the page: she uses italics for foreign words as if to emphasise their exoticness and untraslatability and capitals for emphasis when someone is expressing anger, surprise or disbelief (a natural development of the netiquette that to write in capitals is like shouting). She also exploits our modern mania for lists. In an age where our media is filled with top tens and top one hundreds – most voted-for politician, best-dressed woman, richest man etc. – Desai produces her own array of matter of fact but quite unnerving lists: the parts of their bodies which touch when Gyan and Sai kiss; the free gifts that you get from a charity if you make a donation to a cow shelter; the wide variety of puddings that the cook is able to make (this list is rattled off with no spaces, as if expressing both the urgency of the speaker to impress and his perplexity at the foreignness of English pudding names). One of the most thought-provoking lists is 'what the world thinks of Indians':
'In China, they hate them.
In Hong Kong.
In Germany.
In Italy.
In Japan.
In Guam.
In Singapore.
Burma.
South Africa.
They don't like them.
In Guadeloupe—they love us there?
No.'
The build up of word on word, of country on country and the blank white of the space around the words – what better way could there be to describe the desolation of racial prejudice?
Amanda Thursfield, 2007