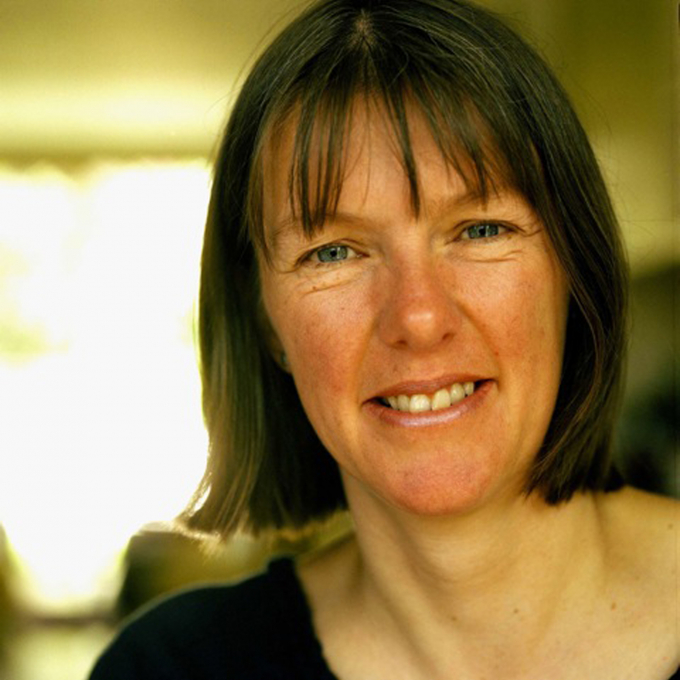 Kathleen Jamie
Publishers:
Agents:
Biography
Kathleen Jamie was born in Renfrewshire, Scotland in 1962.
She studied philosophy at Edinburgh University. She has published several collections of poetry, including: Black Spiders (1982), The Way We Live (1987), The Queen of Sheba (1994),  and Jizzen (1999). She has received several prestigious awards for her poetry, including a Somerset Maugham Award, a Forward Poetry Prize (Best Single Poem), a Paul Hamlyn Award and a Creative Scotland Award.  She has twice also won the Geoffrey Faber Memorial Prize.  Her selected poems, Mr & Mrs Scotland Are Dead (2002), which contains much of her work written before 1994, was shortlisted for the Griffin Poetry Prize. Her poetry collection, The Tree House (2004), won the 2004 Forward Poetry Prize (Best Poetry Collection of the Year) and the 2005 Scottish Arts Council Book of the Year Award. Her most recent collections of poetry are The Overhaul (2012), which was shortlisted for the 2012 TS Eliot Prize and won the Costa Award for Poetry, and The Bonniest Companie (2015). 

She also writes non-fiction. A travel book about Northern Pakistan, The Golden Peak (1993), was updated and reissued as Among Muslims: Meetings at the Frontiers of Pakistan, in 2002. Findings (2005) is a collection of essays and observations on her native Scotland. In 2012, Sightlines, her book of essays based on a second set of journeys, was published.
Kathleen Jamie also writes for radio, especially travel-scripts, and specially commissioned long poems. In 2008, The Whale Road, a programme about whalebone arches in the UK, was broadcast on BBC Radio 3 and in 2011, Norn But Not Forgotten, about the resurgence of poetry in Shetlandic dialect, was broadcast by Radio Scotland.
She lives in Fife, is a Fellow of the Royal Society of Literature and in 2011 became Professor of Creative Writing at the University of Stirling.
Critical perspective
Introducing her Forward Poetry Prize-winning collection The Tree House (2004), Kathleen Jamie observes that 'Poetry is the place where we consider or calibrate our relationships – with ourselves, our culture, history. However, with the natural world, many of our approaches have been infantilised, or cauterized' (Poetry Book Society Bulletin, Autumn 2004).
This relationship with nature has always been an active concern within her poetry, as well as in her non-fiction: Findings (2005) is a beautifully observed account of the birds, animals and landscapes around her home and elsewhere in Scotland. Alongside her necessary preoccupation with Scottish language and culture, people and politics, she has developed a long-standing internationalism. The latter is again evident throughout her writings but best expressed in The Autonomous Region (1993), inspired by visiting China and Tibet, and her travel book Among Muslims: Meetings at the Frontiers of Pakistan (2002) – the latter being a revised and updated edition of The Golden Peak (1992).
But Jamie is primarily a leading figure in her generation of distinguished Scottish poets that also includes Don Paterson, Robert Crawford, John Burnside, Roddy Lumsden and Jackie Kay. Publishing her first collection, Black Spiders (1982) at the age of 19, its alternation between Scotland ('Crammond Island') and scenarios in Istanbul and Jerusalem prefigured the developing directions of her work. For instance, a sequence of poems written about northern Pakistan, 'Karakoram Highway', is included in The Way We Live (1987). Jamie's poems, and photographs by her travelling companion Sean Mayne Smith, form a fruitful collaboration in The Autonomous Region. The book places their actual journeys in China and Tibet - meeting nomads, pilgrims and traders along the way, 'ghost lines of energy and wanderings' - alongside the imagined journeys of an ancient Chinese monk and a Princess.
Jamie really hit her stride as a poet with The Queen of Sheba (1994), emphatically addressing public issues of language, cultural heritage and contemporary politics. Edwin Morgan hailed the 'splendidly boisterous' title poem, in which the arrival in Scotland of the exotic foreign Queen, with 'her hairy legs and / bonny wicked smile' causes a stir in 'Presbyterian living rooms', as she leads 'those great soft camels/ widdershins round the kirk-yaird'. A much shorter poem, 'Arraheids', also satirized repressive elements in the Scottish psyche, visualizing a museum exhibit of arrowheads as 'the hard tongues o' grannies' who 'cannae keep fae muttering / ye arenae here tae wonder / whoe dae ye think ye ar?' Social and political concerns animate many other poems such as 'The Republic of Fife'. By contrast, a less explicitly political poem summons up mysterious incomers in stone boats wearing sealskins, taking swans' shape to cross the Minch – then buying Pringle sweaters ('One of Us').
Jizzen (1999) further developed her art, sometimes using colloquial Scots English, expressing the personal life and attention to the natural world. The title is an Old Scots word for childbed and the collection implicitly links the births of her own children with the re-birth of the nation, with the opening of the new Scottish Parliament. 'Crossing the Loch', the opening poem, recollects friends' 'foolhardy' post-pub rowing of a small boat ('like a twittering nest / washed from the rushes'), the 'cold shawl of breeze', and dread of 'what the water held / of deadheads, ticking nuclear hulls'. But 'we live', it concludes, 'and even have children/ to women and men we had yet to meet'. Childbirth provides the subject of the sequence 'Ultrasound', depicting the foetal development of her son: 'my wee shilpit ghost / summonsed from tomorrow'. In the fifth poem 'Bairnsang' she addresses him as 'Wee toshie man, / gean tree and rowan'; in 'Sea Urchin' he is 'drawn / treasure, whole / from a rockpool'. Yet other poems take us to foreign scenes: Budapest, Canada, or in considering flowers imported from the 'red-tinged' east, 'Yunnan / or Himalayan earth / settled with them' ('Rhododendrons'). A bravura final poem aligns herself with ancient Gaelic women poets; buried with 'summer seeds', they re-emerge 'mouth young, and full again / of dirt, and spit, and poetry' ('Bittersweet').
The Tree House and Findings clearly share a grand subject: the endless (if threatened) diversity of the natural world and its relationship to humanity. Jamie insisted that the poems in The Tree House were written from or toward rather than 'about' the natural world. That said, there are some marvellous evocations of wild creatures. For example, 'a falcon's skills - / to judge the greenwood / so exquisitely his wing tips / graze not a leaf' ('The Falcon'). Or, in 'Basking Shark', 'its ore- / heavy body and head - / the tail fin measuring back, / forth, like a haunted door - / … to sense the absolute / limits of its realm'. In 'The Whale-watcher' and 'White-sided Dolphins' humans and creatures almost interact, only to keep their ultimate distances. Bird-life seems to be Jamie's favourite – observable from home while doing domestic chores, and on walks. Unlike her previous poems invoking them inspirationally, she now strikes a 'last-ditch' note: 'might we yet prevail / upon wren, water-rail, tiny anointed goldcrest // to remain within our sentience in this, / our only world?'('Flight of Birds').
Findings was praised by the nature writer Richard Mabey, who called it the work of a 'supreme listener', adding that it is 'as close as writing gets to a conversation with the natural world'.  It does indeed pay attention to what surrounded her in Fife and on Scotland's highlands and islands. Unfolding over the course of a year, it captures landscapes and creatures, from mid-December's 'precise gestures of the sun' to bird watching on Easter Sunday, then visiting the Isle of Lewis before her Autumn teaching term starts. Jamie is both an observer and recorder (literally so when she wants to see corncrakes on the Hebridean island of Coll). She also explores human settlements, such as a 5000-year-old Neolithic burial chamber, its mysterious beauty compromised by Health and Safety lighting. And Nature has to co-exist in Scotland with jet fighters and missile testing.
She visits Surgeons' Hall in Edinburgh, viewing the collections of human body parts and is strangely 'reminded of the visions of heaven that used to disturb me as a child'. Walking through the city, gulls are 'cruising over the rooftops like pieces flaked off from the city's skin'. Finally, she writes of a 'Cetacean Disco', while spotting minke whales and dolphins from a boat off Tobermory. Kathleen Jamie's ability to combine critique and celebration, Scotland with the international view, humanity and Nature, makes her one of the most urgently relevant of current poets.
Dr Jules Smith, 2010
Bibliography
2015
The Bonniest Compagnie
2007
Waterlight: selected poems
2002
Mr & Mrs Scotland Are Dead (Poems 1980-94)
1998
The Glory Signs: New Writing Scotland, Vol 16
1997
Some Sort of Embrace: New Writing Scotland, Vol 15
1996
Penguin Modern Poets, Book 9: John Burnside, Robert Crawford, Kathleen Jamie
1996
Full Strength Angels: New Writing Scotland, Vol 14
1993
The Autonomous Region: Poems and Photographs from Tibet
1992
The Golden Peak: Travels in North Pakistan
1986
A Flame in Your Heart
Awards
2012
Costa Prize Poetry Award
2014
John Burroughs Medal
2006
Scottish Arts Council Book of the Year Award
2005
Scottish Arts Council Book of the Year Award
2004
Forward Poetry Prize (Best Poetry Collection of the Year)
2003
Griffin Poetry Prize (Canada)
2001
Scottish Arts Council Creative Scotland Award
2000
Forward Poetry Prize (Best Poetry Collection of the Year)
2000
Geoffrey Faber Memorial Prize
1996
Forward Poetry Prize (Best Single Poem)
1996
Geoffrey Faber Memorial Prize
1995
Mail on Sunday/John Llewellyn Rhys Prize
1995
Somerset Maugham Award
1988
Scottish Arts Council Book Award
1982
Scottish Arts Council Book Award
Author statement
Statements make me anxious. They're such hostages to fortune: too hard and fast, too fundamentalist. My poetry would be a dead thing if it couldn't retain its liquidity, couldn't change shape or direction. However, two things have been constant over the years': a rigour, and a concern for musicality. I like to think that both come from two different Scottish traditions.   I couldn't even say what I write 'about', because I distrust the relationship expressed by the word 'about'. I'd rather say that I write 'toward'. Or perhaps 'within'. At the moment, I'm writing a lot 'toward' the natural world. In the past I've had to address 'issues' in my work, of gender and national and personal identity, just in order to clear space. 'Do you consider yourself a woman writer or a Scottish writer?' is a question I can no longer answer politely.   Just last week, in a tiny magazine, I read a description of my work which delighted me. It said 'Kathleen Jamie - somewhere between the Presbyterian and the Tao'.