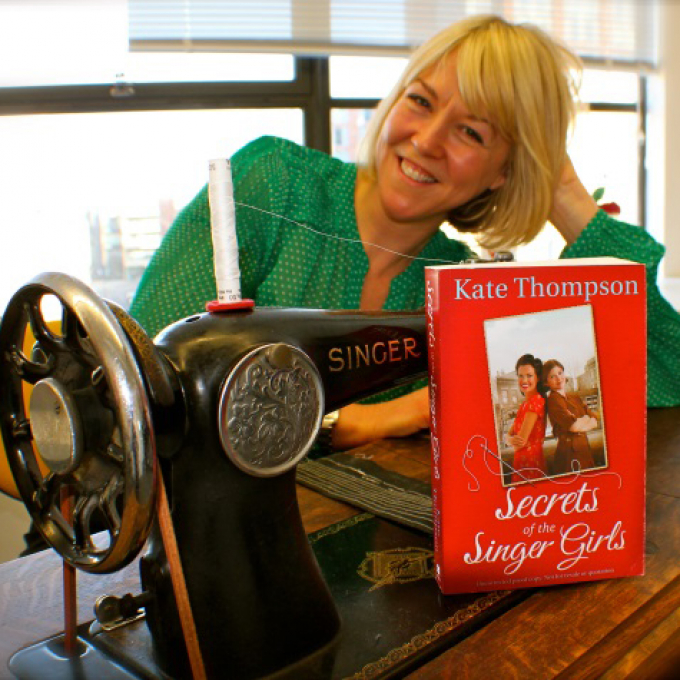 Kate Thompson
Publishers:
Biography
Kate Thompson was born in Halifax and grew up in Leamington Spa and Worcester.
She has lived in Ireland since 1981. She spent some years working with racehorses in England and the US, also travelling to India during which time she worked as a volunteer in an orphanage. She began writing in the late 1980s, first poems and short stories, then her first full-length children's novel, Switchers (1994). This was later followed by two further Switchers books, Midnight's Choice (1998) and Wild Blood (1999).
Further novels for children include the Missing Link series, which comprises of The Missing Link (2000); Only Human (2001); and Origins (2003). The New Policeman (2005) won several awards including the 2005 Guardian Children's Fiction Prize, and the Whitbread Children's Book Award. The Last of the High Kings (2007), is a sequel to The New Policeman.  Creature of the Night (2008), was shortlisted for the 2008 Booktrust Teenage Prize and the 2009 Carnegie Medal. Her most recent children's book is The White Horse Trick (2009).
Kate Thompson has also written several books for adults: Down Among The Gods (1997); Thin Air (1999); and An Act of Worship (2000).
Critical perspective
Kate Thompson has an interesting family background which underpins her fiction.
Her father was the Marxist historian E.P. Thompson who, together with his wife Dorothy, helped to found CND. Not only this, but Kate Thompson's paternal grandfather was also a writer who was friends with Nehru and Gandhi, and wrote a biography of Rabindranath Tagore, India's first Nobel Prize winner. Thompson thus grew up in an atmosphere pervaded by literature, politics and socialism, and visitors to the family home included Bertrand Russell and Iris Murdoch. She has taken a different route by writing predominantly fantasy novels for children, but these novels are often underpinned by social themes and issues, such as environmentalism, genetic engineering and the hectic nature of modern lifestyles. This is combined with a very down-to-earth and matter-of-fact style, and dry, understated humour.
Thompson's first novel for children was Switchers (1994) which later formed a trilogy with Midnight's Choice (1998) and Wild Blood (1999). They are fantasy stories intertwined with environmental issues and contemporary childhood and teenage concerns. In the first novel, readers are introduced to Tess who is a Switcher, able to transform into any animal at will. She meets Kevin, a fellow Switcher who is approaching his 15th birthday, and discovers that at the age of 15, each Switcher must choose one form - human or animal - and remain in it for the rest of his or her life. This foreshadows Philip Pullman's Dark Materials trilogy (1995, 1997, 2000) in the depiction of children who can shapeshift, but lose this ability when they reach adolescence. In Pullman's trilogy, it is the daemon - the outer manifestation of the inner soul - that transforms into different animals until at adolescence it takes one permanent form. In Thompson's trilogy it is children themselves who transform. But both authors suggest the idea of flexibility, fluidity and as yet undetermined potential in childhood which later settles itself into one fixed form, thus losing its spontaneity.
Thompson's Switchers trilogy, like most of her subsequent works, skilfully combines fantasy with contemporary realism and explorations of human nature. The character of Tess is a realistic modern teenage girl, suffering from loneliness caused by frequent moves and changes of school. The adventure she undertakes with Kevin in the first novel is anything but ordinary, but it brings in a contemporary environmental theme: oil-drilling in the Arctic has awakened the Krools, gigantic slug-like creatures who are now destroying the earth's climate. Their quest to destroy the Krools almost results in Kevin's death. Thompson is not therefore afraid to tackle difficult issues, particularly in the second novel, Midnight's Choice, which explores the darker side of human nature: Tess meets Martin, who introduces her to the 'pleasures' of being a vampire, and this is set against the purity of Kevin's new form, a phoenix. The universal themes of good versus evil are intertwined with the awakening of adolescent sexuality, as Tess learns to find a balance between the two extremes.
Thompson's next novel for children, The Missing Link (2000) also became part of a trilogy with Only Human (2001) and Origins (2003). Again Thompson combines fantasy with contemporary social issues to create original and deeply thought-provoking works of fiction which are acutely relevant to the modern world. In this trilogy the focus is on the horrors of genetic engineering. The Missing Link begins with a realistic modern family undergoing stress and tension: Christie's mother has re-married, giving him a new stepbrother, Danny, whom he finds extremely difficult. Danny is intellectually slow and prone to violent outbursts, but his condition has not been diagnosed. The realist elements of the story combine with fantasy when the two boys embark on an adventure to the Scottish highlands to find Danny's biological mother (a scientist). They are joined by animals who can talk, and eventually make the horrifying discovery of Fourth World: an underground laboratory beneath a Scottish farmhouse. Here they discover the link between Danny's condition and sinister genetic experiments.
Throughout the rest of the Missing Link trilogy, Thompson becomes more and more philosophical, exploring the moral responsibilities of science and the nature of being human. Though she is a fantasy writer, in works such as these her family background in social history and social responsibility is clear as she creates a fantasy setting which simultaneously prompts its young readers to consider controversial issues in contemporary society, as well as timeless issues of human nature. As such, some reviewers have classified this trilogy as science-fiction.
Thompson then published several individual novels, winning Ireland's Bisto Prize three times with The Beguilers (2001), The Alchemist's Apprentice (2002) and Annan Water (2004). This was followed by her biggest international success, The New Policeman (2005), which won the Whitbread Children's Book Award, the Guardian Children's Fiction Prize and another Bisto Award. It has since been followed by a sequel, The Last of the High Kings (2007). The New Policeman has a delightful premise: when 15-year-old JJ asks his mother what she would like for her birthday, she asks for more time. It seems that everyone in the Irish town of Kinvara is suffering from the widespread modern phenomenon of not having enough time. Yet Thompson brings in an inventive magical twist as JJ discovers that time is mysteriously leaking into Tír na n'Óg, the land of eternal youth. Here, the problem is causing as much distress as it is in the human world, for the fairies' eternal youth depends upon time standing still.
Thompson, who has lived in Ireland since the early 1980s and used it as the setting for many of her books, offers an enchanting and humorous depiction of the world of Irish mythology and folklore, as the novel moves back and forth between the two worlds. As one critic comments: 'There is something hallucinatory, if not delirious, about this stylish, magical book […] [It is] preserved from any suspicion of whimsy by the matter-of-fact voice of the author, her robust sense of fun, and the sheer energy of her writing' (review by Jan Mark, 'Where the sun stands still', The Observer, 2 July 2005). There is also a strong musical theme, for Thompson is a music-lover who plays the Irish fiddle: JJ comes from a long line of traditional Irish musicians, and each chapter contains sheet music for Irish folk songs, enabling readers to bring the story's magical folklore to life.
Thompson's 2008 novel, Creature of the Night, was shortlisted for the Booktrust Teenage Prize. It is very different from The New Policeman, centring on a teenage tearaway, Bobby, whose young single mother has moved him and his younger brother Dennis away from inner-city Dublin to a cottage in the countryside. The move is partly to escape debts, but also to remove Bobby from the rough environment in which he has been hanging around with gangs, drug-taking and joyriding. Though this novel's gritty social realism and darkness are far more acute than in most of Thompson's other works, she nevertheless invokes the mystery of Irish mythology once again: while the family struggle with poverty and deprivation, they are surrounded by stories about fairies, old superstitions and unsolved mysteries.
Elizabeth O'Reilly, 2008
Bibliography
2009
The White Horse Trick
2008
Creature of the Night
2007
The Last of the High Kings
2004
The Switchers Trilogy
2002
The Alchemist's Apprentice
Awards
2009
Bisto Book of the Year Award
2009
Bisto Book of the Year Award
2009
Dublin Airport Authority Irish Children's Book of the Year (Junior)
2008
Astrid Lindgren Memorial Award (Sweden)
2008
Bisto Book of the Year Award
2008
Booktrust Teenage Prize
2006
Bisto Prize (Ireland)
2005
Bisto Prize (Ireland)
2005
Dublin Airport Authorities Children's Book of the Year
2005
Guardian Children's Fiction Prize
2005
Whitbread Children's Book Award
2003
Bisto Prize (Ireland)
2002
Bisto Prize (Ireland)