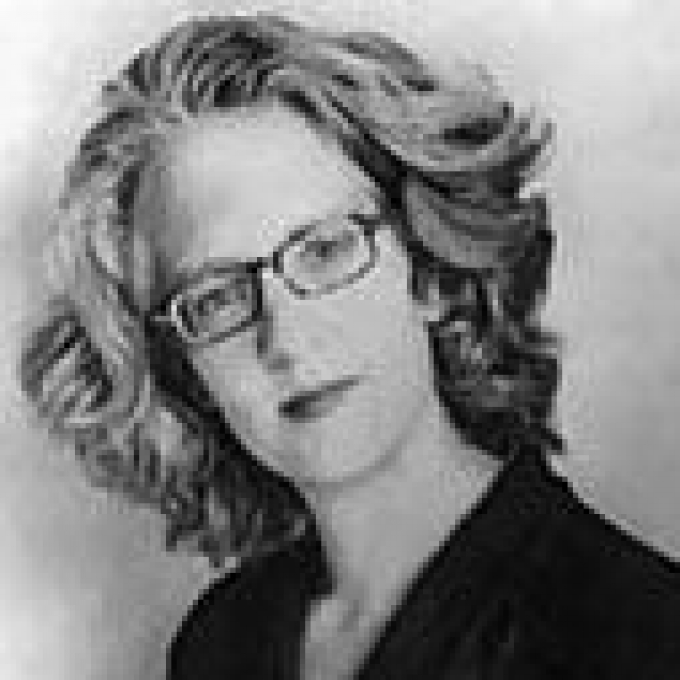 Kate Pullinger
Publishers:
Agents:
The Sayle Literary Agency
Biography
Kate Pullinger was born in British Columbia and educated on Vancouver Island.
She moved to England where she has worked as a lecturer and writer in residence at a variety of institutions including Battersea Arts Centre, and HMP Gartree and Maidstone. She currently teaches on the MA in Creative Writing and New Media at De Montfort University, Leicester, where she is Royal Literary Fund Virtual Fellow.
She is the author of several novels including When the Monster Dies (1989); The Last Time I Saw Jane (1996);  Weird Sister (1999) and A Little Stranger (2006). She has also published two collections of short stoires: Tiny Lies (1988); and My Life as a Girl in a Men's Prison (1997).
Kate Pullinger also writes for radio, film and for digital media. Her digital work includes The Breathing Wall, an experimental fiction. She was the Research Fellow for trAce online writing centre from 2002-3 and her latest digital work is http://www.inanimatealice.com, a multi media graphic novel in episodes.
Her latest novel is The Mistress of Nothing (2009), taking its inspiration from the life of Lucie, Lady Duff Gordon, and set in nineteenth-century Egypt.
Critical perspective
Kate Pullinger's novels and short stories tend to deal with women who refuse to conform to 'positive' gender stereotypes: mothers who abandon children, women who turn out to be witches, femme fatales, mavericks who mistreat their maids, and maids who make out with the wrong kinds of men.
If some of these taboos have since become mainstays in the world of middlebrow fiction (to which at least some of Pullinger's work speaks), Pullinger's writing also raises provocative questions around the motives and motivations of women more broadly. In this sense Stevie Davis's observations about Fran, the mother who deserts her son in A Little Stranger (2006) has a broader resonance across Pullinger's writing:
'Pullinger creates a fictional conversation about … rights and wrongs … Is Fran right to call herself "a rubbish mother"? Where does the rage that darkens her originate? "Have I always been this way," she asks, "waiting to blossom, like an enormous evil-smelling bud that opens in the night?" … At first Fran's alienation seems an ordinary example of a common malaise, evoking the universal predicament of mothers without a car, spare cash or a job, living in tiny upstairs flats. But when Louis has a tantrum in an organic supermarket, Fran suddenly cannot stand it any longer. Leaving him flailing on the floor, she exits with the empty pushchair.'
Moments later, Fran realises the mistake she has made and turns back for Louis, but it is not long before she finds herself taking a one-way flight to Canada, abandoning an otherwise stable family life, seemingly for good. Fran has gone in search of her own 'Bad Mother', as she refers to her. Ireni is an alcoholic who, it emerges, also abandoned her children for reasons the reader can sympathise with. As the two face their demons, a reconciliation between mother and child occurs, one that in turn holds hope for husband Nick and son Louis back in England.
In Weird Sister (1999), the transatlantic journey of Fran in A Little Stranger is mirrored in that of Agnes Samuel, from the US to England. The hypnotic beauty of this mysterious American woman has devastating consequences for the small Fenland community into which she moves. Agnes, we are told, 'had the kind of face you see displayed across the hard shiny pages of one hundred women's magazines, a model's face, symmetrical, perfect, and yet somehow indistinct, malleable'. However, beneath the flawless features of Agnes resides the ghost of a witch, and another Agnes Samuel who was hanged as a witch four centuries ago. The novel is told from the perspective of the Throckmortons and the characters whose lives she has turned upside down. Unfolding with a spare economy, telegraphic sentence after telegraphic sentence quickly build the suspense. Arguably, this generalised style undermines the differences between the presumably distinct voices of the various characters. However, perhaps this is to miss the point: all of their words are arguably marked by the trauma of Agnes' arrival. Speaking after Agnes's arrival and with the benefit of hindsight, these characters look back on their broken worlds through a series of broken sentences. Weird Sister is a chilling narrative which has a compulsive inevitability about it.
In an earlier exploration of the femme fatale figure, Where does Kissing End? (1992), Pullinger riffs on Bram Stoker's Dracula in order to create a fin de siecle fiction for the late twentieth century. Weird Sister on the other hand has been compared with Daphne Du Maurier's popular classic, Rebecca. Indeed, much of Pullinger's best-known writing turns to the past, not just in fictional terms, but by way of history. Most notably, her recent novel The Mistress of Nothing (2009) was based on meticulous research over the period of a decade. Critics are divided as to whether this prolonged historical research ultimately contributes to or constrains the novel, but most agree that Pullinger's portrayal of unorthodox writer and traveller, Lady Duff Morton, is compelling. In the 1860s Lady Morton was suffering from tuberculosis and, rather like Fran in A Little Stranger, left her husband and child behind in order to recover in Egypt. With her went the family servant, Sally. In the novel, Sally is attracted by what she calls the 'surreal beauty' and mystery of Egypt, an attraction that proves explosive when she falls in love with, before falling pregnant by, Lady Morton's 'dragoman' (guide and interpreter): Omar Abu Halaweh. The Mistress of Nothing's heady combination of empire and the exotic spectacularly unravels when Lady Morton discovers what has been going on.
Pullinger is an accomplished short story writer who has been anthologised in numerous collections including Punk Fiction (2009) and Shoe Fly Baby (2004). Additionally, she has edited several collections of short fiction by women, such as Waving at the Gardener (2009) and Harlot Red (2002). Pullinger's interest in the short story genre has recently extended into a formal experimentation with the new genres made possible by internet-based writing. Specifically, she has become involved in a number of innovative and collaborative digital fiction projects, both as a practitioner and as a university lecturer. These include Inanimate Alice, about a girl growing up in twenty-first century China, and Flight Paths: a networked novel exploring the transnational crossings and collisions of modern everyday life. Following the publication of her novel The Mistress of Nothing, Pullinger said that she has found her departure into new forms particularly liberating: 'I'm really enjoying not having to grapple with a novel currently! Writing a novel can be so overwhelming – so many words, so many things to juggle – wonderful to be finished!'
Dr James Procter, 2010
Bibliography
2009
The Mistress of Nothing
2009
Waving at the Gardener: the Asham Award Short Story Collection
2006
Don't Know a Good Thing: The Asham Award Collection
2004
Shoe Fly Baby: the Asham Award Short Story Collection
2002
Harlot Red: Prize-Winning Stories by Women
1997
My Life as a Girl in a Men's Prison
1996
The Last Time I Saw Jane
1993
Border Lines: Stories of Exile and Home
1992
Where Does Kissing End?
1989
When the Monster Dies
Author statement
I write for the usual mix of reasons – compulsion, attempting to order the world around me, for the love of stories, of words on pages, for the love of a good, dark, sometimes funny, serious, look at the world we live in.  I'm interested in tackling different forms and have written novels and short stories – I remain a devotee of the short story as a somewhat neglected, gorgeous, form – as well as working on more collaborative projects – screenplays, works for the web and computer, as well as, most recently, radio drama.  London has always been a big source of inspiration for me as a writer; I've lived here all my adult life and continue to be amazed by its diversity, harshness, and warmth.