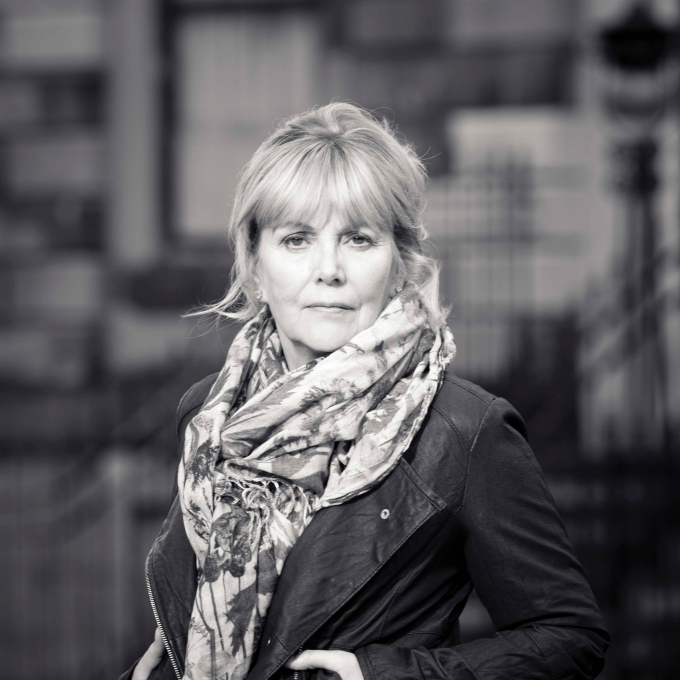 Kate Atkinson
Publishers:
Biography
Kate Atkinson was born in York in 1951 and studied English Literature at Dundee University.
After graduating in 1974, she researched a postgraduate doctorate on American Literature. She later taught at Dundee and began writing short stories in 1981. She began writing for women's magazines after winning the 1986 Woman's Own Short Story Competition. She was runner-up for the Bridport Short Story Prize in 1990 and won an Ian St James Award in 1993 for her short-story Karmic Mothers, which she later adapted for BBC2 television as part of its 'Tartan Shorts' series. Her first novel, Behind the Scenes at the Museum (1995), won the 1995 Whitbread Book of the Year award, beating Salman Rushdie's The Moor's Last Sigh and Roy Jenkins' biography Gladstone. The book is set in Yorkshire, narrated by Ruby Lennox, who takes the reader through the complex history of her family, covering the events of the twentieth century and reaching back into the past to uncover the lives of distant ancestors. The book has been adapted for radio and theatre, and has been adapted for television by the author. Her second novel, Human Croquet, was published in 1997 and relates the story of another family, the Fairfaxes, through flashback and historical narrative. Her third novel, Emotionally Weird, was published in 2000, and in 2002 a collection of short stories, Not the End of the World.
Kate Atkinson has written two plays for the Traverse Theatre in Edinburgh: a short play, Nice (1996), and Abandonment, which premiered as part of the Edinburgh Festival in August 2000. She currently lives in Edinburgh and is an occasional contributor to newspapers and magazines. The four books Case Histories (2004), One Good Turn (2006), shortlisted for the British Book Awards Crime Thriller of the Year, When Will There be Good News? (2008) and Started Early, Took My Dog (2010), form a crime series featuring ex-policeman Jackson Brodie. These books were adapted for television and a 6-part series starring Jason Isaacs as Jackson Brodie was broadcast in 2011. In 2013 she published Life after Life, winner of the Costa Novel Award and the South Bank Sky Arts Literature Prize; and A God in Ruins (2015), a companion novel to Life After Life, featuring several of the same characters. In 2019 Jackson Brodie returned in Big Sky, and Atkinson also published Transcription.
Critical perspective
A throwaway remark in Case Histories (2004), the first of Kate Atkinson's trilogy of crime novels featuring ex-policeman Jackson Brodie, may be pondered by readers: "inside Jackson there remained a belief – a small, battered and bruised belief – that his job was to help people be good".
Firstly, this makes Brodie one of the few fictional private detectives with a positive, almost idealistic agenda. And this despite his own fraught family history, gradually revealed over the course of the three books, in which the unsolved murder of his sister and his own failed marriages loom large. But in Kate Atkinson's fiction, things are never fixed or straightforward. The Jackson Brodie books are not truly crime novels, just as her earlier novels were not really family sagas. Rather, she is the most games-playing of writers, playing with literary genre conventions, eroding their boundaries and entertainingly subverting them.
Her books are crowded with births, marriages and deaths, unlikely incidents, outlandish characters and coincidences. Indeed, to this author, as to her long-suffering detective, "A coincidence is just an explanation waiting to happen". Cliff-hanging situations are set up, only to be quickly cleared up, and the narration is relentlessly quirky and joking. There are tricks with typography and chronology, "dropping into random pockets of time then popping out again". The characters sometimes re-appear as their older or younger selves, and suffer frequent bouts of mental disorientation; reality itself is "a relative kind of thing, like time". The settings can slip between now and 1950s York, 1970s Dundee, Shakespeare's Forest of Arden, between dreams and nightmares. All of these dislocations serve to open up tragic families, revealing a catalogue of painful truths long hidden, including illegitimacy, sexual abuse, violence and murder. Yet they also serve to maintain an indefatigable humour and jaunty narrative swing that carries readers along.
Her debut novel, Behind the Scenes at the Museum (1995), which won that year's Whitbread Book of the Year, opens with the narrator Ruby's conception on the stroke of midnight (aptly alluding to Tristram Shandy) in a flat above a pet shop in the shadow of York Minster. The time is also just before the 1951 Festival of Britain. The family's tragi-comic story moves back and forth in time from the First World War to 1992, embracing the emergent television culture as well as York itself, seen by Ruby as "a fake city" inhabited by the ghosts of its past. Human Croquet (1997) is even more a parody novel energised by magic realism. Or perhaps a better description would be: a multi-dimensional murder mystery. The only consistent feature is the febrile personality of its narrator, Isobel Fairfax, whose idyllic childhood is fatally interrupted by the death of their mother and the disappearance of their father. Isobel and her brother are "lost in an endless dark wood", then into their lives come The Widow and awful Aunt Vinny. Meanwhile, Isobel grows up and is pursued by boys, to escape from whom she finds she can enter doors marked Past, Present and Maybe.
Literature also enters Isobel's life, with a school production of A Midsummer Night's Dream and by being kissed by Shakespeare. The literary element becomes even more marked in Emotionally Weird (2000), another exercise in games-playing. For instance, there are passages in various typographies and styles, from detective fiction to fantasy novels such as The Lord of the Rings. These stories are spun by Effie and her mother from a crumbling house on "a peat and heather" island off the Scottish coast. One strand concerns high times in the English Department at Dundee University during 1972. LSD and cannabis biscuits give a hallucinogenic glow to proceedings, as the darker tale of the Stuart-Murray dynasty is unravelled and the two narrative strands are brought together.
Ingenious, funny and emotionally harrowing as these earlier books often are, Atkinson's fiction has reached a new level (and a new audience) with her 'soft boiled' Jackson Brodie novels. Although, as soon becomes clear, she is using many of the same anti-Family Saga elements, the crime genre has given her an extended set of instruments on which to play. The multiple plots of Case Histories open with Case History No.1 from 1970, in which the young daughter of a Cambridge mathematics don goes missing overnight from a tent on the family lawn, never to be found. Two further unsolved murder mysteries, from 1994 and 1979, are described. We then are introduced to the reluctant hero, investigator Jackson Brodie, in 2004, finding out about his involvement with flirtatious actress Julia, a now-adult sister of the missing girl. The intervening 34 years have not salved her family's unhappiness. As elsewhere in Atkinson's fiction, "Time did not heal, it merely rubbed at the wound, slowly and relentlessly".
Brodie's own family life is just as fractured. He is a former policeman and embittered divorcee who has an affectionate if distant relationship with his daughter. This sounds rather like Ian Rankin's iconic detective John Rebus, an association surely strengthened by the not-infrequent references to Brodie's tastes in music. There's certainly a strong element of parody as the murder mysteries are choreographed towards solutions and an odd kind of unity. However, Brodie is a far less macho cop than Rebus; he is frequently in hospital having been beaten up, involved in car crashes or his house blown up by villains. What sustains him is a determination to pursue those responsible for his sister's death, and a faith in people's basic goodness – a belief often confounded.
One Good Turn (2006) is set in Edinburgh at Festival time. Brodie is now an ex-investigator, having inherited millions from an elderly client, but the cases and violent incidents keep finding him; a Road Rage incident and then the murder of a comedian. He is in Edinburgh with Julia ("a pair of freakishly bereaved people") but they are increasingly distant. Instead, his emotional focus turns towards Louise Monroe, a policewoman investigating the crimes. A number of subplots involve Russian prostitutes and a corrupt builder, and the action unwraps these "Secrets within secrets, dolls within dolls". In the latest Brodie novel, When Will There Be Good News? (2008), the long-suffering hero is in for further physical and emotional travails. The past murder of a mother and children lies behind the current kidnap peril of the one surviving child, now a woman GP with a baby. Her devoted employee, energetic young Reggie Chase, takes on the role of detective in the search, enlisting Brodie's assistance. Despite his traumas, Brodie retains his faith in human nature – a faith that is, after numerous plot twists, rewarded. Kate Atkinson has proved herself an endlessly inventive purveyor of her own special genre – the death-defying tragi- comedy.
Dr Jules Smith, 2009
Bibliography
2010
Started Early, Took My Dog
2008
When Will There Be Good News?
2002
Not the End of the World
1995
Behind the Scenes at the Museum
Awards
2016
Bailey's Women's Prize for Fiction (longtlist)
2016
Walter Scott Prize (longlist)
2015
Costa Book Award for Best Novel
2014
An ALA Notable Books for Adults
2014
Andrew Carnegie Medal
2014
The South Bank Show Annual Award for Literature
2013
Women's Prize for Fiction (shortlist)
2013
Costa Book Award for Best Novel
2013
Waterstones Book of the Year
2011
Barry Award for Best British Crime Novel (US)
2011
Los Angeles Times Book Prize (Mystery/Thriller)
2009
British Book Awards Richard & Judy Best Read of the Year
2007
British Book Awards Crime Thriller of the Year
2005
Saltire Society Scottish Book of the Year Award
2004
Prix Westminster (France)
2004
Whitbread Novel Award (shortlist)
1996
Lire Book of the Year (France)
1996
Yorkshire Post Book Award (Best First Work)
1995
Whitbread Book of the Year
1990
Bridport Short Story Prize
1986
Woman's Own Short Story Competition