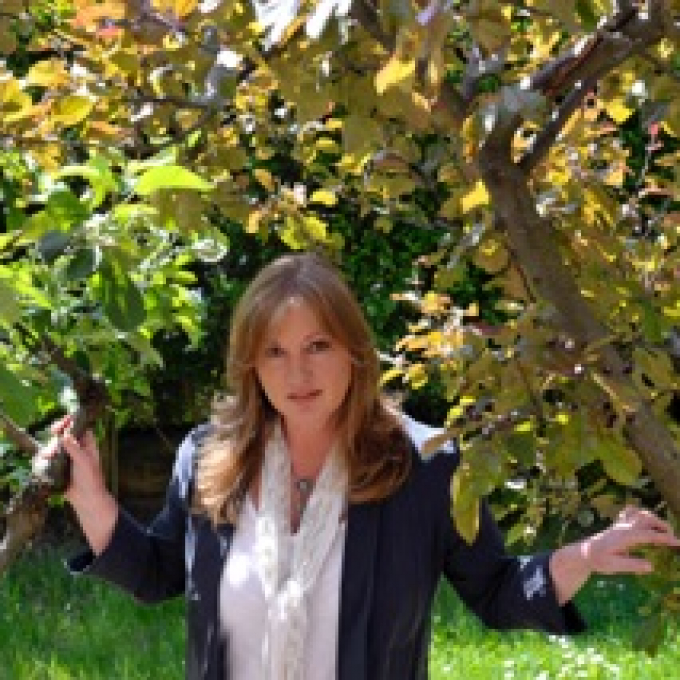 Biography
Julie Bertagna writes for children and young adults.
She was born in Ayrshire, Scotland, and studied English Language and Literature at Glasgow University. She then became editor of a small magazine, a teacher and a freelance journalist, before becoming a full-time writer. She frequently works as a writer in schools.
Her books for children include The Ice Cream Machine (1998), which became a Channel 5 television programme, Bungee Hero (1999) and Dolphin Boy (1999). Her books for young adults include The Spark Gap (1996) and The Opposite of Chocolate (2003). Exodus (2002) is a story of a fight for survival in a world where the ice caps at the poles are melting and the land is drowning. It was shortlisted for the Whitbread Children's Book Award, and won the ECO Prize for Creativity and the Lancashire County Library Children's Book of the Year Award. All of Julie's older novels have been nominated for the Carnegie Medal. Her latest book is Aurora (2011), a sequel to Zenith (2007) and Exodus.
Julie Bertagna lives near Glasgow, Scotland.
Critical perspective
Julie Bertagna has written several Young Adult novels and several books for younger children.
Her first publication was the Young Adult novel, The Spark Gap (1996), written while she was teaching in a Glasgow school. On her official website (www.juliebertagna.com) Bertagna discusses her inspiration for this novel. Her pupils were not keen readers, and could not find any novels about Scottish teenagers with whom they could identify. Bertagna was also aware that some of her pupils came from troubled domestic situations, and she realised how easily a young teenager could end up on the streets through trying to escape an unhappy home life. The result was The Spark Gap, which features three homeless teenagers, living on the open rooftop of a Glasgow towerblock. The central character, Kerrie, who has run away from a mother she cannot cope with, is based on one of Bertagna's pupils. The novel explores the characters' need to face problems rather than avoid them, and it has been praised for its carefully controlled plot, skilful build-up of tension and sensitive characterisation, depicting teenagers who are vulnerable and sympathetic, yet also strong and resilient. Bertagna is thus able to combine a strong narrative, and an engaging personal story of three individuals, with an exploration of some serious social problems.
After The Spark Gap, Bertagna wrote several books for younger children, inspired by the birth of her daughter. The first of these was The Ice Cream Machine (1998) which tells the story of a magical ice-cream van. As a child, a member of Bertagna's family had owned an ice-cream van, and she later made up stories about it to amuse her own daughter. These stories became The Ice Cream Machine, which has been adapted into a television series. Bertagna later wrote a sequel, The Ice Cream Machine Totally Fizzbombed (2005), while her other books for younger children include Bungee Hero (1999), Clumsy Clumps and the Baby Moon (1999) and Dolphin Boy (1999).
Bertagna has since concentrated mainly on Young Adult novels, continuing to feature Scottish teenagers and Scottish settings, while exploring serious and challenging issues, both domestic and socio-political. She displays an acute empathy with her teenage characters, offering perceptive depictions of parent-teen conflict, and she tends to feature characters undergoing some form of change or crisis, in which they are tested to the limit. In Soundtrack (1999), Finn feels alienated from his family, and also from the people of Laggandall Bay, the fishing community in which he lives (and longs to leave). However, his personal story soon becomes intertwined with wider events. Soundtrack explores fears and impending disasters in the form of a comet that hangs ominously over the bay, and an ongoing tension between Laggandall Bay's fishermen and the navy who patrol submarines in local waters (the novel was inspired by a real tragedy in the Firth of Clyde in 1990 in which a crew of Scottish fishermen were drowned when a nuclear submarine got caught in their nets and pulled the fishing boat under the water). The life-changing experience that Finn undergoes is poignantly summed up in the publisher's comments: "Days are eggshell. And today, any day at all, could be the last ordinary day of your life and you wouldn't know."
Bertagna's next novel continues to feature teenage characters within dramatic and life-changing situations – this time on a global scale. Exodus (2002) is an epic and ambitious novel about environmental disaster and a subsequent refugee crisis. This highly acclaimed work, which has been compared to Philip Pullman's Northern Lights trilogy, was shortlisted for the Whitbread Children's Book Award, and received a Highly Commended Award from the ECO Prize for Creativity. Bertagna continued the story in Zenith (2007)  and Aurora (2011), thus creating a trilogy of "eco-epic novels" (as Bertagna herself calls them). In Exodus, set at the end of the twenty-first century, the polar ice caps have melted and Earth is flooding. In Scotland, the Orkney and Hebrides Islands have been submerged, and hoards of refugees make their way to the hills outside Glasgow. One of the refugees is a teenage girl, Mara, a strong, resourceful and resilient character who, along with various other young people, must learn to survive, both physically and emotionally, and create a new life and a new society in extremely tough circumstances.
The novel offers a very real warning about global warming, and the scope of the story enables Bertagna to explore a variety of issues and demonstrate the complexity of problems that arise from such a crisis. She focuses particularly on social inequality and the fear for one's own survival that can make one oblivious to the suffering of others: while Glasgow's elite are protected from disaster inside glass towers that have been built on the ruins of the old city, the refugees are banned from this area and live in terrible conditions. Yet the narrative tone avoids a simplistic black-and-white morality: Bertagna examines injustices and the ways in which people respond to fear, without openly judging or condemning. As always, Bertagna is skilful in addressing serious issues without compromising the story – characters are engaging and sympathetic, the setting is evoked vividly and poignantly, and the plot is tense and gripping.
In between the publication of Exodus and its sequel Zenith, Bertagna published a very different novel, The Opposite of Chocolate (2003). Again, a teenage character is facing a crisis in which life will never be the same again, but in this novel it is a domestic issue – the pregnancy of a 14-year-old girl, Sapphire. Though this is by no means an unusual topic for a Young Adult novel, Bertagna has been praised for her original approach and her poignant evocation of Sapphire's conflicting emotions. She highlights particularly the teenager's terrifying sense of losing control and not knowing to whom she should turn or who she can trust. Sapphire feels that her life is no longer in her own hands and she is torn apart by the conflicting views of her family: her mother advises an abortion but her father is morally opposed to it, while her sister wants her to sell the baby to a wealthy childless woman. Bertagna is never afraid to address the dark side of life, and here she offers a brutally honest depiction of family conflict, particularly between parents and teens.
Elizabeth O'Reilly, 2010
Bibliography
2005
The Ice Cream Machine Totally Fizzbombed
2003
The Opposite of Chocolate
1999
Clumsy Clumps and the Baby Moon
1998
The Ice Cream Machine
Awards
2008
Santa Monica Green Literature Award for Young Fiction
2005
ECO Prize for Creativity
2005
Erskine Stewart's Melville Book Award
2004
Booktrust Teenage Prize
2003
Lancashire County Library Children's Book of the Year Award
2003
Scottish Arts Council Writer's Bursary
2003
Whitbread Children's Book Award
2003
Wirral Children's Book of the Year Award
2002
Portsmouth Book Award
2002
West Sussex Children's Book of the Year Award
2000
Blue Peter Book Award
2000
Scottish Arts Council Children's Book of the Year Award
2000
South Lanarkshire Book Award
1999
NASEN Special Educational Needs Book Award
1997
Scottish Arts Council Writer's Bursary