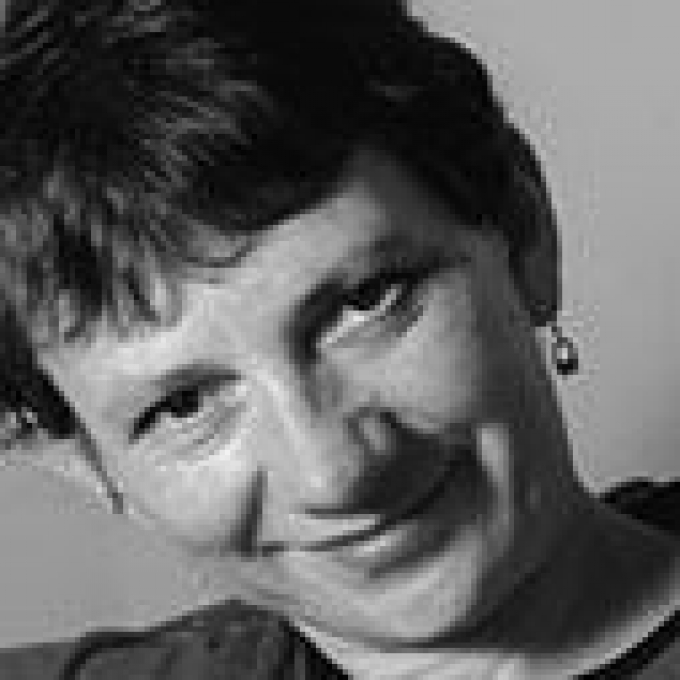 Julia Darling
Publishers:
Agents:
Biography
Poet, playwright and novelist Julia Darling was born on 21 August 1956 in Winchester, England, and was educated at Falmouth School of Art.
She worked in Sunderland as a community arts worker from 1980 to 1986 and became  a full-time freelance writer in 1987. She performed her poetry in venues throughout the UK and was an ex-member of the Poetry Virgins. She was also co-founder and co-editor (with Ellen Phethean) of Diamond Twig, a small press established in 1992 to publish new writing by women in the North East of England.

Julia Darling's first poetry collection, Sauce, was published in 1993, followed by Bloodlines, a collection of short stories, in 1995. She contributed short stories to numerous publications; most recently, her story "Pearl" was included in Gas and Air (2002), a volume of short stories about childbirth. Her first novel, Crocodile Soup, in 1998, was the winner of an Arts Council Writers' Award. The story is narrated by the heroine, Gert, a curator in a northern museum, whose story is interwoven with flashbacks to her eccentric childhood. Julia Darling's second novel, Taxi Driver's Daughter (2003), the story of a family on the verge of collapse, is a blend of domesticity and eccentricity, centred on rebellious teenagers and family life.

Her plays include Black Gold, Raffert's Cafe and Doughnuts Like Fanny's, a play about the life of celebrity cook Fanny Cradock, written for the Quondam Theatre; Eating the Elephant, a comedy which tackled the trauma of breast cancer; Venetia Love Goes Netting, a short half-hour monologue commissioned and produced by Live Theatre and Yorkshire TV as part of their NE1 Project and subsequently staged at the Theatre Royal in Newcastle; and Planet Yorkshire, a one-woman show. Cold Calling, a collection of her plays, was published in 2003.

Julia Darling was Royal Literary Fund Fellow at Newcastle University, where she recently completed a poetry MA. She was also Writer in Residence at Live Theatre with the poet Sean O'Brien, with whom she co-wrote two plays: The Black Path (for BBC Radio Three) and Attachments. Her work at Live Theatre included Personal Belongings and a new play, Post. Recently, she was commissioned by Newcastle Council to write poems written on glass benches designed by Cate Watkinson throughout Newcastle upon Tyne city centre.
Her poetry collection Sudden Collapses in Public Places (2003), poems about breast cancer, was a Poetry Book Society Recommendation, and this was followed by Apologies for Absence (2004). She lived in Newcastle upon Tyne and in 2003 was awarded the Northern Rock Foundation Writer's Award.
Julia Darling died in April 2005.
Critical perspective
In a deliciously farcical scene near the end of the novel Crocodile Soup (1998), Gert gets drunk and brings home a group of militant Lesbian Separatists to help her 'come out' to her mother and elderly aunt.
'It was only as we jogged around the last corner, and headed towards my front door that I began to have doubts …. Jean was sitting with Aunt Margaret, who temporarily believed she was a river and swirled beautifully between great white cotton sheets. She looked up with a Victorian smile at the line of anthropologists before her. "How nice", she whispered. "Gert's brought some girlfriends round. Jean, why don't you get some chairs?" ' As this suggests, Julia Darling was a specialist in the fears, foibles, and eccentricities of women, capturing the poignantly funny side of family life. She also explored women's relationships - with their bodies, and with each other - especially the fraught one between mother and daughter. Her multifarious writings and activities resulted in a growing reputation: for her stage and radio plays, poetry, short stories, and her novels, Crocodile Soup and The Taxi Driver's Daughter (2003), long-listed for the Orange Prize for Fiction and the Man Booker Prize for Fiction respectively.
She was a true Community Writer, involved in all kinds of public arts projects, notably a series of collaborations with visual artists. For example, 'Nine Things You Do on a Bench', her poetry engraved on glass objects and designs, currently adorns several sites around her adopted home city of Newcastle. It is significant that much of her work emerged out of engagement with other people; the poetry anthology Sauce (1993), mostly written by her, collects together highlights from 'The Poetry Virgins', a feminist performance group who started out around 1987, taking empowerment around the North East to conferences, women's health courses, rallies, pubs, cabarets, colleges and arts venues, during evenings of 'initiation, hilarity and mayhem'. Darling herself ran creative workshops on a range of subjects, from drama to health, and the collaborative book, Tangles and Starbursts: Living with Dementia, emerged out of working with carers and people suffering from Alzheimer's. Her writing residencies also resulted in widely-appreciated work, such as plays The Last Post and Posties, which stemmed from a 'Year of the Artist' placement with the Royal Mail. Her entertaining website has an on-line diary recording day to day artistic activities, feelings and opinions about her writing and life events.
Her plays for the stage, television screen or radio, often developed with specific actors at Newcastle's Live Theatre in mind, either take the form of black humour and farce or poignantly serious studies. The comedies include Attachments, in which a blundering salesman tries to sell a vacuum cleaner to a grieving housewife; and Doughnuts like Fanny's, using music and humour to tell the life-story of 1960s television cook Fanny Craddock.  The radio play, The Black Path, (co-written with the poet Sean O'Brien) strongly evokes the North East's industrial past, telling its human stories, inter-cutting past and present, using the radio medium superbly. A dying woman comes back after many years away to make peace with her aged grandfather, once a trades union leader with a fiery Biblical command of rhetoric. By doing so, she finally learns the truth about her parents' deaths, and reconciliation between them is now possible, as she recognizes that 'we're both out at the end of things'. 
Relationships are at the heart of the prose fiction that brought her considerable acclaim. Bloodlines (1995), a volume of sardonic stories about indomitable women, of all ages, shows them coping with difficult lives - but often defiantly taking liberties. One of them, 'Lilo', a child's eye view of the mysterious disappearance of a Swedish au pair during a miserable family beach holiday, reappears as a short chapter in Crocodile Soup. The novel's delightfully odd development is highly engaging, if not totally original. Thematically, as it deals with the confusions of growing up and 'coming out', one could compare it to Jeanette Winterson's Oranges are Not the Only Fruit, as well as owing something to Shena Mackay and Kate Atkinson's depictions of chaotic families and emotional upheavals. Darling's breakthrough novel moves entertainingly between the alienated childhood of its museum curator heroine Gert to her current job anxieties, as a museum curator facing redundancy, and lesbian romantic infatuations pursued in Newcastle's nightlife. All moves fluidly: telepathic communications with twin brother Frank; their estranged mother's letters; memories and hallucinations; while Gert overcomes 'panic attacks the size of Egypt'. 
The Taxi Driver's Daughter is a far less anarchic tale, but also succeeds in blending disparate elements - emotional and topographical realism and metaphorical, even fairytale elements. Its setting is a Newcastle 'proud of its transformation from coal to art', and concerns vulnerable 15-year-old Caris, part of a close but dissatisfied family having to cope with the mother's absence in prison after bizarrely shoplifting a single shoe. The novel turns, however, around its central image, 'the strange apparition of a red-headed girl in a tree surrounded by shoes, like something in a dream'. Caris rebels against school, turns to petty crime alongside her middle-class boyfriend, but has identified with her mother by taking shoes to decorate a tree in the local park. It is Caris's way of identifying with her absent mother, but also becomes a community artwork that starts to affect the lives of others, having 'woken up something in them that they weren't even aware of'. In a gesture of reconciliation, Caris takes her taxi-driver father Mac to see the tree; neither can fully explain its significance, but he too is changed by it, and the family comes together again, but in transformed circumstances.
Both Gert and Caris suffer spells in hospital, the setting of Darling's recent uplifting volume of poems, Sudden Collapses in Public Places (2003). Its presiding metaphor - traced back to 'Ancestry', a poem reprinted from Sauce - is the female body, seen as a building in need of support: 'We have medieval hips. / We need scaffolding. / We subside' ('High Maintenance'). Poems as fine as 'The Grove' are elegiac without being mournful, as subjects alternate between the mundane realities of treatment and remembrance of  'Things I Have Lost'. But its tone can even be celebratory: 'some nights / I'm like Blackpool glowing, / a beacon to myself'. And the ordinary becomes precious: watching afternoon films, or a split shopping bag spilling tangerines into the street: 'bright and orange, against the grey, / Living fruit and stone. The kernel of things'.
Julia Darling's work is brave, engaging, often funny; but above all, thoughtful.
Dr Jules Smith
Bibliography
2004
Apologies for Absence
2003
Taxi Driver's Daughter
2003
Sudden Collapses in Public Places
2001
Tangles and Starbursts: Living with Dementia
2001
England Calling: Writing From the Regions
1999
Snap Shots: Ten Years of the Ian St James Awards
1999
Dogs Days and Other Stories
1999
Branch Lines Fiction
1997
Penguin Modern Women's Fiction
1993
Unbound: An Anthology of Poetry
1992
The Plot Against Mary