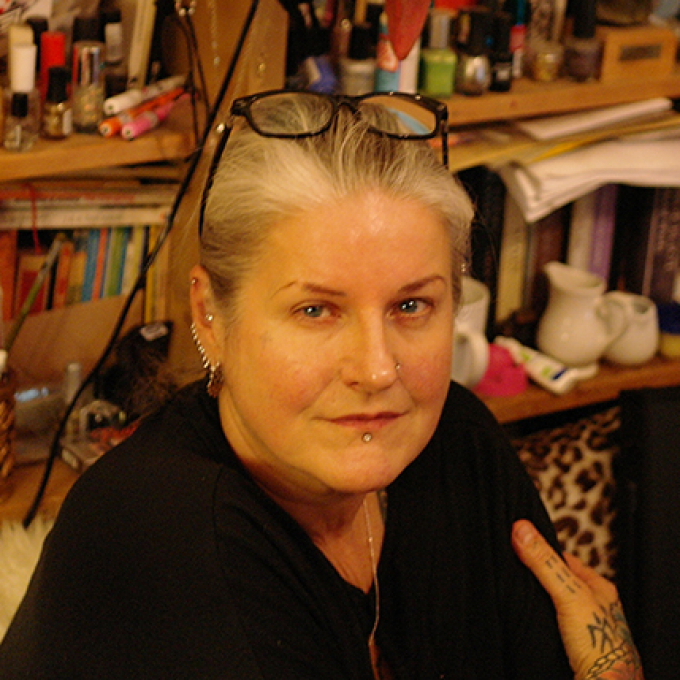 Biography
Born in 1955, Joolz Denby is a writer, poet, spoken-word performer, illustrative and fine artist, curator, photographer and tattooist.
Her poetry collections include The Pride of Lions (1994), Errors of the Spirit (2000), and Pray For Us Sinners, a book of short stories and poems published in 2005. Her first novel, Stone Baby, won the 1998 Crime Writers' Association New Crime Writer of the Year, and was shortlisted for the Crime Writers' Association John Creasey Memorial Dagger. Her novel, Billie Morgan (2004), was shortlisted for the Crime Writers' Association Dagger in the Library Award and the Orange Prize for Fiction. Her most recent novels are Borrowed Light (2006), set in a Cornish surfing village, A True Account Of The Curious Mystery Of Miss Lydia Larkin & The Widow Marvell (2011) and Wild Thing (2012), about an urban feral child.
Joolz also works in the music industry, as a recording artist, illustrative artist for New Model Army, and manager of the young Bradford band, New York Alcoholic Anxiety Attack. Her touring exhibition, One Family, One Tribe - The Art and Artefacts of New Model Army, is a collection of her 25 years of art work for the legendary cult rock band. Her photographic exhibition/installation, Bradford - True North, was shown at Bradford University in 2006, and she is curating an exhibition on elective body modification - The Body Carnival - for Bradford's Cartwright Hall Gallery. Joolz was Artistic Director of Illuminate's Radical Bronte Festival in 2006, and was designated a Cultural Revolutionary in the North of England for her contribution to the region's Arts. Joolz is well-known for her work in prisons and with marginalized young people.
Joolz has performed her work all over the world, and broadcasts on BBC Radio 1 and Radio 4. She lives in Bradford.
Critical perspective
Joolz Denby's poem 'Bradford', from her latest collection Pray for Us Sinners (2005), celebrates her adopted northern city 'lying crouched in its deep-sided valley'.
Walking its multiracial and multicultural streets she finds 'All the world is here, laid out in patchworks / of drenched and brilliant colour', in the fruit and vegetables stalls, and fabric shops like 'some dead caliph's treasure'. At the heart of the city centre's regeneration is Wool Exchange, where there are painted wooden archangels to be seen, and even the deserted mills are 'telling their silent stories of what has been and what will be; / the deaths, the births, the fighting and the love, / all the humanity of it'. This seems to encapsulate much of her essential subject matter – even though, elsewhere in her poems, stories and novels, she summons up the dangerous darkness of its mean streets. The poem concludes with a significant last word: 'in this northern city, under the terrible stars … we belong'. It is significant because her work actually teems with characters who feel themselves to be socially excluded, whether because of their class, racial identity, sexuality – and usually a mixture of all these things.
Known during her punk era simply as 'Joolz', Denby has become a multi-faceted writer and experienced performer, adept at presenting herself and engaging with audiences at venues such as pubs, clubs and festivals. She has appeared several times at Glastonbury, accompanied by jazz or rock musicians. Her poems and stories tend to be dramatic monologues, and can be bloodthirsty tales of love and death; brutally contemporary but equally as often told through figures taken from Beowulf or mythological sources. Her personal interests in tattooing ('we can say with the bright mythology of our skins / I am myself', she states in 'Fortune favours the tattooed heart') and body piercing are fully reflected in her works. She writes about non-conformists, from rock musicians to stand-up comics, and shows both knowledge of and sympathy for abused women, victims of drugs, drink and domestic violence. Extreme physical and mental suffering takes place in her work; violent men and female victims are commonplace. She really puts her characters (and by extension readers) through a psychological wringer.
All these features are apparent in the poems and stories in The Pride of Lions (1994), which is haunted by self-destruction, emotional desolation, and trapped lives. Women are the focus of these stories, whether washing a dead baby in hospital ('No Memorial'), or waiting for a violent partner to get out of jail ('Minuet'). In 'Black Dog', a suicidal woman imagines Death as 'bold and savage but a gentleman, / perhaps the ideal lover … / it will be me he prizes'. The heavy irony of 'The Perfect Couple' is that they're continually wrangling at each other over their failures in life: 'love isn't pity, but often, for the likes of her, it's very close to it'. 'Fuel to the flame' is the monologue of a woman who is filled up with anger, 'like a balloon full of fire'. In a strikingly prescient phrase, she wonders how often 'the child's belief howls in the heart of victims when the predator looms over them'.
Predators, their victims - and the ghosts emerging out of disturbed childhoods - indeed loom menacingly over her novels. This is particularly true of her first, Stone Baby (2000), a crime novel with Bradford as its backdrop to its story of serial killings and abusive relationships. Opening with statuesque stand-up comic Jamie Gee doing a gig to a hostile audience, the action then flashbacks to her involvement with her boyfriend ('a poor man's Brad Pitt'), whose actions become increasingly suspicious. Narrator Lily and Jamie's circle of friends include an Asian drag queen, a tattooed musician who becomes a kind of guardian angel figure; all their lives are traumatized as the murders keep on happening, and the tense action concludes with shattering revelations and an armed siege. Corazon (2001) is a neatly choreographed gothic tale that similarly lurks darkly in the mind, in which sado-masochism, multi-racial friendships and gory deaths are prominent. Its main protagonist is Alma, adorned with tattoos and piercings, who escapes from her unhappy marriage in Bradford only to become entangled with a cult community while visiting her parents in Spain. The novel has a clever mythological framework as it leads the reader inexorably on to a terrifying conclusion. Denby does show an almost Edgar Allan Poe-like ability to imagine nightmare situations. Alma eventually finds herself trapped in a cave in darkness; her desperate efforts to find her way out of 'the intestines of the earth' are rendered genuinely scary.
Billie Morgan (2004), was short-listed for the Orange Prize for Fiction, and has been aptly described as 'a great page-turner about secrets and lies, revenge and eventual redemption'. Her most recent novel Borrowed Light (2006) features a familiar mix of female friends and dangerous men, this time transposed from Bradford to a surfing village in Cornwall. The arrival of the beautiful and flirtatious Angel ('Fata Morgana breathing fire') sparks off sexual rivalry among the men, with eventually murderous consequences. The importance of female friendship and mutual support is again well observed, especially between Astra and café-owner Con, amid the mounting threat of violence from a man who stalks Angel. The story culminates in revelations and a horrific discovery. Yet it contrives to end on a note of hope, as Astra, previously saddened by 'the black, ragged stitch of victimhood through my life', returns to Bradford, happily pregnant with her 'secret' child.
The poems and stories in Pray for Us Sinners (2005) have familiar subjects but much greater assurance in their storytelling, whether the setting is Bradford or re-imagined from Beowulf. Denby's fascination with religious iconography takes various forms. Most captivating is the confession of the Madonna about the true father of her child ('Love'). She also writes feelingly about love for the archangel Gabriel ('the Goddess' warrior prince') and a woman's religious visions in 'The Prophet of Calgary'. The stand-out piece is also the longest: a monologue by 'Hrothgar's Queen', telling the story of her rise to sexual and political power. Married to the king at 15, she vows 'I would never again be helpless or under anyone's dominion'. It is the monstrous Grendel ('the greatest murderer / the world has ever known') who becomes her own object of desire: 'I wanted him; he was my equal, he was as full of power, / as full of rage as I was'. Grendel is therefore – yet another fascinatingly dangerous character. And the Queen is herself another of the female survivors who populate Denby's stories. Bloodthirsty they may be, but they are often ingeniously done, and full of compassion.
Dr Jules Smith, 2008
Bibliography
2011
A True Account Of The Curious Mystery Of Miss Lydia Larkin & The Widow Marvell
2000
Errors of the Spirit
1986
Mad Bad & Dangerous to Know