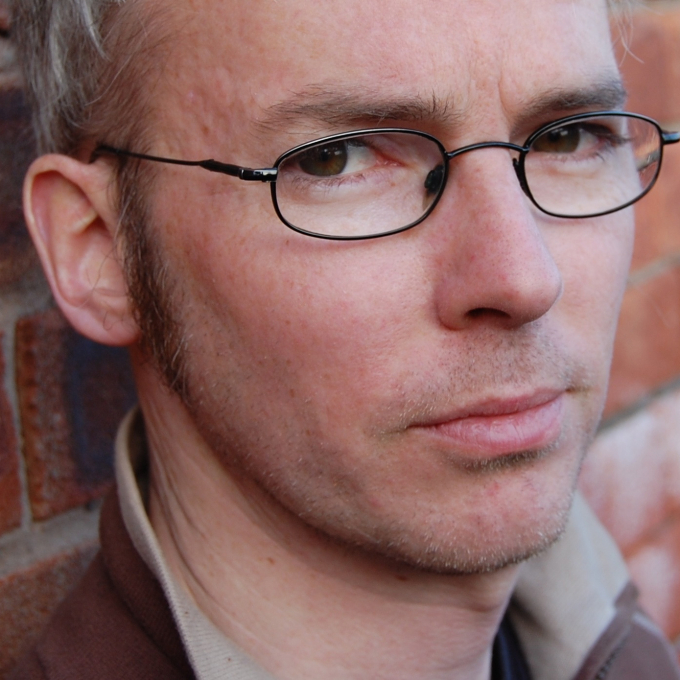 Jon McGregor
Publishers:
Agents:
Biography
Jon McGregor was born in Bermuda in 1976.
He moved with his family to England and spent his childhood in Norwich and Thetford, Norfolk, later studying at Bradford University for a degree in Media Technology and Production. He started writing seriously during his final year at University, contributing a series entitled 'Cinema 100' to the anthology Five Uneasy Pieces (Pulp Faction). He has had short fiction published by several magazines, including Granta magazine. He has been runner-up in the BBC National Short Story Competition twice, in 2010 and 2011.
He left Bradford for Sheffield, then Nottingham, taking a series of shift-jobs to support his writing, and wrote his first novel, If Nobody Speaks of Remarkable Things (2002), in Nottingham, while living on a narrowboat.  His novel has received much press attention, as he was the youngest contender and only first novelist on the longlist for the 2002 Man Booker Prize. The novel is set on an unnamed inner-city street on 'the last day of summer', and tells two parallel stories: one of the residents on the street on that day, ending in tragedy; one set a year later, telling of a former resident's attempts to unravel the facts of the tragedy.  The Sunday Times named it a  ' … triumphant prose-poem of ordinariness …', celebrating  ' … the miraculousness of the everyday.'  It went on to win the Betty Trask Prize and the Somerset Maugham Award and to be shortlisted for the Commonwealth Writers Prize (Eurasia Region, Best First Book) and the Sunday Times Young Writer of the Year Award.
Jon McGregor's second novel, So Many Ways To Begin, was published in 2006 and his third, Even The Dogs, in 2010. His novel Reservoir 13  (2017) won the Costa Book Award for Best Novel, was longlisted for the Man Booker Prize, and was shortlisted for the Goldsmiths Prize. A companion novel, The Reservoir Tapes, appeared later in 2017.
His first collection of short stories is This Isn't the Sort of Thing That Happens to Someone Like You (2012), set in the Lincolnshire fens.
In 2010, Jon McGregor received an honorary doctorate from the University of Nottingham, and was made an honorary lecturer in their School of English Studies.
He lives in Nottingham with his wife and two children. 
Critical perspective
Jon McGregor has garnered a reputation for a quiet but lyrical narrative style, and for seeking out the surprises, the delights, and the beauty and sometimes the less pleasant in the heart of the everyday world that surrounds us.
His debut, If Nobody Speaks of Remarkable Things (2002), employs a deliberately narrow focus. The action takes place on a single day, in a single street. The town, the street and many of the characters remain un-named, hinting at one of McGregor's key themes for the book: the anonymity of modern urban relations, the way that people can live next door to each other for years without knowing anything about their neighbours. From early on, the reader is made aware that something out of the ordinary takes place on this particular day, and the increasingly ominous foreshadow of this unknown event hangs over the book as a wealth of conversations, actions, observations and unspoken thoughts unfolds. McGregor has spoken in interviews of how part of the book's inspiration came from the public reaction to the death of Princess Diana, and the way in which other deaths which happened at the same time were overlooked.
The method chosen to tell the story is a stylised one. Narration is largely third-person, moving cinematically from house to house, seguing from one character and one story to another, as if a camera were literally tracking through the dividing walls. McGregor himself has referred to it as 'a collage of snapshots'. Interspersed throughout, however, is the first-person voice of a young woman who has recently discovered she is pregnant, and who looks back at the events which took place on the day in question.
Just as McGregor demands some effort on the reader's part to grapple with this nameless cast and fragmented narrative, so he plays with the expectations he himself has created. Even as the novel approaches its promised conclusion, the revelation of the book's defining event appears to be no longer on steady ground. In a subtle shift of focus, the reader is left questioning whether the event which takes place in full view of the street, which we already know has an impact on the people who witnessed it, is more significant than something which happens afterwards, quietly and unobserved, but as a direct result. In keeping with the novel's claim that 'if nobody speaks of remarkable things, how can they be called remarkable?', the reader is left to conclude that what happens behind closed doors can be just as momentous and life-changing as what takes place in the public domain.
A subtle sense of counterpoint is also a notable feature of the book. The new life the pregnant girl is coming to terms with is balanced with the inevitability of death; and just as the possibility of one relationship is closed down, another opens up. A prevailing fascination with gossip and celebrity is poised against an undeniable sense of isolation and anonymity. And the blatancy of large events is contrasted with the minute, everyday, ordinary things which make up most people's lives, and which most people fail to notice.
McGregor's second novel, while continuing some of the themes and preoccupations of his first, deliberately treads different ground. So Many Ways to Begin (2006) focuses on a smaller group of characters, but with a much greater temporal sweep. Set for the most part in Coventry (a place McGregor chose because 'the 20th century history of Coventry is a microcosm of the history of England'), the action of the book moves from the period of the First World War to the present day.
The novel's central character, David Carter, is a museum curator who finds that his life has not turned out quite as he expected. Eleanor, the vivacious girl he married, with a bright career as a geologist ahead of her, has become a periodic depressive. His dreams of owning and running his own museum don't look likely to come to pass. And his beloved Aunt Julia, slipping into dementia, reveals a secret about his life which throws him into turmoil, and sets him on an obsessive search for his own beginnings.
In less able hands this material could easily have become a rather tedious account of mid-life disappointment and disillusion, but McGregor's fascination with the mysteries and beauties of the everyday lift it to a different level. Each chapter begins with a curatorial description of a domestic item – a scratched photograph, a tobacco tin, a nurse's watch – from Carter's personal collection. Sifting through these artefacts he strives to make sense of his own life's direction, but is forced to conclude that 'all the archives in the world weren't enough when he didn't know who, or what, he should be looking for and where he should be looking'.
The novel examines several different 'beginnings' – both of individual lives and of relationships. Unsurprisingly though, with McGregor's strong sense of balance, it also focuses on endings (Julia's slow descent into dementia, the deaths of David's father and Eleanor's mother). Finally, resting somewhere in-between, it becomes a quiet celebration of the triumph of continuation, of how things endure, despite the odds.
On one level there is nothing particularly unusual about the story McGregor tells. Plenty of people find that life is not what they thought it might be, and many wonder how things might have been different. Neither is it a page-turning, action-packed read. Rather, it is a slow, quiet book. But of course, that is the point. For, just as with his first novel, it is in the domestic realm of the commonplace that McGregor has staked his ground: observing and honouring the quiet delights, triumphs and wonders of the everyday. This novel celebrates the importance of love, of home, and of whatever life we choose to make for ourselves.
McGregor's next novel Even the dogs (2010) is much darker and harsher in tone. The story evolves around the discovery of the dead body of a middle-aged man in a dirty, badly maintained apartment in an unknown city. The author takes this sad but simple fact of the death of a down and out and sets about trying to reconstruct the events that might have led up to the death. As the authorities take the body away for autopsy and cremation we are shown the events leading up to and immediately after the death through the eyes of those acquainted with him. By tradition, most audiences, when given a dead body, would expect a complicated plot with foul play, a suspect perhaps, a detective, a motive and inevitably, an arrest, but they would be disappointed here. A traditional story-seeking reader might say that nothing much happens in the novel - the death is more an excuse to explore the everyday thoughts and routines of the disadvantaged people of both sexes and varying backgrounds living on the city's underbelly.
As in If nobody speaks…, McGregor expects a lot from his readers.  It is common and more tolerable for those of us who see down-and-outs in the street to think of them as nameless faces, of people without intelligence or feelings: It is common for authors to look at down-and-outs from afar, as if they were another race, try to make excuses for them, judge them or use them as didactic material, but McGregor lets the narrative and the thoughts of the characters speak for themselves. By giving voice and detail about such persons, by seeing them as individuals and showing the workings of their minds McGregor gives them an identity, a humanity that is unusual in literature. It is up to readers to observe and make their own conclusions – such conclusions are personal and human and reach out to our darkest fears that "there but for the grace of God might go I".
Through these individuals – from the dead man himself, Robert, a work-shy alcoholic whose problem worsens when his wife leaves him and takes his daughter Laura with her, Laura, who herself turns from a good young woman with "clean finger nails" and skin "pink and soft and unmarked by bruises" to a hard drug addict, Danny, the intelligent but sensitive man with his ironically named dog Einstein, put into care as a child, the drug-abuser Heather whose unusual masochistic sexual leanings hint at who knows what kind of child abuse or the war-veteran Steve ("my country deceived me") the story dispels a number of myths about the underprivileged. The first is that they do not have homes, families, relationships or routines and secondly that they do not have sensitivities. Most of the characters have a place of abode which, though hardly a home in the traditional sense gives them a sense of place albeit a shelter, a rehab clinic or dossing on Robert's floor. Many of the people are drug users – they don't try to excuse their habit but their thoughts convey the need to escape or weakness of character that compel them towards drugs in the first place and several pages in the book give strong descriptions of how important drugs are to the addict, where food, affections, social conventions become secondary compared to a fix which is "Like being wrapped up warmer and warmer and warmer. Like being cocooned in blankets and silk. Like more than any of these things. Like being held".  The need, the desolation of these people is the same, but each individual has a different story and by giving attention to such individuals he gives them a certain dignity. And there are small sparkles of everyday kindness – the way that Heather tries to prevent Laura's father from seeing her shooting up even though he must know she uses drugs, the way that Maureen, the woman at the Day Centre "made Danny a cup of tea without asking"…"fetching a bowl of biscuits to take out for Einstein without waiting to be asked". We are moved by the way that one of the characters likes going to the chiropodist, the hairdresser or the nurse "they got to touch you with their clean soft hands and no one says nothing about it but it all helps oh Christ but it helps". As readers we both wince and empathise at these revelations.
There are two narrative streams in the book – a description of the processes that take place when a person dies unexpectedly which is told in a bland, matter of fact way, almost as if it were a police report. Here McGregor's work again takes on a cinematic quality and this part is rather like watching a documentary. At times the scenes are described and the reader simply observes, at times Robert's friends seem to be crowding round and watching the scene and we, as readers become part of the group and hence one of them. McGregor lets the description speak for itself and there is no censorship or emotion in the gory details. Yet the dedication and thoroughness with which these unknown people dissect and clean the body of a man whose name they hardly know takes on an almost religious quality and the ugly, bloated body is restored ("first bath he's had in ages") to a more human dignity by the authorities and the coroner dedicates time and attention to questioning Robert's recalcitrant family and friends to reach a conclusion for his death. In some ways it pays homage to the nameless representatives of authority, the policemen, the ambulance men, the doctors and nurses, the social workers and coroners who try to make sense of a world without normal social restraints.
The parallel narrative is that of Robert's friends which is an intriguing mix of third person and what almost seems to be first person narrative as if one were entering into the mind of the individual, although the lack of person pronouns makes these people almost without identity as if they don't have the courage of right to use the word "I". In opposition to the descriptions these narratives are often made up of short, disjointed phrases and use colloquial expressions, slang and expletives as if following the person's thought processes or as if the person were describing the scene to us himself. Often the sentences or whole paragraphs fade out, frequently without punctuation, just as the thought processes of an addict, a psychotic or a person shocked by finding a dead body might do. This is a more serious novel than McGregor's previous ones and it lacks the humour of those of say Roddy Doyle or Frank McCourt and yet there is a sweetness, a nostalgia in the reaction of Robert's friends to his demise. Is there a positive ending – will Laura succeed in kicking her drug-habit, spurred on by the knowledge that her father might have been so determined to quit alcoholism that this might have caused a seizure that actually contributed to his death? When someone dies we are so often left knowing too much and yet not having answers to so many questions – life does not end tidily as novels so often do - only the reader can decide which interpretation he prefers to take away with him from the novel.
McGregor's most recent publication is a book of short stories entitled This Isn't The Sort of Thing That Happens to Someone Like You (2012). There are thirty stories in the collection that range from the pithy one-liner Fleeing Complexity which, with its carefully loaded ten words is as much a poem as a story "The fire spread quicker than the little bastard was expecting" to the longer pieces such as I'll buy you a shovel where enough material to create a novel - whole life stories, social and religious conflict, alcoholism, mental illness and more - is skilfully crammed into thirty pages. McGregor chooses as his setting not the dramatic Highlands of Scotland, the romance of the Lake District or the prettiness of the West Country so beloved of other British authors but the seemingly unexceptional, grey flatlands of eastern England, an area of wide-open spaces and huge changeable skies, where people look out over the land like "fishermen looking out to sea". Each story is dedicated to or inspired by the name of a village in the area and this gives a cohesion to the collection. Some of the stories describe the landscape, others, such as the final Memorial Stone revel in what McGregor calls the power of lists – the topographical names are not only a historical trace left by our ancestors, they are also transmit geological, geographical information and display the richness of a language influenced by the influx of the races who have historically colonised, farmed and tried to tame this part of the country for thousands of years.
In the stories That colour and In Winter the Sky we return to the intimacy of couples in day to day activities that was the focus of So Many Ways to Begin. In That colour a woman observes the autumn colours of the trees and points them out to her partner as he does the washing up "I dried my hands and went through to the front room and stood beside her. I felt for her hand and held it. I said, but tell me again". In winter the sky describes how a man reveals to his wife a dreadful hit and run accident he was involved in as a 17 year old - the accident has somehow shadowed their relationship for years and, although his wife has been unable to understand what the problem was, because of their closeness and intimacy she has sensed his discomfort as they have lived their lives, developed their farm and looked after his ailing father over the decades.
In The Chicken and the Egg we meet a man with a phobia about breaking eggs, a problem of Freudian complexity that many writers would have milked to the limit and yet McGregor simply states the facts and lets the reader draw his own conclusions. The story ends with the man telling his wife about his obsession and some humour creeps in "There was some mockery. There was a poorly executed hoax involving a child's toy. Also, a man who was later identified as a co-respondent in the subsequent divorce proceedings, made a barely audible clucking noise as they stood together in the canteen line". The pompous slightly priggish tone of the narrator's language tells it all.
Some of the stories however are more unsettling. In We were just driving around a group of university students discuss their futures and playfully mock one of them who wants to market handmade gourmet snacks (I'll be filling a niche, big time") as they cruise by car over the Lincolnshire Fens. McGregor perfectly captures the dialogue of twenty year olds of today: "a couple of times when we'd stopped and got out it had been totally quiet, like normal, but we had the music turned up…and it made things seem sort of hectic or like picturesque…" They start laughing and then one of them turns to speak to one of the girls in the back "so that must have been how come he never saw the corner?" Again, McGregor reveals an acute sensitivity to dialogue in the incredulity with which the student speaks in this final line, perhaps justifying their careless actions to family or the authorities: There is a facetiousness and yet a plea for confirmation in the final question mark, the habit that many young people have, learnt from television sit-coms, of raising the voice at the end of a sentence to make a question of what is not really a question.
As the collection moves on the stories are even more sinister and menacing in tone. Some, such as Which reminded her, later smack of marital tension when a vicar's wife gets impatient with her husband for giving refuge to an evasive American woman he knows little about. In Keeping watch over the sheep a man, separated from his partner, turns up uninvited at their daughter's nativity play: "…maybe there were some things he probably shouldn't have said or done . Or broken. Breaking things had never helped" he thinks, ominously to himself.
In We wave and call a young man gets into trouble whilst swimming alone on an exotic beach holiday with friends and the mood goes from sunny and relaxed to confusion and fear. In Vessel a visitor seemingly innocently brings a bunch of tulips to his female host. We understand that he is not welcome, flowers are difficult to find, suggesting rationing or scarcity caused by some cataclysm – we are led to understand that the man is after something but McGregor is the conveyor of unease, an author who whets our imaginations and, as so often in his work, it is up to the reader to draw his conclusions. The story Wires begins with a dramatic but straightforward incident when a sugar-beet (a common product on the eastern flatlands) falls off a lorry through the windscreen of a young woman's car. She is helped out by two men but there is something about their utterances, the way they speak, the way they stand, the repetition of "It's not safe" that signal apprehension and yet we never find out if the outcome of the story will be a normal conclusion or if it will end in tears. "He seemed to be waiting for something. She tried to pull away…" writes McGregor, once again acting as a tempter, a catalyst to our imaginations.
If it keeps on raining begins peacefully enough with a man's daily routine of urinating in his garden as he looks out at the boats and fishermen on the river outside his house. As the story moves on however we learn he is building both a tree house and a raft in preparation for some kind of flood: "But when it starts they won't understand. They'll put on coats and…brandishing umbrellas against the violence of the sky….They'll check the forecast and wait for it to stop….But it won't stop. They should understand, but they won't."  The story ends with the simple declaration "He thought you should know". With scientists warning of global warning is he just a madman unhinged by his separation from his red-haired children or is he a prophet of doom?
In Supplementary notes McGregor uses the language of officialdom, seemingly a legal testimony that begins with a description almost guidebook-like in detail of the village of Bassingham. From the text we slowly understand that the area has become a refugee zone and that people are fleeing from Britain to refugee camps in northern France. We do not know who the appellants are, why they are in court of from what the refugees are escaping - in classic McGregor style it is up to the reader to draw his own conclusions from observations made by the author – the conclusions are unsettling. In  The Last Ditch (a play on the fact that this area of the country is networked by numerous draining ditches) we see into the future again as we read the notes of a man who is preparing for a meeting of what appears to be a sort of commune to discuss the prevention of attacks by outsiders. He goes into extraordinary detail about who his allies might be in the group, what plants and supplies will be needed for defence and what food stuffs will be advisable and yet there is something of the both the amateur and the maniacal about his planning. Again, is he a saviour or a lunatic? Each reader must come to his own conclusions, but, egged on by McGregor's seeming effortless yet perfectly balanced narrative control and his pitch perfect ear for dialogue, coming to those conclusions is bound to be a fruitful experience.
Susan Tranter, 2006
Updated Amanda Thursfield 2013 
Bibliography
2012
This Isn't The Sort of Thing That Happens to Someone Like You
2006
So Many Ways To Begin
2002
If Nobody Speaks of Remarkable Things
Awards
2017
Goldsmiths Prize (shortlist)
2017
Costa Prize for Best Novel
2012
International IMPAC Dublin Literary Award
2011
BBC National Short Story Award
2010
BBC National Short Story Award
2003
British Book Awards Newcomer of the Year
2003
Commonwealth Writers Prize (Eurasia Region, Best First Book)
2003
Somerset Maugham Award
2003
Sunday Times Young Writer of the Year Award