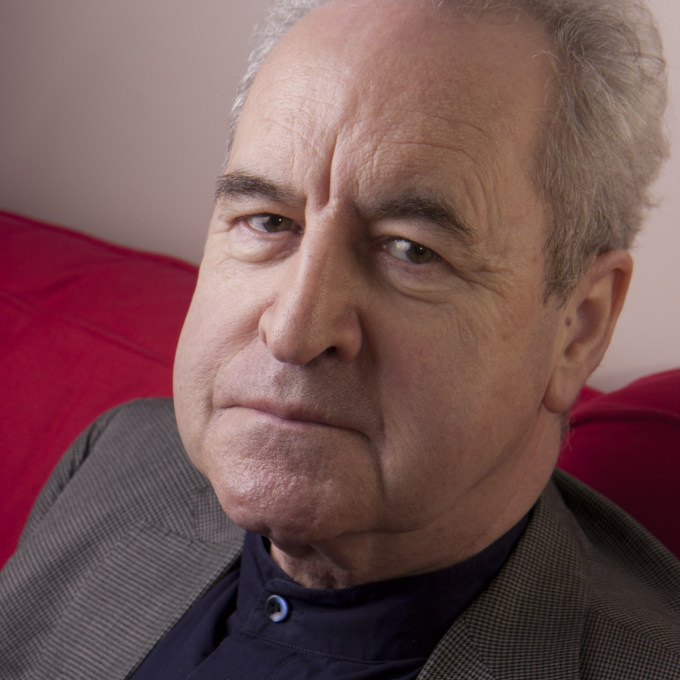 Biography
Irish novelist John Banville was born in Wexford in Ireland in 1945.
He was educated at a Christian Brothers' school and St Peter's College in Wexford. He worked for Aer Lingus in Dublin, an opportunity that enabled him to travel widely. He was literary editor of the Irish Times between 1988 and 1999. Long Lankin, a collection of short stories, was published in 1970. It was followed by Nightspawn (1971) and Birchwood (1973), both novels. Banville's fictional portrait of the fifteenth century Polish astronomer Dr Copernicus (1976) won the James Tait Black Memorial Prize (for fiction) and was the first in a series of books exploring the lives of eminent scientists and scientific ideas. The second novel in the series was about the sixteenth-century German astronomer Kepler (1981) and won the Guardian Fiction Prize. The Newton Letter: An Interlude (1982), is the story of an academic writing a book about the mathematician Sir Isaac Newton. It was adapted as a film by Channel 4 Television. Mefisto (1986), explores the world of numbers in a reworking of Dr Faustus.
The Book of Evidence (1989), which won the Guinness Peat Aviation Book Award and was shortlisted for the Booker Prize for Fiction, Ghosts (1993) and Athena (1995) form a loose trilogy of novels narrated by Freddie Montgomery, a convicted murderer. The central character of Banville's 1997 novel, The Untouchable, Victor Maskell, is based on the art historian and spy Anthony Blunt. Eclipse (2000), is narrated by Alexander Cleave, an actor who has withdrawn to the house where he spent his childhood. Shroud (2002), continues the tale begun in Eclipse and Prague Pictures: Portrait of a City (2003), is a personal evocation of the magical European city. The Sea (2005) won the 2005 Man Booker Prize. In The Sea an elderly art historian loses his wife to cancer and feels compelled to revisit the seaside villa where he spent childhood holidays. His latest novel is The Infinities (2009). He received the Franz Kafka Award in 2011.
John Banville lives in Dublin. 
Critical perspective
Regarded as the most stylistically elaborate Irish writer of his generation, John Banville is a philosophical novelist concerned with the nature of perception, the conflict between imagination and reality, and the existential isolation of the individual.
While his writing flirts with both postmodernism and magic realism, it is best understood as metafiction in the tradition of Samuel Beckett, Banville's acknowledged mentor. Like Beckett, he moves fluidly from Irish landscapes and characters to European contexts and histories, and from conventional narratives into fabulism and distortion. Relentlessly and, some might argue, pretentiously allusive, his works play with both overt and hidden references to his literary idols, particularly Proust, Dostoevsky and Nabokov. In his earliest fiction, Long Lankin (1970) and Nightspawn (1971), Banville marked out his non-realist territory and his interest in metaphysical ideas, but was criticised for technical self-indulgence and verbosity. With Birchwood (1973), he retained his tendency to baroque prose, but harnessed it more successfully to a Gothic fantasy of a dysfunctional Irish family and their decaying mansion. Drawing on the romance quest, the circular plot involves the narrator, Gabriel Godkin, setting out to find his lost twin sister, and encountering en route the bizarre community of a travelling circus. There are echoes of Dickens' Bleak House (one character even spontaneously combusts), but the allusions to Nabokov and Proust are more typically Banvillian, in this characteristically poetic meditation on the relationship between memory and imagination: "We imagine that we remember things as they were, while in fact all we carry into the future are fragments which reconstruct a wholly illusory past. The first death we witness will always be a murmur of voices down a corridor and a clock falling silent in the darkened room, the end of love is forever two cigarettes in a saucer and a white door closing."
Banville gained international recognition with his next four books, usually described as his 'scientific tetralogy', and linked by their common interest in the status of mathematical or astronomical structures as alternative 'languages' of perception. In Dr Copernicus (1976) and Kepler (1981), the scientific protagonists serve to illustrate the shortcomings of any 'fictional' versions of the universe, which ultimately fail to capture its elusive substance. The resultant self doubt which burdens both Copernicus and Kepler recurs in The Newton Letter (1982), in which Newton's biographer, living in isolation in County Wexford, Ireland, attempts to write about Newton's crisis of belief while suffering, simultaneously, his own neurotic failure of nerve. The implied parallel between scientist and writer, where each pursues his own inadequate system of interpretation, is foregrounded in what has been read as Banville's most autobiographical work.
One of the hallmarks of Banville's writing is inter-textual repetition, where motifs or allusions recur from novel to novel. Mefisto (1986), the fourth book of his scientific tetralogy, is a Faustian tale of a mathematical prodigy, Gabriel Swan, whose carnivalesque adventures in a fun fair (together with his Proustian associations), artfully recall the earlier Birchwood. In the enigmatic trilogy of novels which succeeds the tetralogy, this pattern of recurrence is conspicuous, and a central character, Freddie Montgomery, is traced across three dramatically different contexts. Here the figure of the scientist gives way to the painter, as visual art becomes the primary channel for the author's meditation on perception and representation. And where the tetralogy threw the role of human imagination into crisis, the trilogy, to some extent, offers a reinvestment in the necessary creative fictions of human invention. Collectively, therefore, these novels mitigate some of Banville's earlier scepticism, despite their flirtation with the archetypal postmodernist jeux of gapped and inconsistent narration, non-sequential chronology, and the blurring of 'truth' and fantasy.
Opening the trilogy, The Book of Evidence (1989) is written as the prison memoir of Freddie Montgomery, on trial for the brutal murder of a female servant who interrupted his plan to steal a painting. Freddie is at once a disarming and objectionable narrator, blinded by his own ego, capable of the most intense response to the portrait he steals, but unable to empathise in any way with his human victim. At the heart of his predicament is his own existential insecurity, his perceived lack of substance: "How shall I describe it, this sense of myself as something without weight, without moorings, a floating phantom? Other people seemed to have a density, a 'thereness', which I lacked. Among them, these big, carefree creatures, I was a child among adults." In this fragility of identity the novel locates an ethical dilemma: if Freddie's concept of self is ultimately a fiction, then can he legitimately be held responsible for his crime? What is the nature of his guilt, defined by Freddie himself as "a failure of imagination"? And how far can the reader trust his narration, a dubious construct fraught with implausibility, inconsistency and pride. Freddie reappears in the second novel of the sequence, Ghosts (1993), which situates a shipwrecked community on the island where he has seemingly gone to ground following his release from prison. In this setting, with its obvious echoes of literary antecedents including The Tempest and Robinson Crusoe, identity is again in flux. The shipwrecked group includes an art historian and his assistant, connected in some mysterious way to Freddie's own scholarly interests in the painter Jean Vaublin. This near anagram for John Banville exemplifies the author's sporadic ludic tendency: in the next book, Athena (1995), which sees Freddie caught up in a conspiracy to authenticate a series of fake paintings, the painters' names - Johann Livelb or L.van Hobelijn - are again anagrammatic of Banville's own, an in-joke which also endorses the governing theme of reinvention in the work.
The black humour and lucidity which save Banville's work from becoming abstruse are dominant in what some regard as his finest novel. The Untouchable (1997) presents the recollections of Victor Maskell, a figure loosely based on the Royal art curator Anthony Blunt, who was exposed in 1979 as one of the Cambridge spy ring. More accessible perhaps than its predecessors, this work is a biographical study of individuality in freefall, released from the constructions of nationhood and patriotism, and obsessed with the abnegation of self required by the act of betrayal. Quite unlike the existential Gothic melodramas to which he has returned in his most recent fiction, Eclipse (2000) and Shroud (2002), The Untouchable also offers salient reminders of Banville's roots in the fractured condition of Irishness, an identity which continues to provide him with traditional thematic and narrative mainstays beneath the veneer of a cerebral European experimentalism.
The Sea (2005), Banville's fourteenth novel and winner of the 2005 Man Booker Prize for Fiction, is again suffused with references to other literary works, and is especially indebted to the novels of Beckett. Its protagonist and narrator is Max Morden, a widowed art historian who, following the death of his wife, returns to the seaside village where he once spent a childhood holiday, to indulge and torment himself with memories of his first adolescent love. The novel covers familiar Banvillian territory, over which the ghosts of Proust and Nabokov loom heavily: the narrator's profession inevitably occasions several references to art history and ancient mythology, whilst his shifting personality, alternately sensitive and threatening, is conveyed through prose that is both erudite and demotic. Yet again, the reader is challenged by a narrative that teases the boundaries between memory and the imagination. Following his win, Banville asserted his belief in the importance of intellectual fiction with some force, telling an interviewer that "It's nice to see a work of art win the Booker Prize" (The Guardian, 2005). His most recent novel, The Infinities (2009), is avowedly highbrow in this same vein, and is again both allusive and self-referential, with a plot predicated on the Greek myth of Amphitryon, which Banville adapted for the stage in 2000 from a version by the German writer Heinrich von Kleist. Its narrative unfolds over the course of a single day in an Irish country house located in the non-specific past of a parallel universe, as the family of an eminent mathematician awaits his death.
Away from these overtly intellectual odysseys, in recent years Banville has also published an entertaining and engaging series of crime novels under the pseudonym Benjamin Black. Earlier novels including Birchwood and Mefisto were notably concerned with twins, and Banville himself has described Black as "my dark and twin brother" (The Guardian, 2011).
Dr Nick Turner, 2012
Bibliography
2011
Imagined Lives: Portraits of Unknown People
2003
Prague Pictures: Portrait of a City
1989
The Book of Evidence
1982
The Newton Letter: An Interlude
2014
The Black-Eyed Blonde
Awards
2017
Ordine della Stella d'Italia
2017
RBA Prize for Crime Writing
2013
Irish Book Awards (Bob Hughes Lifetime Achievement Award)
2013
Prince of Asturias Award for Literature
2013
Austrian State Prize for European Literature
2012
Irish Book Award (Novel)
2010
Irish Book of the Decade (Bord Gáis Energy Irish Book Awards)
2007
Man Booker International Prize
2006
British Book Awards Author of the Year
2005
Man Booker Prize for Fiction
1997
Lannan Literary Award (Fiction)
1989
Booker Prize for Fiction
1989
Guinness Peat Aviation Book Award
1981
Guardian Fiction Prize
1976
James Tait Black Memorial Prize (for fiction)
1975
American Ireland Fund Literary Award
1973
Allied Irish Banks' Prize
1973
Arts Council Macaulay Fellowship