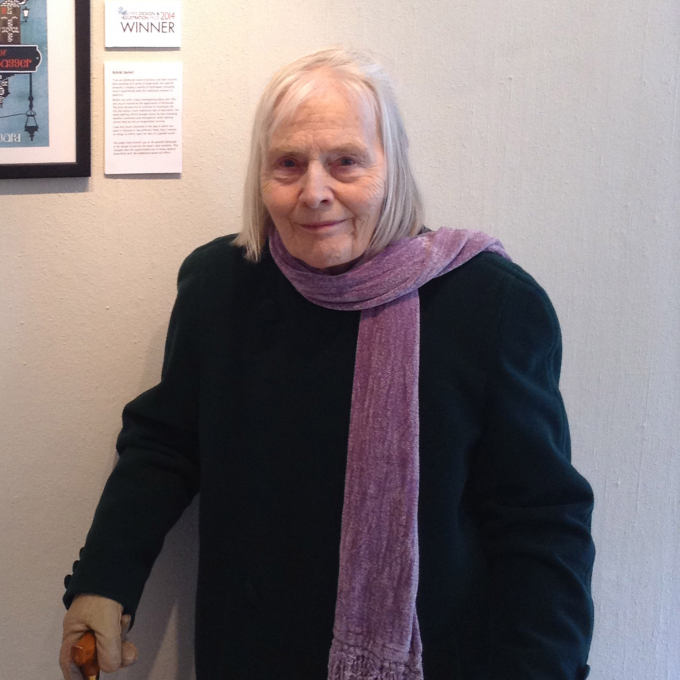 Joan Lingard
Publishers:
Agents:
Biography
Joan Lingard was born in Edinburgh and spent her formative years in Belfast, Northern Ireland. She now lives again in Edinburgh, and is married to a Latvian-Canadian.
She is the prolific author of many books for both adults and young people, and her work often explores the themes of displacement and the conflicts of adolescence.
Her most recent novels for adults are After Colette (1993); Dreams of Love and Modest Glory (1995); The Kiss (2002); Encarnita's Journey (2005); and After You've Gone (2007), the latter novel set in Tollcross 1924, and incorporating part of the naval journal kept by her father on a world trip.
Her books for young people include the 'Kevin and Sadie' Quintet, comprising of: The Twelfth Day of July (1970); Across the Barricades (1972); Into Exile (1973); A Proper Place (1975); and Hostages to Fortune (1976) - set in Northern Ireland and telling the story of Kevin and Sadie, who are caught up in the troubles and become exiles. Other books set in Northern Ireland include The File on Fraulein Berg (1980) and Dark Shadows (1998), about two 15-year-old girls whose families are enemies.
The 'Maggie' quartet is set in Scotland and comprises of: The Clearance (1974); The Resettling (1975); The Pilgrimage (1976); and The Reunion (1977). Other books set in Scotland include The Freedom Machine (1986); Hands Off Our School! (1992), a children's picture book; and The Sign of the Black Dagger (2005), which uses the Royal Mile in Edinburgh as a setting, and was shortlisted for the 2006 Royal Mail Award for Scottish Children's Books and the 2007 Astrid Lindgren Memorial Award.
Her husband's background has also led to children's novels - the award-winning Tug of War, in which twins flee on the Soviet invasion of Latvia in 1944, and move to Canada in the sequel, Between Two Worlds (1991). Latvia and Canada also provide the inspiration for Night Fires (1993).
Other themes include the preservation and protection of animals and birds, as appearing in The Egg Thieves (1999), and the 'Tilly' books - Tilly and the Wild Goats (2005), and Tilly and the Badgers (2006).
Her picture books include Can you find Sammy the Hamster? (1990); and The Same Only Different (2001), about identical twins.
Joan Lingard's latest children's book is Trouble on Cable Street (2014), loosely based on her father's childhood. She was awarded an MBE for services to children's literature in 1998.
Critical perspective
The settings, characters and storylines of Joan Lingard's fiction reflect her mixed Scottish-Irish upbringing, along with her family history and that of her Latvian-born husband. She has become most well-known and acclaimed for her work for children and teens, but her first novels were for adults and she has continued to write a number of adult novels - approximately 15 novels for adults compared to over 40 for children (the latter is comprised mainly of Young Adult fiction, though there are also books for younger readers). Much of her fiction, for both adults and children, explores the struggles between individuals and wider social and political forces - her characters are often undergoing challenging experiences such as displacement, social conflict and even war, and with this comes the need to re-define one's sense of self in changing circumstances.
Lingard has been writing since the age of 11, and her first published work was a novel for adults, Liam's Daughter, in 1963. It was quickly followed by five more adult novels: The Prevailing Wind (1964); The Tide Comes In (1966); The Headmaster (1967); A Sort of Freedom (1969); The Lord on Our Side (1970). Most of these early works are set in, or inspired by, Edinburgh, where Lingard returned to spend her adult life after her childhood in Belfast.
However, it was with her first book for children and teens, and the first set in Northern Ireland, that Lingard began to make her mark as a writer: The Twelfth Day of July, published in 1970, is the first of five novels in the 'Kevinand Sadie' series. Set in Belfast during 'The Troubles' of the late 1960s and 1970s (and thus also written during this period, rather than retrospectively), it centres on the relationship between Catholic Kevin and Protestant Sadie. The series poignantly explores the real human suffering behind the politics, as the two teenagers fight against every obstacle - including their own families - in order to be together.
The Kevin and Sadie series has been extremely popular - it has never been out of print, and in 2010 celebrated its 40th anniversary. It is notable that the novels have won significant awards in Germany (at that time still divided by the Berlin Wall), suggesting that its depiction of divided communities and the effects of political conflict on domestic life has resonated with readers beyond the Northern Irish situation. Lingard thus offers a sensitive, detailed and very accessible portrait of everyday life amidst the traumas of 1970s Belfast, while simultaneously exploring themes that are by no means unique to Northern Ireland. In fact, the Kevin and Sadie novels are in many ways a contemporary re-working of the traditional Romeo and Juliet story, though for Kevin and Sadie the ending is relatively happy. This is due mainly to their own strength of character, for they are typical of the resilient protagonists who feature in Lingard's fiction for young people: 'Her central characters tend to be tough survivors, often given to provoking family rows but always loyal to one another. Her heroines are strong and spirited, generally with a sharp sense of humour' (Lingard entry in The Cambridge Guide to Children's Books in English, ed. Victor Watson, 2001).
The File on Fraulein Berg (1980) is also set in Belfast - this story of several war-time schoolgirls who are on a mission to incriminate their German schoolteacher was inspired by Lingard's own schooldays in Belfast during World War II. However, though her formative years in Belfast have inspired some of Lingard's most acclaimed works, in many of her novels - for both adults and children - she returns to Scottish settings. Much of this fiction is set specifically in Edinburgh, such as The Gooseberry (1978), Rags and Riches (1988) and What to Do About Holly (2009), along with the adult novel, The Kiss (2002). The 'Maggie Quartet' - The Clearance (1974); The Resettling (1975); The Pilgrimage (1976); The Reunion (1977) - is set in Glasgow and the Scottish Highlands. In the Kevin and Sadie series, the two protagonists move away from their native Ireland in order to create the life they want, while the heroine of the Maggie novels experiences a different form of displacement: brought up in a working-class family, strong and independent Maggie is determined to undertake a university education and carve out her own path in life. Her chosen path thus sets her apart from her family and her roots. Though Maggie's experiences are less dramatic than those of Kevin and Sadie, she too experiences the inner conflict of trying to balance her own individual freedom and beliefs with that of her family, her ancestry and the wider community.
The Maggie novels, like much of Lingard's fiction, intertwine past and present as characters carry a strong sense of their roots and family history. Lingard has also written historical novels, and much of this work is inspired by her own family history and that of her husband, who had to flee Latvia with his family in 1944 when the Russians invaded. The family spent several years in German refugee camps before emigrating to Canada. This story inspired Lingard to write the award-winning Tug of War (1989) and its sequel, Between Two Worlds (1991), along with an adult novel, Dreams of Love and Modest Glory (1995). In Tug of War, 14-year-old twins Astra and Hugo and their parents have to abandon everything that is familiar to them - not only their belongings but their lifestyle, their heritage and their sense of who they are - in order to escape the Russian invasion. This, therefore, is physical and psychological uprooting at its most severe, and Lingard's novel, told from the point-of-view of the twins, offers a heart-rending depiction of the emotional trauma and confusion experienced by refugees. However, as in her other novels, Lingard emphasises the strength of the human spirit, and skilfully balances tragedy and darkness with hope and survival.
Among the work inspired by Lingard's own family is her adult novel, After You've Gone (2007), which incorporates parts of a diary kept by her father during a one-year world trip with the British Fleet in 1924. However, though the inspiration for Lingard's novel came from her father's naval trip, the story itself is fictional, focusing on the experiences of the wife left behind in Edinburgh. Among Lingard's most recent works for children/teens are The Eleventh Orphan (2008) and its sequel, The Chancery Lane Conspiracy (2010), inspired by the author's paternal grandparents who ran a London pub in the early 1900s. In the novel, which begins on New Year's Day 1900, the Pig and Whistle pub is run by Ma and Pa Bigsby, generous carers of ten orphans. The eleventh orphan of the title is Elfie who, arriving with a bag of mysterious possessions, is another Lingard protagonist thrown into new circumstances but strong enough to survive. The late Victorian London setting and the story's orphan theme are reminiscent of Dickens, while the search for Elfie's father provides an engaging mystery story (eventually revealing that Elfie is not an orphan at all). As always, the historical detail is carefully researched, offering young readers an informative read as well as a captivating story.
Elizabeth O'Reilly, 2010
Bibliography
2014
Trouble on Cable Street
2014
The Sign of the Black Dagger
2010
The Chancery Lane Conspiracy
2009
What to Do About Holly
2005
Tilly and the Wild Goats
2003
Tell the Moon to Come Out
2001
The Same Only Different
2001
Ted Hughes: The Life of a Poet
1998
Tom and the Tree House
1995
Dreams of Love and Modest Glory
1993
Clever Clive and Loopy Lucy
1990
Can you find Sammy the Hamster?
1980
The File on Fraulein Berg
1972
Across the Barricades
1970
The Twelfth Day of July
1970
The Lord on our Side
Awards
2009
Royal Mail Award for Scottish Children's Books
2007
Astrid Lindgren Memorial Award (Sweden)
2006
Royal Mail Award for Scottish Children's Books
1990
Lancashire County Library Children's Book of the Year Award
1990
Sheffield Children's Book Award
1989
Federation of Children's Book Groups Award
1988
Federation of Children's Book Groups Award
1987
Buxtehűder Bűlle (West Germany)
1986
ZDF Preis der Leseratten (West Germany)