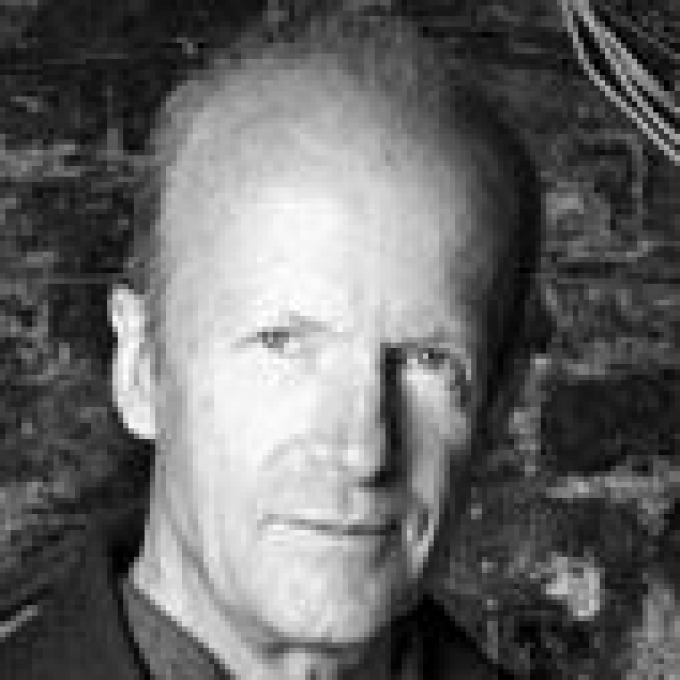 Biography
Novelist Jim Crace was born in Hertfordshire, England, in 1946 and was brought up in north London.
He read English Literature as an external student at London University and worked for VSO in Sudan as an assistant in Sudanese educational television. He began writing fiction in 1974 and his first story, 'Annie, California Plates', was published by the New Review, a literary journal edited by Ian Hamilton. He became Writer in Residence at the Midlands Arts Centre and in 1983 he directed the first Birmingham Festival of Readers and Writers.
Jim Crace is widely regarded as an innovative and highly original writer with a powerful ability to create imaginary worlds and landscapes. His first book, Continent (1986), consists of seven interconnected stories set on an imaginary seventh continent, exploring Western attitudes to the Third World. It won the Whitbread First Novel Award, the Guardian Fiction Prize and the David Higham Prize for Fiction. The Gift of Stones (1988) portrays a coastal Stone Age community threatened by Bronze Age technology, while Arcadia (1992), his third book, is set in an imaginary British city in the future. Signals of Distress (1994) explores the events surrounding a shipwreck off the Cornish coast in the 1830s, and won the Winifred Holtby Memorial Prize. Quarantine (1997), which was shortlisted for the Booker Prize for Fiction, is a reworking of the biblical account of Jesus's 40 days spent in the wilderness. Being Dead (1999) narrates the murder and physical decomposition of a couple on a remote beach, interpolated with episodes from their life. The novel won the Whitbread Novel Award, the National Book Critics' Circle Fiction Award (USA) and was shortlisted for both the Booker Prize for Fiction and the International IMPAC Dublin Literary Award.
The Devil's Larder (2001), consists of 64 short fictions about food. Extracts from the novel had previously been published as The Slow Digestions of the Night in 1995. Six (2003) charts the sexual history of actor Felix Dern, whose seemingly perfect life is blighted by the fact that every woman he sleeps with bears his child.The Pesthouse (2007) is a love story set in a future America. His most recent novels are On Heat (2008), All That Follows (2010), and Harvest (2013), which was shortlisted for the 2013 Man Booker Prize, the Goldsmiths Prize and the Walter Scott Prize, and won the 2013 James Tait Black Memorial Prize and the International IMPAC Dublin Literary Award in 2015. His latest novel is The Melody (2018).
Jim Crace was awarded the E. M. Forster Award by the American Academy of Arts and Letters in 1992 and became a Fellow of the Royal Society of Literature in 1999. In 2000, he received an Honorary Doctorate from the University of Central England for Distinguished Literary Achievements. He lives in Birmingham with his wife and two children. 
Critical perspective
Jim Crace occupies a unique and unusual place in the contemporary canon.
A.S. Byatt has described him as the most significant writer in English fiction of the last ten years, a status confirmed by the range of prizes and awards, listed above, which his work has garnered. His fiction enjoys the rare distinction of sustaining both the high regard of professional critics (academics and literary journalists), and the loyalty of a substantial popular readership. The peculiarity of Crace's position is that this place has been secured with writing which bears no obvious relation to the prevailing currents and concerns of his peers. His career as a writer has been marked by a set of formal, ethical and aesthetic interests which set him apart from the mainstream of writing in English. In ways which resonate more properly with certain traditions of continental European writing (Crace is often compared with such disparately quirky authors as Calvino, Nabokov, Kafka or Sebald), or of South American writing (Borges and Garcia Marquez, for instance, are apparent influences, and Crace has frequently acknowledged the impact of the 'magic realists', initially  through Rushdie), Crace's work has consistently evoked imaginary, self-sufficient fictional worlds which are in teasing or troubling parallel relations to the 'real' one(s) we inhabit. This is not, however, a matter of fantasy or fable for its own sake. Crace is, crucially, addressing the vital and essential themes of contemporary life, and is in this sense a powerful political writer. His work opens onto universal themes, and its formal and imaginative achievement is sensitively to articulate such matters without pretension, pomposity, or artistic compromise.
Crace's career as a writer of fiction began after periods in Voluntary Service Overseas, and, for 16 years, as a journalist and foreign correspondent. The influence of these earlier roles is clear in his subsequent writing. It can immediately be felt in his attention to the specifics of space and place, which play such a dynamic and suggestive role in his work, from the finely evoked but indeterminate locales of his first novel, Continent (1986), a work which creates and peoples a seventh continent through seven interconnecting tales of the area's people and places, to the dystopian future-city of Arcadia (1992), the precisely represented wilderness to which the Christ-figure retreats in Quarantine (1997), and the windswept, liminal waterfront and beach zones of The Gift of Stones (1988), Signals of Distress (1994), and Being Dead (1999). This is more than simple verisimilitude or an 'eye for detail'. Crace's moral imagination is drawn to places which resonate with his scenarios, which become dynamic elements in the stories he tells – Arcadia explores the future relations between city and countryside; Being Dead examines the interactions and interpenetrations of the multifarious elements of nature, of the symbiotic processes of life and death, and the seashore provides, perhaps surprisingly, fertile ground for such reflections.
While the influence of Crace's travels is recognizable in this sophisticated sense of place, and also in a refusal of immediate or 'domestic' locations (he has explained that despite occasional efforts, he has never been able to compose within a conventional social realist mode), his earlier professional formation is equally apparent in his exacting prose style. He emphasized this fact in an interview with Jean Ross, noting his 'admiration for the disciplines of good journalism: clarity and depth of expression, orderliness of structure and design', and 'instinctive preference for restrained and dispassionate prose which avoids sentiment and declamation but which takes its power from the narrative itself and not from authorial intervention.' These 'disciplines' are evident throughout his writing, which is remarkable for its precision, concentration of detail, and semantic simplicity. The opening pages of Being Dead contrast the ritualized 'quiverings' (sensations of the afterlife or resurrection of the dead), at a Victorian Wake, with the 'quiverings' which attend the bodies of a murdered couple which lie for several days on the beach, subject to decomposition and to the attentions of various forms of wildlife and bacteria. In other hands this 'rhapsody of rot', as Michael Adetti described it in a review for The Independent, might be macabre, sensational or prurient, but Crace's understated, unmelodramatic prose serves instead to invest these processes with a curious, gentle inevitability, generating an elegiac mood from unpromising circumstances.
Such elaboration of detail is evident also in Crace's descriptions of the way of life and methods of work of the Stone Age tribe in The Gift of Stones, which far from being antiquarian or lapidary bring an uncanny immediacy to the prehistoric community. Ironically, Crace has suggested that in this case, as in the wonderful land- and nature- scapes of Quarantine, he was not concerned with verification or fact, and did little research – the convincing texture and consistency of these narratives is inherent to the narrative, rather than any fidelity to historical or geographical truth. The pedant might seek, and find, error and historical contradiction, but this would be to miss the point. Such potential discrepancies direct us, in fact, to the key distinction between Crace's fiction and his prose journalism: in journalism, it is the truth of event or location itself which is at stake; in fiction, facts are in service to poetic, narrative and moral truths, to what Crace has boldly, and unfashionably, called 'the verities of the human condition'. Although Crace has no illusions about the political force of art in contemporary British society – he is an eloquent and engaging conversationalist as well as an astute critic and fine reader – there is nonetheless a firm and confident line of commitment in his work, as in his life.
There are further recurrent preoccupations, leitmotifs and themes which connect Crace's novels, and it is in these aspects that a political critique gains force, despite the widely varying plots and locations. Materialist critics have traced a persistent concern in the novels with the impact of change (or 'development'), in the form of new technologies or modes of governance and social organization, Crace's work addresses repeatedly the transition from a 'traditional' society to 'modern' one. The Gift of Stones recounts the crisis of the 'stoneys' as their privileged position as makers of tools and weapons ends with the advent of metal implements. Continent contains the marvellous tale of the 'sin lister', whose ancient social role in the marketplace becomes first redundant, but then transformed into a lucrative 'indigenous' art form, attracting the attention of 'smart Europeans' on the lookout for ethnic handiwork. Arcadia contrasts the lively and messy, but organic, forms of pre-capitalist trade with the sterile and exploitative commercial environment of the new era. Embedded within Quarantine, although ostensibly a meditation on the origins of Christianity and faith, is the story of a merchant, Musa, whose exploitation of the Christ-figure as 'product', is closely associated with the emergence of the new religion.
Frank Kermode, in an enthusiastic review of Quarantine for the New York Times, associated Crace, in an English tradition, with William Golding, on account of his delicate but sure grasp of the form of the 'novel-fable'. Praising Crace's 'crystalline' style and 'fanatical concentration on a particular time and a particular object' (which he later qualifies as 'almost hallucinatory'), Kermode commends this 'strange and original' writer to American readers, in the sure conviction that his future work will 'baffle prediction'. It is evident from Kermode's review, nonetheless, that of Crace's future work one might, in fact, confidently predict two things: writing of high quality, and of considerable significance.
Sean Matthews, 2004
Bibliography
1995
The Slow Digestions of the Night
Awards
2015
International IMPAC Dublin Literary Award
2014
Windham–Campbell Literature Prize
2013
James Tait Black Memorial Prize
1999
Booker Prize for Fiction
1999
International IMPAC Dublin Literary Award
1999
National Book Critics' Circle Fiction Award (USA)
1997
Booker Prize for Fiction
1997
Whitbread Novel Award
1995
Winifred Holtby Memorial Prize
1989
GAP International Prize for Literature (USA)
1988
Premio Antico Fattore (Italy)
1986
David Higham Prize for Fiction
1986
Guardian Fiction Prize
1986
Whitbread First Novel Award
Author statement
'I am not - thank heavens - one of those 'driven' writers who spend a fortnight buckled with empty fright over an untouched page only to wake at two in the morning feverish with paragraphs. Nor am I one of those who, fuelled by drink, debt or anger, become monkish and quarrelsome while they are composing. I'm a matter-of-fact, office-hours writer. Sixteen years as a freelance features journalist taught me that neither the absence of 'the Muse' nor the presence of 'the block' should be allowed to hinder the orderly progress of a book. Good old-fashioned, puritanical work-guilt is, for me, a better colleague than any Muse. If I reach my weekly word-target by Friday afternoon, then the weekend is guilt-free. The greatest of rewards! I do enjoy the writing, of course, but it is less important to me than family or politics. And I remain convinced that my novels, despite their political basis and their unembarrassed, moralising seriousness, are less influential than a leaflet, say, or a placard or a vote.'