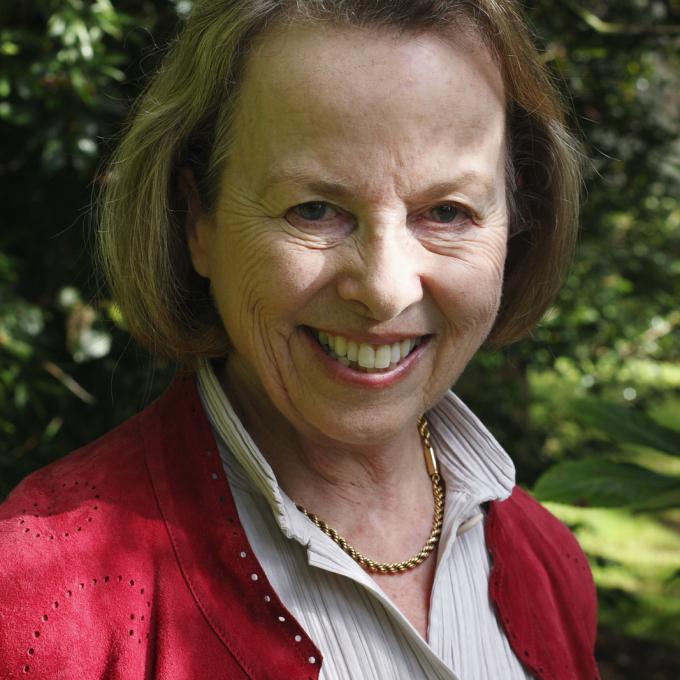 Biography
Crime-writer Jessica Mann was born in London, England in 1937.
She studied archaeology at Cambridge University and Law at Leicester University. Her book, Funeral Sites (1981), is the first in a series of six novels featuring archaeologist Tamara Hoyland, which also includes Death Beyond The Nile (1988) and Faith, Hope and Homicide. Her other novels include: A Private Enquiry (1996), shortlisted for the Crime Writers' Association Gold Dagger Award; Under a Dark Sun (2000); The Voice from the Grave (2002); and The Mystery Writer (2006).
She is also the author of a non-fiction book, Deadlier Than the Male: An Investigation into Feminine Crime Writing (1981), about female crime writers from Agatha Christie and Dorothy L. Sayers to Ngaio Marsh. She contributes reviews and feature articles to many newspapers and magazines, is a regular broadcaster on TV and radio and tours regularly promoting her books at events and festivals.
Out of Harm's Way (2005), is a history of the overseas evacuation of children from Britain during World War II.
Jessica Mann lives with her husband, an archaeologist, in Cornwall. She wrote a joint publication with him: Godrevy Light (2009), which tells the story of Godrevy Lighthouse in St Ives Bay. Her latest book is Dead Woman Walking (2013)
Critical perspective
'I write about amateur detectives who poke their noses into other people's business', Jessica Mann observes in The Mystery Writer (2006).
If this sounds like Miss Marple, well, it is. Her numerous works of detective fiction are characterised by neatly-turned plots, from A Charitable End (1971) onwards, and she places herself firmly in the tradition of Agatha Christie, Dorothy L. Sayers, Margery Allingham, Josephine Tey and Ngaio Marsh. It is mainly upon these authors that she focuses in Deadlier Than the Male (1981), her non-fiction 'investigation into Feminine Crime Writing'. Within, she poses that perennial question: 'Why is it that respectable English women are so good at murder?' Discussing the many post-war fictional detectives created by women, she calls them 'the creature of feminine fantasy', adding that, 'in my view they created the kind of men they would like to fall in love with, or perhaps to be'. Yet undeniably amongst the most popular are female detectives from 'the Golden Age': Miss Marple, and Sayers' Harriet Vane.
Indeed, Mann's own detectives are resourceful women, with busy professional lives – and discreet love lives. Three appear recurrently, whether as lead characters, or on the margins of the action – or are simply referred to as friends in each other's stories. Thea Crawford first appears in The Only Security (1973), set in Cornwall where she is a newly appointed Professor of Archaeology. (In a real-life parallel with Agatha Christie, Jessica Mann too is married to a distinguished archaeologist). The plot revolves around infighting among archaeologists at a dig, when a medieval skeleton is unearthed, along with an ivory crucifix mysteriously of later date. Meanwhile, the owner of Pentowan House, with whom Thea shares a train journey, disappears. Thea then finds her old academic mentor dead with a bruise on her temple. In a racy sub-plot, the 'liberated' Thea has a brief affair with a local landowner ('and a very good performer he was too'). She has to identify the crucifix but also of course confront the killer.
Thea is mentioned in Funeral Sites (1981), but only as the former tutor of another archaeologist heroine, Tamara Hoyland, who is involved with the security services. She is 'a very pretty girl', and 'impelled by the unfamiliar force of moral indignation'. She is enlisted to help Rosamund Sholto who suspects that Aidan Britton – an ambitious politician with a guilty past who could become Prime Minister – has murdered her sister and tried to kill her. The well-to-do Rosamund goes on the run in London ('she wondered how many people were actually hunting her'), without money. In one of the best scenes, she is spirited out of hospital in a wheelchair by Tamara posing as a nurse. They return to Switzerland to pursue Britton about his guilty secret, and uncover a spying conspiracy.
Perhaps Mann's most interesting sleuth is Dr Fidelis Berlin, a child psychiatrist and childcare author with a German-Jewish family background disrupted by the War (as Mann herself has). She features in a number of Mann's best books, especially the Gold Dagger-listed A Private Enquiry (1996). By Under a Dark Sun (2000), however, Fidelis has retired from her profession and is simply a neighbour in an up-market area of London. This is a street with a dark wartime past: it 'looks subdued and polished up, with all its predators, human, animal or mythical, firmly kept at bay', and a skeleton is duly uncovered. The consequences of wartime actions wait to be uncovered in the present day. As one character remarks, 'in this century we have been taught that good men must do evil'. Fidelis returns as the lead character in The Voice from the Grave (2002), having been recently diagnosed with Parkinson's Disease. She is now a successful author, who at the outset meets a distressed woman at a book signing in London. The title refers to what psychiatrists call the suicidal voice, and the plot turns on this possibility. When the woman is found dead and a local black man arrested, Fidelis – aided by her god-daughter Clodagh – starts to investigate her links to a High Court judge (who is one of Fidelis' former lovers). Did he murder the woman – or assist her to commit suicide?   
Fidelis' family background mentions her 'unknown, unimaginable parents who had shipped her off on a Kindertransport' during the War. And Fidelis' special interest as a psychiatrist is 'in the subject of maternal deprivation and its effects on both parents and children', adding that 'she had experienced that deprivation herself'. Though Mann largely steers away from self-revelation, such observations may illuminate Out of Harm's Way (2005), her acclaimed book on the wartime evacuation of children from and within Britain. She was herself evacuated with her brother in July 1940 to Canada then the USA, returning three years later aged five, worried that her parents would not recognize her. She confesses to 'total amnesia' of that time; 'of my own feelings I have no memory at all'. Part of the book concerns researching her time in Canada and in Connecticut. This personal history goes alongside the recollections of many other child evacuees, including luminaries Shirley Williams, Elizabeth Taylor, Angela Lansbury, and writers such as Martin Gilbert, Anthony Thwaite and Ruth Fainlight.
Reference is made in the book to the sinking in 1940 of the ship 'City of Benares', carrying many child evacuees, a notorious incident that forms the basis of The Mystery Writer. As it opens, two Cornish boys are aboard – one is heir to the Goonzoyle estate, the other the son of its groundkeeper - only one of whom survives the submarine attack. Once again, the long-buried consequences of wartime actions have to be uncovered. The new element is that the sleuth is Jessica Mann herself, researching Out of Harm's Way, as well as giving talks on crime fiction at libraries. The cast list includes an art expert, a forensic archaeologist, a lady of the manor with a toyboy, and antagonists Delia and Rosina, 'circling round each other like suspicious cats'. The narrative switches adroitly between flashbacks, murderous plot twists, and Mann's own anecdotes (she once fainted after finding a body at the foot of cliffs). Moving towards a suitably dramatic conclusion, the by now elderly villain is finally exposed.
This mix of fiction and real-life incidents feeding into the writing works well. It also allows her to make personal observations, notably on the psychology of women crime novelists: 'we are trying to neutralize fear', she claims, '[to] imagine and write out our terrors'. If this is indeed her own case, Jessica Mann has used her terrors well, as she continues 'the Golden Age' tradition of crime entertainments into the present day.             
Dr Jules Smith, 2010
Bibliography
2012
The Fifties Mystique
2002
The Voice from the Grave
1998
The Survivor's Revenge
1991
Faith, Hope and Homicide
1988
Death Beyond the Nile
1986
A Kind of Healthy Grave
1981
Deadlier than the Male: An Investigation into Feminine Crime Writing
1976
The Eighth Deadly Sin
1972
Mrs Knox's Profession
Author statement
I started writing crime fiction because it was what I most enjoyed reading and only later came to understand that I use writing as a way of dealing with fear. I am always aware of how precariously we skate on the thin ice of civilisation and how easily things can go hideously wrong. In my stories, abnormal events intervene in a secure society where crime and violence, being unfamiliar, are all the more horrifying. Some of my principal characters: the archaeologist/detective Tamara Hoyland; her mentor Professor Thea Crawford; and the psychiatrist Fidelis Berlin, reappear in different worlds which have overlapping attributes, recurring minor characters and revisited settings. Crime fiction is a genre chosen by writers who want to avoid self-exposure. So even when my writing seems to be candid or autobiographical, it is actually (to quote a book's title), Telling Only Lies.