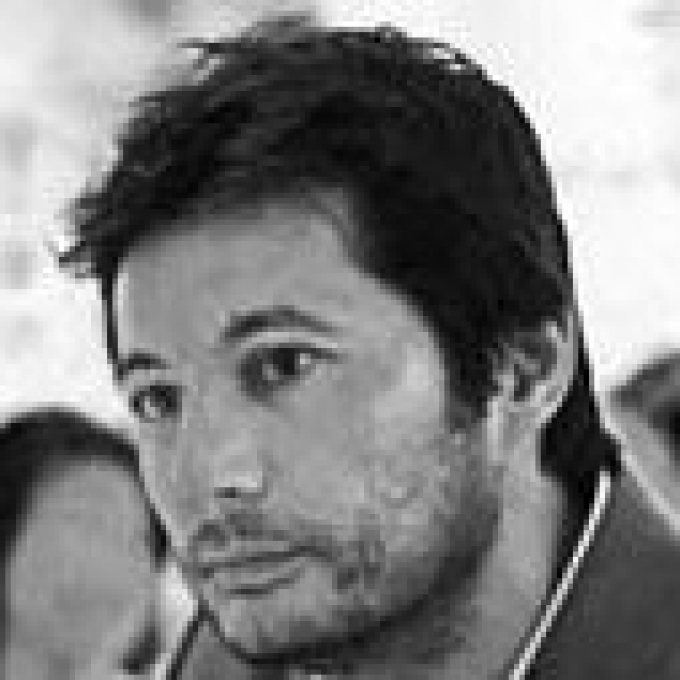 Jeremy Sheldon
Publishers:
Biography
Jeremy Sheldon was born in 1971 in London.
He gained an MA in Creative Writing from the University of East Anglia. He also works as a screenwriter and as a script-consultant for several film production companies.
His first book was a collection of short stories, The Comfort Zone (2002). This was followed by a novel in 2005 - The Smiling Affair - a literary thriller about ghost-hunter Jay Richards.
Jeremy Sheldon is a tutor on the MA in Creative Writing at Birkbeck, University of London, and at Imperial College of Science, Technology and Medicine.
Critical perspective
In Jeremy Sheldon's story 'Ink', from The Comfort Zone (2002), an Englishman visiting Amsterdam is picked up in a bar by a mysterious American woman, after she notices him reading a copy of Raymond Chandler's The Long Goodbye.
An afternoon binge of drinking vodka, smoking joints and increasingly intimate chat follows; he acquires a painfully unwise tattoo, and then she vanishes. 'If anyone looked like a human ghost', he had casually remarked, 'it was her'. Next day, suffering a hangover as well as recriminations, he sees an abandoned boot of hers, and 'suddenly Jack wanted to search the city for her'. The suggestion is that the woman may have come to harm; this femme fatale may even have been a ghost. Certain elements in this story subsequently can be seen re-appearing in The Smiling Affair (2005), Sheldon's highly cinematic detective fiction pastiche. In it, he plays around with Chandler's exotically simile-rich style, and Film Noir's archetypal search for an alluring woman who has disappeared. But the twist is that its down-at-heel hero is an investigator of the paranormal - though haunted most of all by a doomed romance – in this engrossing Anglo-American crime novel.
That Sheldon should have thus far have published only two works of literary fiction is no doubt due to his ongoing involvements with the film industry, as well as being a widely experienced teacher of creative writing and 'book doctor'. A graduate from the University of East Anglia's influential writing course, he has worked as a screenwriter and script reader for a number of film production companies including Miramax. Having lectured at London's Film Academy and Birkbeck College, Sheldon also tutors on writing holidays in Spain and Greece, offering a course that he calls 'The Fiction Writer's Toolkit'.
His debut collection of short stories The Comfort Zone contains some apprentice works, but others are brilliantly conceived, amusingly clever or poignant. The characters in these stories are mostly young men, obsessional in their preoccupations: sex, relationships, football, films, television cartoons and computer games, coming of age in awkward ways. The subject of the title story, for example, is supermarket shoplifting organized as a competitive tournament, ironically paralleling the European Football Championships taking place in the summer of 1996. What starts out as a 'grazing lark' among bored friends, a contest of 'mental agility and gastronomic fortitude', takes a serious turn at the semi-final stage. The narrator is arrested by store detectives, and he splits up with his girlfriend. 'So that was it for Moll and I', it concludes, 'another semi-final lost on penalties'.
'The Project' also features a couple whose love has gone wrong, but this is a futuristic scenario, albeit a future that still employs cabdrivers. A cabby receives a message to attend a meeting at the Department of Social Evolution. Once there, Professor Zowber requests his participation in a government project to send copies of human beings, via a cloning machine, to a 'target planet' for colonization - halfway across the galaxy. This will be a new beginning for mankind, the professor explains, in which the clones will be under observation from earth; and 'we're going to give them gods'. Having had his 'genetic template' taken, he meets again his now pregnant ex-wife - who has also agreed to take part. They are not reconciled, except, as he imagines, on this far distant planet: 'for a moment, you see the three of you all together, holding hands as you pick your way over the lush ground'.
Ambitious as some of the stories are, The Smiling Affair took Sheldon's use of his fictional toolkit to a far higher level of accomplishment. Over 465 lushly written pages, he plays adroitly with literary and cinematic genres, keeping readers eagerly following the convoluted plot and subplots. We encounter detectives, cops and gangsters from the 'genetic template' of Chandler and Hammett but also, in their beauty and romantic elusiveness, female characters reminiscent of the world of F. Scott Fitzgerald. (Each of these authors, of course, were also screenwriters in Hollywood). Above all, it is a book thoroughly steeped in cinema. There are strategic flashbacks, much hard-boiled dialogue, and numerous allusions to movies, notably Chinatown, Vertigo, 1940s Film Noirs, and, in regular appearances of apparitions, even Ghostbusters. Aptly, the hero Jay Richards is a former cinema projectionist, who 'views the world in extreme close-up … each day a blinkered montage of single images'.
Jay is an engaging if troubled character. He is a 29-year-old joint-smoking investigator, operating out of a dingy office in San Francisco. He got into the far from lucrative business of the paranormal through his late mentor Tommy Cheung, from whom he inherited a dog - called Marlowe. Thus the element of Chandleresque pastiche takes hold from the opening scene, when Jay is 'shuffling through the morning mail like a Scrabble player with a rack of bad tiles'. A package arrives containing a necklace belonging to Helena Smiling, the beautiful heiress with whom he had a love affair five years ago. She has disappeared, along with rich playboy Wallace, and her identical twin sister Zelda asks him to meet her. His reluctance to take the case is eased by her giving him several thousand dollars as an advance, 'notes as smooth as freshly razored skin'.
The scene now shifts to the Smilings' ancestral mansion in North Carolina, where large paintings have apparently moved by themselves, and elderly aunts have been startled by apparitions. Jay – announced to the house guests as 'a famous ghostbuster' – sets up his equipment for detecting phenomena, even though he remains sceptical, refusing 'to let himself entertain any moral sense of the supernatural'. He is still haunted by Helena ('he'd hallucinated her repeatedly') and erotic memories of their affair. Jay becomes convinced by 'the idea that there was a ghost in the house, that it was Helena's, that she was dead'. His investigations lead to an inevitable grilling by the local police, after he makes contact with retired mobster Buck Harrington, then starts to uncover dark family secrets and crooked business deals – which becomes dangerous knowledge.
Ghosts, romance, and lush descriptiveness; all this and much more is choreographed towards the climactic scenes, with a final revelation that's at once romantically satisfying and elegiac. The Smiling Affair would itself make a clever and amusing film, with a nice sense of pastiche. Whenever Jeremy Sheldon returns to literary fiction in the future, he is certainly a name to keep watching.
Dr Jules Smith, 2010