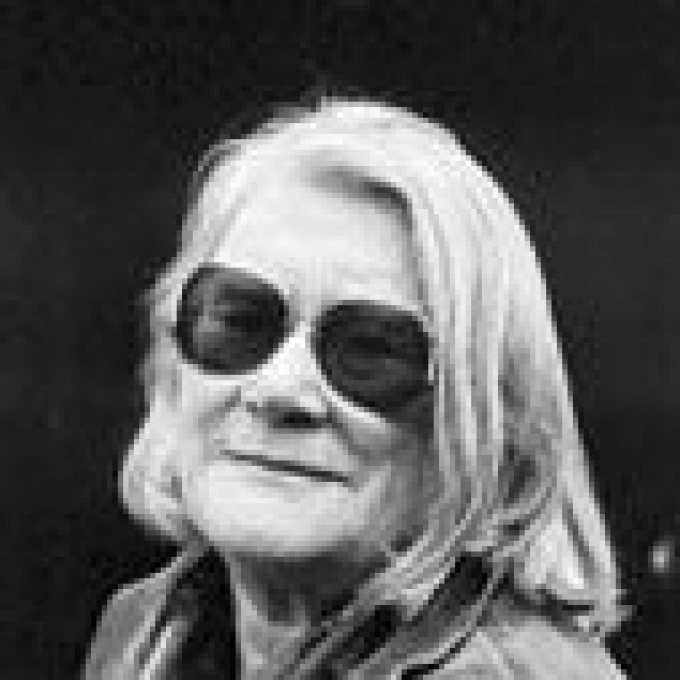 Jennifer Johnston
Publishers:
Biography
Born in Dublin in 1930, Jennifer Johnston's first published novel was The Captains and the Kings (1972).
Since then, she has published many more novels, including Shadows on our Skin (1977), which was shortlisted for the Booker Prize for Fiction, and The Old Jest (1979), set in the War of Independence and winning the 1979 Whitbread Novel Award. The Old Jest was later filmed as The Dawning, starring Anthony Hopkins.
Other novels include: How Many Miles to Babylon? (1974), set in World War I, and later adapted for stage; The Invisible Worm (1991), dealing with the subject of sexual abuse, and shortlisted for the Daily Express Best Book of the Year Award; The Gingerbread Woman (2000), about a widower who has lost his wife and child to terrorists; This Is Not a Novel (2002); Grace and Truth (2005); Foolish Mortals (2007); Truth or Fiction (2009); Shadowstory (2011); Fathers and Son (2012); and A Sixpenny Song (2013).
Jennifer Johnston also writes plays. These have included The Nightingale and Not the Lark (1980), and O Ananias, Azarias and Misael (first published in Best Radio Plays of 1989, 1990). She lives in County Derry and her novels have been published in many countries.
Critical perspective
Jennifer Johnston was born in Dublin in 1930, but has lived much of her life in Northern Ireland.
Dubbed 'the quiet woman of Irish literature' (Rosie Cowan, The Guardian, 11 February 2004), she is often under-appreciated for her low-key and personal stories, although peers such as Roddy Doyle acknowledge her to be one of Ireland's finest writers. As a novelist, she was a late starter, publishing her first book at the age of 42, but from the outset it was clear she possessed a distinctive talent. She is prolific, too, writing stage and radio plays as well as many novels.
Johnston established her reputation with a series of short, well-received and prize-winning novels published within a seven-year period: The Captains and the Kings (1972), which won the Evening Standard Award for Best First Novel; The Gates (1973); How Many Miles to Babylon? (1974); Shadows on our Skin (1977), shortlisted for the Booker Prize for Fiction; and The Old Jest (1979), winner of the Whitbread Novel Award. The first three are set in County Wicklow within the milieu of the Big House. Fool's Sanctuary (1987) returns to this setting, with its 'way of life, social outlook and separation from the outside world' (Jacqueline Genet, The Big House in Ireland, Reality and Representation, 1991). Later novels are different in style and subject matter: The Invisible Worm (1991) and Grace and Truth (2005) deal with incest, while the plots of This is not a Novel (2002) and Foolish Mortals (2007) explore the consequences of sexual experimentation. However, all share a flavour of 'the vanished and vanishing world of what used to be called the ascendancy in Ireland' (Sebastian Barry, introduction to The Essential Jennifer Johnston), a world that is 'in the very tenor of her prose'.
The protagonists of Johnston's early books are often outsiders, children of estranged, distant or absent parents. Her first published novel, The Captains and the Kings, explores themes that become familiar territory: parental favouritism, the appearance of ghosts, the solace of forbidden friendship, and the punishment or exclusion by society of those who transgress norms. Its central character is Charles Prendergast, a rich elderly man who takes to living 'more or less completely in the study' of his house after the deaths of his wife and housekeeper. When a young boy calls asking for employment, the two become unlikely friends over a shared love of toy soldiers. Meanwhile, momentum gathers in the outside world for the relationship to be exposed and extinguished.
Prohibited friendship is also at the heart of How Many Miles to Babylon? The first-person narrator is Alec Moore, an only child and heir to the Big House; his 'private and secret friend' is Jerry Crowe, a village boy he has known since childhood. In 1914, fighting together near the Belgian border, the friends' loyalty is tested by a brutal enforcement of class divisions and a code that brooks no sentiment or mercy. Johnston is adept at suggesting her characters' interior lives through image and symbol, and invites her readers to join the dots between what is said and felt, as in this incident, related by Alec, at his parents' dinner table: '[My mother] looked at [my father] with contempt and said nothing. I blushed and looked down, away from them, at the smooth glowing silver neatly ordered around my plate. A griffin raised its talon in an angry gesture on the handle of each spoon and fork.'
The First World War is a 'passion' for Johnston, one she initially used as a metaphor. 'When I started writing prose, I had it very seriously in my mind that I wanted to write about the Troubles … yet I couldn't face taking them head-on. So I started to write about the First World War…  how people try to keep their lives normal, their feet on the ground, even though terrible things are going on' (The Irish World, 24 October 2007). In Shadows on our Skin, she found a way to write about Ireland's recent history through the voice of a young boy, Joe Logan, caught in the mire of his parents' loveless marriage. Once more the story has a secret friendship at its core, but its particular achievement is to enable readers to feel deeply for each of its principal characters, however unlovely.
The Old Jest (filmed as The Dawning) also deals indirectly with the Troubles through a young narrator. Eighteen-year-old Nancy Gulliver finds a fugitive hiding in her secret hut, and wonders whether he could be her missing father. In terms of narration, this novel marks a turning point: Nancy records her feelings in her diary, and her first-person account alternates with a third-person narrative. Subsequent books frequently employ alternating or multiple viewpoints: Foolish Mortals, for example, uses a combination of voices to narrate its somewhat complicated plot. More recent novels also feature considerably more dialogue than earlier work. These changes, perhaps reflecting Johnston's interest in writing for theatre, redirect the reader's focus from the inner lives of her characters towards the workings of her plots.
In the 1980s, she began to examine fresh themes. The Christmas Tree (1981) and The Railway Station Man (1984) are both narrated by older women who choose to avoid romantic involvement: in the first, Constance Keating is battered by familial unhappiness and, except for one brief experiment, avoids further engagement; Helen Cuffe, in the second, resists her new lover's desire for commitment. The quality of Johnston's writing is evident in her skill at layering small details to evoke her characters. In The Railway Station Man, 'fat Mrs O'Sullivan was running the hoover over the sitting-room floor… she wore old tennis shoes without laces as she worked, to ease the pressure on her bunions'. Constance, in The Christmas Tree, 'unpinned' her trousers before getting into bed – a word that points unobtrusively towards her weight loss and imminent death.
In The Christmas Tree, Johnston uses short flashbacks 'in such a way that each page widens the picture' (Caroline Moorehead, Spectator, 17 October 1981). Two decades on, she continues to develop her interest in form and storytelling devices: Grace and Truth embeds an account written by another character in the middle of the main narrative, while This is not a Novel uses historical diary entries to create a mirror for its unfolding plot. Throughout her work, references to Shakespeare, poetry and music (Chopin, for example) create resonance and linkage. Johnston has said she is inspired by the Church of Ireland liturgy and her use of language has evolved into what the novelist Penelope Lively calls her 'hallmark style … economic and staccato … in which clipped dialogue or fragmented thoughts trip down the page' (Spectator, 3 October 2007). A novel such as The Illusionist (1995) demonstrates this spare style.
Critics have praised her deft portrayal and dissection of dysfunctional family life, and her 'wise sympathy for the … workings of the human heart' (Kirkus Reviews, 1993). Johnston once remarked: 'I'd like people to find small truths in my work and go on doing so.' Her best novels, though brief in length, offer these in abundance.
Rachel Thackray Jones, 2008
Bibliography
2015
The Christmas Tree: A Play in Two Acts
2003
Selected Short Plays
2000
The Gingerbread Woman
1999
The Essential Jennifer Johnston
1996
The Desert Lullaby: A Play in Two Acts
1990
Best Radio Plays of 1989
1984
The Railway Station Man
1980
The Nightingale and Not the Lark
1974
How Many Miles to Babylon?
1972
The Captains and the Kings
Awards
2012
Irish Book Awards Lifetime Achievement Award
2010
Irish Book of the Decade (Bord Gáis Energy Irish Book Awards)
1992
Daily Express Best Book of the Year Award
1979
Whitbread Novel Award
1977
Booker Prize for Fiction
1973
Authors' Club First Novel Award
1972
Evening Standard Award for Best First Novel
1972
Yorkshire Post Book Award (Best First Work)