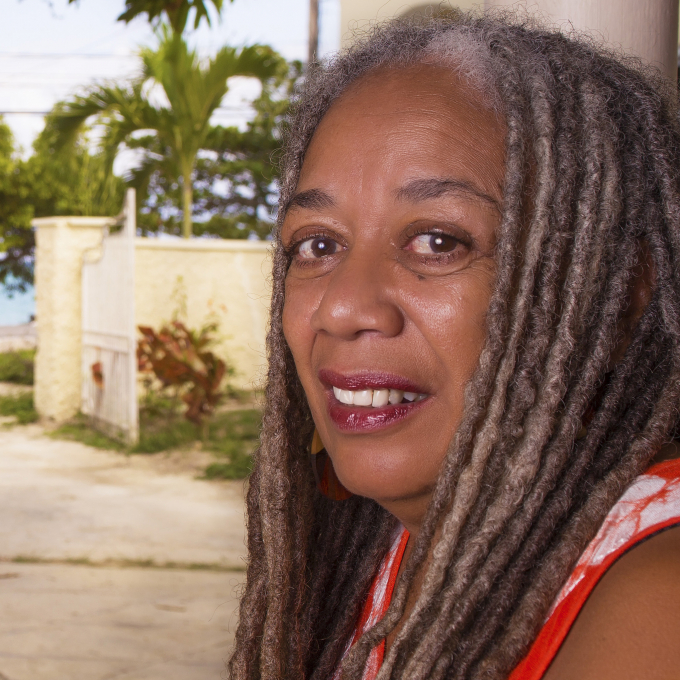 Jean Binta Breeze
Publishers:
Agents:
Biography
Jean 'Binta' Breeze was born in Jamaica in 1957.
She studied at the Jamaican School of Drama with Michael Smith and Oku Onuora. A 'dub' poet, she began to write poetry in the 1970s, performing and recording first in Kingston then in London. She has worked as a director and scriptwriter for theatre, television and film and is joint-editor of Critical Quarterly in London where she works as a lecturer and performance poet. She has performed her work throughout the world, touring in the Caribbean, North America, Europe, South East Asia and Africa. Her poetry collections include the books Ryddim Ravings (1988), Spring Cleaning (1992) and The Arrival of Brighteye and Other Poems (2000). Several recordings of her work are available, including Hearsay (1994) and Riding on de Riddym (1996). She also wrote the script for the film Hallelujah Anyhow, screened at the British Film Festival in 1990.
The Fifth Figure (2006), is a sequence mixing poetry and prose which chronicles the lives of five generations of Caribbean and Black British women of mixed ancestry. Her latest books are Third World Girl: selected poems (2011) and The Verandah Poems (2016). 
In 2003 she was awarded a NESTA Fellowship of two years, to be held in Cambridge. She is an Honorary Creative Writing Fellow at the School of English, University of Leicester. Breeze was appointed Member of the Order of the British Empire (MBE) in the 2012 Birthday Honours for services to literature. 
Her current show 'Three The Hard Way' with Shruti Chauhan and Lydia Towsey toured the UK from 2013 to 2015. 
Critical perspective
Jean Binta Breeze is one of the most important, influential performance poets of recent years.
In fact Breeze is today recognised as the first woman to write and perform dub poetry and is a pioneering figure in what was traditionally regarded a very masculine genre, stretching from Mikey Smith in Jamaica to Linton Kwesi Johnson (whose record label Breeze's work has appeared on) in Britain. Since her notable success in the late 1980s and 1990s, Jean Binta Breeze has influenced other dub poets like Jane King (who in 1988 published the poem 'Intercity Dub, for Jean').
Although dub poetry's roots can be traced back to the reggae deejay and Jamaican popular culture, it has a particular history within the British context, where it found a captive audience during the politicised years of the 1970s and early 1980s. Breeze has since stretched the form in different directions and even drawn attention to its limitations in poems like 'Dubbed Out' in which she struggles for a syntax not broken by the beat. Breeze's work differs from conventional dub poetry (which is often wrongly perceived as being immediate or 'spontaneous') in terms of its self-consciousness. This is poetry as much about poetry as it is about the Caribbean or black British 'experience'.
Jean Binta Breeze's work is as rich and varied as her career (she has worked variously as as choreographer, dancer, scriptwriter and director), ranging from childhood memories of Kingston market to the contemporary inner-city streets of London; between subjects as diverse as C. L. R. James and popular Caribbean street culture. Where earlier dub and performance poets in Britain tended to explicitly document particular incidents affecting the black community (the Brixton riots of 1981; the injustices of stop and search policing), Breeze's poetry is more oblique and indirect. Rather than focusing attention on physical violence and conflict, Breeze's work tends to concentrate on the psychological and subjective dimensions of black women's experience, and she is rightly recognised for her refreshing experimentation with the dramatic monologue. This particular focus is exemplified in what is arguably Breeze's most famous poem to date 'Riddym Ravings (the mad woman's poem)', a narrative that moves between the concrete (Bellevue) and the abstract as it evokes the 'madness' of a homeless black woman who can hear a radio playing in her head. Breeze resists the now hackneyed image of the 'tragic' black victim within her work however. Other poems, such as 'Dawn' and 'School Days', record ordinary, everyday incidents and rituals with a warmth and humour that has attracted large audiences in both North America and Europe. Jean Binta Breeze is a major contemporary poet, both on the page and on the stage, and her poetry speaks beyond the book on albums, recordings and cassettes. Nevertheless, since the mid-1990s, Breeze has innovated primarily as a poet in print with collections such as On the Edge of an Island (1997), The Arrival of Brighteye and Other Poems (2000) and The Fifth Figure (2006). On the Edge of an Island, like Andrea Levy's recent novel, Small Island, seems to signpost both Jamaica and Britain, but if pieces like 'I will come', 'Homegrown', and 'Return' evoke a diasporic consciousness, the collection is centrally concerned with Jamaica as a dwelling place. Drawing together verse and prose poems, the book meditates on religion, folk culture, ancestry, cricket, poetry and poverty in words that frequently temper nostalgia with humour. The same might be said for The Arrival of Brighteye and poems such as 'The Wife of Bath Speaks in Brixton Market':
'My life is my own biblewen it come to all de woesin married lifefah since I reach twelve,Tanks to Eternal Gawd,is five husban I have (if dat passible)'
Breeze's collection, The Fifth Figure, takes the stylistic inventiveness and variety of her earlier work to a new level. Based on the Jamaican quadrille, a dance that was introduced by European colonizers and appropriated by West Indians to become an essentially mixed form, The Fifth Figure combines novel, poetry and memoir. For all its admixture and formal hybridity though, the volume has an internal coherence, order and sequence that distinguishes it from Breeze's earlier work. Documenting the lives of five generations of women since the nineteenth century, the book contains five 'figures' (sections, characters, voices, elements of the quadrille dance) as they move between England, Jamaica and Africa. However, it is not in journeying but in storytelling that these women ultimately find home, and a sustaining connection to the past:
'And neither England nor Africa
Could replace the history she'd given
All the stories she had told me
All the songs that she had sung'
Dr James Procter, 2008
Bibliography
2011
Third World Girl: selected poems
2000
The Arrival of Brighteye and Other Poems
1997
On the Edge of an Island
1992
Spring Cleaning: Poems
1988
Riddym Ravings and Other Poems