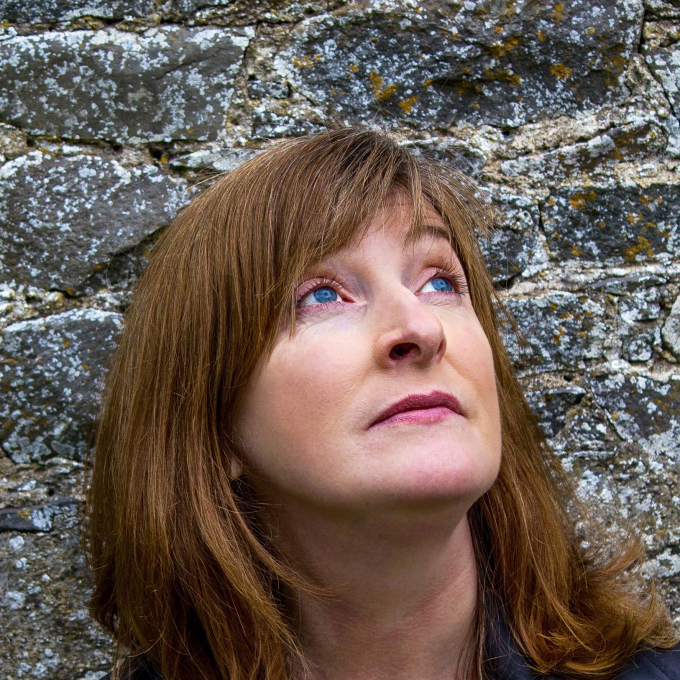 Janice Galloway
Publishers:
Biography
Janice Galloway's first novel, The Trick is to Keep Breathing (1989), now widely regarded as a Scottish contemporary classic, was published in 1990 and won the MIND Book of the Year/Allen Lane Award.
Her second novel, Foreign Parts (1994), won the E. M. Forster Award while her third, Clara (2002), about the tempestuous life of 19th-century pianist Clara Wieck Schumann, won the Saltire Society Scottish Book of the Year Award in 2002.
Collaborative texts include an opera with Sally Beamish and three cross-discipline works with Anne Bevan, the Orcadian sculptor.
Her 'anti-memoir', This is Not About Me, was published in 2008 and her Collected Stories in 2009. A second book of memoir, All Made Up, was published in 2011. In 2015 her collection of short stories Jellyfish was published. 
She lives in Lanarkshire.
Critical perspective
Janice Galloway's work is representative of the Scottish postmodern.
Along with such writers as Alasdair Grey and Tom Leonard, she employs an ironic and knowing world-weary sense of humour to depict the condition of Scottish urban experience under late Capitalism. Her writing is notable for the way in which it gives voice to the feminine condition in Scottish working-class communities which has hitherto been under-represented in Scottish literature. Scottish literature as a whole seeks to establish a counter-narrative to the tradition of English literature which has previously assimilated Scottish national identity under a wider notion of Britishness which was really an expanded sense of Englishness. In so doing, Scottish literature enacts its own exclusions, notably around questions of gender, sexuality and latterly, race. However, Galloway's work in the company of contemporaries such as A. L. Kennedy and Liz Lochhead, has begun to redress that imbalance.
Galloway has emerged since her early success with her first novel, The Trick is to Keep Breathing (1989), as a significant force in Scottish cultural life, notably editing several volumes of the influential annual New Writing Scotland, which reviews and defines the contemporary state of literature in Scotland. The development of Galloway as an influence on the Scottish literary scene can be measured by the impatient critical anticipation which awaited her most recent novel, Clara (2002), and the subsequent effusive reviews which greeted it. As with other writers of the new Scottish renaissance, in the years after devolution her interests have turned from a consideration of the specifically Scottish to broaden her outlook as a participant in European and global culture. However, with Clara, she also stays close to her gendered interests and, like so many postmodern novelists, re-writes a familiar narrative from the point of view of a marginalized figure within it, the 19th century composer Clara Wieck, who later became Clara Schumann . In this way, Galloway wishes us to consider her novel alongside works such as Jean Rhys's Wide Sargasso Sea.
Galloway's route to writing forms the familiar path of many of her peers, from a deprived childhood through the Scottish education system (studying music at Glasgow University) and from there to creative writing as an expression of that transition. Unlike, say, Kelman's, Galloway's characters are more at ease in their newly-found middle-class milieu. The heroine of The Trick is to Keep Breathing (the ironically named Joy) is a schoolteacher. The middle-class in Galloway's novels have their own problems and like Martin Doyle in A Disaffection, Joy retains a certain critical perspective on her profession. This is especially the case after the death of her lover, which plunges her into a deep depression. The novel, written in the manner of a diary, is an attempt by the narrator to come to terms with both her mental and her cultural condition. In the collections of short stories, Blood (1991) and Where You Find It (1996), the texts jump between tales of a working-class childhood and wry reflections on middle-class maturity. This social mobility in Galloway's work can lead to a sense of disorientation and displacement. Her characters are never quite at home in either setting, being neither truly working-class nor ultimately purely middle-class. An exemplary story from Blood which captures this predicament is 'Scenes from the Life No. 23: Paternal Advice', in which a small boy, Wee Sammy, is encouraged by his father to jump from the mantelpiece in the front living-room into his father's waiting arms in order to demonstrate both his fearlessness and trust in his father:
SAMMY: Show your daddy youre no feart son. I'll catch you. Dont be feart, this is your da talking to you. Come on. For me. Jump and I'll catch you. Don't be scared. Sammy, son, I'm waiting. I'm ready.
A few more seconds of tense silence click out of the clock. WEE SAMMY blinks. His hands lift from the wall and he decides: one beat and he throws himself from the screaming height of the sill. In the same second, SAMMY skirts to the side. The boy crashes lumpily into the tiles of the fire surround. His father sighs and averts his eyes, choking back a sob.
SAMMY: Let that be a lesson to you son. Trust nae cunt.
This passage is revealing of several aspects of Galloway's work. Firstly, we note the cut between styles of presentation - in this case between dramatic dialogue and prose description in the style of stage instructions -casting the whole event as a primal tragedy in the life of Wee Sammy, who realises for the first time his own fallible and necessary autonomy. This style of dialogue is indicative of the approach frequently taken by Galloway in The Trick is to Keep Breathing and Foreign Parts (1994), as both a subversion of the norms of English prose-writing and the staging of dramatic scenes within a novelistic context.
This can be read firstly as an example of Galloway's postmodernism, her conventional prose placed in a long tradition beginning with Laurence Sterne's Life and Opinions of Tristram Shandy. Secondly, it can be read as an appropriation of modernist and postmodern techniques, as a way of distancing Galloway's own writing from the traditions of the English realist novel. Like other contemporaries, Galloway is not slow to use phonetic spelling to capture the richness of her linguistic inheritance. But equally she can move swiftly into the authorial voice of standard English, as demonstrated by the stage instructions. In the case of Galloway it is not so much a movement from a privileged authorial voice to a comic representation of working-class speech, as is so often found in the English novel, but more a case of demonstrating a fluid hybrid identity which is comfortable in this bi-vocal condition. Thus Galloway's disorientated and dislocated characters are representative of the double-consciousness which defines both the transition of the working-class into the middle-class through education and the condition of Scottish identity within a United Kingdom.
Dr M. McQuillan, 2003
Bibliography
2008
This is Not About Me
1998
A Second Skin: Women Write About Clothes
1997
Scottish Literature Since 1707
1997
Picador Book of Scottish Fiction
1996
Mind Readings: Writers' Journeys Through Mental States
1996
Soho Square: Scottish Anthology VII
1995
Shouting It Out: Stories from Contemporary Scotland
1995
Penguin Book of Contemporary Women's Short Stories
1995
Nothing is Altogether Trivial: An Anthology of Writing from 'Edinburgh Review'
1993
Women in Scottish Literature
1992
New Writing Scotland 10: Pig, Squealing
1991
New Writing Scotland 9: Scream If You Want to Go Faster
1990
New Writing Scotland 8: The Day I Met the Queen Mother
1989
The Trick is To Keep Breathing
1988
J. F. Hendry, Poet, Novelist
Awards
2012
Scottish Best Book of the Year
2008
SMIT non-fiction Book of the Year
2002
Commonwealth Writers Prize (Eurasia Region, Best Book)
2002
Saltire Society Scottish Book of the Year Award
2002
Scottish Arts Council Book of the Year Award
2002
Scottish Arts Council Creative Scotland Award
1994
McVitie's Prize for Scottish Writer of the Year
1991
Cosmopolitan/Perrier Awards
1991
Guardian Fiction Prize
1991
New York Times Notable Book of the Year
1991
Saltire Society Scottish Book of the Year Award
1990
Irish Times International Fiction Prize
1990
MIND Book of the Year/Allen Lane Award
1990
Scottish Arts Council Book Award
1989
Whitbread First Novel Award