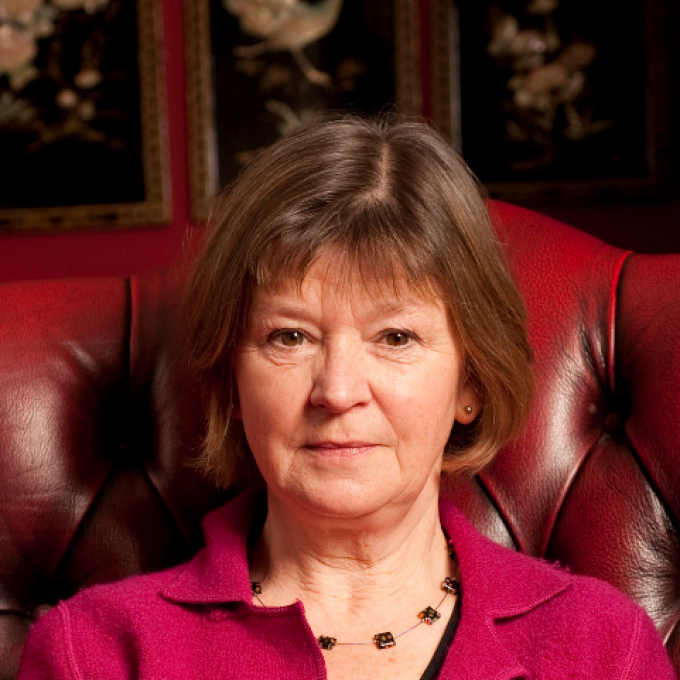 Jane Rogers
Publishers:
Agents:
Biography
Jane Rogers was born in London on 21 July 1952.
She was educated at New Hall, Cambridge, and Leicester University, where she gained a Postgraduate Certificate of Education. She taught English at schools in Derbyshire and Bury, as well as at Hackney College of Further Education in London. She is the author of several novels, including Separate Tracks (1983); Her Living Image (1984), winner of a Somerset Maugham Award; The Ice is Singing (1987); Mr Wroe's Virgin's (1991); and Promised Lands (1995), winner of the Writers' Guild Award (Best Fiction), a story set in New South Wales at the end of the eighteenth century. Island (1999), is a tale of family secrets and revenge, and The Voyage Home (2004), centres on Anne Harrington, a young woman who on a voyage to Africa to bury her dead father, begins a new relationship with a ship's officer, becoming entangled with two illegal immigrants and uncovering disturbing revelations about her father's early life.
Jane Rogers is editor of Oxford University Press's Good Fiction Guide, published in 2001. She also writes for television and radio. Her work for television includes Dawn and the Candidate (1989) for Channel 4, winner of a Samuel Beckett Television Award; and a BAFTA-nominated television adaptation of her novel Mr Wroe's Virgins (1993), directed by Danny Boyle. She has also written a film script of Promised Lands for Channel 4. Her work for radio includes adaptations of work by Thomas Hardy, Edith Wharton, E. M. Delafield's Diary of a Provincial Lady and Charlotte Brontë's Shirley, all for BBC Radio 4.Jane Rogers teaches on the MA writing course at Sheffield Hallam University. She is a Fellow of the Royal Society of Literature. Her latest novel is The Testament of Jessie Lamb (2011).
Critical perspective
Whether based upon historical events and characters, set in the present day, or the dystopian near future – as with the recently Man Booker Prize shortlisted The Testament of Jessie Lamb (2011) – Jane Rogers' novels are intense inward dramas.
They are characterised by a sense of psychological foreboding, often proceed by interior monologues, and unsparingly portray difficult relations between parents and children. They are also compelling in their storytelling: once started, a Jane Rogers novel is liable to grip the reader with the compulsion of a dream (sometimes more a nightmare) and linger in the mind long afterwards. Yet her style is accessible and has attractive clarity; as she pointed out in her editor's introduction to the Good Fiction Guide (2001): 'on written English, my guiding star is Orwell's [maxim] "Good prose is like a window pane"'.Rogers' consistent subject is the parent-child relationship: the mother often passes on anxieties to the child, or sometimes the father becomes the main factor in a child's life. Or, as in her first novel Separate Tracks (1983), it is the absence of parents that drives its main character 'Orph', an abandoned orphan who grows into a highly disturbed teenager. Middle-class student Emma comes to work at the Children's Home where Orph is living, and he manages to attach himself to her when she leaves to attend college. Orph struggles to cope with life outside the institution; his rawness of emotional alienation brilliantly evoked, as events proceed to a tragic conclusion. In The Ice is Singing (1987), the disturbed personality is a mother who leaves her twin children in order to drive round the frozen Yorkshire countryside to try finding herself. She turns maternal feelings and experiences over masochistically in her mind, then experiences an epiphany as, 'in a wide chorus of gentle chinks and tinkles', the ice begins to melt.Mr Wroe's Virgins (1991) is still her best-known book. This is no doubt due to the successful television drama series adapted from its tale of 'the Prophet' Wroe and the 'seven virgins for comfort and succour' that he takes from his congregation of Christian Israelites in the Lancashire town of Ashton-under-Lyne. The period is 1830-31, an era of religious revivals and industrial strife among weavers and factory owners intent upon introducing new machines. The narrative is told by the women, who include young Leah, concerned with concealing her illegitimate baby; pious zealot Joanna; visionary Martha; and trades union activist Hannah. The stories they tell are of the rise and fall of a charismatic preacher with all-too-human vices of lust and drink, whose eventual trial before the church elders forms a suitably melodramatic climax.The imaginativeness richness and historical sweep of the novel consists of far more than plot. The women explain their lives, actions and motives; they debate women's spiritual, sensual and material needs, and some learn to make their own life-choices. Just as powerfully rendered are Joanna Southcott's religious convictions ('We must trust in God's hidden purposes') and the ecstatic feelings accompanying Martha's visions: 'I am alight inside and out my body dance it dance with life alone without me move a muscle and in it every movement feeling joy'. Just as Wroe meets his nemesis, one of his prophecies comes true, with cholera's arrival in the town.Promised Lands (1995) also has an historical dimension, moving between the era of the First Fleet voyage to Australia in 1788 and present day characters. The idealism of naval officer William Dawes is put to the test by the harsh conditions obtaining in the construction of a penal colony, as he has to deal not only with colleagues and convicts but also the aboriginal people he encounters. Soon – and this is a persistent theme in several of Rogers' books - his religion-inspired philosophy of good works comes into conflict with necessity and especially his sexual feelings. His story is being told as the result of research by Stephen, a teacher in an unruly comprehensive school, while his wife Olla is preoccupied by their disabled son. The parallel anguish of humanity in different times and moralities is brought to painful parallels, as Stephen battles despair and Olla's hopes and fears for their son take over her mind.As its title suggests, The Voyage Home (2004) also depicts a sea journey, again moving between narratives of the past and present. There is also a common conflict between religious motivations and the temptations of sexual conduct. Artist Anne Harrington is on board a container ship returning from her vicar father's funeral in Nigeria; she comes into contact with stowaways, a Nigerian man and his sick pregnant wife. Her moral dilemma is over what to do, how to help them, this being complicated by an impulsive sexual fling with the ship's cynical First Mate. And then by her suspicions about what he does. She is also reading her father's diaries of Nigeria in the 1960s onwards, including the Biafran War. It is revealing about her parents' marriage split and the reasons why. The increasingly disturbed Anne has to plot her own survival, which intensifies when she reaches Britain and resumes her life as a teacher and artist. Again, she finds herself involved with overtly 'controlling' men, who remind her of her father.  The generational conflict between children and parents forms the basis of The Testament of Jessie Lamb. Yet this perennial condition takes place in a new context, a world of the near future that's been struck by biological terrorism, a manufactured deadly virus MDS (Maternal Death Syndrome) which is killing millions of pregnant women. The only babies being safely born are those of 'Sleeping Beauties', teenagers who volunteer to carry implanted fertilised embryos, knowing that they themselves will die. Jessie Lamb is a typical teenager – she has a crush on a boy who fails to return her intense feelings – who gets caught up in the moral-ethical panic that arises in the crisis brought about by MDS. Her father works at a fertility clinic where 'Sleeping Beauties' are being prepared. Jessie's story as she tells it becomes almost unbearably poignant. Her parents take desperate measures to try to protect her from the influence of activist groups she has become involved with, while Jessie is convinced that she is in the right.   Jane Rogers's skill is to brilliantly blend fraught narratives with acute psychological insights. Moral choices and responsibility are shown to be never easy, guilt and human fallibility have their way, and the religious certainties of previous eras are no longer viable. Her always finely-written novels may not make comfortable reading but they are not easily forgotten.
Dr Jules Smith, 2012
Bibliography
2011
The Testament of Jessie Lamb
Awards
2012
Arthur C Clarke Award
2009
BBC National Short Story Award
1999
Arts Council Writers' Award
1993
BAFTA (Best Drama Serial)
1989
Samuel Beckett Television Award
1987
Writers' Guild Award (Best Fiction)
1985
Somerset Maugham Award
Author statement
'I write because it's my way of trying to understand things; each novel explores an area of ideas and experience which, for some reason, obsesses me. There seem to be recurring themes, although I'm not always conscious of them when starting a new book, because each book feels to me to be completely different. But these themes do seem to have cropped up more than once: an exploration of idealism and its effects, of people trying to create new and better ways of living (Mr Wroe's Virgins, Promised Lands); an interest in people whose way of experiencing the world lies outside the norm (Orph in Separate Tracks, Martha in Mr Wroe's Virgins, Daniel and Olla in Promised Lands, Calum in Island); and in women's lives and roles, with particular reference to motherhood (The Ice is Singing, Her Living Image, Mr Wroe's Virgins, Promised Lands, Island). I am extremely interested in voice, and have explored a wide range of first person voices. I am currently working on a novel set in the present on a container ship, and in nigerian in the 1960s; working title Voyage.'