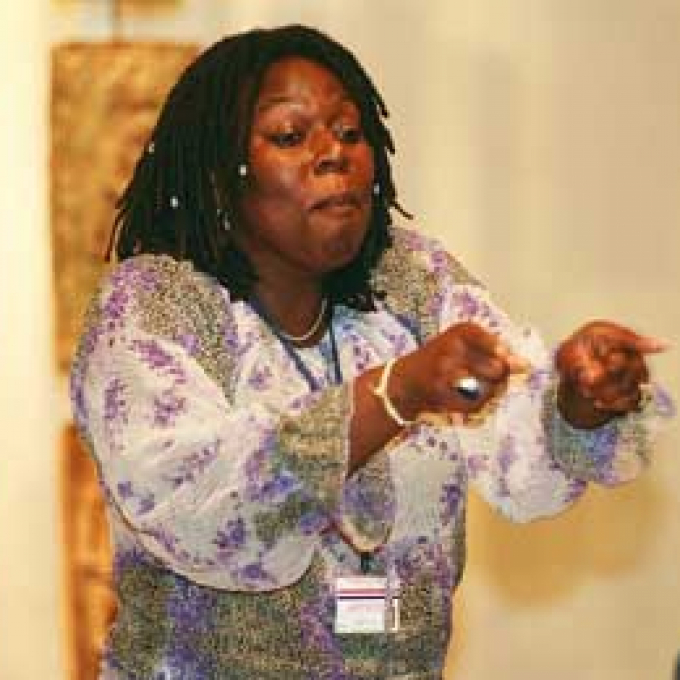 Biography
Jan Blake is one of Europe's leading storytellers who has been performing world-wide since 1986.
She was born in Manchester, of Jamaican parentage and specialises in stories from Africa and the Caribbean. Specialising in stories from Africa, the Caribbean, and Arabia, she has a well-earned reputation for dynamic and generous storytelling. Recent highlights include Hay Festival, where she was storyteller in-residence, the Viljandi Harvest Festival in Estonia and TEDx Warsaw. 
She has developed relationships with several major arts organisations, including the National Theatre, where she is the Consultant on Storytelling; the London Philharmonic Orchestra; and Battersea Arts Centre. She has performed at all major storytelling festivals, leads storytelling workshops for schools and universities and is a regular contributor to BBC Radio programmes. Her own storytelling company and school is the Akua Storytelling Project.
In 2011, she was the recipient of the biannual Thüringer Märchen Preis, awarded to scholars or performers who have devoted their lives to the service of storytelling. As part of the World Shakespeare Festival in 2012, she was the curator for Shakespeare's Stories, a landmark exhibition that explored themes of journey and identity, in conjunction with the Royal Shakespeare Company and the Shakespeare Birthplace Trust.
In 2013, The Old Woman, The Buffalo, and The Lion of Manding created and performed with musicians Kouame and Raymond Sereba toured to acclaim winning a British Awards for Storytelling Excellence (BASE).
Critical perspective
'I wanted to tell stories with more impact. I don't judge the stories. I'm a conduit ... I let the stories tell themselves'.
With a repertoire that includes African, Middle Eastern and Caribbean folk tales, Jan Blake's performances, due to their universal messages and emotional qualities, have a remarkable ability to bridge cultural divides and audiences. Much more than a storytelling cosmopolitan, Blake brings to the modern stage the ancient qualities of the West African griots, the wandering poets and musicians, whose stories – recited entirely from memory – range from satire and politics to the more popular themes of love, betrayal and ambition. A stand-out example of Blake's recent storytelling is All Things Are Connected, her contribution to 'Seal The Deal' – the awareness campaign launched to coincide with the 2009 UN Summit on Climate Change in Copenhagen:
'Once upon a time, there was a chief who ruled his people through fear. One night the chief's sleep was  disturbed by the singing of the frogs. The frogs kept the mosquitoes at bay by eating their larva. The  next morning the chief gathered his people and said: "The frogs disturb my sleep. They must die. All of  you take sticks and stones, go  to the swamp and kill each and every one of those frogs." The people  were confused. Was their chief mad? But they knew not to contradict him. So they all left the village, all  but one, an old woman, who walked up to the chief. She said: "You are a fool. Soon you will discover  that all things, my friend, are connected." The chief was taken aback by her defiance, but did nothing.  What did an old woman know anyway? That evening the people returned, their sticks bloodied by the  frogs. That night the chief slept peacefully, and the following night, but on the third night bzzzzzzzzzzz – mosquitoes!– mosquitoes filled his house – mosquitoes filled the village. The next morning, the chief  gathered his people: "The mosquitoes disturb my sleep! Take sticks and stones, go and kill each and  every one of them." This time the people did not listen to their chief; instead they packed up their  belongings and left, including the old woman. It was then and only then that the chief understood her  words: all things are connected.'
Influenced at the outset of her career by Idris Shah's renowned College of Storytellers, Blake's style on the stage is unmistakeable. A powerful presence with her hand movements, facial mimicry and ability to connect with her audiences, her rhythm is incantatory, and though detailed, her stories hinge on deftly placed refrains that make the overall meaning of her fables both clear and succinct. A favourite on the festival scene for many years, she has become known for her 'definitive' versions of the Anansi tales. Originally created by the Ghanaian Ashanti tribe, 'Anansi' – literally 'spider' – is the recurring character in a set of animal-inspired morality tales which tend to remind one of Aesop or Shah's own Mullah Nasruddin.
Over the years, Blake has collaborated closely with BBC Radio, in particular with Radio 4, where she is a regular commentator on African & Caribbean folklore. This kind of work yielded the inspiration for Blake's first – and to date only – children's book, Give Me My Yam (1998) which follows the adventures of Jordan (named after the author's own son) as he searches for his lost yam. While playing in his backyard just before dinner, Jordan digs up a yam and decides to take it to a nearby river to wash it. Tragically, the yam is yanked away by the waves – unleashing a series of events which are at times both comical and sad. The story is set in rural Jamaica and is told in the manner of a lullaby.  Now in its eighth reprint, Give Me My Yam has quickly established itself as a modern classic. Since 2001, Blake has been the resident storyteller/consultant at the Royal National Theatre, taking part in their annual festival Word Alive! Her collaboration with Daniel Morden and Hugh Lupton, yielded the recording of The Stories of Daedalus and Medea (2005). In this cycle of stories, Blake re-interprets Classical Greek myths and refashions their language in a style suitable for young teenagers. Old favourites such as the Minotaur's labyrinth and the flight of Icarus are boiled down to their bare, but lyric essentials: murder, love, revenge – emotions clearly and powerfully voiced through the stock characters of mother, sons and reckless adventurers. She next reprised Greek myths in her February 2010 adaptation of Shakespeare's Pericles, also performed at the National Theatre. No stranger to the classics, Blake's re-telling of Hans Christian Andersen's fairy tales, performed at the South Bank Festival of Children's Literature in February 2005, saw Blake re-energize Andersen's stories by casting their idiom in creole or Jamaican patois.
Although it is arguably her residency at the National Theatre that has prompted some of Blake's finest work,  she has been no stranger to other, more diverse types of collaborations. Stand-outs include the stories she performed at the Tate Gallery in 2005 – which were inspired by Chris Ofili's work, The Upper Room (1999-2002), a series of 13 paintings of rhesus macaque monkeys. One of Blake's many forthcoming projects is a re-telling of the Sundjata Keita, which is to be staged at the Barbican in June 2010. It is the epic tale recounting the birth of founder of the empire of Mali, which, at its height in the mid-fourteenth century, extended over a great portion of Western and Central. Featuring hunters, kings, prophecies, women who turn into buffaloes, a jealous wives, witches, curses, the Sundjata Keita is one of Africa's greatest epics. Its main protagonists are King Naré Maghann Konaté and his son Sundiata, and Balla Fasséké, a griot and the King's chief adviser. With her trademark rapid but clear delivery, Blake has, over the course of the past couple of decades, firmly established a reputation as one of the world's greatest storytellers, a position she is likely to consolidate in the coming years.
André Naffis-Sahely, 2010