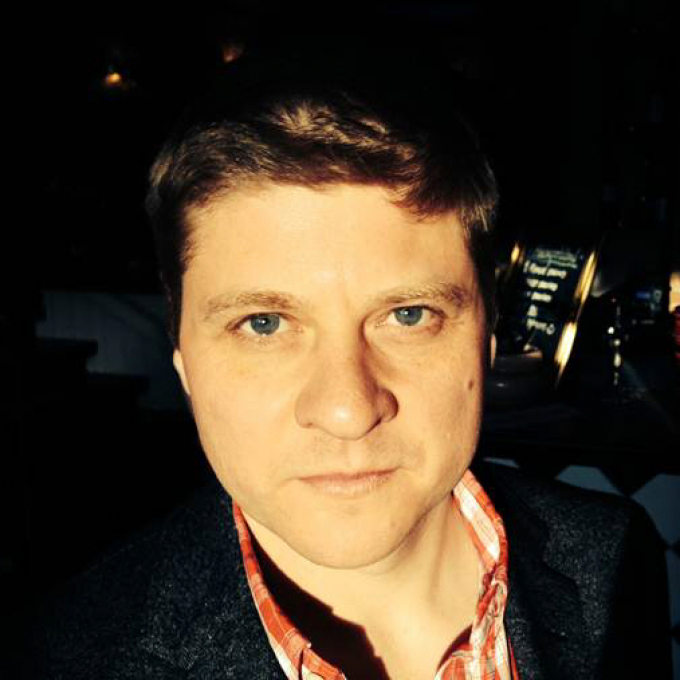 Biography
James Scudamore was born in 1976 and grew up in Japan, Brazil and the UK. He lives in London.
His first novel, The Amnesia Clinic, won the 2007 Somerset Maugham Award and was shortlisted for the Costa First Novel Award and the Commonwealth Writers' Prize, the Glen Dimplex Award and the Dylan Thomas Prize.
His second novel, Heliopolis, was published in 2009, and longlisted for the Man Booker Prize.
Wreaking, his third novel, was published in 2013.
Critical perspective
Over the course of three award-nominated novels, British writer James Scudamore has emerged as a respected and versatile stylist specializing in dark and unsettling adventures in storytelling.
The novelist has argued that all his books are essentially "inquiries." And all three have asked searching questions about the limits of memory and the dangers of narrative, all whilst attracting generous comparisons to magic realism, the speculative fiction of Margaret Atwood, and to the more warped gothic side of Ian Banks.
One prominent thematic feature to date has been expertly rendered and evocative international settings. This draws upon an early upbringing divided between Asia, South America and Britain. Such a global sensibility, he argues, is central to his authorial personality. As he told an interviewer for the Sunday Herald, "it gave me exposure to other cultures at an impressionable age, which in turn gave me an objective, outsider's view of the UK, and possibly of life in general. A writer's view, in other words."
The first test for this outlook was The Amnesia Clinic (2006), set in 1990s Ecuador, and focusing on the tale of two Quito school friends, an expat British boy called 'Anti' and his local friend and troubled Fabian. The latter is a local boy whose parents are mysteriously disappeared, who draws the former into the world of his exotic uncle Suarez. In his attempt to escape the confines of his parents, Anti is drawn into his friend's fantasies about his missing and dead parents, getting caught up in Suarez's storytelling charms. As details surrounding Fabian's parents start to emerge, Anti leaps into this fantasy world, consoling his friend with a story suggesting that Fabián's mother may be living at a far-off hospital for patients with memory loss. This fantastical possibility sends them off an a adventure across the country in pursuit of, above all, "great stories."
This all amounted to a fast moving and assured picaresque debut, whose key subject was the dangerous power of fiction. As the epigraph from C.S. Lewis suggested ("Grown-ups are always thinking of uninteresting explanations"), the novel was in part a tribute to the creativity of youth. And in reveling in the license of boyhood storytelling, Scudamore unravels a narrative whose debts to the flamboyant magical realism were balanced against a subtle and wry treatment of cultural differences in a particularly vividly drawn Ecuadorian setting.  Asked about the choice of location, Scudamore has noted in interviews that,
It seemed a good place to set an adventure story. It's comparatively poorly known (certainly in the UK), and the Amazon rainforest, the Andes and the Pacific Ocean are all quite easily accessed from Quito – which meant that there was scope for my characters to get into plenty of trouble very quickly. I also had the benefit of knowing the country reasonably well from having lived and worked there.
That said, as befits the themes of the novel, an 'Author's Note' afterword saw Scudamore warn those drawn to Ecuador by the charms of his book that "while most of the locations in this novel exist, some are purely imaginary and readers shouldn't necessarily expect to find them on maps."
The book was hailed as a strong and imaginative first novel. Hilary Mantel praised it as a "a wonderful debut - witty, polished, fluent and effortlessly entertaining." Time Out thought it "a nostalgic, compelling adventure laced with black humour," and The Literary Review described it "compulsively readable," account of the "the seductiveness of storytelling... Both his characters and the electrifying manner in which Scudamore writes about Ecuador demonstrate the appeal as well as the danger of any fabulist's capacity for wonder." This young novelist, the Telegraph simply declared, "has talent to burn." It went on to win the 2007 Somerset Maugham Award and was shortlisted for the Costa First Novel Award, the Commonwealth Writers' Prize, the Glen Dimplex Award and the Dylan Thomas Prize.
For his second novel, Scudamore remained with South America, setting Heliopolis (2009) amidst the sprawl and inequality of contemporary São Paulo, Brazil. It told the story of Ludo dos Santos, a young man from the favelas whom accidents of fate had allowed to transcend his low origins, ascending into the world of privilege, wealth and luxury. We meet him now aged 28 in what seems an unreal metropolis, a bizarre landscape of teeming slums and gleaming towers, with almost no comprehension between the two. Telling Ludo's story through flashbacks and foreshadowing, the novel portrays a life caught between two worlds, belonging to neither. As Ludo's employer begins to create a new business model aimed at the slums, he finds himself even more conflicted at the nature of his good fortune. "Sometimes", he cries, "I want to run away from this life to which I have been promoted."
Part searing social satire, part Twenty First century melodrama, Heliopolis struck more than a few critics as Dickensian in its scope and shape. The Independent thought that the novel "merits the epithet … in a number of ways: in its generous anger at injustice and inequality, its attention to the lives of the poor, and its relish for food…read it for the power of the writing, the descriptions that fizz off the page, and the lust for life." Writing in the Guardian, Henry Shukman thought the novel was "cleverly pitched to explore the two socioeconomic poles of modern urban Brazil. And the writing is exemplary: you feel the hand of a natural at work, one whose command of tone is strong, and who has an instinctive feel for handling a story."
Above all, many critics praised Scudamore's rendering of Brazil, and once again the risks involved in his evocative setting paid off, allowing him to offer a careful moral commentary on the contradictions and prejudice of the Global South elite. Praising these aspects, the Telegraph thought that the novel had "the extraordinary power of summoning an entire brooding, smoggy city to life. Most of all, though, he has the ability to take on the heaviest of themes with the lightest and most compelling of touches, and leave you with an appetite for more."
Wreaking (2013) was Scudamore's third novel, and the first to abandon his trademark international settings. Instead, it offered a disturbing tale of mental illness, set in and around the gothic gloom of a converted psychiatric hospital, 'NHS Wreaking', on England's south coast. Ex-teacher Jasper Scriven buys the building with his late wife's money, and intends to turn it into a private school, but becomes obsessed with memories of the hospital's closure and its former existence. When he takes his daughter Cleo to live there, their hopes of exorcising the memoires of the place prove fruitless, as murky figures from the past re-appear, awakening buried secrets.
Critics were taken with the sustained quality of his descriptive imagination. Stuart Evers in the Observer, for example, thought that the setting was "drawn brilliantly with both precise and pungent descriptions," and praised Wreaking as "Sharply hewn, inventively structured and unnervingly written." However, a number of critics thought the execution and shape of the plot raised more problems than it answered. In the Spectator, Cressida Connolly conceded that "there can be no doubting the remarkable scope of this writer's imagination, nor the skill of his prose. He has a genius for atmosphere," but she balanced this against the fact that, "as this long novel progresses some readers may feel impatient at the convolutions of plotting, the revelation of ever more Gothic secrets, the Hammer Horror foibles of almost every character … Wreaking is a hotch-potch, overflowing with images and ideas and influences. Like all show-offs James Scudamore loves to shock (if he can mention a fart, he will), and shocks can become wearisome. But the flaws here are flaws of surfeit, never of meanness, for which he is to be applauded."
Scudamore explained on a recent BBC Today programme appearance that visits to derelict real life settings, such as the Severalls Hospital in Colchester, helped inspire this choice of location. The Care in the Community Act had effectively left such places defunct, and Scudamore was able to project himself into these spaces. And he was particularly successful at conjuring up the austere beauty and dark grandeur of this "golden age of asylum architecture." Mixing poetic description with jumps forward and backward in time, Scudamore creates a remarkably unsettling tone, and left readers eager to discover where his narrative "inquiries" might take them next.