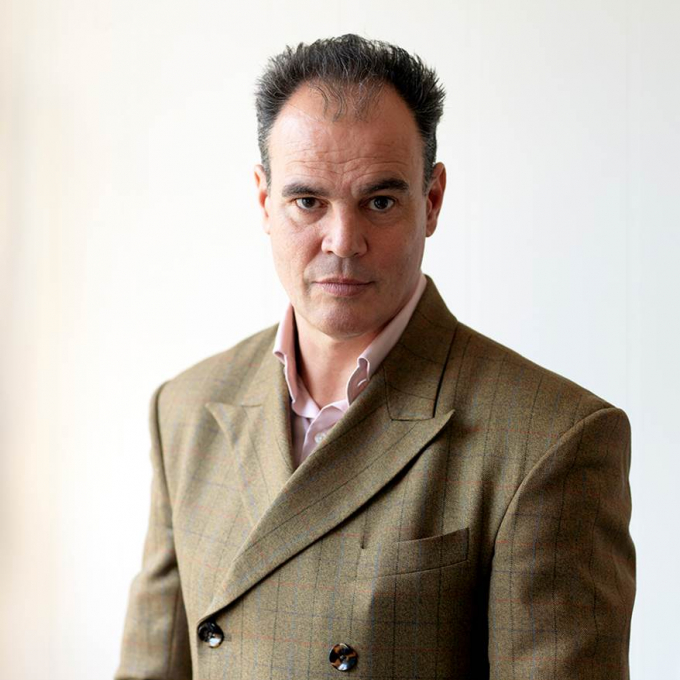 Jake Arnott
Publishers:
Agents:
Biography
Jake Arnott was born in Buckinghamshire, England in 1961.
His novel, The Long Firm, the story of the charismatic gangster Harry Starks, was published in 1999 to critical acclaim and commercial success, and was subsequently adapted as a major BBC drama serial. Along with He Kills Coppers (2001), also adapted for television, and truecrime (2003), these make up his first three books form a noir trilogy that spans the last four decades of the twentieth century.
His fourth novel, Johnny Come Home (2006), takes place in the summer of 1972 amidst the world of glam-rock and radical politics.The Devil's Paintbrush (2009), set in Paris in 1903, concerns the fall from grace of the British Empire hero, Major-General Sir Hector Macdonald in a shocking scandal, and examines imperialism, sexuality and the nature of belief.
Jake Arnott lives in London. His latest novel is The Fatal Tree (2017)
Critical perspective
Jake Arnott is best known for his trilogy of crime novels, which recreate the post-war heyday of the London gangland scene and its attendant 'showbiz' associations, brilliantly evoked and by turns glamorous or seedy.
Their anti-hero is Harry Starks, a Soho club owner of "threatening charisma". He is first seen at the opening of The Long Firm (1999), preparing to torture his former rent boy lover: "You know the song, don't you? 'There's no business like show business.' Harry gets the Ethel Merman intonation just right as he heats up a poker in the gas burner." Starks is the ultimate self-made man, a social climber proud of his photographs with celebrities, whose corrupt connections stretch from Scotland Yard to Fleet Street, by way of the House of Lords. As well as his vicious criminality, the sexual identity of this racketeer, and that of a number of principal characters, is crucial to the action. Starks himself insists: "I'm homosexual but I'm not gay", but this distinction becomes increasingly old-fashioned as the trilogy develops from the 1950s into the 1990s.
All three books feature real-life villains and name-drop celebrities of the era (The Kray Twins, Jack the Hat McVitie, Judy Garland, Johnny Ray et al) alongside politicians and policeman on the take, aided and abetted by cynical tabloid journalists. Following Starks around, we observe paranoid record producer Joe Meek, and hear first-hand gossip about impresario Larry Parnes and The Beatles' manager Brian Epstein. Theatricality is prevalent: certain characters are clearly based on originals who are easy to identify: for instance neurotic radio comedian Gerald Wileman (star of How's Your Father), or busty blonde starlet Ruby Ryder, a gangster's wife who ends up as a television soap opera queen. We are taken on a vicarious tour of London's underworld and its exclusive locales: to criminals' hideouts, police interrogations, Soho's strip joints and its gay male pick-up places. We witness pop groups emerging in the 1960s, the drug culture, then punks, skinheads and the rave music scene, as well as football hooligans whose "every detail of style spelt violence".
The trilogy continues with He Kills Coppers (2001), largely set during England's World Cup-winning summer of 1966, though it moves into the 1970s, then the social confrontations of the Thatcher era. The moral focus is as much on the police as on criminals, as ex-soldier Billy Porter goes on the run following a killing. Meanwhile, Harry Starks' payoffs within the Vice Squad make cleaning up London's Soho a fraught undertaking. The opportunistic Tony Meehan of the Sunday Illustrated seizes his chance to get his hands on the diaries of Lord Teddy Thursby (a memorable amalgam of cynical venality, right-wing punditry and indiscreet homosexuality). As Meehan concludes, he at last has "the power of revenge for all those years of fruitless muckraking. All the details, the reputations laid bare, the secrets I could use. And I would use them."
In truecrime (2003) the era is the 1990s, though its action is propelled by the unsolved murder years earlier in Spain of 'Big Jock'. His actress daughter Julie, inspired by the making of British gangster movie Scrapyard Bulldog, as well as being personally involved with veteran ex-villain Eddie Doyle, seeks to lure out the man she believes responsible. And when Doyle spots Harry Starks at Ronnie Kray's funeral, he determines to get the money he believes is still owed to him. Starks is now "the doyen of ancient gangland mythology. The last of the Old School and still at large." Within this traditional revenge plot, Arnott weaves his typical mix of social observations; of club culture, the rise of New Labour politicos, and the ecstasy trade misadventures of Essex hoodlum Geezer Gaz. The pursuit leads to a climax bringing together the surviving characters of the trilogy, as Julie takes it upon herself to finally track down the now terminally ill Starks.
With Johnny Come Home (2006), Arnott summons up the London of glam rock, as well as the bombing campaigns of anarchist group The Angry Brigade. Opening in 1972 with the drug overdose of failed bomber O'Connell, the narrative develops from the consequences of his suicide for his fellow squatters: his sometime lover Pearson, and Nina ('Betty Bothways') - who is torn between her commitment to radical lesbianism and the dangerous sexual attractions of rent boy Sweet Thing. The latter is paid a weekly retainer to service unstable pop star Johnny Chrome, enabling him to perform in the recording studio as well as on Top of the Pops. Once again, there are plenty of recognisable originals among the characters, notably the predatory gay pop producer Timothy Royal, and glimpses of real-life glam rock pioneers such as Marc Bolan. But the plot turns upon the discovery by Pearson of unused explosives, and the revelation that O'Connell was a police informer. As in the gangster novels, there's plenty of sex and violence, drugs and conflicts, sharp dialogue and quirky sub-culture detailing. Arnott's most recent novel, The Devil's Paintbrush (2009), goes back to 1903 Paris for its pivotal meeting between military hero Sir Hector Macdonald and the occultist Aleister Crowley. Through Crowley's drug and hypnotism-induced states, scenes also move in memory to battles in Sudan and the 1879 Afghan War. A by-now familiar mode of real-life and fictional characters gives cameo roles for painter Gerald Kelly, art critic Clive Bell, General Gordon and Lord Baden-Powell. And, again, the revelation of homosexual scandal determines the leading characters' fates, as Macdonald faces the threat of Court Martial for his sexual conduct. The blustering Crowley determines to "take up the cause of Sir Hector's deliverance", and use him to get hold of the magical Cypher Manuscript from the leader of the Golden Dawn. Crowley's decadent "beastliness", mumbo-jumbo, and artistic pretensions are all nicely captured, as when he remarks of W.B. Yeats, who "did possess enough literary ability to recognise a greater talent". The 'Devil's Paintbrush' refers to the newly invented Maxim machinegun, used in Imperial campaigns to 'daub' rows of attackers, "broad strokes, if you like, splish-splash". The brutality of war co-exists with covert tenderness between troops and Macdonald's illicit relationships with servants, alongside his Victorian awareness that "some sins are irredeemable". These perennial dilemmas of male sexuality, repressive social mores, power – and their frequent expressions in violence - can be found in characters throughout Arnott's work. This occurs most charismatically in psychopathic gangster Harry Starks, but also in the myriad minor figures who contribute to the rich picture of underworld dealings and 'decadent' personalities at large within Jake Arnott's entertaining novels.
Dr Jules Smith, 2011