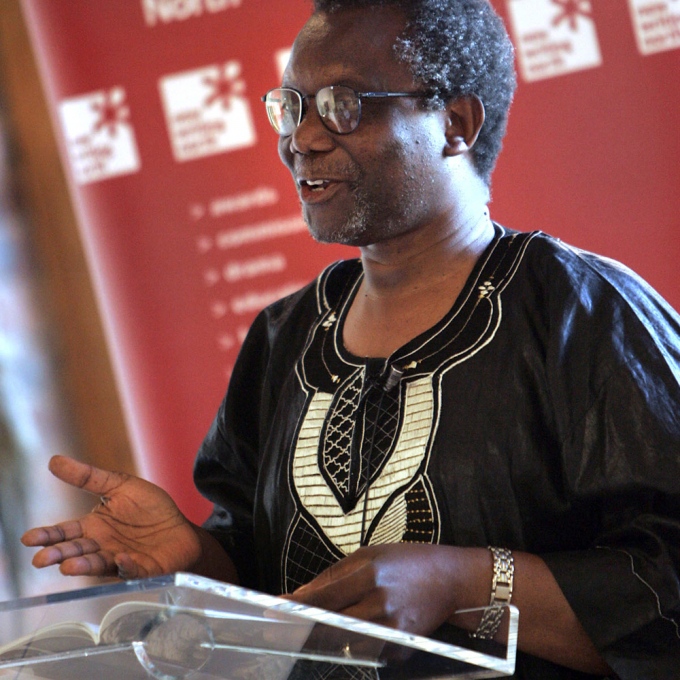 Biography
Malawian poet Jack Mapanje taught in Malawi Secondary Schools before he joined the Department of English at Chancellor College, University of Malawi, in 1975, first as a lecturer, then as Head of the Department of English.
He has a BA and Diploma in Education from the University of Malawi, an M.Phil. in English and Education from The Institute of Education London, and a Ph.D. in linguistics from University College London in 1983.  His first collection of poems, Of Chameleons and Gods, was published in the UK in 1981 and withdrawn from bookshops, libraries and all instutitions of learning in Malawi in June 1985. He was imprisoned without trial or charge by the Malawian government in 1987, and although many writers, linguists and human rights activists, including Harold Pinter and Wole Soyinka, Susan Sontag, Noam Chomsky and others campaigned for his release, he was not freed until 1991. The poems in The Chattering Wagtails of Mikuyu Prison (1993) were composed while he was imprisoned, as well as most of his third collection of poetry, Skipping without Ropes (1998). 
He has edited with introduction Gathering Seaweed: African Prison Writing (2002), based on a degree course he taught at the Unviersity of Leeds, 1993-96, and has also selected and edited with introduction the poetry of David Rabadiri, An African Thunderstorm & Other Poems (2004).
Jack Mapanje lives in York, and is currently teaching Creative Writing and Literatures of Incarceration in the School of English, University of Newcastle-upon-Tyne. His book, The Last of the Sweet Bananas: New & Selected Poems was published in 2004, and his latest poetry collection is Beasts of Nalunga (2007). His memoir, And Crocodiles Are Hungry At Night, was published in 2011. 
Critical perspective
In his introduction to The Last of the Sweet Bananas (2004), a volume of new and selected poems, Jack Mapanje refers to his 'constant struggle against the despotic structures that keep ordinary people silent and make them invisible'.
He goes on to observe that 'throughout my life politics and poetry have been so intricately intertwined that they seem almost inseparable'. His incarceration as a political prisoner in Malawi's notorious Mikuyu prison - three years and seven months there undoubtedly the defining subject of his life and poetry – obliged him to memorialize his experiences but also his fellow detainees, 'the desperate voices of fractured souls'. He was clearly the right editor for the anthology Gathering Seaweed: African Prison Writing (2002). Recognized as one of Africa's most distinguished poets, Mapanje's satirical humour and polemical edge, humane solidarity and moments of vision have enthralled audiences in the U.K. and elsewhere – including his first ever public reading in Malawi during 2003.
Mapanje draws upon the African oral traditions of storytelling. As he explained in an interview in The Guardian (31 August 2007), the colourful stories in his poems often take the form of spirals, unfolding and then returning, being first composed in his head. 'It's the best way of remembering something: an oral technique I learned from my mother when she was telling me stories about hyenas and rabbits'. His writing has always been rich in imagery of birds, beasts and insects. Even early on, in Mau (1971), one finds 'Toxic frogs croaking beside the smoking marshes'. What Mapanje crucially added was his characteristic satirical humour. Sean O'Brien (now his colleague at Newcastle University) has observed in the Sunday Times that this satire 'can seem strangely generous, impressively blending the memory of terror with a sense almost of farce'.
It was his first mature collection, Of Chameleons and Gods (1981) that offended the regime of dictator Hastings Banda. Its language is cryptic, memorable, invoking the 'turbid top cockroaches' of a society 'Where Dissent is Meat for Crocodiles'. In the latter poem, the monster-for-life 'blatantly wrung / And squelched nimble necks of sparrows / … dangled them in the sun / Until the last drop of truth has / Fallen'. In a spirit of 'Gathering Rosebuds While Ye May', he urges enjoyment of 'the fruits of the evergreen landscape of / Zomba plateau' ('April 1978, the Prisoners Quietly Back') while another poem describes a police raid on a bar where the women are 'bouncing to/ Rusty simonje-manje and rumba booming in the juke box ('The Cheerful Girls at Smiller's Bar, 1971'). He was arrested in 1987 and, after an international campaign, eventually released in May 1991. Mapanje has since lived and continued his academic career in northern England.
The Chattering Wagtails of Mikuyu Prison (1993) reflects deeply on his prison experiences and subsequent exile. He was now free to describe the condition of Malawi: its 'scurvy children' and 'queue of skeletal hands'; roadblocks, gunpoint burials, and the brutal relevance of a new verb, to 'accidentalize' (political killings presented as accidents). But he mainly takes us within grim prison walls, infested with cockroaches, wasps, mosquitoes, beetles, scorpions and 'stinking bats'. He gives voice to the despair of inmates and memorializes those who died before release: 'We have liquidated too many / brave names out of the nation's memory'. Yet there is hope. In the lengthy title poem, daily observations of birds serve as symbols of freedom: 'These wagtails will follow to minister / To you, these are the only priests allowed here'. In 'Watching from Mikuyu Prison' there is a truly African Wordsworthian vision of 'The green acacias dancing to Lake Chilwa breeze, / The chickens pecking under the guard's granary, / The jacaranda trees purpling in the distance'. A final poem looks to the future, rhetorically asking if 'toxic mushrooms' won't burgeon 'Under those rotten logs of nightmares'.  
Skipping Without Ropes (1998) is again haunted by memories of imprisonment. It deals with the aftermath of his release, his family's adjustment to life in England, and his return to Malawi in 1994 with a television film crew. Significantly, Biblical language and characters are at times invoked to parallel his own story of resurrection - the Bible being the only reading matter allowed in prison – as in 'The Risen Lazarus at Very Tedious Last!' There are a number of elegies for writer friends who suffered for their campaigning, notably 'warm thoughts' for Ken Saro-Wiwa, the executed Nigerian author: 'let the rapture / Of gracious laughter shared, the memory of justice, / Succour you like a prayer'. In conclusion, Mapanje returned in imagination to Milimbo Lagoon, finding only ghosts, and concluding 'how / Could poetry forget the past when Africa still / Bleeds from forgetting its past; empower others / To forget your past – my struggle continues!' ('When the Watery Monsters Argued').
The splendid cover picture of Beasts of Nalunga (2007), his most recent and in many ways most wide-ranging collection, shows the teeth of a wide-jawed crocodile. Its title poem conjures up the mysterious animal spirits appearing at a Malawian village in 2003, but typically makes them into metaphors of political and economic rapaciousness. They are vampires who drain the people's blood: 'beasts of Nalunga are cyclic sagas / of people besotted by wars, / battles, tyrants, plagues'. Mapanje's satirical view now looks beyond the past regime towards international institutions (the I.M.F., the World Bank). In 'Can of Beasts Madonna Opened', he discusses another kind of Western intervention in Africa, the adoption of a child by the famed pop singer. Idiosyncratically, it criticizes her critics: 'Stop wondering then / why adopting a child or offering full / breasts for gaunt twins to see another / day, is such a deadly sin'. His old adversary Hastings Banda is now buried: 'Rested Among Fellow Hyenas, Finally?' Yet he still finds official corruption and 'our endless African jokes gone sour'. Other poems are more optimistic, celebrating birthdays and the quiet remembrances of friendships and domestic life.     
It would be simplistic to regard Jack Mapanje as a 'prison poet' or even one whose message is primarily political. He is surely also a latter day Romantic poet. Aptly enough, he was (for three years up to 2003) writer in residence at Wordsworth's Dove Cottage in the Lake District. His exemplary poetry of witness ameliorates its desperate visions of personal suffering and social injustice with consolatory celebrations of landscapes and nature, particularly the abundant bird life of Africa and of northern England. These can include menacing crows and vultures, but also inspirational sightings of fish eagles, swallows, herons - and his indomitable 'chattering wagtails'.
Dr Jules Smith, 2010 
Bibliography
2011
And Crocodiles Are Hungry At Night
2004
An African Thunderstorm & Other Poems
2004
The Last of the Sweet Bananas: New & Selected Poems
2002
Gathering Seaweed: African Prison Writing
1999
The African Writers' Handbook
1998
Skipping without Ropes
1993
The Chattering Wagtails of Mikuyu Prison
1983
Summer Fires: New Poetry of Africa
1983
Oral Poetry from Africa
1981
Of Chameleons and Gods