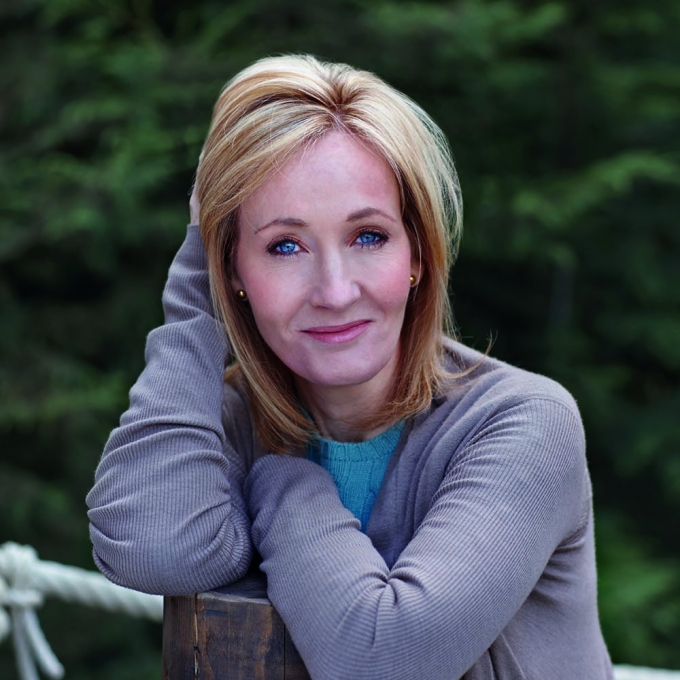 J. K. Rowling
Publishers:
Biography
J. K. Rowling was born in 1965, and grew up in Chepstow, Gwent. She studied at Exeter University, where she gained a French and Classics degree, and where her course included one year in Paris. As a postgraduate she moved to London to work at Amnesty International, doing research into human rights abuses in Francophone Africa.
She started writing the Harry Potter series during a Manchester to London King's Cross train journey, and during the next five years, outlined the plots for each book and began writing the first novel.
This book, Harry Potter and the Philosopher's Stone (1997), and the novels in the series which have succeeded it have been an unprecedented success. They have topped all bestseller lists, won numerous awards, and been translated into over sixty languages. Worldwide, the Harry Potter books have exceeded 300 million copies.
Harry Potter and the Philosopher's Stone was released as a film in 2001, adapted by Steve Kloves, and an adaptation of the second novel, Harry Potter and the Chamber of Secrets (1998), was released in November 2002. Harry Potter and the Prisoner of Azkaban (directed by Alfonso Cuaron) followed in 2004, and Harry Potter and the Goblet of Fire, directed by Mike Newell, was released in November 2005 in the UK and US.
J. K. Rowling's initial aim was to write seven books in the Harry Potter series. The fifth book, Harry Potter and the Order of the Phoenix was published in 2003, and the sixth, Harry Potter and the Half-Blood Prince, in 2005. The final book in the series, Harry Potter and the Deathly Hallows, was published in 2007.
The fifth Harry Potter film, Harry Potter and the Order of the Phoenix, was released in 2007, and the sixth, Harry Potter and the Half-Blood Prince, in 2009. This was followed by Harry Poetter and the Deathly Hallows, Part I in 2010 and Part II in 2011.
She has also written two small volumes which appear as the titles of Harry's school books within the novels - Fantastic Beasts and Where to Find Them and Quidditch Through The Ages, which were published in 2001 in aid of Comic Relief.J. K. Rowling has honorary degrees from Dartmouth College, New Hampshire, US, University of Exeter, University of St Andrews, Napier University, Edinburgh, and University of Edinburgh. She was awarded an OBE for her services to children's literature in 2001, and became an honorary fellow of the Royal Society of Edinburgh in 2002. In 2010 she won the Hans Christian Andersen Award and in 2012, she was awarded the Freedom of the City of London.
J.K. Rowling's Harry Potter series of novels, published between 1997 and 2007, have become the biggest sellers in the history of children's writing. She founded the children's charity 'Lumos', which aims to end the institutionalisation of children in orphanages worldwide. In November 2013, The Independent newspaper reported that Harry Potter and the Philosopher's Stone (1997) topped a poll to find Britain's favourite children's book.
Her first novel for adults, A Casual Vacancy, was published in 2012.
Critical perspective
In the opening scene of Harry Potter and the Philosopher's Stone (1997), an owl and a cat observe the safe arrival of an orphan baby at the door of the Dursley family of number four, Privet Drive, Little Whinging, in Surrey. The owl is headmaster Dumbledore of Hogwarts School of Witchcraft and Wizardry, while the cat is Professor McGonagall, who re-assumes human form to declare of baby Harry: 'every child in our world will know his name!' Could any author have ever written a more prophetic sentence? Its meaning unfolds over the course of seven volumes of epic adventures for the schoolboy wizard in the world of magic - and of course is now equally true in our own non-magical world of 'muggles'. The unprecedented commercial success of the books, several big box-office films, and a great deal of merchandise and publicity have ensured that 'Harry Potter' continues to be one of the most recognizable brand names in the world – and J.K. Rowling herself is no doubt the best-known British author worldwide.
The key factor in the 'Harry Potter' phenomenon seems in retrospect to have been the eagerness with which adult readers embraced a saga originally intended for the children's book market. The supreme storytelling qualities of the books, crowded with quirky characters, developing year by school year towards a final climactic conflict between Good and Evil, the witty inventiveness and slyly satirical exchanges; all this, and much more, has vastly entertained readers of all ages and nations. The books have had a marked impact upon the publishing industry, promoting fantasy literature for both children and adults. Perhaps their most beneficial effect has been to make reading a fashionable activity again, whether in private or public. The journalist Allison Pearson recently commended 'Harry Potter' for what she called 'the dense, knitted, pleasurable sound of children reading'. [Daily Telegraph 27 September 2012]
Critics were quick to point out the extent to which the books are indebted to previous classic children's authors, from Ursula LeGuin to Roald Dahl, Enid Blyton to T.H. White and Tolkien (not forgetting Tom Brown's Schooldays or Anthony Buckeridge's amusing 'Jennings' books of boarding school life). A less-remarked precedent is the Gothic Novel. Hogwarts after all is a place haunted by ghosts, with monsters in its bowels, moving portraits, disappearing rooms and secret passageways, plus the ever-present threat of Dark Forces. Outside is the Forbidden Forest complete with centaurs, spiders the size of horses, hippogriffs and other magical creatures (the latter under the erratic control of kindly half-giant Hagrid, Harry's special friend). What sets J.K. Rowling apart, however, is her ability to construct a fantasy realm in fantastic detail, alternate funny and scary episodes, while sustaining readers' interest to the point of addiction. We really must know what happens in the next chapter, the next book. The years that Rowling reputedly spent in planning the overall architecture of the story were well spent. As author she acts as a good teacher, directing the lessons (we as readers learn wizardry alongside Harry and his friends Ron and Hermione, school bully Draco Malfoy and his cronies), ending each year with a satisfying competition between rival houses or schools.
Such a vast drama requires a good supporting cast: eccentric teachers (Snape, Slughorn, Lupin, Trelawney) and pupils variously appealing or objectionable. The latter naturally are growing up over the course of seven years from childhood into teenagers, so romantic entanglements complicate the action of the last few books. Harry himself is attracted to Cho Chang and, more lastingly, to Ginny Weasley. The beauty of Hogwarts as a concept is that it is simultaneously old-fashioned (a steam train from Platform 9 ¾ at Kings Cross starts each year) and contemporary (in its co-educational and multi-cultural ethos). Pupils have to pass exams, cope with bullying, and have the latest items from Diagon Alley's magical shopping. The school itself comes under increasing pressure from the Ministry of Magic.
Harry is the Arthurian hero, guided and protected by Dumbledore (Merlin by analogy) until he is able to undertake his destiny: to avenge the killing of his parents by arch-enemy Lord Voldemort. Essential to the saga is the progressive revelation of Voldemort's own back-story, his Riddle family history, and his ambition: to not only rule the magical world but to defeat death itself. In his evil desires he thus becomes a true tragic hero. The parallels between these two orphans grow ever closer as their final confrontation looms in Harry Potter and the Deathly Hallows (2007).
We recall that Harry began life in Little Whinging, suburban Surrey, being grudgingly raised for his first ten years by the awful Dursley family. Their grotesque domestic habits and class-conscious obnoxiousness seem to connect with at least some of the inhabitants of Pagford, the 'picturesque' village in which Rowling's recent novel for adults, The Casual Vacancy (2012), is centered. But Pagford and its downmarket neighbour Yarvill contain no magic; what they do have is a myriad of serious domestic problems and troubled children. The plot concerns the sudden death of a popular teacher and councillor, Barry Fairbrother, and the machinations that ensue as factions on the local council seek to fill the vacancy to their advantage. It is fair to say that the novel has had a very mixed reception. Some commentators have praised its acute social satire and bold difference from Rowling's previous fiction. Others, notably Allison Pearson, have called it 'a shock' to readers, 'sometimes funny' but by the conclusion 'howlingly bleak'. [Daily Telegraph, 27 September 2012]
Rowling's skill at co-ordinating a large cast of adults and children is again evident. The opening scenes in which news of Fairbrother's demise spreads around the village, and numerous infidelities revealed, are excellent. The most compelling characters are teenagers: feckless Krystal Weedon, self-harming but plucky Sukwinder, and especially Fats. His arrogant determination to disregard 'restrictive morality' and be 'the baddest of them all' is somewhat reminiscent of Tom Riddle. Indeed, as Allison Pearson points out, 'Harry Potter' too contains evil acts, deaths and sadness but also redemption. Joanne Rowling's 'powers of enchantment' will no doubt be regenerated to enthrall her international readership in future books.
Dr Jules Smith, updated 2013
Bibliography
2008
The Tales of Beedle the Bard
2007
Harry Potter and the Deathly Hallows
2005
Harry Potter and the Half-Blood Prince
2003
Harry Potter and the Order of the Phoenix
2001
Quidditch Through The Ages
2001
Fantastic Beasts and Where to Find Them
2000
Harry Potter and the Goblet of Fire
1999
Harry Potter and the Prisoner of Azkaban
1998
Harry Potter and the Chamber of Secrets
1997
Harry Potter and the Philosopher's Stone
Awards
2012
Freedom of the City of London
2010
Hans Christian Andersen Award
2009
Chevalier de la Légion d'Honneur (France)
2008
Booksellers Association Independent Booksellers' Book Prize
2008
British Book Awards Lifetime Achievement Award
2008
South Bank Show Outstanding Achievement in the Arts Award
2006
British Book Awards Book of the Year
2006
Royal Mail Award for Scottish Children's Books
2003
British Book Awards Book of the Year
2003
WH Smith People's Choice Award
2001
Children's Book Award
2000
Children's Book Award
2000
Guardian Children's Fiction Prize
2000
Sheffield Children's Book of the Year Award
1999
British Book Awards Children's Book of the Year
1999
Children's Book Award
1999
Guardian Children's Fiction Prize
1999
Nestlé Smarties Book Prize (Gold Award)
1999
Prix Sorciere (France)
1999
Scottish Arts Council Children's Book of the Year Award
1999
Sheffield Children's Book of the Year Award
1999
Whitbread Children's Book Award
1998
British Book Awards Children's Book of the Year
1998
Children's Book Award
1998
Guardian Children's Fiction Prize
1998
Nestlé Smarties Book Prize (Gold Award)
1998
Primo Centro per la Letteratura Infantile (Italy)
1998
Sheffield Children's Book Award
1998
Whitbread Children's Book of the Year Award
1998
Young Telegraph Paperback of the Year Award
1997
Nestlé Smarties Book Prize (Gold Award)