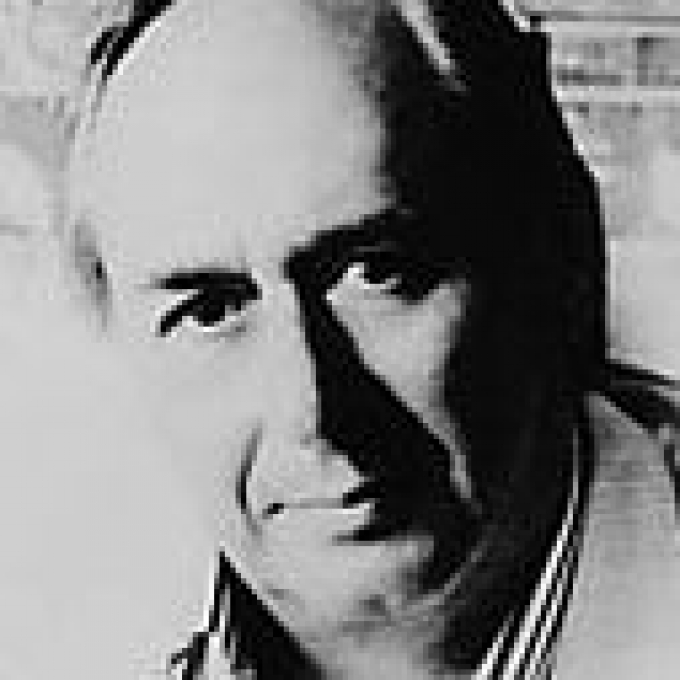 J. G. Ballard
Publishers:
Biography
Novelist, essayist and short-story writer J(ames) G(raham) Ballard was born in Shanghai, China on 15 November 1930.
His family was interned by the Japanese during the Second World War, returning to Britain in 1946. Ballard read Medicine at King's College, Cambridge, and later studied English at London University. He worked as a copywriter and was stationed in Canada with the Royal Air Force.

His first short story was published in 1956. This and many other short stories were published in science fiction magazines and were heavily influenced by the surrealist movement. The short story is seen by many critics as central to Ballard's work, originating and developing themes and obsessions that progress through into his novels. The dislocated sense of time and space in these stories is located in his childhood experience of war and provides many of the images that have become associated with Ballard's fiction: wrecked machinery, deserted beaches, crashed cars, abandoned buildings and empty, desolate landscapes - "still-life arranged by a demolition squad" as Ballard himself described his settings in an interview with BBC Radio 3 (Nightwaves, 30 October 2001). Complete Short Stories was published in 2001, and a second volume of stories in 2006.

His early novels include The Drowned World (1962), The Wind from Nowhere (1962), The Drought (1965) and The Crystal World (1966). These were followed by more experimental novels, such as The Atrocity Exhibition (1970), Concrete Island (1974) and High-Rise (1975), establishing Ballard's reputation with both readers and critics as a cult avant-garde writer. His 1973 novel, Crash, in which a car-crash provokes a disturbing series of obsessions in the narrator, was made into a film by David Cronenberg.

Ballard's acclaimed and best-selling novel Empire of the Sun (1984) brought him to wider public attention. The novel drew directly on his childhood wartime experiences and won the Guardian Fiction Prize, the James Tait Black Memorial Prize (for fiction) and was shortlisted for the Booker Prize for Fiction. It was made into a film by Steven Spielberg in 1988.

Cocaine Nights (1996), a thriller set in a community of expatriates living on the Spanish Costa del Sol, was shortlisted for the Whitbread Novel Award. His novel, Super-Cannes (2000), a vision of corporate dystopia set in the south of France, won the Commonwealth Writers Prize (Eurasia Region, Best Book). His novel Millennium People (2003), is a tale of violent political protest and social change. J.G. Ballard's last novel was Kingdom Come (2006). In 2008, his autobiography, Miracles of Life, was published.
J. G. Ballard died in April 2009.
Critical perspective
'We live inside an enormous novel', observes Ballard in the introduction to his most controversial novel Crash (1973), 'The fiction is already there.
The writer's task is to invent the reality'. He further describes the writer as having 'no moral stance', being akin to a scientist. 'faced with an unknown terrain or subject. All he can do is to devise various hypotheses and test them against the facts'. Ballard in fact re-invented himself as a writer several times. He started off in the late 1950s writing for Anglo-American 'pulp' magazines such as New Worlds and Amazing Science Fiction. In his early succession of 'global disaster' novels (owing something to John Wyndham) mankind is threatened respectively by a cataclysmic rise in sea levels in The Drowned World (1962), and its opposite in The Drought (1965). He then became an anti-establishment 'experimental' writer during the late 1960-70s, with books such as The Atrocity Exhibition (1970) and The Unlimited Dream Company (1979), though continuing to publish in small magazines, notably Ambit and Bananas. He latterly evolved into a new life form entirely, as one of Britain's most original writers in his response to the transforming nature of science and technology on the conditions of modern urban life. His true speciality was as much 'inner' as 'outer' space. Ballard heroes begin in the rational world, often as doctors or research scientists, and end up in extreme mental states - whether through visions, paranoia, drug use, and technology going wrong or out of control.

Throughout his novels and stories Ballard employs a deliberately unemotional narrative voice and an ironic humour that can encompass environmental disasters, gigantic conspiracy theories, the hidden agendas of multinational corporations, and even ' the first pornographic novel based on technology', his self description of Crash. The work of experimental fiction from which it originated, The Atrocity Exhibition, is a William Burroughs-like structure exploring the mass media's impact on the human psyche, its fascination with sex and death, 'the geometry of aggression and desire' in cars, especially their role in assassinations or accidents involving glamorous movie celebrities. Crash itself (which even its author describes as 'a considerable challenge to most notions of sanity'), is a frighteningly obsessional tale, in which the characters repeatedly seek erotic arousal in cars: by the thrill of speed, taking photographs of the aftermath of crashes, and by having sex with their victims.

The characteristic themes in Ballard's books had personal roots: Ballard was interned as a child in a Shanghai detention camp during the Second World War, he studied medicine at Cambridge, and later trained as a pilot. But he was very far from being a straightforward autobiographer, even in the wartime experiences drawn upon in his best-known novel, Empire of the Sun (1984). The boy Jim (Ballard also uses his own name in Crash), separated from his parents at the chaotic fall of Shanghai to the Japanese, is forced to live by his wits, making himself useful to other detainees, learning to 'enjoy the war'. He has recurrent hunger-induced hallucinations - of the burning body of an American fighter pilot - and, at the close of the novel and the conflict itself, an intimation of the atomic bomb. The boy is alienated from his fellow detainees; he feels closer to the Japanese, especially the kamikaze pilots, attracted by their ruthlessness and stoicism. The novel's desolate landscapes - abandoned cities, cataclysmic upheavals, wrecked cars, tanks and aircraft - recur in different guises throughout Ballard's other books.

The subjects of Ballard's stories - time and space, the mass media's control on human lives, individuals discovering conspiracies by corporations or governments - are characteristic of his work as a whole. Early on, he wrote a few at least of the most hauntingly memorable in the science fiction/fantasy genre, among them 'The garden of time, a Borges-like fable in which an aristocratic couple try to keep history's destructive tide of humanity at bay. When the flowers are all gone, they are transformed into statues within their own wrecked garden. 'Thirteen to Centaurus' finds one of the crew of a spaceship, apparently on a 50-year mission to the stars, becoming aware (partially anticipating 'The Trueman Show' movie) that they are actually involved in an earthbound psychological experiment being broadcast on television. In 'The Watch Towers', a man tries to convince his community that they are under surveillance, while ' Chronopolis' depicts a city where clocks and watches, as well as consciousness of time itself, have been banned. The stories collected in War Fever (1990) have a much greater range of forms, and a sophisticated irony in viewing global politics, environmental issues, and evolving relations between the sexes. 'The Second History of World War 3' describes a third term for Ronald Reagan, in which nuclear exchanges are presented to the television-watching populace as a series of medical reports on the elderly - possibly dead - President's state of health. 'Love in a Cold Climate' depicts a post-AIDS society of compulsory, soulless sex in which falling in love is an act of subversion. 'The Air Disaster', in which a cynical reporter travels to a remote mountainous region of Mexico, brilliantly captures the mutual incomprehension existing between the first and third worlds. Ballard was equally capable of humorous whimsy; 'The Index' is just that, a fragmentary autobiography of a man of action, friend of the famous - and founder of a new religion.

One of these stories, 'The Largest Theme Park in the World', describing a Europe of the near future, 'the first totalitarian system based on leisure', partly suggests an early version of his provocative recent novel, Super-Cannes (2000). Former pilot Paul Sinclair drives his young doctor wife Jane to the French Riviera when she takes up a post at the exclusive high-tech community of Eden-Olympia. The multinational corporations behind the business park are conducting a psychological laboratory there, a huge experiment in how to 'hot-house the future'. They become aware of the violence and paranoia under the project's glossy surfaces and its increasingly sinister undercurrents: sado-masochistic sex, robberies and racist attacks, unexplained murders. Jane falls into promiscuity and drug addiction, while Paul investigates the death of the former medical director of this 'Alcatraz-sur-Mer' in a deranged shooting spree. The flat characters and futuristic setting are typically Ballard: and, as so often in his amazing range, he expresses dystopian themes within a popular thriller format.

Dr Jules Smith, 2001
For an in-depth critical overview see J. G. Ballard by Michel Delville (Northcote House, 1999: Writers and their Work Series).
Bibliography
2006
Complete Short Stories: Volume 2
2001
Complete Short Stories
1995
A User's Guide to the Millennium: Essays and Reviews
1991
The Kindness of Women
1982
Myths of the Near Future
1979
The Unlimited Dream Company
1976
Low-flying Aircraft: and Other Stories
1970
The Atrocity Exhibition
1963
The Four-Dimensional Nightmare
1962
The Wind from Nowhere