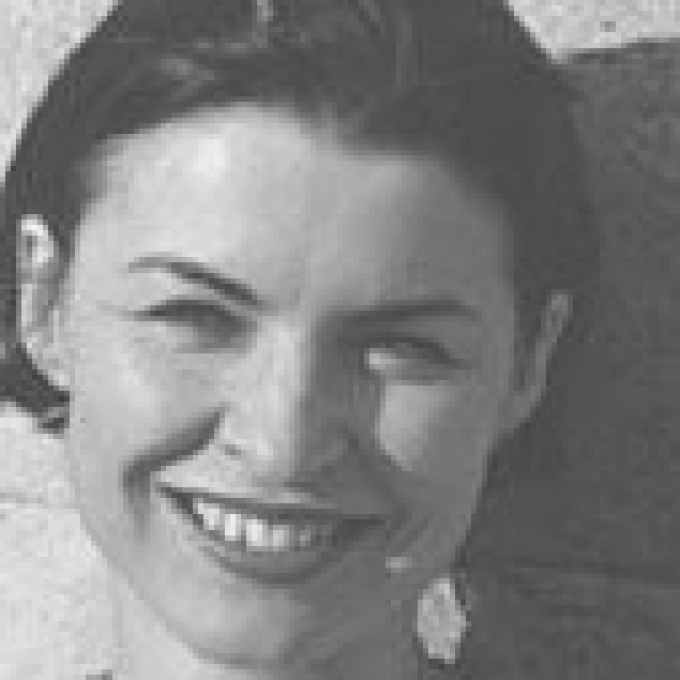 Biography
Isobel Dixon was born in Umtata, South Africa, grew up in the Karoo region and studied in Stellenbosch. She followed her Scottish roots to Edinburgh for her post-graduate studies, and has Masters degrees in English Literature and in Applied Linguistics. She now lives in Cambridge and works in London as a literary agent.
Her latest poetry collection The Tempest Prognosticator was published in 2011. Her work has been widely published in South Africa, where she won the 2000 SANLAM Award for Poetry (for the unpublished manuscript that was to become her debut collection) and the 2004 Olive Schreiner Prize for the published debut Weather Eye (2001). Internationally, her work has been published in The Paris Review, The Southwest Review, Carapace, New Contrast and New Coin and in the UK in The Financial Times, Wasafiri, Avocado, The Guardian, London Magazine, The Wolf, The Tall Lighthouse Review, Seam, Succour, Fin and The Warwick Review, among others. Some of her work has been translated into German, Dutch and Turkish. Her poems have appeared in many anthologies, including several of the British Council New Writing volumes, and she read on the first Oxfam Life Lines CD.
She won the Oxfam Poems for a Better Future competition in 2004 and was placed second in the Ilkley Poetry Competition in 2007. Her poems appear on Clive James' guest poets' site (www.clivejames.com) and on Poetry International (www.poetryinternational.org). In 2007 she was commissioned by the British Film Institute, along with nine other poets, to write poems based on the 'Essentially British' collection in the BFI's Mediateque archive on the South Bank. Together with a group of UK-based poets she has produced two joint pamphlets, Unfold (2002) and Ask for It by Name (2008).
As a literary agent, Isobel Dixon represents writers from around the world, among them many prominent South African authors. She has translated novels from Afrikaans into English, including Marita van der Vyver's Breathing Space (2000). She is a Jerusalem and Frankfurt Book Fair Fellow and has taken part in numerous seminars and panels at publishing events and book fairs, on agenting, translation and the publishing industry in general. She regularly gives poetry readings at universities, schools, and creative writing courses, and gives talks on subjects ranging from working in publishing and how to get published, to how to balance the working and creative life.
Critical perspective
Isobel Dixon's work is characterised as much by her strong lyrical voice as by her central preoccupations of settlement, exploration and selfhood.
Her work insists on an unfolding of geographical senses of identity; locating sites on a map layered at once with both experiences of her childhood in South Africa and of her adult life in the United Kingdom. It is fitting therefore, that Dixon's work first had success in South Africa with Weather Eye (2001), receiving the 2004 Olive Schreiner Prize. A literary agent by profession, her poetry represents her personal experiences in often unforgiving landscapes with apparent and unapologetic effortlessness.
Clive James comments on this enviable 'quiet ease' of her verse; the style is certainly sure-footed, as Dixon confidently moves from sharply pitched observations in shorter verse to elegantly expressive longer pieces. 'Paradox' from Ask for It by Name (2008) eloquently proposes in its six short lines that the whole spectrum of human emotion is comparable to a frog – both physically and mentally, as the heart may literally 'leap, frog- / like, landing with a soggy plop' when startled by love or merely cause us to lie awake 'and croak and croak for it'. The self-growth prompted by 'The Growing Gift' is formally reflected through the poem which demonstrates the effect of native flowers at first unappreciated, 'so vulgarly / indigenous', on the emigrant heart, taking 14 of the 17 four line stanzas to 'convert' and appreciate the sentiment in which they were first given. The present takes time and distance to take root in the paradoxically growing attachment founded in displacement. 
A Fold in the Map (2007), a travel book of extensive proportions, takes 'long, slow diversions / down the tree-lined streets' ('Foreshadow') of childhood play via the present day Cambridge lawns and the 'cosy, educated affluence and peace' ('Amanzi') they represent. The collection divides into two sections; the first, 'Plenty', dealing almost exclusively with childhood while the second, 'Meet My Father', is an elegiac sequence on her father's death. The links between the poems are clear - a narrative formulation that is often lacking in early collections.
To treat A Fold in the Map as poems on childhood and on the illness and death of a father would be reductive. As with the most accomplished 'childhood poems', the defining memory is omnipresent and explorative. The seemingly uncomplicated reminiscences of the childhood landscape are thus made more considerable by contemporary experience. 'Meet My Father' explores more than the particulars of decline and decease, reaching beyond the struggles of the hospital bedside to investigate grief and the instigation of recovery.
The bifocal lens of poems such as 'Plenty' subverts the idealistic expectations of a memoir poem, as edenic sustenance comes in the contemporary, 'water's plentiful, to excess, almost, here' rather than in the remembered scene, 'Such plenty was too dear in our expanse of drought'. The emotional attachments are ambiguous here too; the speaker feels affection for the earlier years combined with guilt over the selfish misdemeanours of the siblings who 'Skipped chores, / swiped biscuits'. The speaker admits 'I am a sybarite', luxuriating in central heating, bubbles and showers while conflictingly missing her sisters and mother who have been liberated by modernity from 'lean, dry times and our long childhood'.
A gift for narrative (not to be confused with simplistic) poetry shines through in poems addressing the death of her father. Redressing grief through poetry can easily become clichéd but Dixon offers gracefully imaginative alternatives. The healthy daughter seeks to sacrifice herself when confronted with 'My Father's Pain' in the symbolic form of a 'red jacket … too small, too tight', pleading 'I am young and strong: / give me that dreadful suit to wear'. Religious faith provides space for reflection (even if it appears lacking at times) as the former preacher suffers mortality. Dixon notes that 'bed's a bitter pulpit, more a rack. / This strange breached gown, split surplice, / lacks his worn black cassock's dignity'. Death, when it comes, is a revelation leading to 'a lifetime after for the rest of us, recovering. / Trying not to botch what's left' ('And').
Unfold (2002) is a pamphlet shared with the equally striking poetry of Simon Barraclough, Helen Clare, Andrew Dilger and Roisin Tierney. The innovative tactile and visual design by Lynne Stuart (a concertina effect not unlike a map itself) invites the unfolding of each poet's work. Dixon shows here that she is unafraid to utilise visual as well as verbal in a quasi-haiku which rejects capitalisation and punctuation to hint at darkly primitive, almost marshy love, 'sweet fallacy the heart / this heaving muscle glistens darkly / something like a toad' ('valentine').
Dixon could be described as a nature poet - but one whose work engages as much with human nature as the natural world. The graphic skinning of a mole is in tandem with a child's wish 'to be big and full of knowledge' ('Skinning'). The true subject is then, not the mole, but the speaker who becomes both victim and accomplice through the realisation that 'I too… was in on his small kill'. Unrequited love for an imprisoned primate is the blackly humorous premise of 'You, Me and the Orang-utan'. It starkly differs in style from the more serious pieces – and perhaps expresses growing confidence through self-parody. Dixon's fascination with the 'threatened, rare' ape is shamelessly unsettling and variably redeemed through the sharp punning reprimands to a former lover - 'Don't try to ape him or dissuade me, darling'.
What to make then of a poet who feels displaced, unsettled and in-between? Much, I believe, and we can only hope our own senses of personal diaspora can be articulated with such 'quiet ease'. Her work is darkly primitive in places, a carefully constructed extraction of personal roots from the very soil of South Africa. There are strong hints in her work that she has much more to say and there is no one better placed, or rather, displaced, to say it.
Alex Pryce, 2009
Bibliography
2013
The Debris Field, with Simon Barraclough and Chris McCabe
2011
The Tempest Prognosticator
2008
Bending the Bow: An Anthology of African Love Poetry
2007
Voices from All Over
2005
Travelling Light/Marita van der Vyver
2005
Songs of Ourselves: The University of Cambridge International Examinations Anthology of Poetry in English
2004
In the Criminal's Cabinet: An Anthology of Poetry and Fiction
2004
Imagination in a Troubled Space: A South African Poetry Reader
2003
A Literary Guide to the Eastern Cape
2003
Glass Jars Among Trees: An Alternative South African Anthology
2002
Bird in Words: A Twitchers' Guide to South African Poetry
2001
City in Words: An Anthology of Cape Town Poems
2000
Breathing Space/Marita van der Vyver