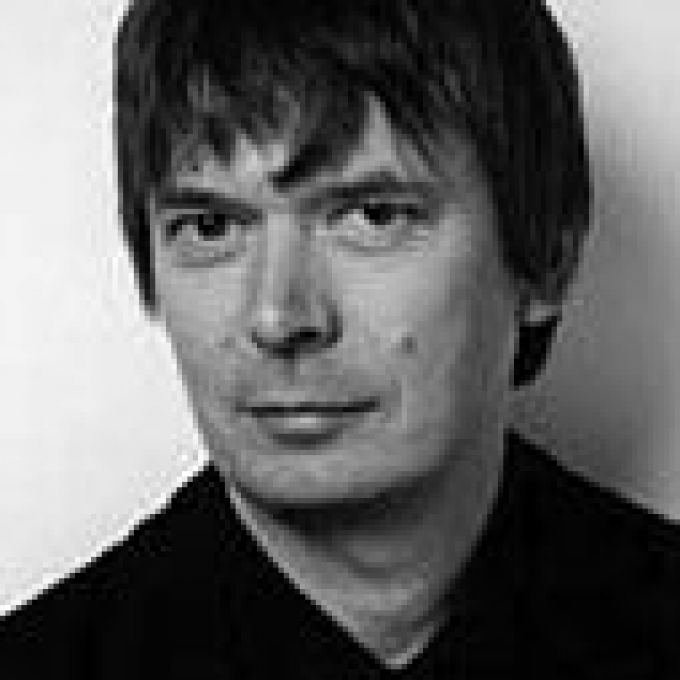 Ian Rankin
Publishers:
Agents:
Biography
Ian Rankin is the UK's number one best-selling crime writer.
He lives in Edinburgh, and writes about the city in his award-winning 'Inspector Rebus' novels. The books have twice been dramatised for television (starring John Hannah and Ken Stott respectively), and are translated into 36 languages. Ian Rankin also appears regularly on television, notably as a reviewer on BBC2's 'Newsnight Review'. His three-part documentary series on the subject of evil was broadcast on Channel 4 in December 2002.
Born in the Kingdom of Fife in 1960, Ian Rankin graduated from the University of Edinburgh and has since been employed as grape-picker, swineherd, taxman, alcohol researcher, hi-fi journalist and punk musician. He was a prize-winning poet and short-story writer before turning to novels with The Flood (1986), followed by Knots & Crosses, the first of his powerful Inspector Rebus novels, in 1987.
Ian has won many writing awards, including the Crime Writers' Association Macallan Gold Dagger for Fiction for Black & Blue (1997), the Mystery Writers of America Edgar Award for Best Novel for Resurrection Men (2004) – which also won the Deutsche Krimi Prize, Germany's most prestigious award for crime fiction – and he has twice won the Crime Writers' Association Macallan Short Story Dagger Award (1994 and 1996). In 2005 he received the Crime Writers' Association Cartier Diamond Dagger for Lifetime Achievement, the British Book Awards Crime Thriller of the Year for Fleshmarket Close (2004) and France's most prestigious award for crime fiction, the Grand Prix du Roman Policier, for Set in Darkness (2000). In 2007 he repeated his success at the British Book Awards, winning the Crime Thriller of the Year for The Naming of the Dead (2006).
In 2009 Ian was rewarded for his outstanding contribution to the cultural and social landscape of Edinburgh when he became the first recipient of the Edinburgh Award and was also appointed Deputy Lieutenant of Edinburgh. He has been awarded honorary doctorates from the Universities of Abertay Dundee, St Andrews, Edinburgh, Hull and the Open University. He has been elected a Hawthornden Fellow, is a past winner of the prestigious Chandler-Fulbright Award and was recently elected Edinburgh University's Alumnus of the Year. He has an Honorary Fellowship from the University of Edinburgh and was awarded the OBE in the Queen's Golden Jubilee Birthday Honours List in June 2003.
In 2009, The Complaints was published, featuring the new protagonist, Malcom Fox.
Critical perspective
Towards the end of Exit Music (2007), the seventeenth and final 'Rebus' novel, the Detective Inspector contemplates his impending retirement, concluding that 'he couldn't see himself ever leaving Edinburgh'.
He goes on to state the city's importance to him – and by extension its importance within the series as a whole: 'He'd lived there for as long as he'd been a cop, the two – job and city – becoming intertwined. Each new crime had added to his understanding …. Bloodstained past mingling with bloodstained present; Covenanters and commerce; a city of banking and brothels, virtue and vitriol. Underworld meeting overworld'. During the course of the novels, Rebus has several police colleagues but the city itself is his essential partner. It is surely this brilliant combination – history, topography, and the world-weary personality of the character – that has made the books so successful worldwide. Through them, we as readers visit real-life Edinburgh locations, bars and institutions (the latter books contain maps), and are treated to a police guide to its morally ambiguous underside and social problems.
Through the 'Rebus' series (a rebus being an enigmatic puzzle), Ian Rankin has become not only Scotland's best-known crime writer but probably its most high-profile writer internationally. In this regard, the re-publication of his first novel The Flood (1986) in 2005 is interesting because it shows the kind of writer Rankin might have been, had he not turned to crime. Rankin's introduction to this darkly atmospheric book, written while he was a student at Edinburgh University, draws attention to its revelations about the perils of a young girl growing up in a depressed mining village. As it opens in 1963, Mary Miller is 'ten years old and not yet a witch', her hair turning silver after being pushed into a polluted stream. Subsequently becoming pregnant in mysterious circumstances, the plot then fast-forwards to 1985 and the tribulations of her son Sandy. By its violent conclusion, we have been acquainted with witchcraft trials, sexual repression, and Scottish industrial history, as past and present are brought together.
Rankin also remarks that it was during the writing of this apprentice work that the idea for 'a troubled detective' came to him. John Rebus made his debut in Knots & Crosses (1987), as a 41-year-old with 15 years of service in the police force and 'a busted marriage'. We learn that he was previously in the SAS, and he has a young daughter; she gets abducted, and the case revolves around a series of cryptic clues and a race against time. This first book sets the pattern in many ways. Rebus invariably finds a personal angle in his cases, and has to battle not only with violent criminals but also his superiors (Rebus is perennially falling foul of regulations, being suspended and reinstated). As with Georges Simenon's 'Maigret', we are introduced to the maverick detective's home life, his drinking, occasional affairs, and his tastes in music (about which he makes good jokes). Above all, he is forever people-watching in bars and restaurants, ruminating on moral grey areas and asking himself what makes people do bad things. 'It was what Rebus enjoyed about the job: constructing a web of relationships, peering into other people's lives, wondering and questioning' (The Falls, 2001).
While the initial books were straightforwardly of the 'police procedural' type, the series as it developed in 'real time' became ever richer in presenting the State of Scotland, darker and more morally complex. The best of them are at once gripping crime thrillers and social documents of their times. In Black & Blue (1997) for instance, based on the real life unsolved 'Bible John' murders of the late 1960s, Rebus is pushed to near-breaking point by personal and professional pressures. A new serial killer is at large, the case taking Rebus to the Aberdeen oil industry and the islands for a subplot concerning environmental protesters. Rebus gets ever closer to 'Bible John' himself, now a respectable businessman in America, who has returned to Scotland. The macabre atmosphere and historical precedent of local body-snatchers Burke and Hare makes The Falls a gruesome pleasure to read. Standing in Greyfriar's Kirkyard, Rebus thinks that 'Edinburgh seemed always to have thrived on cruelty … its centuries of barbarism masked by an exterior by turns douce and strict'. A wealthy female student's disappearance is followed by a series of dolls found at murder scenes, and his latest lady friend – a museum curator – joins the case.
Also joining the team is Siobhan Clarke, who becomes an ever more important character in the remaining Rebus tales; not only as his youthful police partner but also as his emotional support. As A Question of Blood (2003) opens, Rebus is 55 and moves through the case hampered by badly burned hands. So Siobhan takes on a higher profile as they seek to uncover why an ex-SAS soldier shot dead two schoolboys and wounded another. As ever, there is a personal dimension: one of the victims is his cousin's son, and Rebus is under suspicion of having murdered a petty criminal in a house fire. Another significant character through the series is his most persistent antagonist, Big Ger Cafferty. The latter plays a key role in Fleshmarket Close (2004), about the murder of an illegal immigrant, amidst a contemporary scenario of people smuggling and drug rackets. The gangster makes an almost sentimental re-appearance in Exit Music, as he comes out of 'retirement' to talk about old times and tell Rebus to 'Enjoy that walk into the sunset'.
Rankin has recently diversified his prolific output of crime fiction with Dark Entries (2009), a graphic novel about a Reality TV show set in a supposedly haunted mansion. It features 'occult detective' John Constantine, hired to be a mole amongst the contestants – who are attacked one by one. He has also launched the successor to Rebus, Inspector Malcolm Fox, in The Complaints (2009). The title colloquially refers to the police's internal investigations unit, otherwise known as 'the Dark Side'. Once again, the action unfolds in real time (February 2009 amid the economic recession) and we learn much about the Inspector's home life: more respectable than Rebus but with his own history of marital problems and alcoholism. There is a typically tangled web of police politics and corruption, gangsters and their sordid activities, as well as the victims. Rankin's control of narrative pace and choreography of plotlines is as exemplary as ever.
Ian Rankin surely alludes to his great predecessor Arthur Conan Doyle at the very end of Exit Music. This recalls the fatal struggle between Holmes and Moriarty, in a frantic scene at Cafferty's intensive care hospital bed. The twist is that Rebus is trying to save Cafferty, his 'brother' antagonist. Rankin's achievement has been to move detective fiction far away from moral certainties into a contemporary genre: 'Tartan Noir'.
Dr Jules Smith, 2009
Bibliography
2013
Saints of the Shadow Bible
2012
Standing in Another Man's Grave
2006
The Naming of the Dead
2005
Three Great Novels: Capital Crimes
2003
Rebus: The Lost Years
1998
Death is Not the End
1992
A Good Hanging and Other Stories
Awards
2009
Theakston's Old Peculier Crime Novel of the Year
2008
British Book Awards Crime Thriller of the Year
2007
British Book Awards Crime Thriller of the Year
2006
Theakston's Old Peculier Crime Novel of the Year
2005
British Book Awards Crime Thriller of the Year
2005
Crime Writers' Association Cartier Diamond Dagger
2005
Deutsche Krimi Prize (Germany)
2005
Grand Prix du Roman Policier (France)
2004
Edgar Award for Best Novel
2004
WH Smith People's Choice Award
2003
Grand Prix du Roman Noir (France)
2003
Whodunnit Prize (Finland)
2000
Palle Rosencrantz Prize (Denmark)
1999
Crime Writers' Association Macallan Gold Dagger for Fiction
1997
Crime Writers' Association Macallan Gold Dagger for Fiction
1996
Crime Writers' Association Macallan Short Story Dagger
1994
Crime Writers' Association Macallan Short Story Dagger
1991
Chandler-Fulbright Award
Author statement
I started writing novels while an undergraduate student, in an attempt to make sense of the city of Edinburgh, using a detective as my protagonist. Each book hopefully adds another piece to the jigsaw that is modern Scotland, asking questions about the nation's politics, economy, psyche and history ... and perhaps pointing towards its possible future.