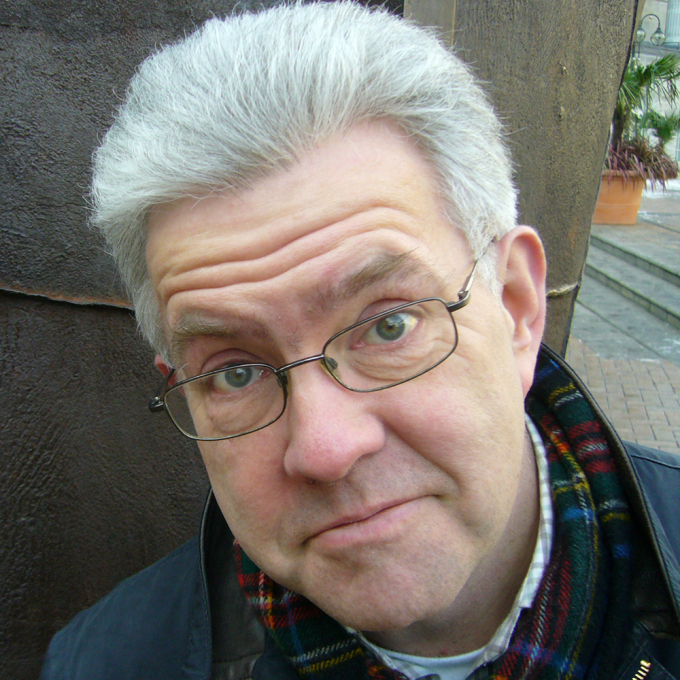 Ian McMillan
Born:
Darfield, South Yorkshire, England
Publishers:
Agents:
Biography
Poet Ian McMillan was born in 1956, in Darfield, South Yorkshire, England and was educated at North Staffordshire Polytechnic.
He has been a poet, broadcaster, commentator and programme-maker for over 20 years. He founded Versewagon (later re-named Circus of Poets), a performance poetry group with John Turner and Martyn Wiley. He appears regularly on television and radio and contributes articles to the Mail on Sunday, The Guardian, the Barnsley Chronicle, Q, Mojo, Poetry Review and the Yorkshire Post.
His poems have been published in many magazines and newspapers including The Observer and the Evening Standard, and broadcast on numerous television and radio shows, including BBC1's Football Focus. 
He has been poet in residence at Barnsley Football Club, Northern Spirit Trains and Humberside Police. He has written comedy for radio and plays for the stage, and has worked extensively for Radios 1, 2, 3, 4 and Five Live as well as for Yorkshire Television and BBC2's Newsnight Review. He also hosts The Verb, Radio 3's Cabaret of the Word, a new arts programme broadcast on BBC Radio 3.
His poetry and prose collections for adults include Dad, the Donkey's on Fire (1994), I Found This Shirt: Poems and Prose from the Centre (1998) and Perfect Catch (2000), a collection of poems, plays and other writings. His poetry for children includes Elephant Dreams (1998) and The Invisible Villain (2002). In 2005, his play, Sister Josephine Kicks the Habit, based on the work of Jake Thackray was first performed.
Ian McMillan performs with cartoonist Tony Husband and musician Luke Goss, and in 2007 was Yorkshire Planetarium's Poet in Space and the National Poetry Day Poet in Residence. He presented Ian McMillans Writing Lab on BBC Radio 3 - a series on the art of writing in the same year, and in 2008 his book Talking Myself Home: My Life in Verses was published. In 2009 The Richard Matthewman Stories was published, a collection of stories originally presented on the radio. 
Critical perspective
In the introduction to his verse autobiography, Talking Myself Home: My Life in Verses (2008), Ian McMillan pays tribute to the people, places and life circumstances that have made him into the kind of community writer and popular performer he is.
The people include his close-knit family, as well as schoolteachers who encouraged him and 'instilled in me the belief that everyone is creative and that everyone can improve their creativity'. The places are in and around his home village of Darfield, near Barnsley in South Yorkshire, a former mining area where 'the pit dominated the landscape, the huge stack of Houghton Main [colliery] taking up quite a section of the sky'. And the life circumstances are – the subject of the book, essentially the subject of all of his works of poetry, frequent live performances and numerous collaborations with other artists. He admits to being 'unusual because I've stayed in the same place …. [though] the pits have all gone, the old certainties have become uncertain, the landscape has been greened over'.
McMillan is one of the most ubiquitous presences in British poetry, a well-known and prolific broadcaster. As his D.J. friend Mark Radcliffe has asked, 'how many other poets have appeared on BBC Radio 1, 2, 3, 4 and 5?' The answer is – probably only his Yorkshire contemporary Simon Armitage. The link with Armitage is significant, as both writers emerged as part of the same populist wave in poetry during the 1980s, with 'Yorkshire-ness' as a conspicuous element of their identity and appeal. The editors of The New Poetry (1993) anthology characterized their writing, together with their mutual friend Geoff Hattersley, as being 'located in a tension between ironic social naturalism and confrontational political work'. The latter is often oblique in McMillan's work, observing industrial decline in his community, as in 'Pithead Workings, Darfield'. Some scenes from the bitter Miners' Strike of the 1980s do appear directly. 'Early morning, as I walk to Wombwell Station, I hear it: / A shout of scab! From the lane that leads to Darfield Main / And I know that things are crumbling' ('Heart of Darkness, 1984').
But far more characteristic of McMillan's work over the years is another tendency that the editors usefully identified: they called it 'a unique combination of stand-up comedy and surrealism, in which language is treated with a healthy postmodern disrespect'. This helps us to place McMillan amongst the tradition of Northern comedians (with their absurdist angles on the local) as well as to account for the inherently jokey wordplay about writers and writing so prevalent in his work. For instance, included in The New Poetry was 'Ted Hughes is Elvis Presley' – still McMillan's best-known poem – in which these two incongruous cultural icons become one: 'At my poetry readings I sneer and rock my hips. / I stride the moors / in a white satin jump suit'. The poem's comical ingenuity makes us smile, but we should also note the affection of the literary satire. Ted/ Elvis is trying to write a poem: 'Soon, all the foxes/ and the jaguars and the pigs / and the crows are gathering / outside my window, peering in'. The poem concludes with a surreal touch, 'I can feel the evening shrinking me / smaller and smaller'. Elvis/Ted ends up, with a nod towards Hughes' famous 'Pike', 'three inches long, perfect'.
McMillan's overt literary playfulness was perhaps most prominent early on, notably in Now It Can Be Told (1983). In 'Melville's Treasure Island', he again creates a comical collision between the incongruous literature, or remarks, in 'Death of the Idea' 'No ideas / but in submarines'. In 'The Story So Far', 'FRANK, an eccentric surrealist millionaire' meets his dead wife 'walking about at the bottom of the sea / in a diving suit', while 'SURREALIST, the cockle boat, sinks in the purple and red bay during a surrealist / storm of table-legs and 'cellos'. In his poems, we find a quick-fire procession of metaphorical phrases and similes: 'It is night with the speed / of water becoming coffee', 'It is morning with the speed / of a cup emptying' ('Frosted'). There's also a good deal of fun with titles (among particular favourites are 'Jesus Died From Eating Curtains' and 'Branwell Bronte Reincarnated as a Vest'), together with much quirky dialogue in his play poems.
All of these features recur throughout his books, which are usually collections of poems, stories and humorous columns (from the Barnsley Chronicle and currently the Yorkshire Post) or commissions with artists, musicians, community groups and schools. We still find good literary jokes, as in I Found This Shirt: Poems and Prose from The Centre (1998): 'April is the Cruellest Month / might seem like a strange name for a dog', he tells us, but 'I swell with pride/ because my dog's name / is image, and metaphor, and poetry'. And there's Spike Milligan-like inspired silliness in 'The Twelve Surrealist Days of Christmas'. In Perfect Catch (2000), McMillan assures us that 'Barnsley is the filter I see everything through', even in a sequence 'The Mexico Poems' written after his visit to the country in 1997, filming for Yorkshire Television and reading for the British Council. He makes a cultural connection on the bus, when he is 'Descending into Chihuahua, Descending into Barnsley', noting how 'the lights of the bus rake across the bus station / as though the bus station / is being photocopied'. And in a 'Procession, Day of the Dead: Mexico to Barnsley', which becomes a 'Skull made of memories'. Back in Yorkshire, 'The Final Score' was a short verse play written for a school in Halifax which, McMillan observes, 'brings together my two passions: poetry and sport'.
In Talking Myself Home there is an understandably elegiac note in memorialising his parents' lives and deaths. Yet this underlying sense of time and lives passing has been a persistent feature, despite all the comic energy of his work. Ideas Have Legs: Ian McMillan vs Andy Martin (2006), an attractive volume of texts and images, concludes rather movingly with a poem about 1970s Saturday night television watching ('the comedy furniture / in our collective front room') which becomes an elegy for his family. It also mourns the passing of an era of 'comedy built on dances with words, / an eye for the language / an ear for absurd / interlocutions, grammatical fluffs' ('And It's Goodnight From Him'). The Two Ronnies, it seems to say, were also an influence on him. Ian McMillan's achievement as a writer-performer has been to give his community art, with its quirkily surreal angles on locality and human nature, a wide appeal to audiences. In this sense, Barnsley really 'is' Japan, or Mexico, or wherever. He is always inventive and entertaining. Do hear him perform - at a club or stage or radio station near you.
Dr Jules Smith, 2009
Bibliography
2009
The Richard Matthewman Stories
2008
Talking Myself Home: My Life in Verses
2007
Chelp and Chunter: How to Talk Tyke
2006
Ideas Have Legs: Ian McMillan vs Andy Martin
2002
The Invisible Villain
2001
The Very Best of Ian McMillan
1999
Just Like Watching Brazil
1998
I Found This Shirt: Poems and Prose from the Centre
1994
Dad, the Donkey's On Fire
1993
Yakety - Yakety - Yakety - Yak! : Poems
1988
More Poems Please, Waiter, and Quickly!
1985
Six: The Versewagon Poetry Manual
1984
How the Hornpipe Failed and Other Poems
1982
An Anthology from Versewagon
1980
Batteries Not Included: 36 Poems
1980
The Changing Problem