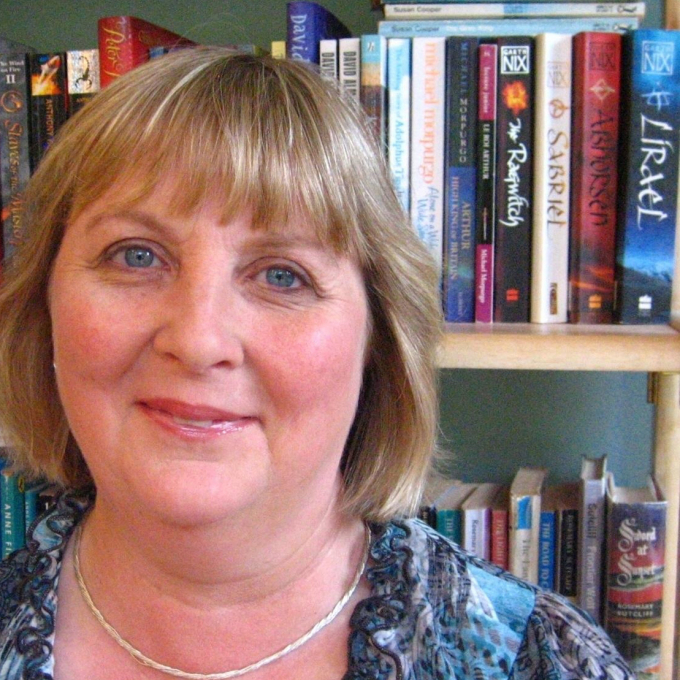 Hilary McKay
Publishers:
Agents:
Biography
Hilary McKay was born in Boston, Lincolnshire where she grew up the eldest of four girls in a family devoted to books.
She studied Botany, Zoology and English at St Andrew's University, and became a public protection scientist. She later gave up work to become a full-time writer and now lives in Derbyshire.
She writes novels for children, which are popular for their lively sense of humour, and often involve eccentric families. Saffy's Angel (2001) tells the story of Saffron, who discovers she is adopted and is bequeathed a stone angel in her grandfather's will - around which an intriguing plot is developed. This book won the Whitbread Children's Book Award the following year. Its sequel, Indigo's Star, was published in 2004, and since then two further books have been published in this 'Casson family' series: Permanent Rose (2005), shortlisted for the 2005 Whitbread Children's Book Award; Caddy Ever After (2006); and Forever Rose (2007).
Her first book, The Exiles, about a family called the Conroys who have an unusual family life, was published in 1991. It won the Guardian Children's Fiction Prize and was followed by further books in the series. In The Exiles at Home (1993), Ruth Conroy decides to sponsor a child in Africa, which leads to many hair-brained fund-raising schemes. It won the Nestlé Smarties Book Prize (Gold Award 9-11 years category and overall winner), and was followed by The Exiles in Love (1996).
A second trilogy, comprising Dog Friday (1994), The Amber Cat (1995) and Dolphin Luck (1998) relates the adventures of two families: the Brogans and the Robinsons, who live at Porridge Hall. Later books include a series of fairy tales, and The Skylarks' War (2018), which won the Costa Prize for children's fiction. 
Hilary McKay also writes picture books for younger children, including a series of 'Charlie', 'Lulu' and 'Binny' books.
Critical perspective
Hilary McKay is most well-known for her novels for middle-childhood readers (approximately 9-13 years), particularly her two award-wining series, The Exiles and the Casson family series.
The families she depicts are usually endearingly eccentric and chaotic, flawed but loveable, and she creates authentic and well-rounded child characters with whom young readers can easily identify. Critics often praise McKay's talent for domestic comedy, which enables her to address serious issues (from everyday worries to bullying, adoption and family secrets) with lightness and humour. McKay writes with humanity and compassion and depicts her characters' emotions acutely and perceptively, yet her comic touch, along with lively dialogue, maintains an upbeat tone throughout her stories, such as when Rose Casson suffers the ultimate humiliation at school:
'Someone grabbed my shoulder very hard and shouted "ROSE'S TURN!"
I jumped so badly I felt sick and dizzy […] Everyone was laughing so much.
Kiran said, "I am sorry Rose, I am sorry Rose, I am sorry Rose!" but I will never forgive her.
If I had a choice between dying and wetting myself in class, I would choose dying.' 
(Caddy Ever After, 2006)
McKay's first book, The Exiles (1991), was awarded the Guardian Children's Fiction Prize. It tells the story of the four Conroy sisters, Ruth, Naomi, Rachel and Phoebe, and was followed by two more books about the same family, The Exiles At Home (1993) and The Exiles in Love (1996). The girls range in age from six to thirteen, and they enjoy a close yet unsentimental bond. Each one is a strong character, and together they create chaos and mischief, but they are never bad-hearted in their intentions. The Conroy parents, depicted as somewhat weak and ineffectual, are rather eccentric in their desire to create a quiet, old-fashioned existence - there is no television, no pet and no car in the family home. Their idealistic values, however, have been shattered by the intrusion into their lives of their four lively, chaotic girls:
'Ruth, Naomi and Rachel had been welcomed to their [parents'] quiet world with old-fashioned, gentle names, suitable to the natures their parents hoped they would develop. By the time that Phoebe was born, however, Mr and Mrs Conroy had become rather disillusioned. They did not give Phoebe a name that they hoped she would be like; they gave her the name they expected her to be like, for Ruth, Naomi and Rachel showed very few signs of old-fashioned gentleness.'
(The Exiles)
The girls sometimes consider themselves deprived, but are outraged if anyone pities them. Moreover, their unusual home life enables the four of them to indulge their imaginations through reading and other creative activities and adventures, particularly as they are often left to their own devices. It is here that McKay is able to give her modern trilogy a traditional touch which recalls classic family stories such as Louisa May Alcott's Little Women and Edith Nesbit's stories about the Bastable children. The Exiles trilogy has also been compared with Helen Cresswell's series about the eccentric Bagthorpe family.
Between 2001 and 2007 McKay wrote her highly-acclaimed and award-winning series about the Casson family: Saffy's Angel (2001); Indigo's Star (2004); Permanent Rose (2005); Caddy Ever After; and Forever Rose (2007). The Cassons are also eccentric, but while the Conroy parents are unusual in their excessive conservatism, the Cassons are artistic and bohemian. Eve and Bill are both professional artists, and have named each of their children after the names of paint colours: Cadmium (Caddy), Saffron, Indigo (the only boy) and, perhaps most bizarrely, Permanent Rose (Rose for short). Bill is a distant figure, usually away in London, while Eve, who spends much of her time painting in the shed, is not well-equipped for dealing with life's practicalities. Even Bill is shocked to discover his youngest daughter's name: 'Rose could just remember the huge indignant fuss he had made when she was four years old and her father had finally discovered that her amusing pet name was not, as he had always supposed, an amusing pet name at all …' (Permanent Rose). However, Eve's explanation of the name she chose for her premature daughter who almost did not survive illustrates the way in which McKay skilfully combines delightful humour with poignant emotion:
'[Eve] had been thinking of the colour that painters use: Permanent Rose. A clear, warm colour that glows with its own lively brightness […] A colour that does not fade […] People had sent flowers to Eve, but not baby clothes or little toys. It did not seem that Rose intended to be around long enough to need such things […] That was why one afternoon, [Eve] had slipped out of hospital and gone all by herself across the town to register the latest Casson's defiant name. Permanent Rose.'
(Permanent Rose)
The Casson family stories span several years, starting when Rose is a baby and finishing when Caddy, the eldest, is grown-up and married. There is also quite a wide age-span between the four children, and the first three books each centre on the child named in the title. In Saffy's Angel, which won the Whitbread Children's Book Award, Saffron is the cynical realist who has always felt different and slightly out of place in this dreamy artistic family. Nonetheless, she is shocked to discover that she is actually an adopted cousin who came to live with the Cassons as a toddler when her own mother died. The mysterious 'angel' bequeathed to Saffy in her grandfather's will introduces a magical, almost fairytale, element to this otherwise realist story, and marks the beginning of Saffy's emotional journey (as well as an actual journey to Italy, where she had lived with her real mother). Her discovery of her past, particularly the story of her mother, is in fact a search for her own sense of self-identity and self-worth, and leads her to appreciate how much she really loves her adoptive family. As such, child readers from all walks of life can identify with the need to know who one is and where one belongs.
Indigo's Star and Permanent Rose both explore, amongst other issues, sibling love, childhood friendships and bullying. In Indigo's Star, both Indigo and Rose form a close friendship with Tom, an American boy who later returns to the US. Permanent Rose follows Rose's heartbreak and eventual recovery as she pines for her American friend, while simultaneously feeling neglected by her scatty mother and much-older siblings. McKay therefore does not shy away from depicting flawed and chaotic families, but equally the love between the family members is apparent. The Casson children, along with McKay's other young characters, always adjust to the challenges and difficulties that come along, and McKay emphasises the importance of meeting life with a sense of humour. The fourth book in the series, Caddy Ever After, is the only one in which each section is narrated by a different sibling, though McKay has said that she was disappointed with how it turned out. She completed the series with Forever Rose, which again centres on the youngest child, the author's favourite character.
Elizabeth O'Reilly, 2008    
Bibliography
2019
The Time of Green Magic
2017
Hilary McKay's Fairy Tales
2014
Charlie and the Haunted Tent
2013
Lulu and the Duck in the Park
2013
Lulu and the Hamster in the Night
2012
Lulu and the Hedgehog in the Rain
2012
Lulu and the Rabbit Next Door
2011
Lulu and the Dog from the Sea
2009
Charlie and the Tooth Fairy
2009
Wishing for Tomorrow: The Sequel to A Little Princess
2009
Charlie and the Big Birthday Bash
2008
Charlie and the Rocket Boy
2008
Charlie and the Haunted Tent
2008
Charlie and the Cheese and Onion Crisps
2007
Charlie and the Great Escape
2007
Charlie and the Cat Flap
2007
Charlie and the Big Snow
2005
Rose's Flying Feeling
2003
There's a Dragon Downstairs
2002
Beetle and the Big Tree
2002
Beetle and the Hamster
2000
Paradise House 6: Keeping Cotton Tail
2000
Paradise House 5: The Surprise Party
1999
Pudding Bag School: A Strong Smell of Magic
1998
Pudding Bag School: Cold Enough for Snow
1998
Pudding Bag School: A Birthday Wish
1997
Paradise House 4: Zoo in the Attic
1996
The Echo in the Chimney
1996
The Magic in the Mirror
1996
Why Didn't You Tell Me?
1996
Paradise House 3: The Magic in the Mirror
1996
Paradise House 2: The Echo in the Chimney
1995
The Zoo in the Attic
1995
The Treasure in the Garden
1995
Paradise House 1: Treasure in the Garden