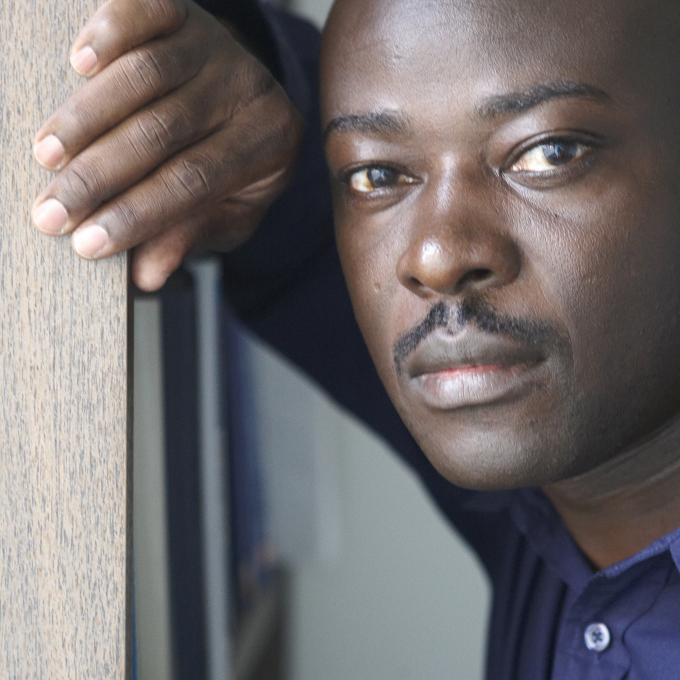 Helon Habila
Publishers:
Agents:
Biography
Poet and prose fiction writer Helon Habila studied Literature at the University of Jos and lectured for three years at the Federal Polytechnic, Bauchi, before going to Lagos to write for Hints Magazine. 
Extracts from his collection of short stories, Prison Stories, were published in Nigeria in 2000. The full text was published as a novel in the UK under the title Waiting for an Angel in 2002 and received a Commonwealth Writers Prize (Africa Region, Best First Book) in 2003. Also in 2002, he moved to England to become a Writing Fellow at the University of East Anglia. Helon Habila won the MUSON Poetry Prize in 2000 and was the arts editor of the Vanguard Newspaper.
In 2005 Habila was invited by Chinua Achebe to become the first Chinua Achebe Fellow at Bard College, New York. He spent a year writing and teaching at Bard, and after his fellowship, Habila stayed on in America as a professor of Creative Writing at George Mason University in Fairfax, Virginia.
His second novel, Measuring Time, the tale of twin brothers living in a Nigerian village, was published in 2007, and his latest novel is Oil On Water (2010), shortlisted for the 2011 Commonwealth Writers Prize (Africa Region, Best Book). In 2015 Helon Habila won the Windham-Campbell Literature Prize for literary achievement. 
Critical perspective
Helon Habila's novels are stories of individuals discovering and dealing with loneliness, ennui, love affairs that don't quite work out, political corruption, brutality and violence, and the enduring importance of freedom of expression.
Set in his native Nigeria, his first two books have already established his as a fresh and original literary voice.
His debut novel, Waiting for an Angel (2002), was originally written as a series of short stories (the first of which, published as 'Prison Stories', won him the prestigious Caine Prize for African Writing). While Habila has said that constructing the book in this way allowed him a sense of achievement as he completed each section, the fracturing of viewpoints and chronology also creates an effective jarring which mirrors the story's tense and unsettling atmosphere.
In the first section we meet Lomba, a journalist imprisoned for two years without trial. In the repressive Abacha regime of 1990s Nigeria, harsh crackdowns on the media, arbitrary arrests and brutal quelling of protests have fostered a climate of fear and violence. Habila likes blurring the line between fact and fiction, and much of the book has a documentary and an autobiographical feel. His reference to real events, including the execution of writer and activist Ken Saro-Wiwa, lend the novel a current of immediacy and authenticity. Even the author himself appears at a party of writers and poets.
Lomba initially appears far from a political animal: he's much more interested in girls, soul music and writing a novel. But gradually the grip of the disturbing events around him grows tighter and tighter, as his friends and colleagues start to find themselves caught up in the violence. Knowing about his imprisonment in advance invites the reader to consider the key turning points in the events leading to it, and whether things might have turned out differently.
Throughout the novel, words are portrayed as a positive reaction to oppression. Lomba's novel, the reports published by his newspaper colleagues in an attempt to inform the people of real events, and even the love letters that the incarcerated Lomba pens for his jailer's girlfriend, are all seen as positive affirmations of the human spirit in the face of the oppressor. We are invited to weigh up the power and effectiveness of each written form in changing attitudes and ideas – even if it's just one person at a time. Similarly, the importance of music and humour in the novel are ways both of showing that the characters aren't defined purely by their suffering, but are able to continue expressing themselves and feeling deeply. Habila says that in his stories 'people still fall in love in spite of repression, people still aspire in spite of being in prison, they write poetry – and what greater affirmation of life and hope can you find that is greater than poetry, self-expression?' Seen in this context, Waiting for an Angel is itself clearly an act of defiance, of revolt, an attempt to portray the truth, and to assert in the process the fundamental human right to express it.
Habila's second novel, Measuring Time (2007), is much broader in scope than its predecessor, with an epic ambition to tell the story of a village from its conversion to Christianity by white missionaries, through periods of political machinations and power struggles, to the present day. Compared to Waiting for an Angel, Habila has said he sees the book as 'more traditional, more down to earth. Here I seek to express myself more directly, to say exactly what I mean. But it is as serious as the first one, still as political.'
Focussing on the lives of Mamo and his twin brother LaMamo, Habila quickly sets up parallels between them: LaMamo is the stronger, bolder, more reckless one; Mamo has inherited sickle-cell disease and is weaker, but more thoughtful and bookish. Their paths divide when Mamo isn't strong enough to accompany his brother on their planned escape to the army. For more than a decade LaMamo travels the African continent fighting with various rebel groups, while Mamo stays behind and becomes a teacher at the village school. But while LaMamo's horizons are broadened spatially, and his understanding of politics is gained through a first-hand familiarity with violence and death, Mamo's mind stretches to take in a temporal consideration of history, and its relevance to contemporary events.
Once again it is words which become the crucial means of asserting individual freedom and self-expression. Mamo's career as a writer begins when, aged fourteen and bored, he transcribes the lines of the traditional village play to make the actors' lives easier. But his life really begins to change when, as a teacher, he begins contemplating what history really means, and how it ought to be written. He writes a paper arguing against a colonial version of his village's history, which is published by an academic journal abroad, and is encouraged to write another explaining how he thinks history should be written. When Mamo argues that history should be about people rather than geography, we're invited as readers to consider the village as a microcosm of Nigeria – the country which is itself an arbitrary grouping of multiple languages, cultures and peoples. But when Mamo is invited to write a biography of the local chief, he comes to realise how even writing personal histories can, in the wrong hands, become a political tool.
Habila's work is ambitious in its scope and the themes it tackles: politics, corruption, colonialism, coming-of-age, education, history and love. His characterisation is strong and vivid, as is his evocation of both the landscapes of Nigeria, and the often fragile atmosphere when peace can tip over suddenly into violence.
Susan Tranter, 2008
Bibliography
2007
Dreams, Miracles, and Jazz: An Anthology of New Africa Fiction
2006
NW12: The Anthology of New Writing
2002
Waiting for an Angel