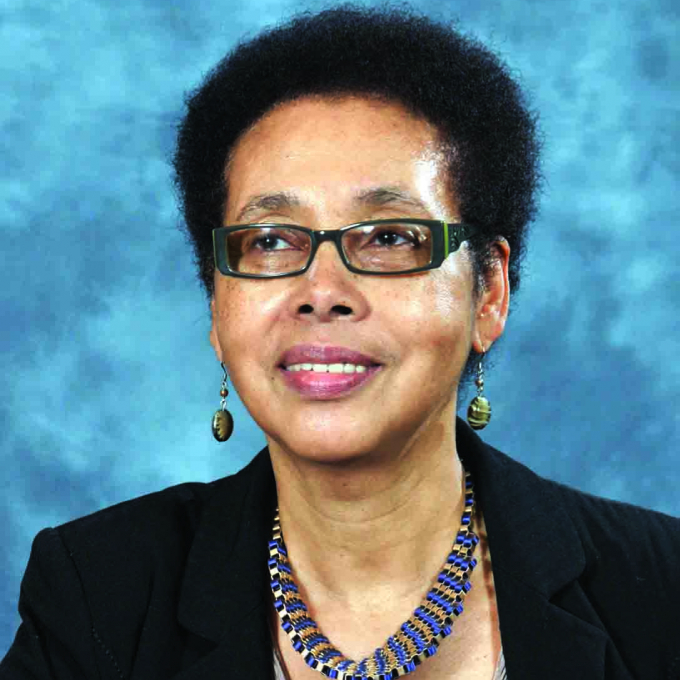 Grace Nichols
Publishers:
Agents:
Biography
Grace Nichols was born in Georgetown, Guyana, in 1950 and grew up in a small country village on the Guyanese coast.
She moved to the city with her family when she was eight, an experience central to her first novel, Whole of a Morning Sky (1986), set in 1960s Guyana in the middle of the country's struggle for independence.

She worked as a teacher and journalist and, as part of a Diploma in Communications at the University of Guyana, spent time in some of the most remote areas of Guyana, a period that influenced her writings and initiated a strong interest in Guyanese folk tales, Amerindian myths and the South American civilisations of the Aztec and Inca. She has lived in the UK since 1977.

Her first poetry collection, I is a Long-Memoried Woman, was published in 1983. The book won the Commonwealth Poetry Prize and a subsequent film adaptation of the book was awarded a gold medal at the International Film and Television Festival of New York. The book was also dramatised for radio by the BBC. Subsequent poetry collections include The Fat Black Woman's Poems (1984), Lazy Thoughts of a Lazy Woman (1989), and Sunris (1996). She also writes books for children, inspired predominantly by Guyanese folklore and Amerindian legends, including Come on into My Tropical Garden (1988) and Give Yourself a Hug (1994).  Everybody Got A Gift (2005) includes new and selected poems, and her collection, Startling the Flying Fish (2006), contains poems which tell the story of the Caribbean.
Her latest books are Picasso, I Want My Face Back (2009); and I Have Crossed an Ocean: Selected Poems (2010).

Grace Nichols lives in England with her partner, the poet John Agard.
Critical perspective
Grace Nichols has written one novel, Whole of a Morning Sky (1986), but the majority of her literary output is poetry, for both adults and children.
Much of her poetry offers social commentary, particularly with regard to women's issues and immigration, but she maintains a light-hearted approach and is committed to her poetic craft. In an interview with Morag Styles (The Children's Book Magazine, March 2005), Nichols comments on the way in which she delights in the craft of word-play: 'I like the battle with the words and the language – I enjoy the game of playing with things til I'm happy with it.' She places a strong emphasis on rhythm, musicality and the sounds of words: 'As long as you get the rhythm right, the poem works. You have to write for the ear and hear the music ...' As a native of Guyana, now living in England, Nichols is very much influenced by the oral traditions, rhythms and culture of Caribbean folklore, as well as those of African and Amerindian folklore. Her particular trademark is the skilful way in which she intertwines Standard English and Creole. Consequently, the poems beg to be spoken aloud:
'Look at the frozen thin mannequins
Fixing her with grin
And de pretty face salesgals
Exchanging slimming glances
Thinking she don't notice
Lord is aggravating .....'
('The Fat Black Woman Goes Shopping')
Nichols' first collection, I Is a Long-Memoried Woman (1983) is her most serious. It is an ambitious work, offering a poignant and heart-felt depiction of the experiences of black women slaves. It is written in the first-person, and thus offers a detailed, intimate account in which the reader can identify with the speaker's personal experiences. The poems are structured chronologically, telling the story from the capture into slavery, through years of physical and psychological abuse and exploitation, to the emotional triumph of reclaiming a strong sense of self. Nichols achieves a balance in which she does not shy away from depicting the acute suffering of slavery, yet simultaneously the collection maintains a strong, rebellious tone. The speaker will not be defeated, and her emotional and spiritual journey involves drawing on the spiritual energy of her ancestors to replenish her own strength and dignity.
After this poignant first work with its serious subject matter, Nichols' second and subsequent collections are pervaded by humour and playfulness, while still addressing serious issues. The Fat Black Woman's Poems (1984) and Lazy Thoughts of a Lazy Woman (1989) offer the perspective of a black woman living in the Western world, confidently asserting her right to be herself in defiance of Western values, particularly concepts of beauty. The influence of Caribbean culture is also apparent in the poems' warm, inviting tone, suggesting the friendly spontaneity and sensuality of West Indian life. This is contrasted with the cool reserved nature of English culture, which the speaker gently mocks:
'I begin to change my calypso ways
Never visiting nobody
Before giving them clear warning
And waiting me turn in queue .....'
('Wherever I hang')
Nichols addresses the sadness and alienation of being separated from one's home culture, using mischievous humour to prevent the tone becoming too despairing:
'I don't really know where I belaang
Yes, divided to de ocean
Divided to de bone
Wherever I hang me knickers – that's my home.'
('Wherever I hang')
In Sunris (1996), the long title poem is a celebration of carnival as something which brings people together for fun, warmth and a sense of community in the present day, and also connects people with the past, particularly African and South American heritage, through the joyful continuance of traditions – culturally, mythically and spiritually. Nichols' gift for rhythm and musicality, along with rich, sensual language and imagery, are perfect for evoking the vivid sights and sounds of carnival, as well as poignant emotions and experiences. As always, she combines sensuality and spirituality with a down-to-earth tone which is rooted in the everyday.
Startling the Flying Fish (2006) is a sophisticated and sensitive depiction of the story of the Caribbean, told through a sequence of poems which are meditative and reflective, while maintaining Nichols' usual rhythmic flair and evocative yet unpretentious language. The central voice is Cariwoma, whose name combines 'Caribbean' and 'Woman'. Cariwoma is a goddess figure who incarnates the spirit of the islands and the sea: 'Yes I Cariwoma watched history happen.' Like most of Nichols' poetry, there is a skilful intertwining of past and present, fusing myth and history with the present day. Cariwoma moves back and forth in time, reflecting on the traumatic period of slavery, and the contemporary situation in which many of her 'children' have emigrated: '[They] take off like / migrating spider-birds /carrying the silver threads / of their linkages ...' Throughout, Nichols interweaves figures from various myths and legends, including Aztec, Hindi and Greek mythology. Reviewer Sarah Crown notes similarities to the work of T.S. Eliot: 'On the one hand, she follows [...] in Eliot's footsteps, uprooting figures from other mythologies [...] and relocating them in her own poetic landscape [...] On the other, she creates in Cariwoma a mythic being of her own: an all-seeing, all-knowing spirit of the place...' (The Guardian, 17 June 2006). 
Picasso, I Want My Face Back (2009) opens with a long title poem in the voice of Dora Maar, the muse and mistress of Picasso who inspired his painting, 'The Weeping Woman'. Dora's story is, to some extent, one of personal colonisation and exploitation in which her face and identity were 'taken over' and used for another's purposes. Her journey towards reclaiming her sense of identity and self-respect therefore resonates on a wider scale as well as offering a poignant personal story.
Nichols' poetry for children is also highly acclaimed and very popular. These poems, like those she writes for adults, are influenced by the folklore of Caribbean, African and Native American culture, and they are pervaded by warmth, friendliness and generosity – titles include Come On Into My Tropical Garden (1988), Give Yourself A Hug (1994) and Everybody Got a Gift (2005). They also display the same musical, rhythmic quality, sensual images and delightful word-play as her adult work: parakeets 'wheel / screech / scream / in a flash of green / among the forest trees' (Come On Into My Tropical Garden), while a cat is 'Circling my ankles / cyclonically / Brushing me / like a velvet wind / Making me / the centre of her storm' (The Poet Cat, 2000).
Elizabeth O'Reilly, 2010  
Bibliography
2010
I Have Crossed an Ocean: Selected Poems
2009
Picasso, I Want My Face Back
2006
Startling the Flying Fish
2005
Everybody Got a Gift
2004
Paint Me A Poem: New Poems Inspired by Art in the Tate
1997
We Couldn't Provide Fish Thumbs
1997
Asana and the Animals: A Book of Pet Poems
1996
Penguin Modern Poets Volume 8
1994
A Caribbean Dozen: Poems from Caribbean Poets
1991
No Hickory, No Dickory, No Dock: A Collection of Caribbean Nursery Rhymes
1991
Can I Buy a Slice of Sky?: Poems from Black, Asian and American Indian Cultures
1989
Lazy Thoughts of a Lazy Woman
1988
Come on into My Tropical Garden
1986
Whole of a Morning Sky
1985
A Dangerous Knowing: Four Black Women Poets
1984
The Fat Black Woman's Poems
1983
I is a Long-Memoried Woman
1983
Baby Fish and other Stories