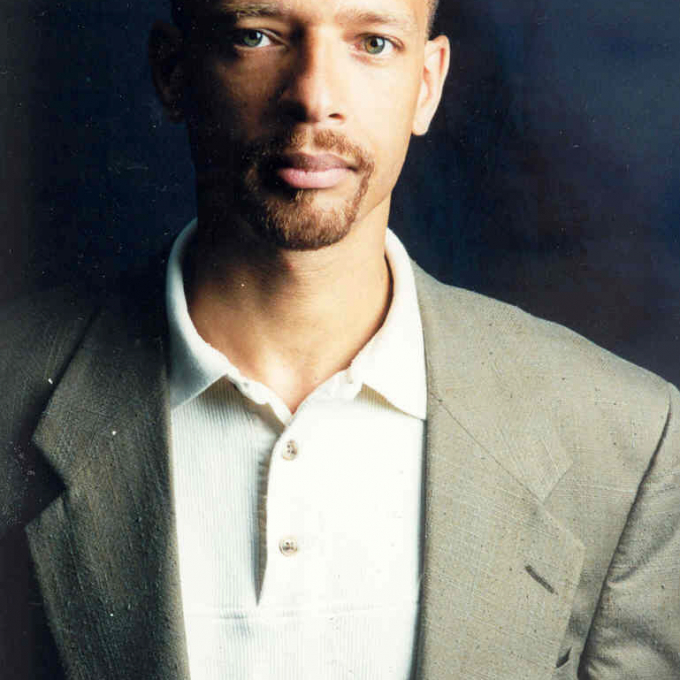 Biography
Poet, novelist and playwright Fred D'Aguiar was born in London in 1960 to Guyanese parents. He lived in Guyana until he was 12, returning to England in 1972.
He trained as a psychiatric nurse before reading African and Caribbean Studies at the University of Kent, Canterbury, graduating in 1985. His first collection of poetry, Mama Dot (1985), was published to much acclaim and established his reputation as one of the finest British poets of his generation. Along with Airy Hall (1989), it won the Guyana Poetry Prize in 1989 and was followed by British Subjects (1993). His first novel, The Longest Memory (1994), tells the story of Whitechapel, a slave on an eighteenth-century Virginia plantation and won both the David Higham Prize for Fiction and the Whitbread First Novel Award. It was adapted for television and televised by Channel 4 in the UK. His long poem 'Sweet Thames' was broadcast as part of the BBC 'Worlds on Film' series in 1992, winning the Commission for Racial Equality Race in the Media Award.
Fred D'Aguiar was Judith E. Wilson Fellow at Cambridge University (1989-90), Visiting Writer at Amherst College, Amherst, MA (1992-4), and was Assistant Professor of English at Bates College, Lewiston, ME (1994-5). More recently he was Professor of English and Creative Writing at the University of Miami.
His plays include High Life, which was first produced at the Albany Empire in London in 1987, and A Jamaican Airman Foresees His Death, performed at the Royal Court Theatre, London, in 1991.
He is also the author of the novels Dear Future (1996), set on a fictional Caribbean island, Feeding the Ghosts (1997), inspired by a visit D'Aguiar made to the Merseyside Maritime Museum in Liverpool and based on the true story of a slave who survived being thrown overboard with 132 other men, women and children from a slave ship in the Atlantic and Bethany Bettany (2003), centred on a five-year-old Guyanese girl, Bethany, whose suffering symbolises that of a nation seeking to make itself whole again. His fifth novel Children of Paradise (2014) tells the story of an utopian society and explores oppression of both mind and body. 
Fred D'Aguiar's poetry includes Bill of Rights (1998); a long narrative poem about the Jonestown massacre in Guyana in 1979; and a long narrative poem, Bloodlines, the story of a black slave and her white lover, published in 2000. His poetry collection is Continental Shelf (2009) was shortlisted for the 2009 T. S. Eliot Prize. Fred D'Aguiar's latest poetry collection is Rose of Toulouse (2013), in which he 'conveys the fragility of flesh and the transience of memories' (Carcanet Website).

In 2019 D'Aguiar was awarded the Cholmondeley Award for outstanding contributions to poetry.
Critical perspective
The Poetry of Fred D'Aguiar
Fred D'Aguiar is a poet from Guyana who grew up there, moved to England, and for many years now has taught at the University of Miami.
Guyana has remained at the centre of his poetry. His book, Mama Dot (1985) crystallises vignettes of village life around the emblematic figure of Mama Dot, based on D'Aguiar's grandmother, and a repository of the nation's folklore 'Old mama Dot / Old Mama Dot / watch her squat / full o de nat- / -tral goodness dat / grows in de lann.' Caribbean village life comes vividly to life in these poems 'Who dares speak in these moments before dark? / The firefly threads its infinite morse; / Crapauds and crickets are a mounting cacophany'.
Airy Hall (1989) is similar, with the focus now on a place, the plantation Airy Hall, rather than a person. 'El Dorado Update' is one of the pithiest poems about the contemporary Caribbean states 'Riddle me, riddle me, and riddle. / One people, one nation, one destiny? / Let's take a walk / not to stay, just to see...Lord, what to do in this fowl-coop / republic, risk my neck on a demo / or in a food queue?'
D'Aguiar's third book, British Subjects (1993), is set mainly in England, although he says in the poem 'Home', 'home is always elsewhere'. Here he encounters racism, in 'A Gift of a Rose' he is beaten up by the police 'Two policemen (I remember there were at least two) / stopped me and gave me a bunch of red roses'. In 'Sonnets from Whitley Bay' his residence in the north of England seems to have brought a touch of Tony Harrison into his poetry 'Your touch, I'd nearly forgotten your touch! / And you've been gone less than a month, much / Less; yet here I am using poetry as hype /To conjure you from a Daguerrotype'.
In the mid 1990s D'Aguiar moved to Florida, where he teaches at the University of Miami. He has been prolific since, writing two long verse novels Bill of Rights (1998) and Bloodlines (2000), four straight novels, The Longest Memory (1994), Dear Future (1996), Feeding the Ghosts (1997), and Bethany Bettany (2003), and a play, A Jamaican Airman Foresees his Death (1995).
His principal subject is the legacy of slavery; he often uses formal stanzas, and exploits the humorous potential of verse as well as its grave and dignified one. Bill of Rights is a book-length poem about the 1978 mass suicide in Guyana by the followers of the Reverend Jim Jones. It blends the developing tragedy with flashbacks to Brixton and Chatanooga. At times, to lighten the steamy oppression, it is positively skittish:
'I am damp to the innards of my watch.
Mosquitoes form a permanent halo,
Inches above my scalp. I should have got a Swatch,
Not a Seiko, and packed a shaving cream with aloe.'
Bloodlines is an ambitious verse novel, written in Byron's Don Juan stanza, about the ordeals of slavery and the love of a white man for a black slave. It doesn't have the light relief of Bill of Rights but the poetic description is rich and satisfying:
'He flipped his hands. The knuckles are gnarled,
Bruised, swollen. Tendons welded to the wrist
Stand in a bed of tall veins, his curled
Fingers form a huge hammer for a fist.'
His poetry book, An English Sampler (2001), selects from all his books except Bloodlines, and adds a few new poems.
Peter Forbes, 2001
The Novels of Fred D'Aguiar
In his essay, 'Further Adventures in the Skin Trade' (2000), D'Aguiar observed that 'History played as big a role as society in the shaping of my poet's imagination. My first awareness of history was of my place in it as the descendant of slaves'. Such comments are also relevant to his novels, which have movingly dramatized the bitter experiences of slavery. His first novel, The Longest Memory (1994), is especially absorbing, creating the voice of Whitechapel, a veteran slave on a Virginia plantation who blames himself for the whipping to death of his runaway son. We also hear from the boy himself, the plantation owner and his more questioning daughter, the vicious overseer, as well as early 19th-century newspaper editorials debating contemporary views of slavery and its claimed compatibility with Christianity. Traumatic incidents are at the book's heart, including the revelation of the boy's 'forced conception' through the rape of a black cook by the overseer's own father. The self-justifications of all concerned are recorded, enabling readers to make their own judgments. Whitechapel's own internal monologue is brilliantly sustained, as he mourns the boy, persisting in calling him 'my son', whose 'dreams were such that he argued his children would be free'. Only in Whitechapel's dying thoughts is he resigned: 'Rest these eyes, tired of trying not to see …. Forget. Memory is pain trying to resurrect itself'.
Feeding the Ghosts (1997) is similarly emotionally resonant in its testimony to the fate of slaves and the motives of slavers, and again presents a multi-voiced portrait of the voyage of the slave ship 'Zong' from Africa to America. When sickness affects many of the slaves crammed below decks, the Captain decides upon the deliberate throwing overboard of hundreds, in order to claim on the insurers and thus preserve profits. The leading character is Mintah, a woman who miraculously survives being thrown overboard to write an account for a London court. She galvanizes the slaves, appearing to them as a powerful goddess, meanwhile conducting a love affair. The insurance claim is subsequently debated before Lord Chief Justice Mansfield, himself a slave trade profiteer. Mintah's story goes forward to 1833 (the year of the abolition of slavery in the British Empire). Alongside D'Aguiar's historical imagination goes his continually poetic prose. Mintah has preserved memories by her sculptures of the dead slaves, and one speaks at the conclusion, stating that 'The past is laid to rest [only] when it is told'.
His most recent novel, Bethany Bettany (2003), is set in present day Guyana, its eponymous main character being an abandoned child who is brutalized by her relatives and develops a severe speech impediment. Like Mintah, who was able to float in spirit 'beyond the clutches of the enemy', the child has the ability, real and metaphorical, to become invisible and observe the actions of those around her. Beaten by 'The Sneer', 'The Slap', 'The Jab', and 'The Spit', she nevertheless finds out why her father died, and why her politician mother seemingly deserted her. Most of all, she regains her speech and comes to appreciate her family name, her symbolic status as 'a daughter of air / with roots everywhere'. Once more, as Ali Smith has rightly claimed, in his work D'Aguiar 'finds voice where voice is lost or unheard'.
Dr Jules Smith, 2004
Bibliography
2014
Children of Paradise
2001
An English Sampler: New and Selected Poems
1995
A Jamaican Airman Foresees His Death
1988
New British Poetry 1968-88
Awards
1997
James Tait Black Memorial Prize (for fiction)
1996
Guyana Prize for Literature
1994
David Higham Prize for Fiction
1994
Whitbread First Novel Award
1993
Commission for Racial Equality Race in the Media Award
1985
GLC Literature Award
1985
Malcolm X Prize for Poetry
1983
Minority Rights Group Award